So it happened…I finally got on the Chia seed bandwagon! And honestly, after trying the little seeds of goodness and making these 4 Ingredient Almond Joy Chia Seed Puddings, I don't know what took me so long!
This is my kind of ingredient, it can be mixed with only a few other ingredients and make a delicious tasting breakfast…or dessert!
And the health benefits of Chia seeds? They just can't be beat! Chia seeds are filled will Omega-3 and Omega-6 essential fatty acids, fiber, and B vitamins, not to mention they contain protein and calcium!
But I'm dying to know…is it pronounced 'ch-ee-ah' or 'ch-ii-a' ?
Whatever way it's pronounced, you need to try this recipe!
Not only is it super healthful, but it tastes delicious too, and there's no added sugar!
You combine Chia seeds and Dark Chocolate Almond Milk (ummmm…have you guys tried Dark Chocolate Almond Milk? It's the best! My friend Abby of The Frosted Vegan told me about it and I can't get enough!) in a mason jar and then let them sit overnight in the refrigerator, then in the morning you quickly toast some coconut flakes and slivered almonds, mix it in, and then enjoy!
I love how the Chia seeds expand and become tapioca like and solidify giving the dish a wonderful pudding consistency!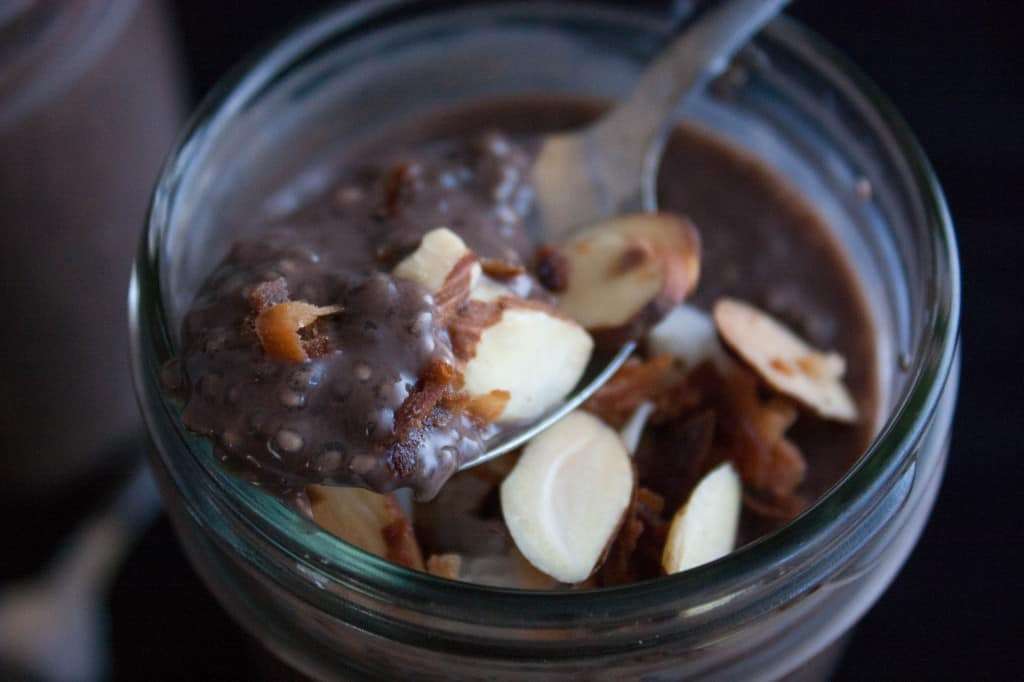 I've made these Almond Joy Chia Seed Puddings over 5 times now, a perfect on-the-go breakfast or dessert…healthy and delicious whichever way you enjoy them!

Ingredients
-Per Serving-

3/4

Cup

Dark Chocolate Almond Milk

3

Tbs

Chia seeds

1

Tbs

Coconut flakes

1

Tbs

Slivered Almonds
Instructions
Pour almond milk into a small mason jar, mug, or bowl of your choice. Sprinkle Chia seeds into the almond milk and stir it a few times so that there are no lone seeds floating.

Put in the refrigerator for 4 hours-or overnight - it will solidify, I usually stir it once or twice after an hour.

Preheat oven to 350, line a baking sheet with a little piece of aluminum foil. Spread coconut flakes and almond slivers onto the aluminum foil. Bake for 5 minutes, then put on top of pudding cup, stir, and enjoy!