You can have a super delicious breakfast but not spend a lot of time making it with these super easy and delicious 5 ingredient breakfast sandwiches that only take a total of 10 minutes to make!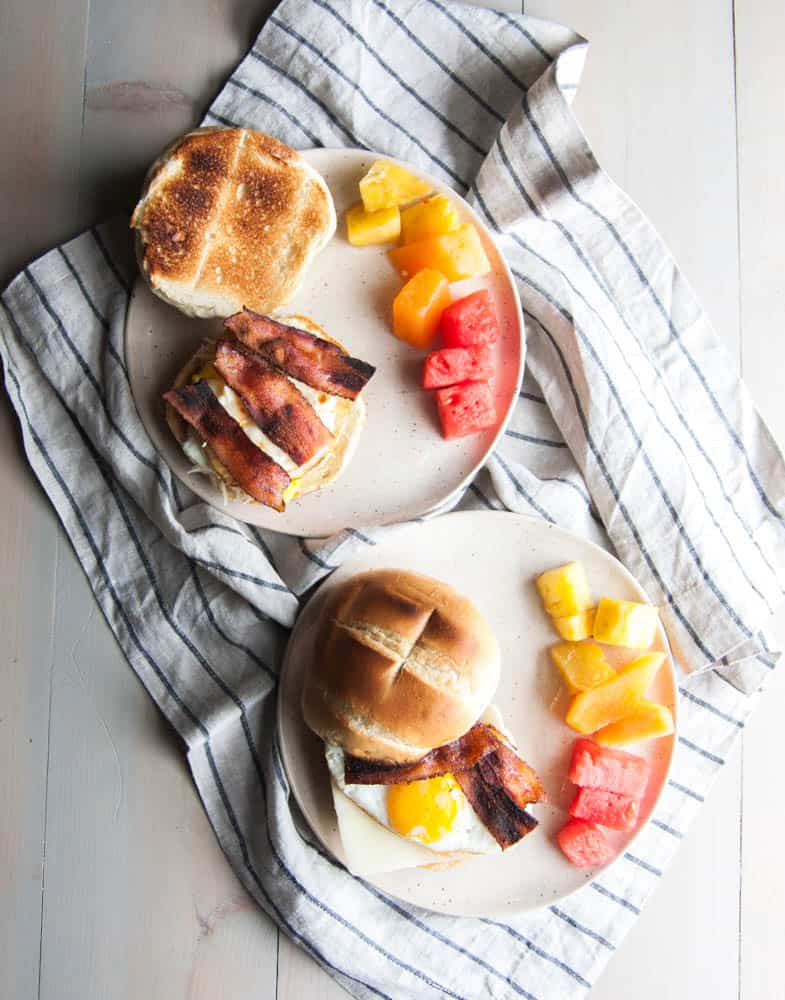 Weekends are meant for lounging around and being lazy, right? But that's not usually what happens (at least in my house). Weekends are packed with a million to-do's, and breakfast can be the furthest thing from ones' mind, or, I should say, taking time out to make breakfast can be the last thing one wants to do.
But starting the day without breakfast? That's not an option for me. I need something to eat before starting the day and I really don't know how some people (ahem my husband) can go without that meal without being hungry or in a bad mood.
Now that we've established that I'm a breakfast person, the question becomes…what's for breakfast?!
During the week I'll do something super quick like make a smoothie or grab a granola bar or vanilla overnight oats that I've made the night before. But the weekends? Those are meant for dishes like breakfast hash for two, tres leches pancakes, french toast sticks, all accompanied by a glass of cinnamon vanilla dolce iced coffee of course! What happens when one doesn't have time though? For those Saturday mornings you're up and have half an hour before you need to leave the house?
I was faced with that dilemma last weekend and decided to make breakfast sandwiches because we had a few slices of bacon and leftover buns (any bread or buns or bread – think english muffins or bagels- will work for these sandwiches, I used what I had on hand)
[Tag me on Instagram, @philiakelnhofer "No more weekend time wasted, make these 5 ingredient breakfast sandwiches that only take 10 minutes!"]
What makes these breakfast sandwiches only take 10 minutes to put together is that I microwave the bacon (a trick my husband taught me). All you need is a plate, some paper towels, bacon, and you're set. You layer about 3 sheets of paper towel on a plate, place the bacon on top, then layer another 2 sheets of paper towel on top and then microwave it for a few minutes, depending on how much bacon you have or how thick it is. For standard bacon 4 strips usually take 2 and a half minutes. I like to start at 2 minutes, then check it to see how much more time it needs, then go up from there in 30 second intervals.
While the bacon is cooking away, you make the eggs, toast the bread, and get out some plates. The whole thing – making all the components, plating, etc. only takes 10 minutes and can be customized with what you have on hand. I've made these breakfast sandwiches with multi grain bread, with English muffins, with cheddar cheese, with monterey jack cheese, even with Parmesan cheese. The concept is always the same – bacon cooked in the microwave, toasted bread, an egg cooked in a little butter and cheese. Only five ingredients and you have yourself delicious breakfast sandwiches! I love these 5 ingredient breakfast sandwiches so much, there's even a 'freezer breakfast sandwich' recipe in my cookbook that's based on this recipe!
Other recipes you might enjoy:
10 Minute Breakfast Sandwiches
You can have a super delicious breakfast but not spend a lot of time making it with these super easy and delicious 5 ingredient breakfast sandwiches that only take a total of 10 minutes to make!
Print
Rate
Ingredients
4

slices

bacon

1/2

tablespoon

butter

2

eggs

pinch

of salt and pepper

2

buns or 4 pieces of toast

2

slices

cheese

I use cheddar, Monterrey jack or gouda
Instructions
Line a plate with 3 paper towels, place bacon slices on paper towel and then place 2 pieces of paper towel on top of the bacon. Microwave on high for 2 minutes, then check for doneness. Microwave in 30 second intervals checking in between each 30 second interval to see if it's done.

In a frying pan melt the butter and crack the eggs in, sprinkle with salt and pepper. Cook for 5 minutes (or until doneness level you like.)

Toast the bread.

To assemble the sandwich place slice of cheese on bottom bun (or bread), then place the egg on top of the cheese, then break bacon slice in half and place 4 halves on top of the egg and then place top bun other slice of toast on top, enjoy!
Nutrition
Serving:
1
g
|
Calories:
568
kcal
|
Carbohydrates:
48
g
|
Protein:
29
g
|
Fat:
29
g
|
Saturated Fat:
12
g
|
Polyunsaturated Fat:
14
g
|
Cholesterol:
245
mg
|
Sodium:
1155
mg
|
Fiber:
2
g
|
Sugar:
6
g