Made with only 5 ingredients, this crispy cheesy chicken is made in an air fryer and is super juicy and tender on the inside, and crispy on the outside (like any good crispy chicken should be!) You're going to love how easy and delicious this crispy cheesy air fryer chicken is, and will be using your air fryer to make this recipe on repeat!
I have to tell you, I was preeetttyyy skeptical about using an air fryer. I thought, ya know, I have enough appliances in my kitchen. But, after making this crispy cheesy chicken, I'm hooked!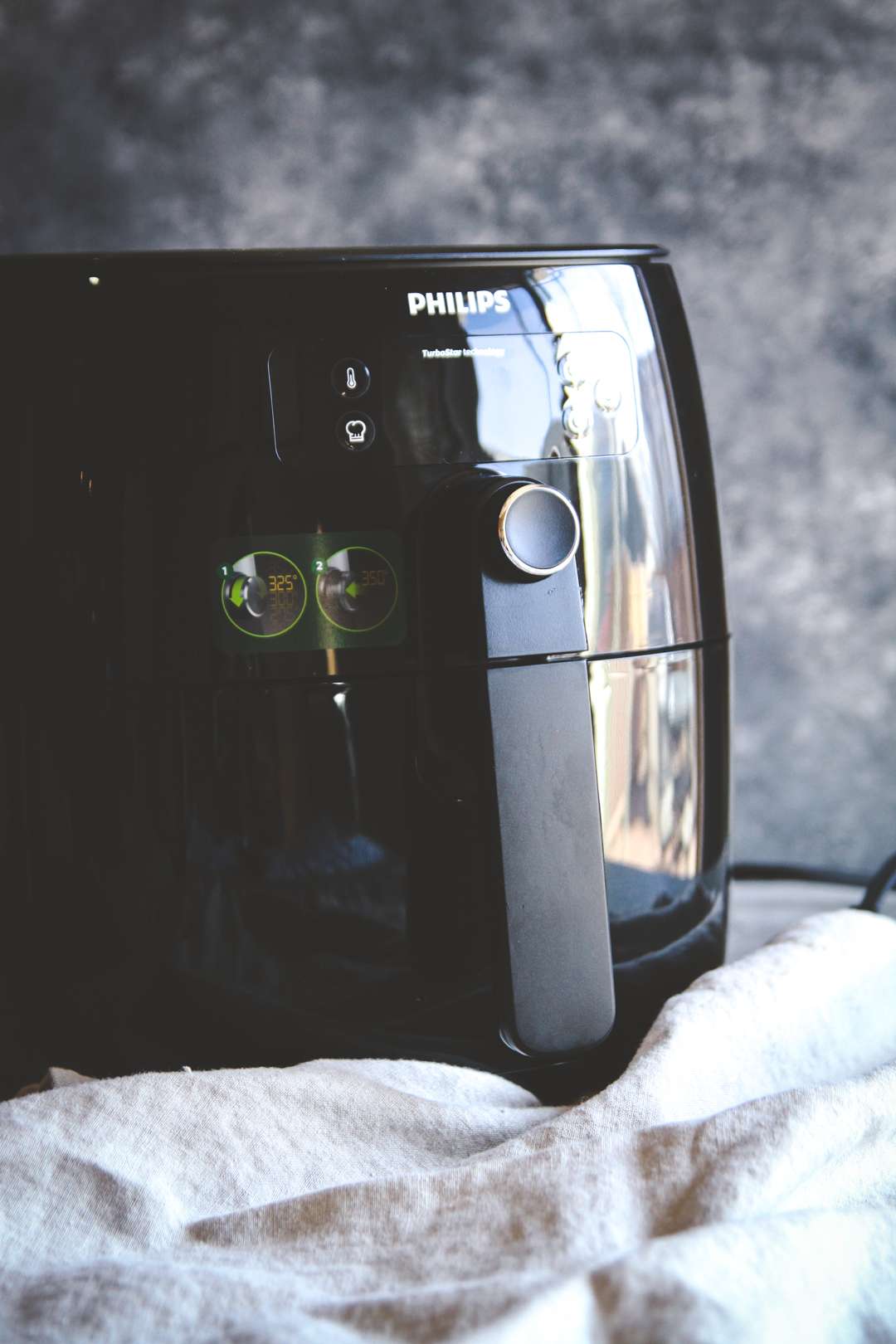 It was actually my husband who bout us an air fryer. After seeing them all over online and being touted as a healthier alternative for making fried foods, I asked him if he thought we should get one, and the next week (after he did a lot of research) he purchased us the Philips Advance Digital Turbostar Air Fryer.
So what exactly is an air fryer? What are the benefits of using an air fryer?
An air fryer is an appliance that cooks food by circulating hot air around the food using the convection mechanism. A fan circulates the hot air around the food at high speed, cooking the food and producing a crispy layer (thank you for the definition of an air fryer wikipedia).
Traditionally, when frying food, food is submerged into oil. The air fryer works by coating the food in a thin layer of oil while circulating the heat, and uses so much less oil (80% less!) than traditional deep-fryer methods.
Air fryers cooks food at a very high speed, so it's loved for its convenience and health benefits (since you're using so much less oil, if any, you're saving all the calories from the oil)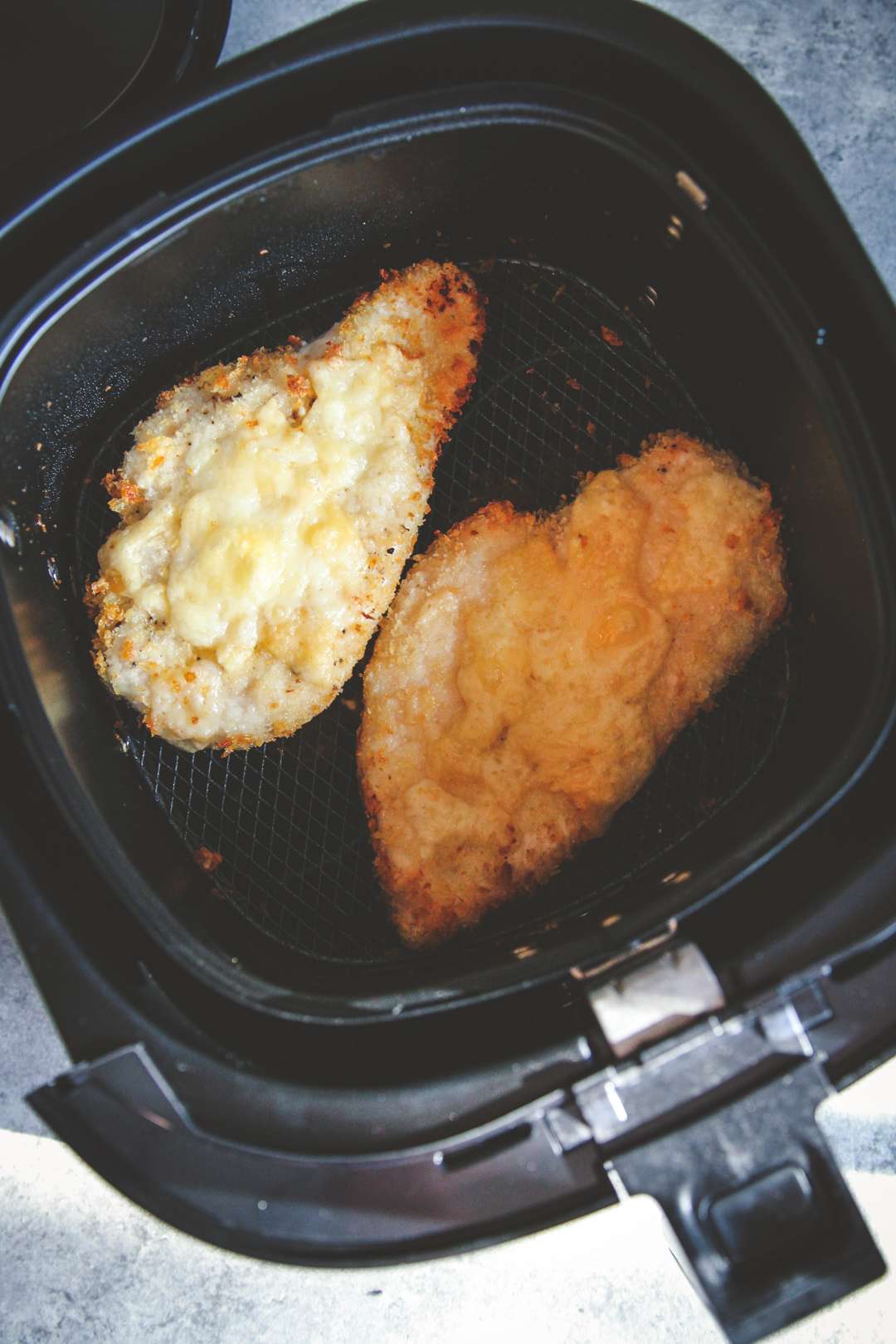 Cons of using an air fryer?
The only con I found about an air fryer is that the frying basket was so much smaller than I thought it would be! Since you don't want to overcrowd the basket, you can only get two chicken breasts in (or 4 if you cut them in half). So I ended up making these chicken breasts in two batches. But because the cooking time is so quick (only takes about 10 minutes total!) so in the meantime you can put together a quick salad.
Sides for crispy cheesy chicken- if you're looking for sides to serve with this crispy cheesy chicken recipe to make it a meal, here are some suggestions:
If you're looking for a stovetop version of a chicken salad, I'd suggest this recipe for crispy chicken and arugula salad.
I'd love to hear from you in the comments section: do you have an air fryer? do you love cooking with it? I'm hooked, I can't wait to make healthier versions of some of my favorite fried foods: french fries, empenadas, chicken wings, falafels (I have a recipe coming up next week that I think you're going to LOVE!) The air fryer recipes ideas in my head are endless, I can't wait to use this amazing device more, for now, I'll be over here making these 5 ingredient crispy cheesy air fryer chicken breasts on repeats (looking for other easy and delicious 5 ingredient recipes? Check out my 5 ingredient Fridays series.)
Yield: 4 chicken breasts
5 Ingredient Crispy Cheesy Air Fryer Chicken Dinner Recipe
Prep Time 10 minutes

Cook Time 7 minutes

Total Time 17 minutes
Ingredients
4 thin chicken breasts (or two chicken breasts cut/pounded to be thin)
1 cup milk
3/4-1 cup shaved Parmesan-Asiago cheese blend (can use any type of hard shaved or shredded cheese like Parmesan, Asiago, Romano)
salt + pepper to taste
Instructions
Preheat your air fryer to 400 degrees. Spray the cooking basket lightly with cooking spray.

In a large bowl place the milk and chicken breasts. Sprinkle in a generous pinch of salt and freshly ground pepper. Allow to marinate in the milk for 10 minutes.

In a shallow bowl combine panko bread crumbs and shaved cheese.

Dredge chicken breasts through panko and cheese mixture (press the mixture on top of the chicken generously) and place in the air fryer basket. Make sure that the basket is not overcrowded. I fit 2 chicken breasts in the basket, so I did this in two batches. Spray the top of the chicken lightly with cooking spray (this 'locks on' the cheesy bread crumb topping).

Cook for 8 minutes, flipping the chicken breasts halfway through.

Remove from the air fryer, repeat the process with any remaining chicken breasts. If you want to warm everything, you can add the already cooked chicken breasts into the basket and cook them for 1 minute to warm them! Enjoy

Disclaimer: some of the above links are affiliate links, if you purchase through the links at no cost to you, I will earn a few pennies. As always, all opinions are mind alone, thank you for supporting the brands and products I love that make the Sweetphi blog possible.