With all the summertime corn that's coming into season, THIS 5 ingredient flank steak over charred corn salad will be your new go-to quick and easy dinner.
The secret weapon in this incredibly good salad is charred corn. Corn with browned/blackened kernels adds an extra dimension of flavor. But fear not, you don't need to bust out your grill to make this dish, you can make it right over your gas stove!
It was late in the evening and I was watching Snapchat stories (are we friends? I'm username: Sweetphi) and I don't remember whose story I saw it on, but I saw someone charring corn over their stove! I thought the idea was absolutely genius, so over the weekend after I picked up some corn at the farmers market I tried it, and it worked like a charm, so I'm sharing it with you today. All you do is put the flame on medium-high and put the corn directly on it, then rotate it every few minutes – it will pop and sizzle and cook!
You could of course use your grill and char the corn that way – whatever is easiest is my philosophy!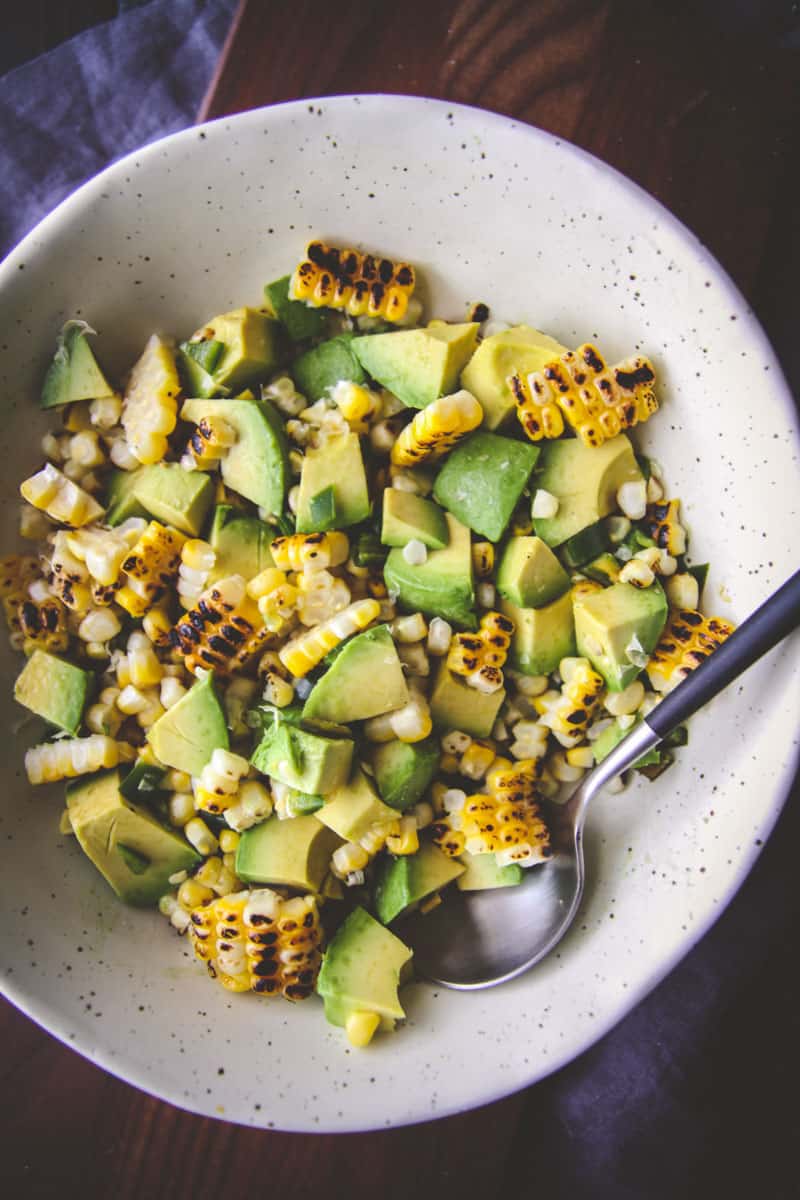 In addition to using charred corn, this salad has flank steak in it – which I just like to cook in a skillet but you could grill it if you so desired-and then the salad has avocado and then jalapenos in it. It's super easy and has only 5 ingredients in it – making it perfect for this weeks' Five Ingredient Friday (if you're new to sweetphi.com, every Friday I post a recipe with 5 ingredients or less as part of my Five Ingredient Fridays series -salt, pepper and water not included, because chances are you have those somewhere in your house, and I have a cookbook out called Fast & Easy Five Ingredient Recipes: A Cookbook for Busy People – which is on sale on Amazon!!)
Ok – quick question time – what TV shows are you guys watching? I always love your suggestions! I love binge watching new or older shows…which reminds me, I need to catch up on Billions, love that show!
With only 5 ingredients, this flank steak over charred corn salad is an amazing and easy dinner, it also can be enjoyed warm or cold – which makes it perfect for all work lunches!
Above is a picture of the meals I prepped for the week. I made a lasagna with tomatoes from my garden and chicken sausage – it was super good, I'm debating sharing the recipe – is that something you guys would like to see? Then I made yogurt lemon chicken from my cookbook over roasted vegetables, and the steak corn avocado salad from this recipe. And then for a snacks I made these no bake oatmeal cookie energy bites (only 5 ingredients!) – they're so incredibly good – they taste like cookies, but they're actually healthy, and I've made them at least 20 times since posting the recipe earlier this year!


Yield: 4
5 Ingredient Flank Steak Charred Corn Salad
Prep Time 5 minutes

Cook Time 10 minutes

Total Time 15 minutes
Ingredients
2 ears of corn, husks removed
1 avocado, diced
1 jalapeno, seeded and finely chopped
1 teaspoon extra virgin olive oil
1 pound flank steak
1 teaspoon salt, divided
1/4 teaspoon fresh cracked pepper
Instructions
Turn burner on a stove to medium-high, and put corn on the burner. Rotate every few minutes, for about 5-10 minutes, until corn is slightly charred, set aside. When cooled, cut corn off of the stalk and into a bowl. Into the bowl add avocado and jalapeno and sprinkle with 1/2 teaspoon salt.
Sprinkle steak with about 1/4 teaspoon salt and a little pepper on each side, then let rest.
To a skillet add olive oil and over medium-high heat allow it to warm up for 30 seconds, then add the flank steak in and cook each side for about 4-5 minutes, or until a nice crust forms. Flank steak cooks quickly (depending on the thickness of the cut) so if you like it on the rarer side, I'd only cook it for 3-4 minutes.
When steak is cooked to doneness liking, remove from heat and let rest for 5 minutes before cutting it into pieces.
Serve steak over corn salad and enjoy
Notes
Add an extra jalapeno for more heat, feel free to omit or use bell pepper in its place.
You could also use grilled corn.
To cut the corn off the cob I simply sand it up on a cutting board, hold the top, and carefully cut down the cob to remove the kernels