Deliciously light and fluffy, these 5 ingredient goat cheese and egg souffle cups are surprisingly easy to make and are perfect for breakfast, brunch, or even dinner!
Like me, you might associate the word "souffle" with images of some disgruntled French chef huffing and puffing around the kitchen, right?
I was always a little scared at the thought of making souffles, but I had these incredibly beautiful eggs to use, so to me it seemed only natural that they should be the star of a dish: enter the elusive souffle. I'm so happy to report that these beauties were so easy to make, and am excited to be sharing them for this weeks' Five Ingredient Friday.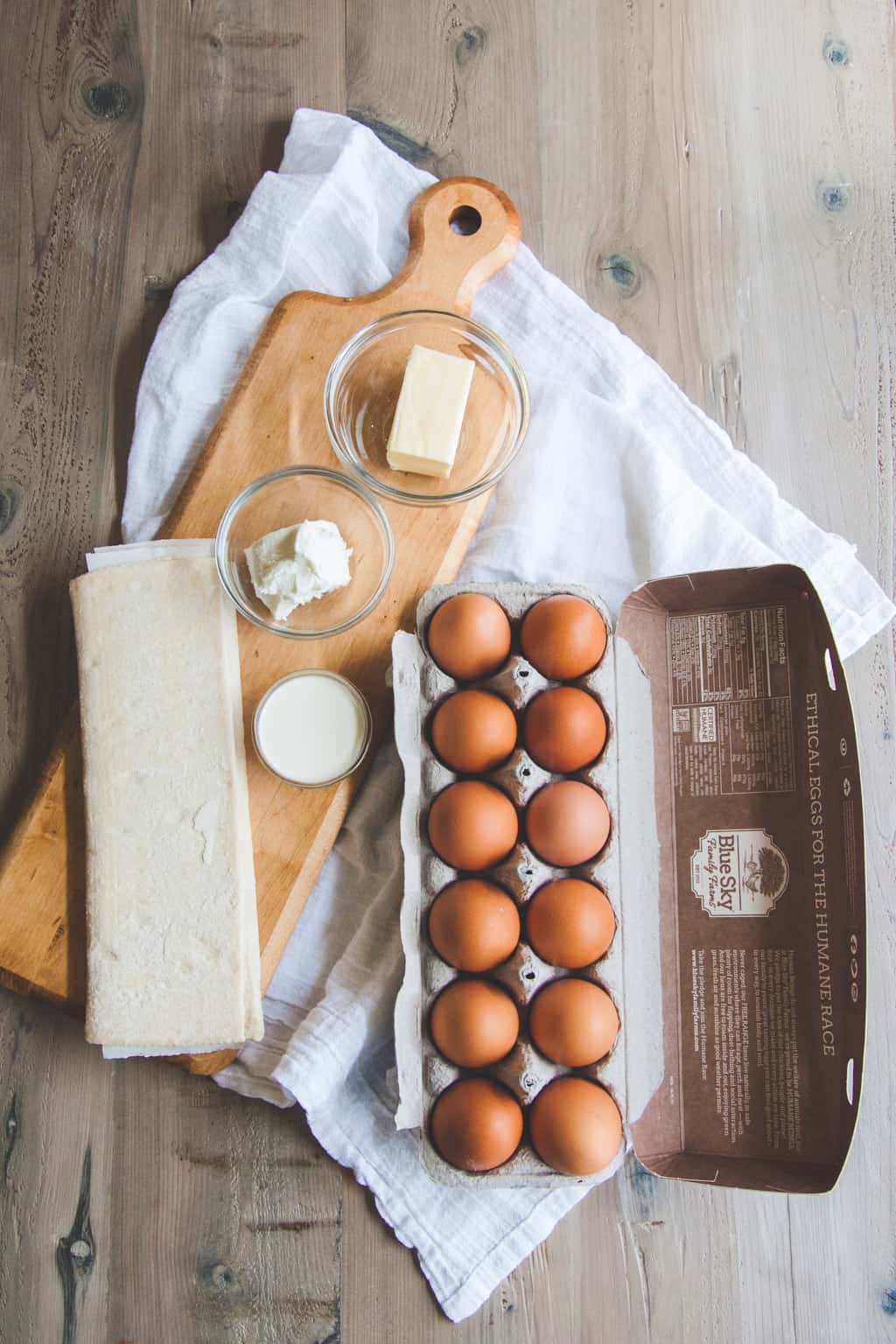 Now let's talk about eggs – they're such a versatile ingredient, used for so many dishes. You can boil, scramble, fry, poach or use them in an endless list of ways, but the quality of your eggs and how the hens are raised is super important and I have found some truly incredible eggs from Blue Sky Family Farms.
Blue Sky Family Farms offers 100% free range and pasture raised eggs, and holds the highest Humane Farm Animal Care (HFAC) "Certified Humane" standards for Free Range and Pasture Raised eggs. To illustrate the difference and help consumers get to know their eggs, Blue Sky Family Farms has introduced the Rating Animal Welfare (R.A.W.) Scorecard. and it is truly mind boggling:
I love the description of Level 4-Pasture Raised eggs "over 108 square feet per hen, year-round outside pasture space to roam free on grass with plenty of room for foraging, dust-bathing, flapping and social interaction", I don't know about you, but I want the eggs I'm consuming to come from happy hens that are flapping and having social interactions, sounds fun, doesn't it? Yup, I want those eggs.
And the packaging is so pretty- it conjured up images of where these happy hens live, at Blue Sky Family Farms!
After making these souffle cups and having the eggs in various dishes (I made this salad yet again last week) I can tell you that those are seriously some of the best eggs I have ever eaten!!

When making the souffle one separates egg whites (which one beats into soft peaks) and yolks (which one beats also) and then combines them with goat cheese which is perfect for making souffles because it is a really light and creamy cheese. One bakes the egg and cheese mixture in little ramekins that are lined with buttered puff pastry. The end result is incredible – flaky crust with a light and fluffy souffle filling…deeeelish!
Ingredients
6

eggs

separated

3

oz

goat cheese

4

teaspoons

heavy cream

pinch

of salt

2

tablespoons

butter

melted

1

sheet pastry puff

cut into 4s
Instructions
Preheat oven to 350.

Separate egg whites and yolks into two separate bowls.

Start by beating egg whites with a hand mixer until soft peaks form (about 3 minutes).

Beat egg yolks for 1 minute, then add in the heavy cream and beat for 30 seconds, then add in the goat cheese and salt and beat for 30 seconds (it's ok if a few chunks of goat cheese remain.)

With a spatula or spoon fold egg white into egg yolk mixture.

Liberally brush butter into 6 small ramekins, into 4 of the ramekins press a square of pastry puff and brush butter over the puff pastry dough on the inside of the ramekins. Pour the egg mixture into the ramekins (fill to about 3/4 full) and bake for 35-40 minutes until tops are golden brown (the souffles will puff up).

Remove from oven and allow to cool for 5 minutes, then gently run a knife around the edges of the ramekins and remove the souffles and serve.
Notes
Makes 4 souffles with a crust and 2 with no puff pastry crust (perfect for any gluten-free diners)
If you make this recipe, I'd love to know! Leave a comment below or take a photo and tag me on Instagram or Facebook with #sweetphiblog or email me at sweetphiblog@gmail.com, I always love featuring your pictures on my Reader Recreations page!
This post has been sponsored by Blue Sky Family Farms whose product I truly love, use and recommend. As always all thoughts and opinions are mine alone, thank you for supporting the brands that make the SweetPhi blog possible.