To finish out this wonderful farm to table dinner week I'm going to share a sweet treat – 5 ingredient jam crumb bars! They're my favorite no fuss dessert that feeds a crowd.
This week I've shared how to have a farm to table dinner in your backyard along with recipes for a salad with homemade buttermilk ranch dressing and soft boiled eggs, ginger glazed and seared carrots, potato and kohlrabi salad, rotisserie chicken, and now these 5 ingredient jam crumb bars. These bars are so delicious and versatile and will feed a crowd!
[Tweet "Need a dessert to feed a crowd? Try these 5 ingredient jam crumb bars from @sweetphi"]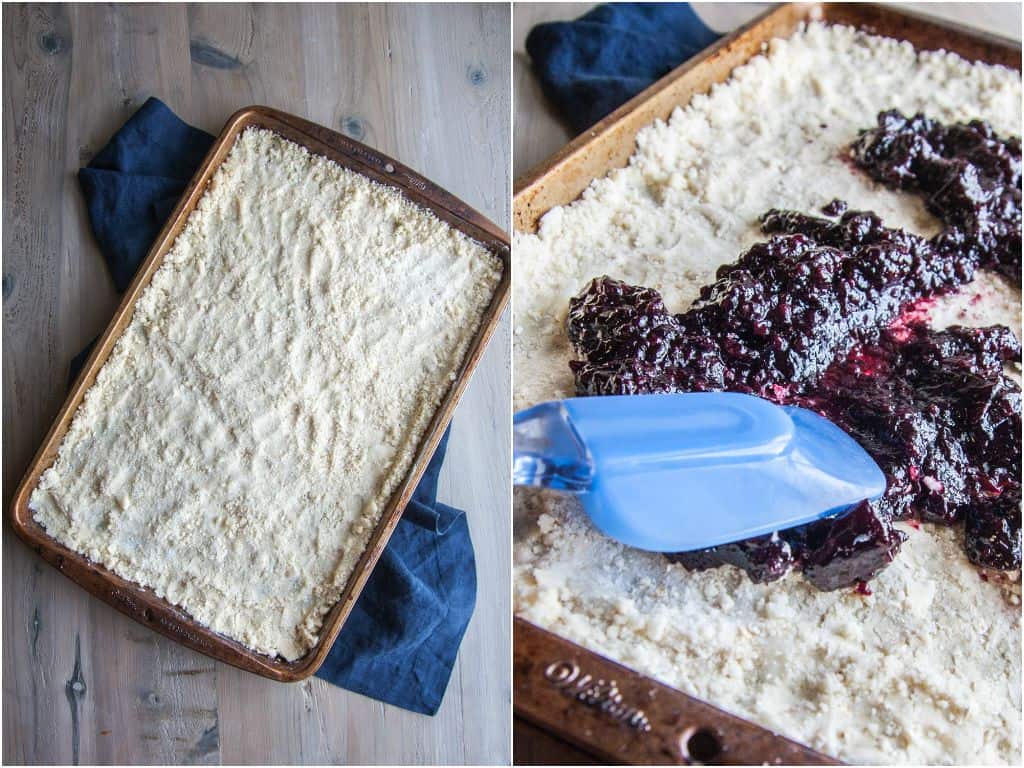 I just love desserts like that – desserts that feed a crowd. Because honestly, sometimes when there's a whole group of people the last thing one wants to do is 'chance it' and try doubling or tripling a recipe without knowing what the end result will be.
And they're beyond easy to make, only five ingredients (perfect for Five Ingredient Fridays) and can be customized to whatever jam you have on hand or want to use. If you have some fruit (another idea for what to do with leftover fruit) you most certainly can add it in. I like to use a big baking sheet – a jelly roll pan (like this 12 x 18 jelly roll cookie sheet) for baking.
When I made these bars for the farm to table dinner I added some fresh strawberry slices, but that is totally optional, you really just need some good quality jam and you're all set to go. I've found that the best jam for these bars is a berry jam that has a little bit of tartness to it…perhaps a berry blend or a seedless raspberry.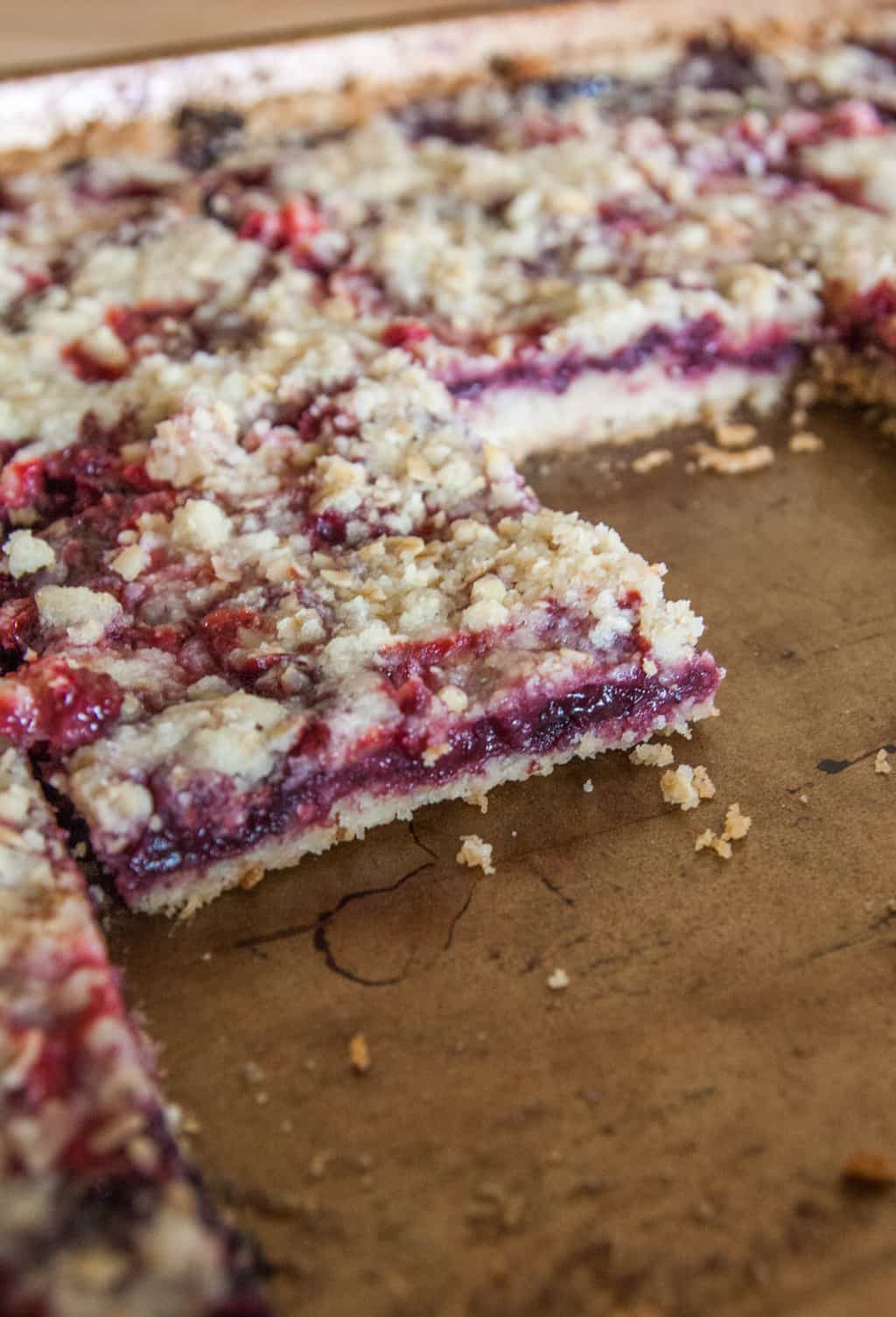 The flavor combination is really great – the butter and 'crumb' topping is the perfect texture and flavor contrast to the jam. I would say these are perfect for summer, but the truth is, these would be great for any season or occasion-birthdays, holidays, potlucks, you name it…these jam crumb bars would make a great addition (I'm thinking of making these with cranberries for Thanksgiving).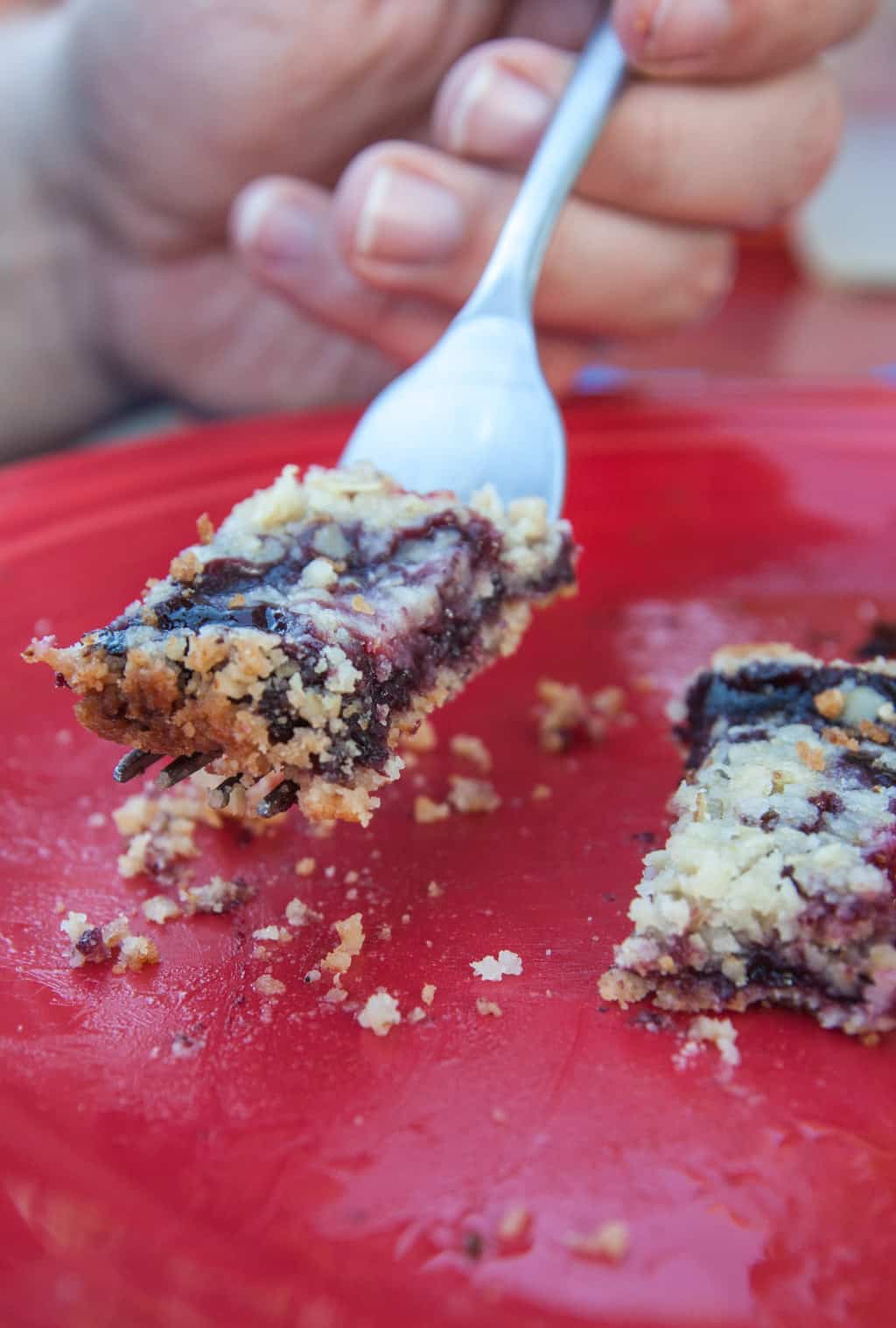 The next time you're in search of a super easy dessert for a crowd that comes together in a flash, these 5 ingredient jam crumb bars are your savior!

Ingredients
3

sticks butter

1 1/2 cups butter

2

cups

flour

1

cup

oats

1

cup

sugar

2

cups

jam

optional - fresh fruit-such as a pint of strawberries
Instructions
Preheat oven to 375, use a little of the butter to grease a jelly roll pan.

In a food processor pulsate together 1 cup of the butter (cut into chunks before adding to the food processor), 1 2/3 cups flour, 2/3 cup of the sugar and 1/3 cup oats. Pulsate until combined into a mealy mixture. Press into the prepared pan.

Spread the jam over the prepared layer. (If adding fruit - now is when you would add it)

In the food processor process the remaining ingredients (1/2 cup butter, 1/3 cup flour, 1/3 cup sugar, 2/3 cup oats) until a crumbly mixture, then sprinkle over jam.

Bake for 25 minutes or until edges are golden brown, then remove from oven and allow to completely cool before cutting into squares (I cut big squares and got 32, but you could easily cut these into small squares for more!)