All it takes is 5 ingredients to make this amazingly flavorful Mexican shredded beef, and 2.1 seconds after the beef is done you can make beef tostadas because all you do is pile toppings on and you have a super easy meal-hands on time is under 5 minutes!!

The second I see the leaves changing colors I know it's crock pot season! I recently got the coolest crock pot after my old one broke (no joke, it somehow cracked down the middle on the bottom and I came home to find liquid everywhere, not fun – that was actually the second crock pot that has broken on me – that seems a little crazy- it's not like I'm excessively using it – have you ever had a crock pot break?) and have been itching to use it, it seemed only fitting that the first recipe I made in it was one for my Five Ingredient Friday series. So welcome to fall, welcome to Fridays, and welcome to this insanely delicious 5 ingredient Mexican shredded beef.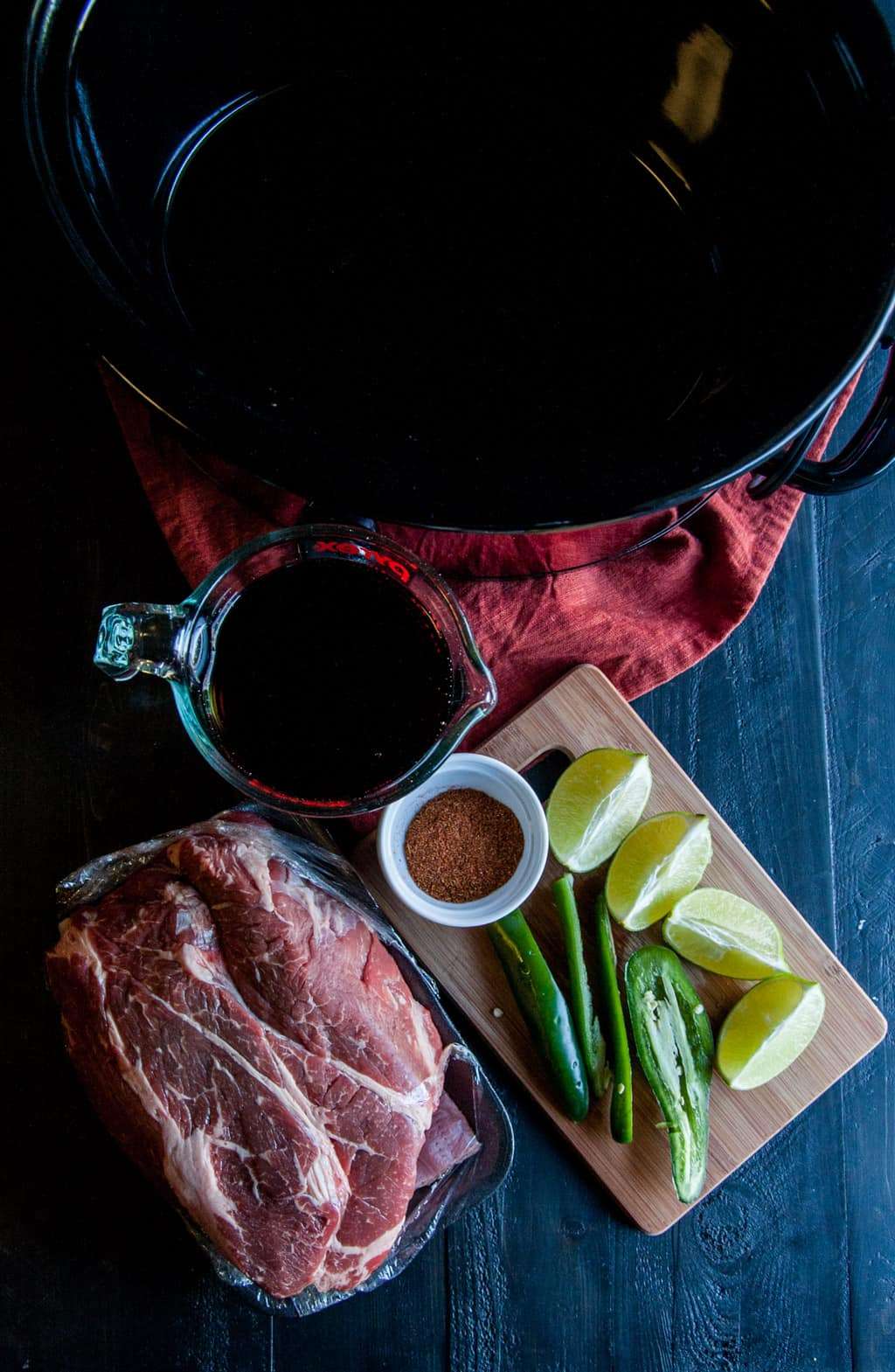 The recipe is so easy, you just put all the ingredients in the crock pot, set it and forget it.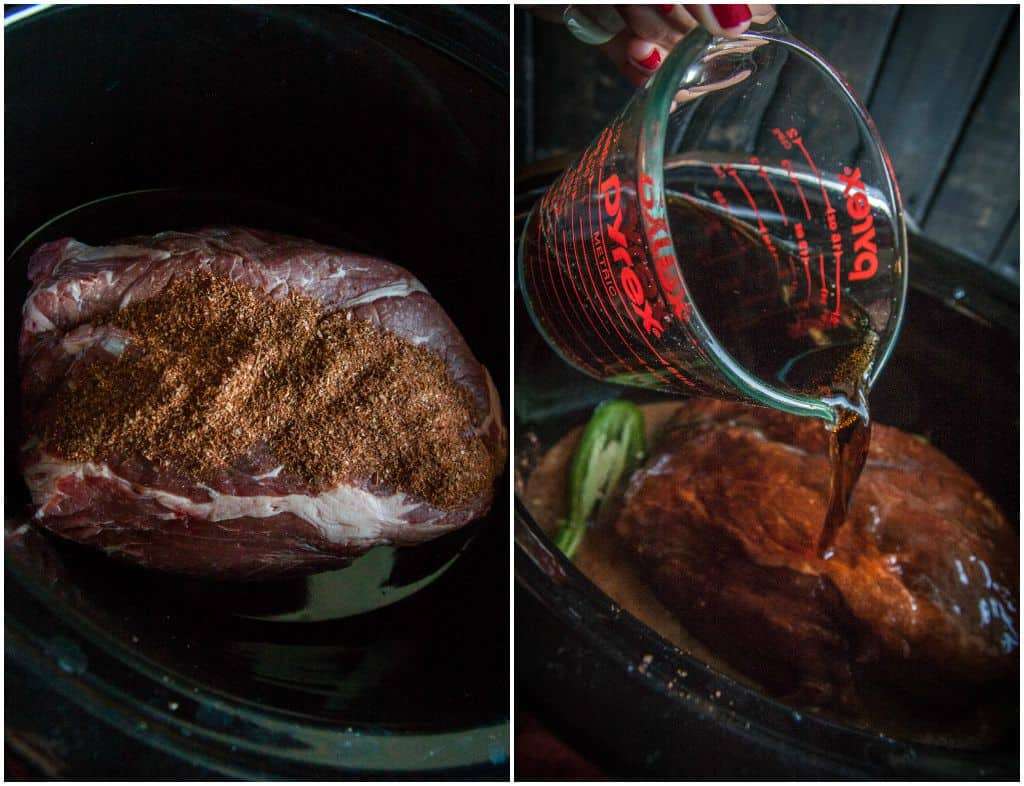 You come back to not only a delicious smelling house, but to beef that is cooked with jalapenos, lime and seasonings. A hint of spicy and a hint of sweet! I love using dark soda (like when I made this 3 ingredient pulled pork) when cooking meat in the crock pot. It gives meat that hint of sweetness that works so well with the spice from the jalapenos (and if you don't like it on the spicy side seed the jalapenos before putting them in).
[Tweet "Got 5 minutes? Make this 5 ingredient Mexican shredded beef from @sweetphi for #dinner tonight!"]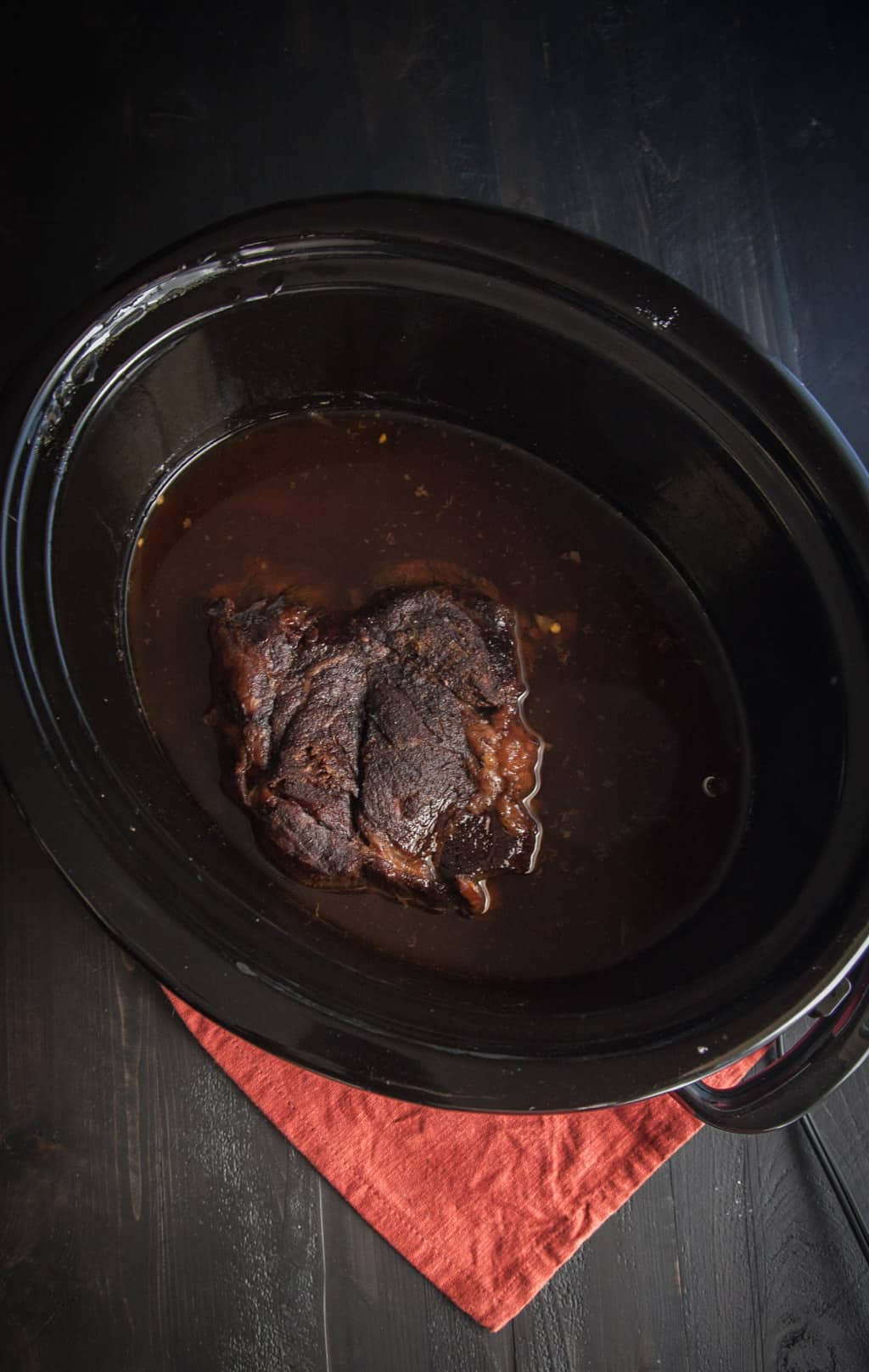 And what to do with all the delicious Mexican shredded beef? Why, make beef tostadas of course!
Tostadas are like a flat taco or big nachos. I love how easy they to assemble, you just buy tostada shells and then pile on the toppings. On top of the beef I had this 5 ingredient guacamole, lettuce, cheese and sour cream. So good!!
This Mexican shredded beef would also be great on these nachos instead of pork or would make an awesome filling for tacos, quesadillas, enchiladas or on little buns for sliders!

Ingredients
3-5

lb

beef chuck roast

1 1/2

tablespoons

taco seasoning

1

jalapeno

2-4

cups

dark cola soda

1

lime

juiced

For the tostada:

tostada shells

guacamole

salad

sour cream

shredded cheese
Instructions
Pat beef chuck roast dry with a paper towel and place in a crock pot.

Sprinkle taco seasoning on top of the beef and rub it into the beef with your fingers, kind of like massaging it in.

Add in the jalapeno (if you want it more spicy leave in the seeds, if you like it less spicy seed the jalapeno before putting it in.) and then pour cola over the meat - you want it about just to the top of the beef.

Squeeze in lime juice and turn the heat on low and cook for 6 hours (alternatively you could cook it on high for 3 hours).

After 6 hours remove the beef and with two forks shred the beef and enjoy!

For the tostadas simply pile on shredded beef, lettuce, guacamole, sour cream and shredded cheese.