The recipe I'm sharing here for 5 Ingredient Salsa is the best salsa recipe ever and takes a whopping 2 minutes to make.
It all started when my husband and I went to eat at a Mexican restaurant and I could.not.stop. eating the chips and salsa. I simply don't have any control with delicious chips and a fresh salsa, and I mean, they conveniently refill your bowl every 5 seconds with fresh chips and salsa, so, you wouldn't want to waste it, would you? When I'm having such a moment, I tell him husband 'don't judge me, it's sooooooo good!'
The next day I could not get the salsa out off my mind….the finely chopped ingredients, the pop of flavor, the hint of spice. I needed more salsa like that in my life, stat!
I prepared this recipe and in doing so think I  cracked the code for creating the perfect recipe-style salsa. It's actually quite simple…throw ingredients into the general direction of the food processor (my tiny kitchen is clearly becoming quite the disaster zone), cover said food processor, pulsate for 30 seconds and viola, you're done.
Why did I say it takes 2 minutes to make? Well, you have to get the ingredients out of the fridge and open a can … that requires at least a minute, doesn't it?
So for this weeks Five Ingredient Friday, I give you 5 Ingredient Salsa. Another great thing about this recipe is that you can modify it to your preferences. For example, one time I found Diced Tomatoes with Green Chilies and used that instead of plain diced tomatoes, since it had the chilies in it, I didn't add the jalapeno. Alternatively, if you like spicy-spicy food, feel free to add 2 jalapenos!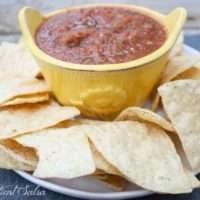 Ingredients
2

Cans

10oz each Diced Tomatoes (I found diced tomatoes with green chilies and tried it and loved it, so if you find a cans with green chilies, omit the jalapeno)

1

Jalapeno

cored, seeds removed (if you like mild salsa, only use 1/2 jalapeno)

1/2

yellow onion

1

cup

cilantro

one heaping handful cilantro leaves

1

garlic clove

1

tsp

salt
Instructions
Put all ingredients in the food processor, pulse for 10 seconds (if the ingredients are not super finely combined, pulse in additional 5 second intervals)