You would not believe that this 5 ingredient seed crackers recipe is completely gluten free!  They are just so incredible; crispy, nutritious, delicious and perfect for a cheese plate or on their own.
I had some seed crackers from Trader Joes (
Grain Crispbread
) and was hooked on the idea of making them myself at home.  I just wasn't quite sure if they'd work.  I tested the recipe a few different ways, and got it just right!!
What ingredients do I need to make seed crackers?
Ground flaxseed – ground flaxseed mixed with water creates a gelatinous/binder for the other wonderful seeds in this recipe. Often times, in vegan recipes you'll see a 'flax egg' created where the flaxseed/water combination is used in place of an egg. Ground flaxseed can be found in the baking aisle with other alternative flours (like almond flour/etc.)
Pumpkin seeds – also known as pepitas. You could use regular unsalted or lightly salted pepitas for this.
Sunflower seeds – sunflower seeds are so delicious – they add a beautiful almost nutty flavor to these seed crackers. You could use unsalted or lightly salted sunflower seeds for this recipe.
Sesame seeds – you could use white or black sesame seeds.
Garlic salt – this is the flavoring in these crackers. You could opt to use regular salt, but I like them best with garlic salt.
The first thing you do when starting to make these 5 ingredient seed crackers (gluten free) is combine all of the ingredients and let them sit for 5-10 minutes.  This helps the mixture thicken.
When you're making the cracker dough, it seems almost wet, too wet, but the flaxseeds turn almost gelatinous when combined with water so that is completely normal.  You'll want to be sure you spread the mixture evenly on the pan or  some parts will bake and others won't.
These crackers crisp up amazingly when baked.  If you want them really crispy, you can always bake them until they're extra brown (they harden as they bake).
When they're done baking, you can break them into as big or small of crackers as you'd like!
I love these seed crackers by themselves, but Nick says that, with hummus, they are next level delicious and I couldn't agree more.
I also made them again this weekend and was making a fun pimento cheese recipe (so good and it's a funny story because Nick bought an entire
case of pimento peppers
from Amazon, lol).  I had Frankie with me and she kept just wanting to eat the crackers, lol.
If you don't eat all of your crackers in one sitting, they store in an airtight bag for a week or two. Next time you're looking for a healthy homemade gluten free nut free snack, I'd highly recommend these seed crackers!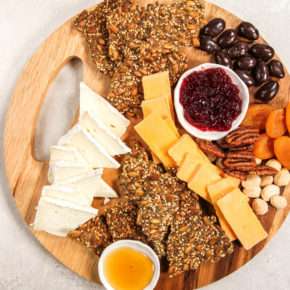 5 Ingredient Seed Crackers Recipe (Gluten-Free)
This 5 ingredient seed crackers recipe is completely gluten free and an amazing, healthy snack to enjoy with cheese, hummus or on their own.
Print
Rate
Ingredients
6

Tbs.

ground flaxseed

1/4

cup

pumpkin seeds

1/4

cup

sunflower seeds

1/4

cup

sesame seeds

1

tsp.

garlic salt

3/4

cup

water
Instructions
Mix all ingredients and let sit for 5-10 minutes until thickened (flaxseeds and water create an almost gelatinous mixture.)

Line a baking sheet with parchment paper. Spread mixture into a flat surface on the parchment paper lined baking sheet.

Bake for 50 minutes, rotating halfway through.

Allow to cool and then break into smaller pieces.