Next time you're having any part or get-together and need a super easy to prepare recipe that everyone is going to love, I'd definitely recommend making these 5 ingredient slowcooker cheesy potatoes!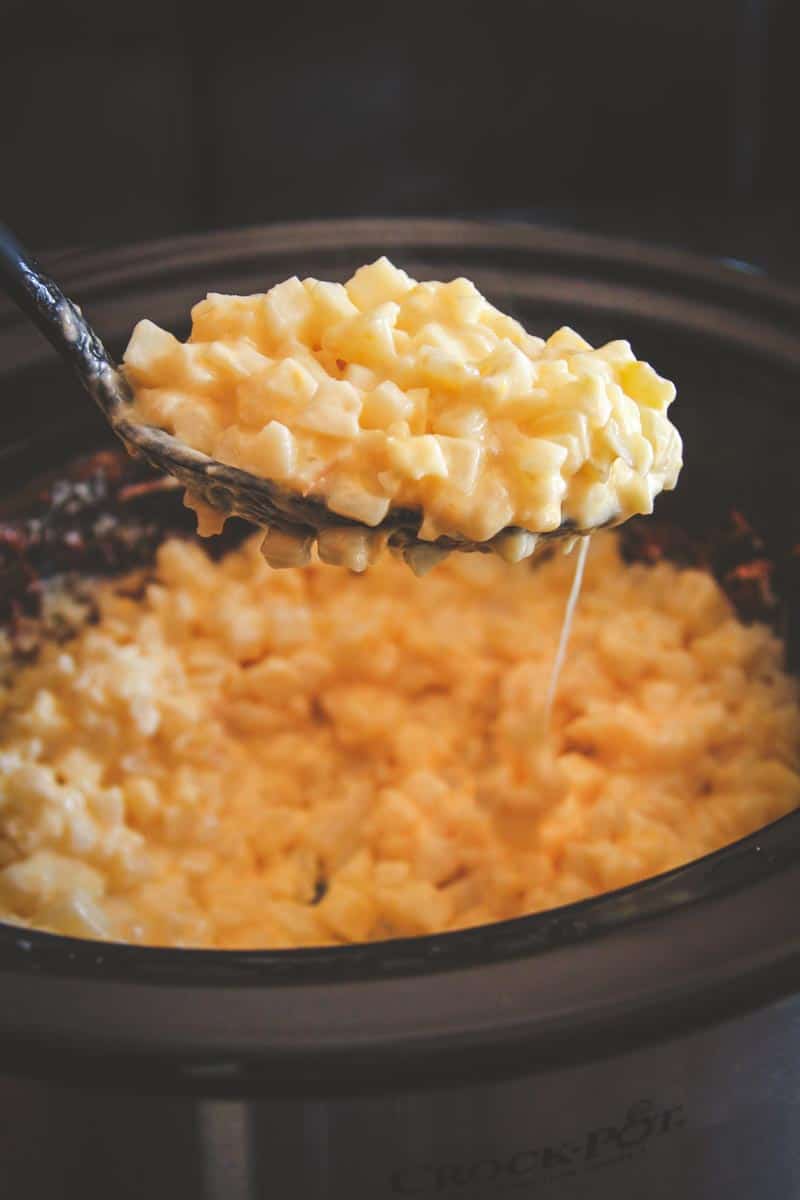 Let's say it's 90+ degrees outside…the last thing you want to do is spend time cooking, over a hot stove or baking something in the oven, am I right? But you still need to feed your guests, or bring a dish wherever you're going.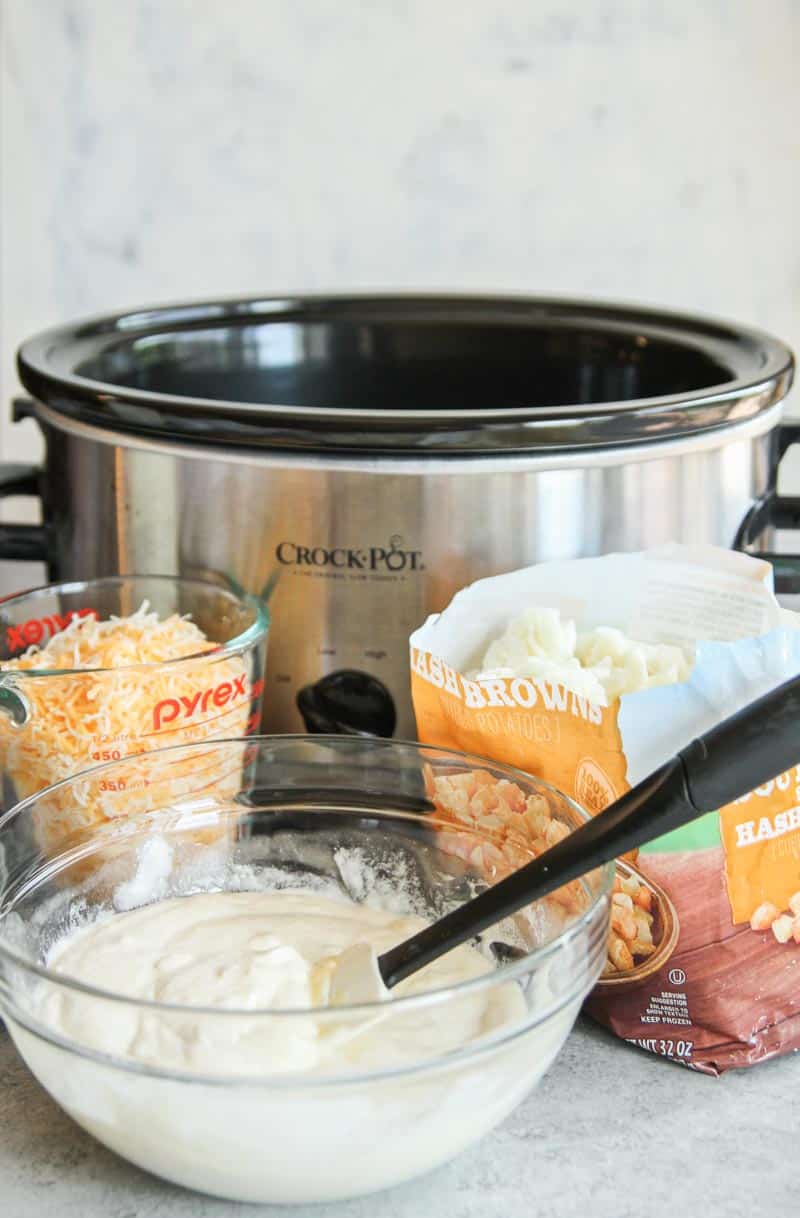 These 5 ingredient crockpot cheesy potatoes are THE answer.
All you do to make these cheesy potatoes is mix a few ingredients and put them in a crockpot/slowcooker and set it and forget it.
If you're feeling extra fancy you can stir it a time or two while cooking, but I've done it both with and without stirring lol, and they turn out great either way.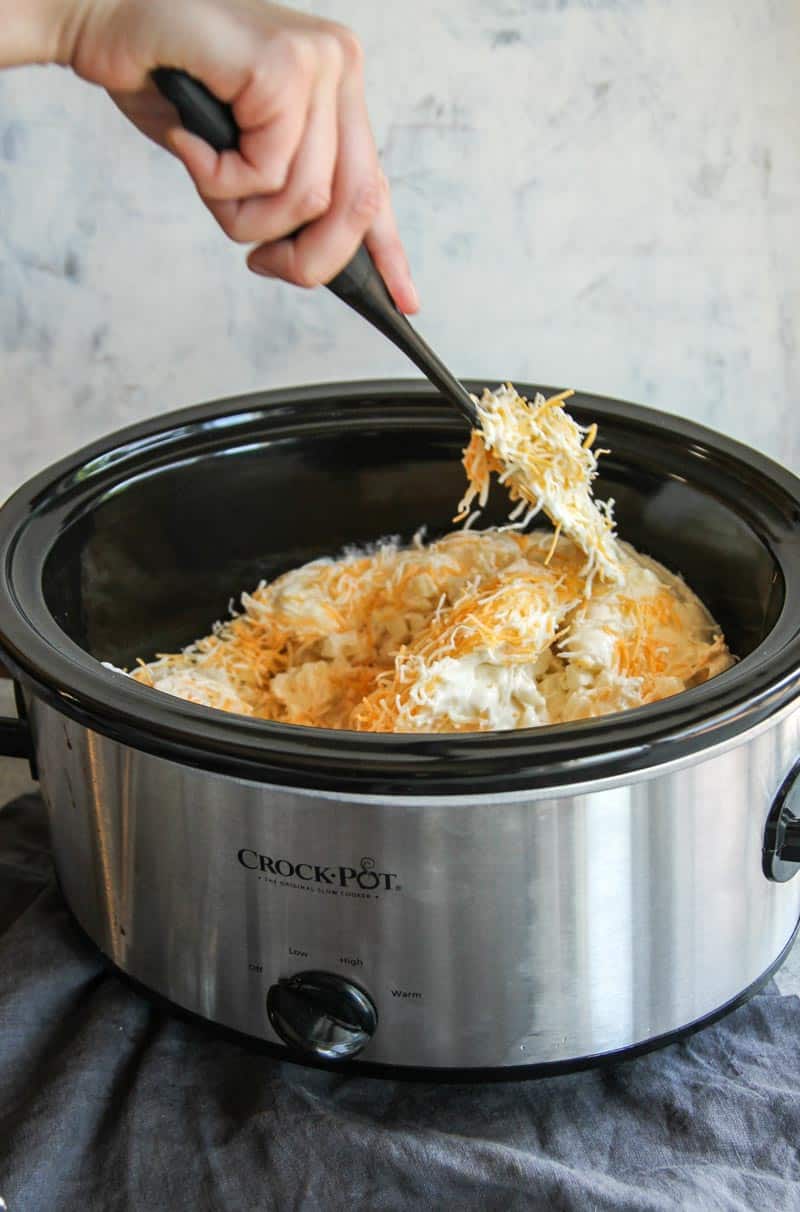 The key to making this dish is the cheese. You may have had cheesy potatoes in the past and noticed that there seems to be a greasy texture or layer at the bottom that pools up (kind gross, right?) … well that's because the wrong type of cheese was used.
I like to use a blend of cheddar-montery jack cheese, called cheddar jack. It works like a charm and really is the best cheese to use for these cheesy potatoes!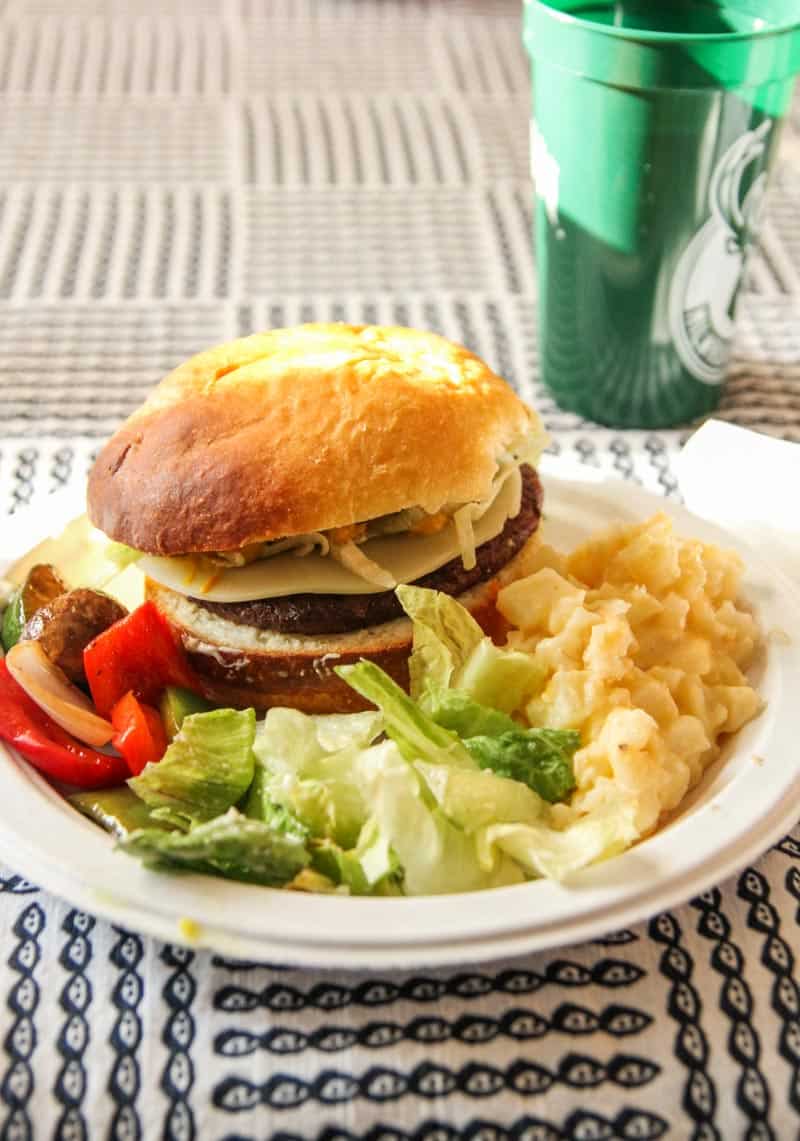 We had a family get together and the menu was grilled burgers, a simple side salad, the balsamic grilled vegetables side dish recipe I just posted, and these cheesy potatoes…soooo yummy! I've also made these potatoes countless times for parties: baptism parties, birthdays, family dinners. They're always a huge hit and everyone loves the cheesy potatoes (and I love how easy they are to make!) If you're looking for another slow cooker potatoes recipe, these are also 5 ingredients and are a butter herb slow cooker potato recipe.
Yield: 10-12
5 Ingredient Slow Cooker Cheesy Potatoes Recipe
Prep Time 5 minutes

Cook Time 4 hours

Total Time 4 hours 5 minutes
Ingredients
1 bag (32 oz) frozen diced potatoes
1 cup sour cream
1 can (10.5 oz) cream of chicken soup
1 teaspoon garlic salt
2 cups cheddar jack cheese, shredded
Instructions
Spray slow cooker with cooking spray (this is optional, but I like to do it.)

Put frozen potatoes in a slow cooker.

In a bowl combine sour cream, cream of chicken soup and garlic salt and stir to combine. Pour mixture on top of the potatoes.

Add cheese to the slow cooker and stir everything together.

Turn slow cooker on high and cook for 4 hours, then serve and enjoy
Notes
If you want to double this recipe, just double all ingredients - your crockpot will be very full, but it works 🙂 Also, add an hour of cooking time!
If gluten free, be sure to use a gluten free cream of chicken soup
Nutrition Information:
Yield:
12
Serving Size:
1
Amount Per Serving: Calories: 163Total Fat: 13gSaturated Fat: 7gTrans Fat: 0gUnsaturated Fat: 4gCholesterol: 36mgSodium: 466mgCarbohydrates: 6gFiber: 0gSugar: 1gProtein: 7g