When you're craving pasta but don't want to have the crabs or calories, you can indulge in this healthy 5 ingredient spaghetti squash pesto "pasta" recipe as a delicious alternative.
Have you ever tried spaghetti squash?
It's squash that when cooked seriously looks like spaghetti. It can be used in place of pasta because it's very mild in taste. It works so well as a healthy alternative to pasta.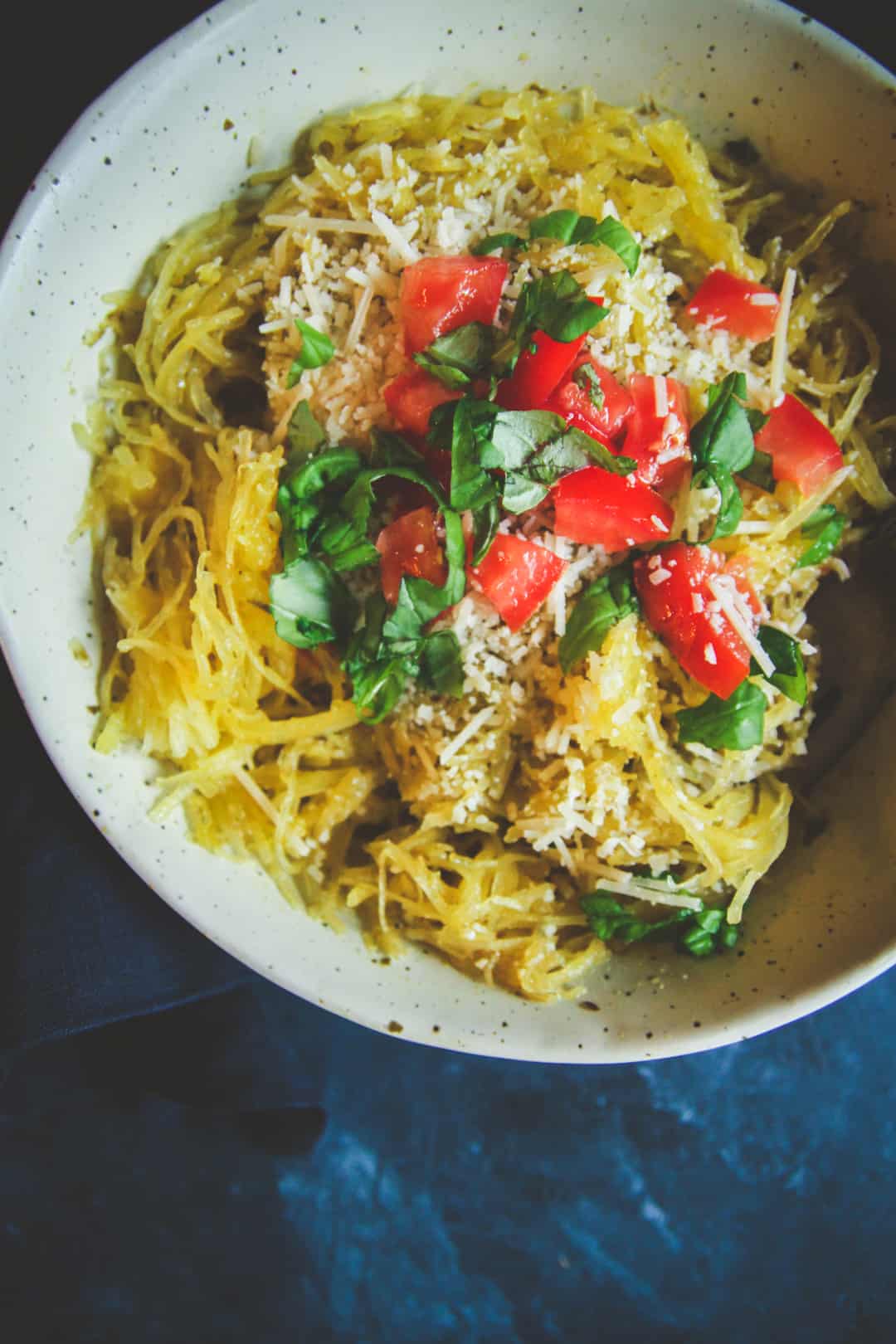 For the first 5-ingredient recipe of the year in my Five Ingredient Friday series, I just had a to post a healthy recipe! The five ingredients for this recipe are a spaghetti squash, pesto, parmesan cheese, tomato and some parsley.
The one thing I used to absolutely hate about spaghetti squash is that it would take FOREVER to bake in the oven. But guess what? I found out that spaghetti squash can be cooked in the microwave, and after testing it out a few times (I've had it explode in the microwave so I've got my best tips for you in the recipe so this doesn't happen to you) I am so excited to share this 5 ingredient spaghetti squash pesto pasta recipe with you. And this recipe can easily be made into a "main" by adding your favorite protein (chicken, tofu, and shrimp work really well with this dish).


Yield: 2 large or 4 small servings
5 Ingredient Spaghetti Squash Pesto "Pasta" Recipe
Prep Time 5 minutes

Cook Time 12 minutes

Total Time 17 minutes
Ingredients
1 (2-2 1/2 pounds) spaghetti squash
2 tablespoons pesto
1/4 cup parmesan cheese
2 tomatoes (I like vine or roma tomatoes), diced
1-2 tablespoons fresh parsley, chopped
Instructions
Using a fork poke holes all over a 2-2 1/2 pound spaghetti squash (you want to make sure to do this, otherwise the squash will explode in your microwave). Put the squash in a large microwave safe bowl, and microwave for 6 minutes. turn the squash and microwave until the shell is sofe when poked with a fork, another 5-8 minutes. Let cool for 5-10 minutes, or until it is ok to touch.
Transfer the squash to a cutting board and cut in half and scoop out the seeds/innards and discard.
Using a fork, gently pull apart the spaghetti strands of squash and put in a bowl.
Spoon pest onto the squash and stir, then top with parmesan cheese, tomatoes and parsley and serve