I am always looking for healthy recipes and especially ones that I can put together in a flash, these 5 ingredient spinach hummus feta wraps definitely fit the bill for an easy healthy lunch recipe. These vegetarian lunch wraps take all of 5 minutes to put together, and are a healthy and filling lunch you're going to love!
I'm sure I'm not the only one out there with these same needs: healthy food fast. I love cookbooks and use them all the time when I'm on the hunt for something specific. You may remember that I shared a list of favorite cookbooks. The recipe I'm sharing today is one from the Cooking That Counts cookbook. It is one of my absolute favorites! This book is full of recipes that are healthy and ones that actually taste really good.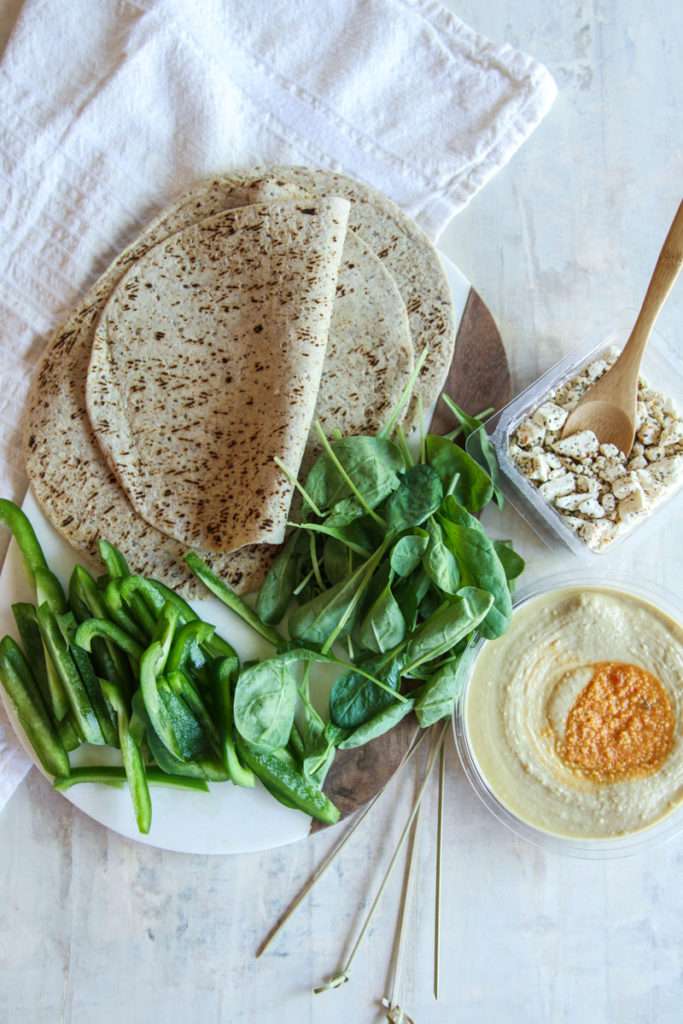 Do you have any favorite recipes to use when you're trying to eat better? A few of my favorite healthy eats are below:
Healthy is one thing, but life is too busy right now to make extra complicated recipes. Good thing this wrap could not be more simple to put together:
spread hummus on a multigrain flatbread
add peppers, spinach and cheese
roll, cut and enjoy
I'm definitely including this recipe into my regular work lunch recipe file. Did you see my roundup on easy work lunches? It's so helpful to have my meals planned out ahead of time and even better if I can get them prepped. Totally works if you make it the night before, but since it only take 5 minutes and I never quite manage to get things done too far ahead of time, I love that I can whip these up quickly in the morning.
I have a good friend who is a vegetarian and she loves that this wrap uses a plant-based protein – chickpeas. Chickpeas are the greatest because they help boost your metabolism, so I'm all about it! It's why we always have hummus around the house. Add in the tangy feta and each bite is fresh and delicious! You can make these vegan if you substitute the feta for a non-dairy cheese such as cashew-cheese! I hope you love these easy vegetarian 5 ingredient spinach hummus feta wraps.
Yield: 2 wraps
5 Ingredient Spinach Hummus Feta Wraps
Ingredients
2 whole grain flatbreads (such as FlatOut)
1/2 cup roasted garlic hummus
1 small bell pepper, thinly sliced
1 cup firmly packed baby spinach
1 ounce crumbled tomato and basil feta cheese (about 1/4 cup)
Instructions
Spread each flatbread with 1/4 cup of the hummus, leaving a 1/2 inch border around the edge
Divide the bell pepper evenly between the flatbreads; top each with 1/2 cup of the spinach and 2 tablespoons of the cheese. 
Starting from one short side, roll up the wraps.  Cut each wrap in half.  
Notes
You can switch it up and use any pepper you'd like!