Sweetphi.com is a destination for easy recipes, showcasing beautiful content and inspiration, everyday family life, motherhood, and fun finds from around the web. 
If you're a brand looking to partner in a meaningful way that resonates with the SweetPhi.com audience, please email phi@sweetphi.com.
Sweetphi.com was founded by Philia Kelnhofer in 2011. Philia is a content creator, recipe developer, food and lifestyle photographer, 2x cookbook author & photographer, who focuses her time on being a full time working mom and raising her 4 beautiful children.
Phi lives in Milwaukee, Wisconsin with her amazing family of six.  She has four kids; Ben and our boy/girl twins, Frankie and Freddie (fun fact: all three kids share a birthday) plus the latest addition, Sam!
In addition to being the creator of this amazing online space (THANK YOU for visiting sweetphi.com and being part of the community), Phi is the author and photographer of two cookbooks!
This online community is full of easy, approachable recipes, neat finds from around the web, and chronicles of daily life.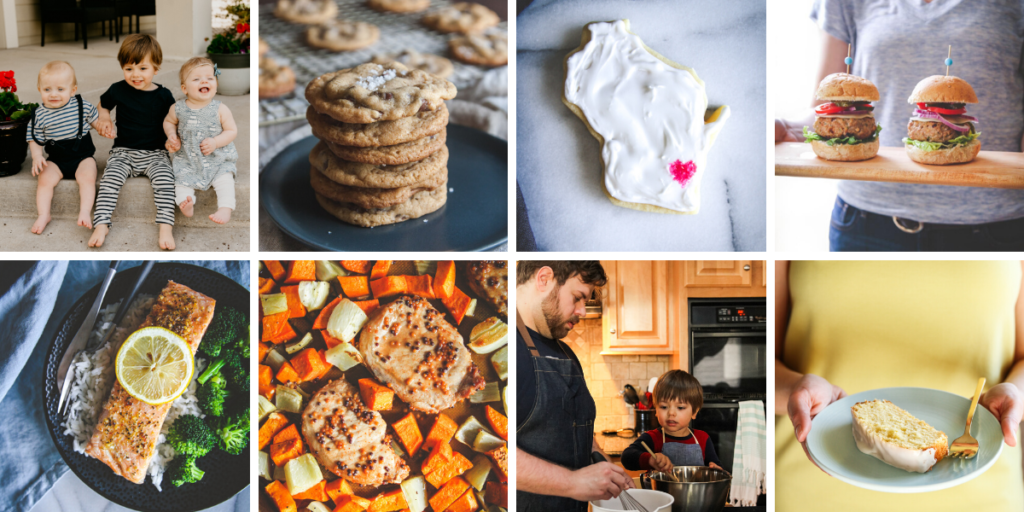 The SweetPhi 5-Ingredient Friday series is a great place to start if you're looking for new recipes.  It was developed for those days that you never really know what groceries you'll have in the house and you just need a simple dish for dinner.  Plus, if you have any extra time, we all love being able to prep meals ahead of time and keep them in the freezer to heat up during the busy week!
If you're new to SweetPhi, thanks for reading!  Here are some links to get you started:
Q & A with Phi
How do you spend your days? Running around chasing kids and trying to run a business! On a typical day you'll find me working on everything from recipe development, photography, writing a cookbook, working on my weekly newsletter, or blog post, or all the million little details that go in to keeping things running, and of course driving the kids around. The next question I always get is: how do you manage all that? The short answer is I don't do everything at once and I have amazing people around me (meet the SweetPhi team)…but mainly lots of planning and scheduling! I am a pen-and-paper planner girl (this is the planner that keeps me sane, it's the 3rd year in a row I've used this brand of planner). Now that I'm a mom, I have a diaper bag (this one) that doubles as a computer bag/carry all. I'm super passionate about this blog; it's my creative outlet and what I truly look forward to working on. I love all the interaction and community feel, please always comment and share because I love hearing from you!
How long have you been blogging? This one always blows my mind: October 24, 2011 was my first post!
What type of camera do you use? I use a Canon 7D, but that was not always the case. I started with a little digital camera and my iphone (true story, lol) and then my first dslr which I got as part of a whole Canon Rebel kit. When I travel I use this Samsung mirrorless camera and it's absolutely amazing – it takes amazing pictures and is not as heavy as my dslr so it's great to just throw in my purse and go.
What are your favorite apps? I have a whole bunch of fave apps I use to run my blog as a business, check out my resources page here.
What do you like to do besides cooking? I love to travel and I love reading cookbooks (I have an insanely large collection of cookbooks that I love reading, here are some of my favorite cookbooks)
What are Nick's top 5 favorite recipes? I made him answer this and some of his answers surprised me: bacon cheese dip, butternut squash gnocchi, back bean pie (this is so good!) beer brat & caramelized onion pizza, and salted caramel chocolate chip cookies– but he likes when they're made by putting the caramel on top like this. He also said that the whole bowl and these tomato tarts needed to be included in his list.  And lastly, I am including chicken salad!  Nick swears to not like chicken salad, but the most recent two times I've tried different recipes, he has loved them both!  This was the first meal I ever cooked for him.
As always, I love feedback and hearing from you. I've created a 'Reader Recreations' page, so if you ever make a SweetPhi blog recipe, I'd love to see the end result! If you ever have a question, suggestion, feedback or just want to say hi, feel free to leave a comment on a post or shoot me an email at phi@sweeetphi.com
Let's Connect:
Thank you for stopping by,
Phi
Interested in collaborating with me on a project? I love working with companies and brands to create quality content and share it with my readers. More information on my partnerships page. I offer the following:
Recipe Development
Editorial Content
Food Photography & Styling
Product Giveaways and Reviews
Brand Representation
Social Media Syndication
Travel Features
I'd love to learn more about your project and would be happy to provide further information and my media kit. If you're interested in seeing a few samples of where the SweetPhi blog has been featured, click here for my press page.
If you're interested in working together or have a comment/question or feedback, just write me an email at phi@sweetphi.com or via the form below!
I'm proudly represented by The Lisa Ekus Group for literary work.
I love getting messages from/about my blog. To contact me please send me a short message and I will answer your message as soon as possible.
Thanks,
Sweet Phi