This hearty arugula salad with roasted chicken and potatoes makes for the perfect lunch or dinner recipe and definitely being enjoyed as part of the Summer of Smoothies and Salads.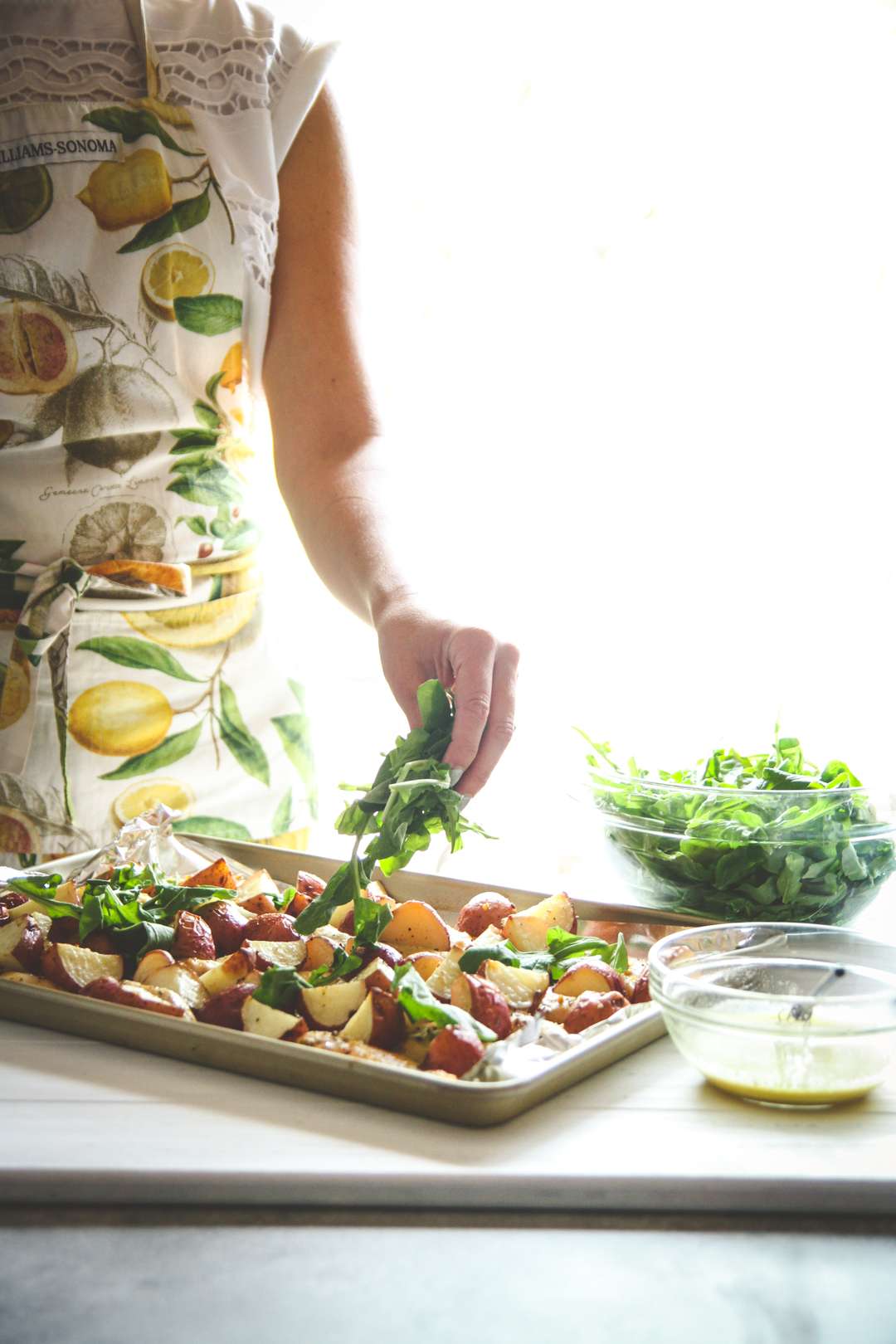 Last week I got the cutest message from my husbands' grandma "Phi I have to let you know what just happen, I bought a package of arugula, which I very seldom do and I have chicken breast out, so I googled a recipe for chicken and arugula, as I'm going through the list one sounded good so I tapped on it not knowing whose it was and your pretty smiley face appeared. What a joy, now I'm off to make your recipe."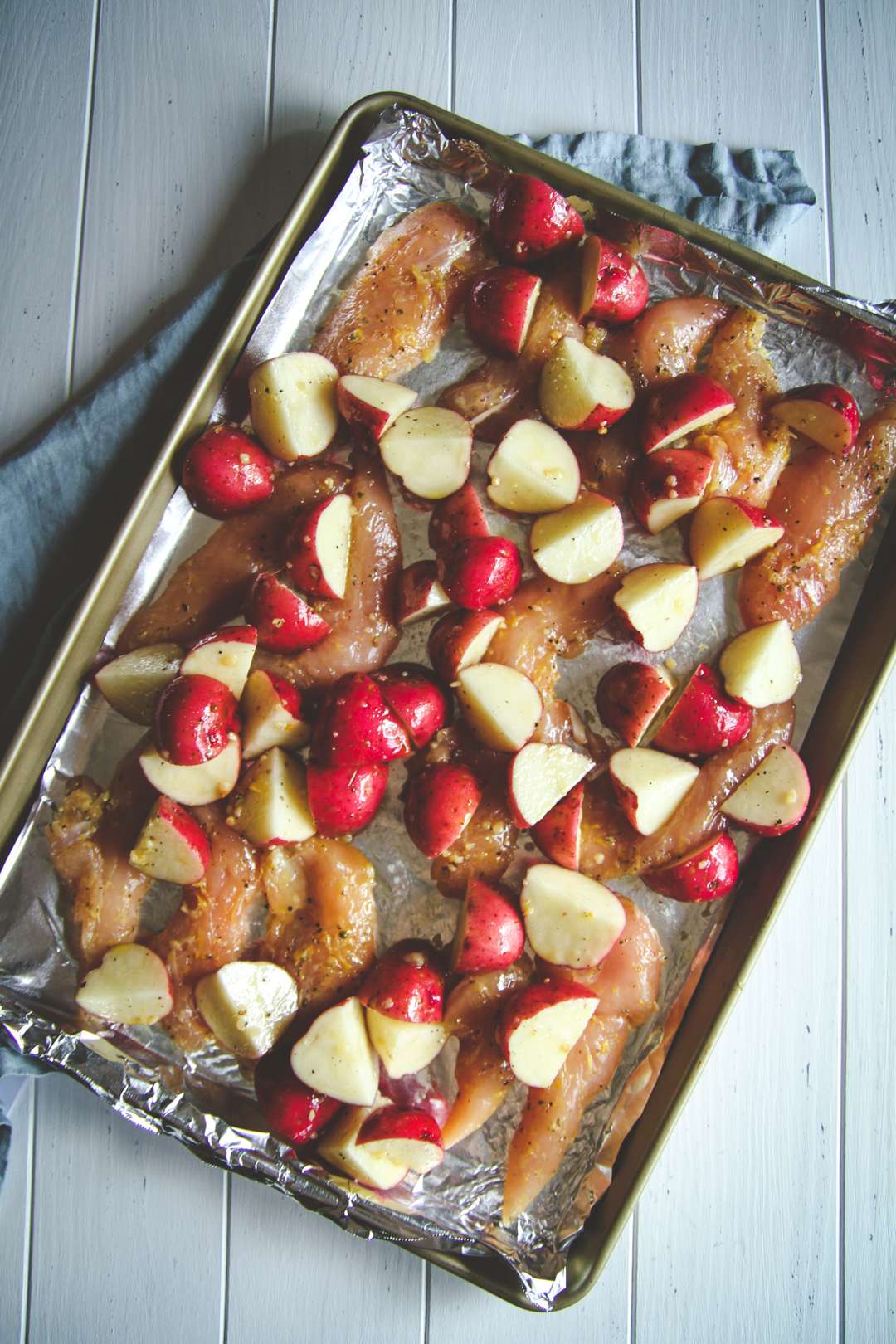 She was talking about this crispy chicken and arugula salad! It totally made my day…and got me thinking of chicken and arugula…because I too had chicken and arugula in the fridge.
I love peppery arugula and chicken and lemon and potatoes are just such a great compliment!
This arugula salad with roasted chicken and potatoes comes together so nicely, it's also a great sheet pan meal. I have a love of sheet pan recipes, because you just line a baking sheet with aluminum foil and then when you're done roasting clean up is a breeze!
What I also love about this arugula salad is that it can be served with the chicken and potatoes warm, or cold.
If you're looking for a great chicken arugula salad, you're going to love this recipe!


Yield: 4
Arugula Salad with Roasted Chicken and Potatoes
Prep Time 15 minutes

Cook Time 20 minutes

Total Time 35 minutes
Ingredients
1 lb chicken tenders (or chicken breasts, cut into strips)
1 lemon (zest and juice)
3 tablespoons extra virgin olive oil, divided
1 teaspoon dried oregano, divided
1 teaspoon salt, divided
2 pinches of pepper
1 lb baby red potatoes
2 garlic cloves, minced
1 teaspoon dijon mustard
1 teaspoon honey
4 cups arugula
Instructions
Preheat oven to 450. Line a rimmed baking sheet with aluminum foil and spray lightly with cooking spray and set aside.
In a small bowl grate zest from the lemon and squeeze the juice into another bowl.
In the bowl with the lemon zest, add 1/2 teaspoon oregano, 1/2 teaspoon salt and a pinch of fresh ground pepper. Rub mixture on chicken tenders and then place on prepared baking sheet.
Cut the baby potatoes in half (or in quarters if some are large) and place on baking sheet. Drizzle 2 tablespoons olive oil over the chicken and potatoes on the baking sheet. Sprinkle garlic over the contents of the baking sheet. Sprinkle 1/2 teaspoon salt over the baking sheet. Spread/turn the chicken and potatoes around the baking sheet to make sure they're coated in oil. Bake for 20-25 minutes, or until the potatoes start to turn golden brown.
While the chicken and potatoes cook, make the dressing. In the bowl with the lemon juice, whisk in 1 tablespoon of olive oil, a teaspoon of dijon mustard, a teaspoon of honey and a pinch of salt and pepper.
Remove the chicken and potatoes from the oven and allow to cool for 5 minutes.
To serve, divide arugula into 4 bowls, top with chicken and potatoes, drizzle with dressing and serve.