Have a super delicious dinner on the table in 15 minutes with this Asian ground turkey and rice bowl recipe!
In this recipe, ground turkey is cooked with Asian ingredients (like soy sauce, ginger, and rice wine vinegar) and then instant white rice is used (the 5 minute kind), and everything is cooked and ready to go in 15 minutes!
These days with my newborn baby, I'm all about quick and easy dinner recipes that I can get on the table, fast!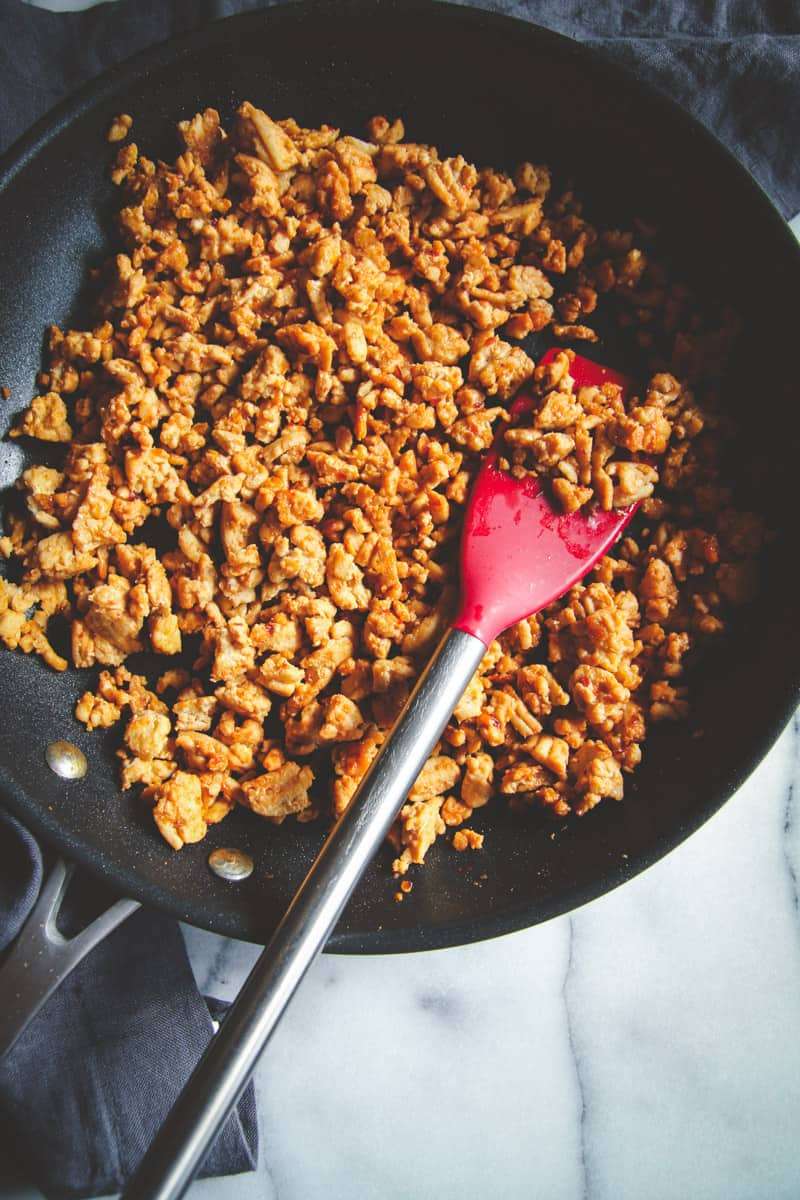 The story behind how this recipe came to be goes something like this: I had had a long day and so had my husband Nick. We were both exhausted and the last thing on our minds was dinner. I took a quick nap while he watched Ben, and then when I woke with a grumbling tummy, I knew I need to make something for dinner that was quick.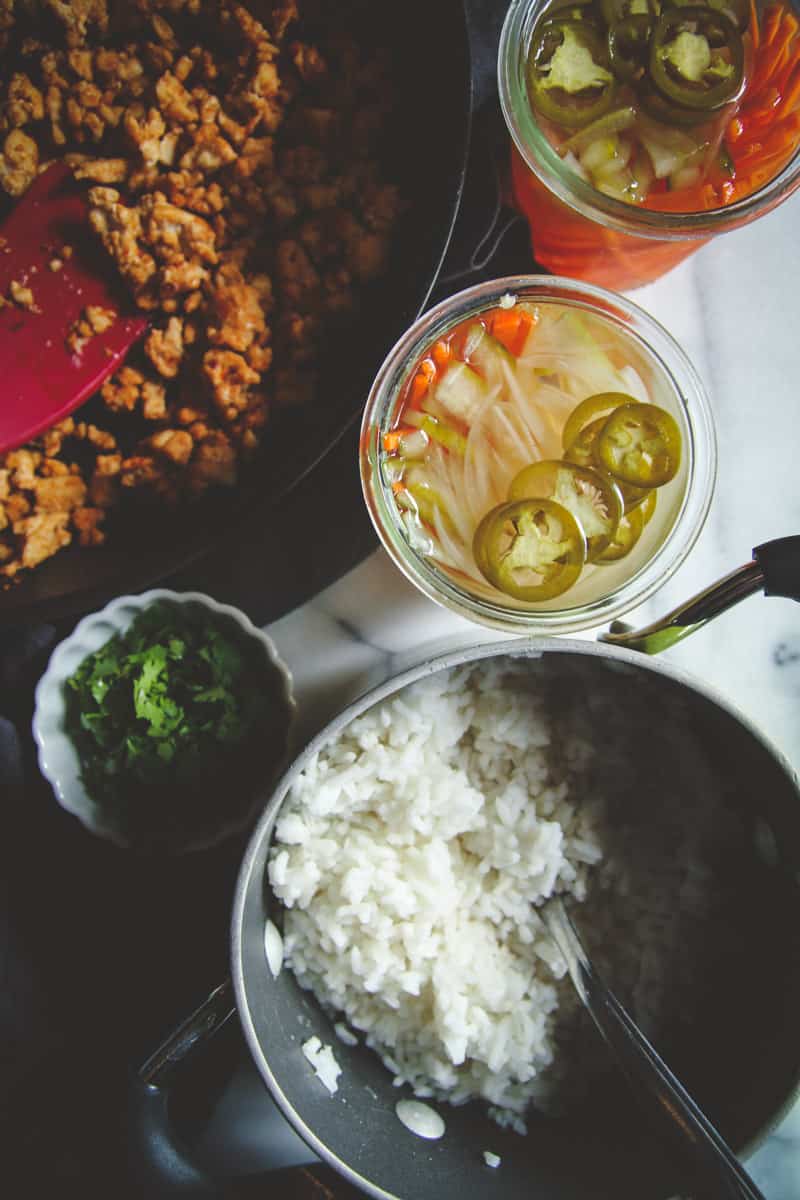 We were thinking of maybe getting delivery, but I really didn't want to wait that long, so I opened the fridge and saw I had some quick pickled Asian vegetables and some ground turkey (as I said when I shared these turkey burgers, I rarely buy ground beef, but instead I love ground turkey!) and thought about how fast ground turkey cooks, so I married the flavors together by cooking the turkey with Asian ingredients that I love having in the house: like rice wine vinegar and gochujang (these items can be found in the Asian or international foods aisle at most grocery stores, or ordered on Amazon.)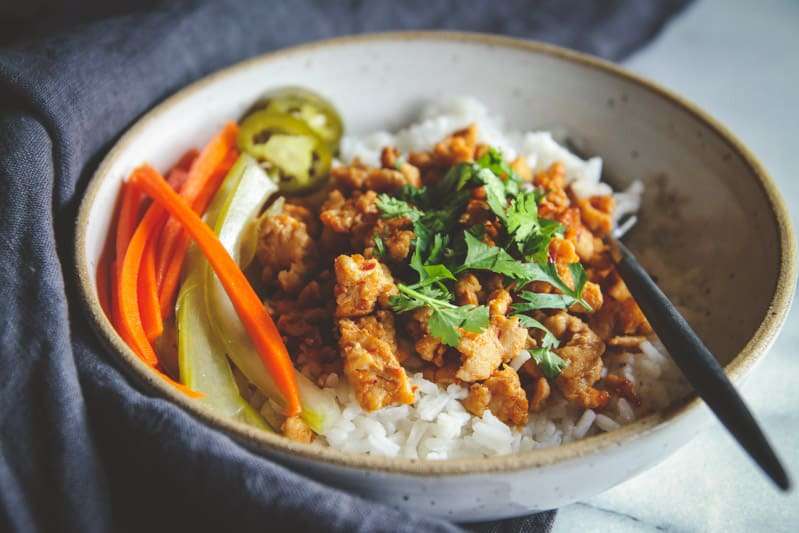 I whipped up these incredible Asian ground turkey and rice bowls, and start to finish, they took only 15 minutes!!!
I had the quick Asian pickled vegetables in the fridge. You could use unpickled, regular raw vegetables, or you could whip up a batch of quick Asian pickled vegetables to have on hand. The longer the vegetables marinate, the more heat they develop. I had ones that I had in the fridge for 2 weeks, and they had this great heat to them!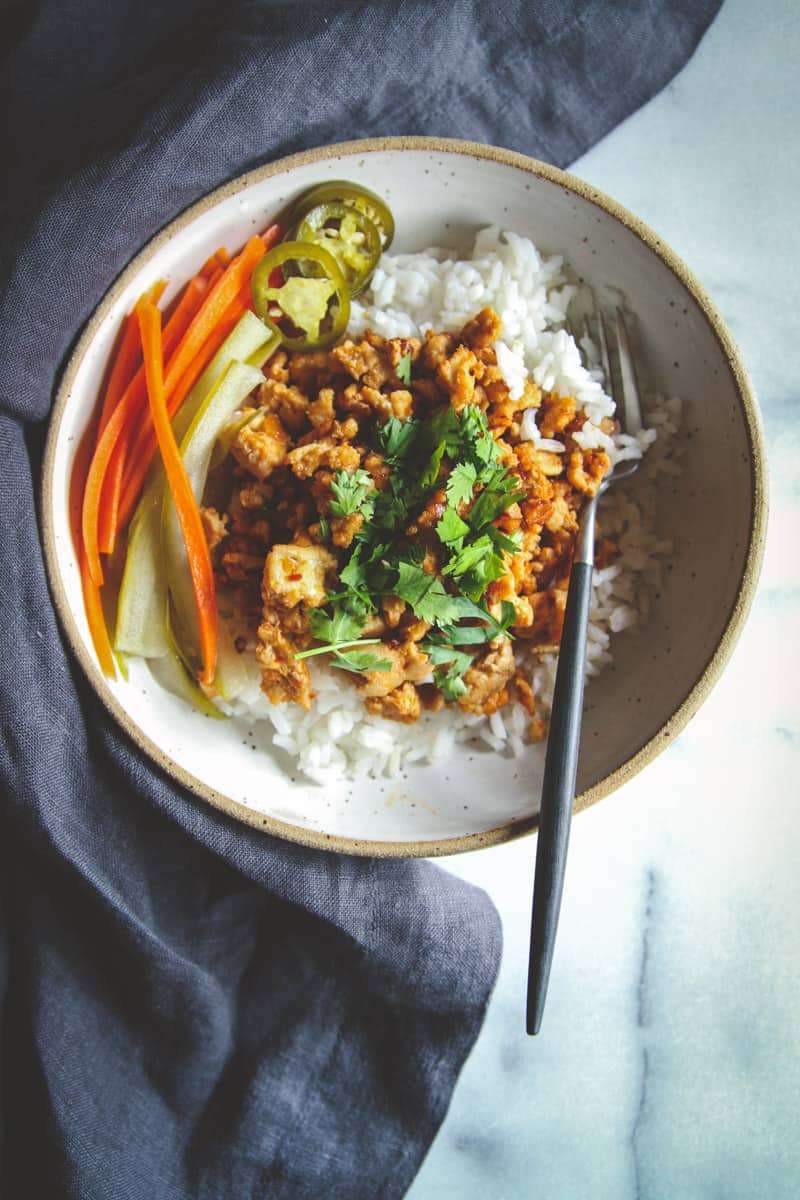 These Asian ground turkey and rice bowls are so flavorful, and make the perfect quick and easy weeknight dinner! I'd love to know -what is your favorite meal or dish to make when you're short on time?
Yield: 4 bowls
Asian Ground Turkey and Rice Bowls Recipe
Prep Time 5 minutes

Cook Time 10 minutes

Total Time 15 minutes
Ingredients
1 teaspoon sesame oil
2 garlic cloves, pressed
1.25 lbs lean ground turkey
1/2 teaspoon salt
1 teaspoon fresh ginger, grated
2 tablespoons brown sugar
1/4 cup soy sauce (or Tamari if gluten free)
1 tablespoon rice wine vinegar
For serving:
Asian pickled vegetables (or you could use finely chopped, raw vegetables: carrots, cucumbers, jalapenos)
cilantro, about a handful, chopped for topping
Optional: sauce to serve over the finished dish:
1/4 cup soy sauce (or Tamari if gluten free), 1 tablespoon brown sugar, 1 teaspoon chili paste
Instructions
In a large nonstick pan over high heat cook sesame oil and garlic cloves for 30 seconds, then add in the ground turkey and sprinkle with salt. Break up the turkey as it cooks for 5 minutes, then when there's only a little bit of pink showing still, add in the fresh ginger, brown sugar, soy sauce, rice vinegar, and chili paste and continue cooking, stirring and breaking up the turkey as it cooks, for another 4-5 minutes. Then turn off the heat.

Cook rice according to package instructions and set aside.

Chop cilantro and get your vegetables ready (drain the liquid from the pickled vegetables or chop the raw vegetables.

If making the sauce to go over the finished dish, stir the ingredients together and set aside.

To assemble: divide rice between 4 bowls, top each bowl with 1/4 of the turkey, add pickled veggies and top with a pinch of cilantro and enjoy
Nutrition Information:
Yield:
4
Serving Size:
1

Amount Per Serving:

Calories: 691 Total Fat: 19g Saturated Fat: 5g Trans Fat: 0g Unsaturated Fat: 12g Cholesterol: 148mg Carbohydrates: 80g Fiber: 4g Sugar: 15g Protein: 49g

Nutritional information is calculated per bowl
Sign up for email updates and get a free eCookbook with our top 25 recipes!