Have you ever been strolling through the grocery store and spotted a recipe on the back of something you pulled off a shelf? 
A recipe for cookies on the back of a bag of chocolate chips?

Back of a soup can casserole recipe?

A dinner idea on the back of a cereal box?
Nick and I always wondered aloud to each other if some of these recipes were any good. We've been talking about trying different back of the box/bag/can/container/etc. recipes and reviewing them for years(!)

So we decided to start a series here on SweetPhi.com called Back of the Box Reviews. It will be a place to catalog our journey through the grocery aisles and kitchen to answer the question above.  We'll share our own thoughts, but the final judgement will of course come from our 3 kids, the taste testers.  Our eldest Ben and his younger twin brother and sister, Freddie and Frankie.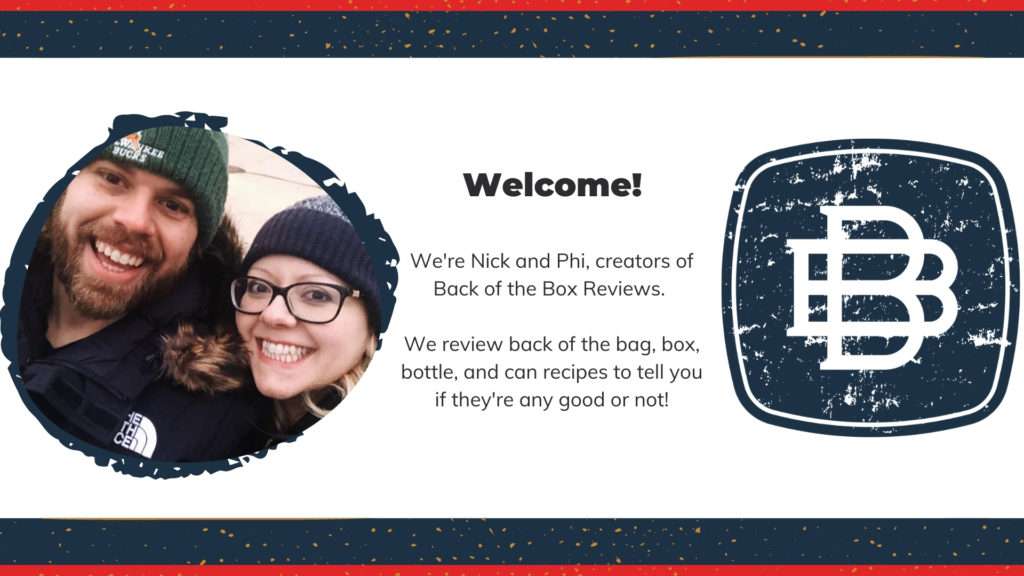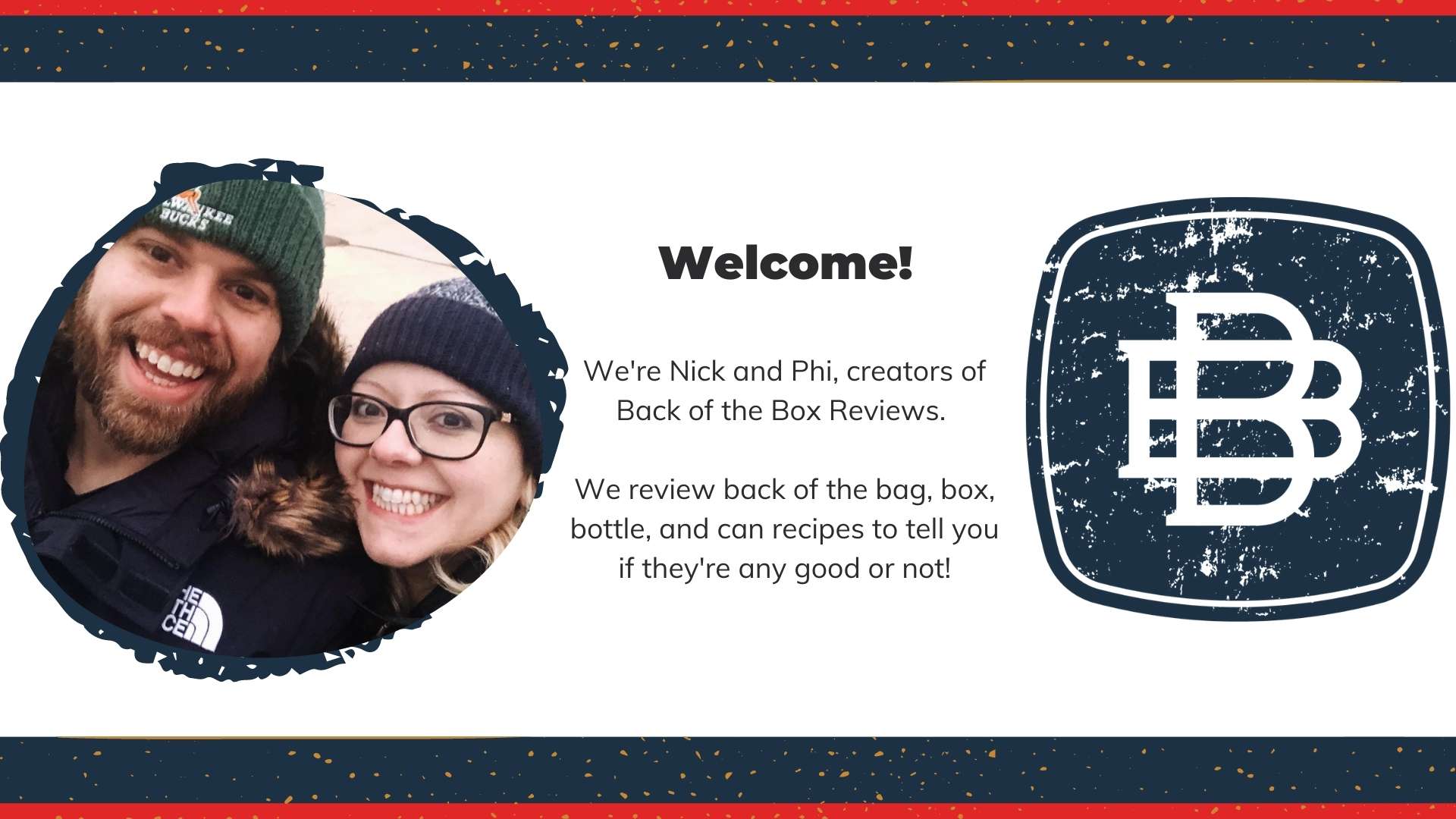 Whenever I share Back of the Box Reviews, it will be a collaboration between Nick and I. A different photography style, a different voice. Nick will be the one doing the cooking <-WHOA! The rest of the post are his words, so here goes!
"Phi knows what she's doing in the kitchen and will often improvise, while I, on the other hand, am more of a "by the numbers" or "by the recipe, exactly" kind of cook.  She has definitely rescued me from some mis-prints, but I can also be a bit slow as I methodically cook something step-by-step, much to her frustration. 
We want to review the recipes as written, so I'll be the one cooking and taking notes here, but Phi will share her thoughts on how she would tweak a given recipe or provide alternatives to various ingredients or methods.
We hope you enjoy this series, and if you have any recipes you'd like us to try from the back of a box, bottle, can, jar or bag, just let us know!
When we started this series, we immediately knew what the first recipe had to be. I don't know if the Original NESTLÉ® TOLL HOUSE® Chocolate Chip Cookie recipe was the first "Back of the Box" Recipe, but it's almost certainly the most popular.  Though I've definitely eaten and baked this recipe dozens* of times there were still a few pleasant surprises when we approached it with a more critical eye. (*pun intended).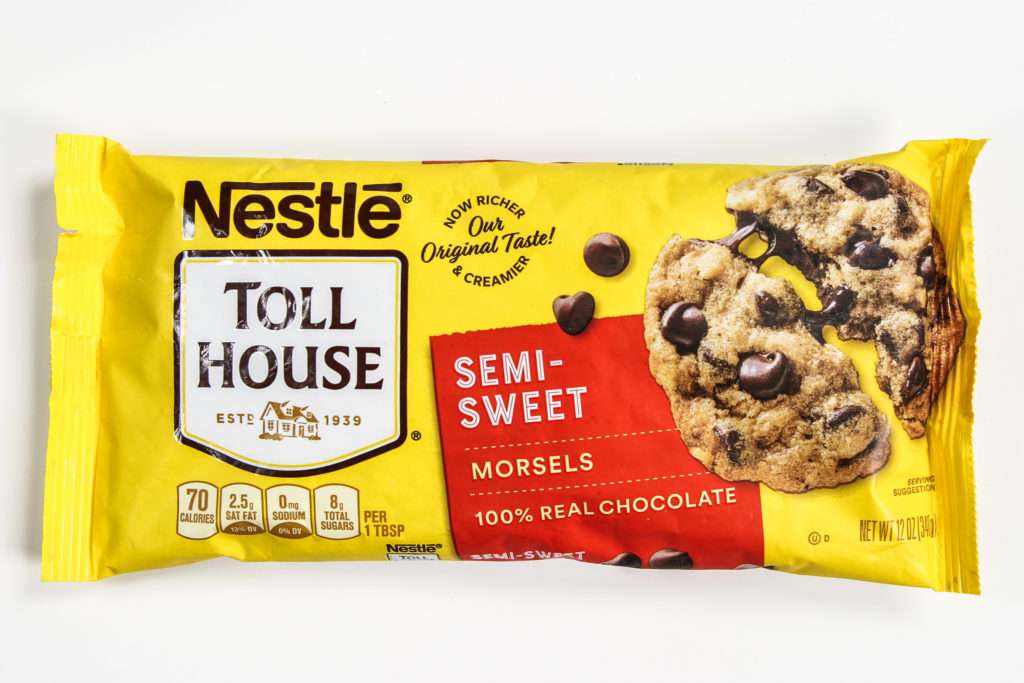 The Recipe
For the most part this is an extremely straightforward chocolate chip cookie recipe.  Preheat your oven, beat your sugar and butter, add eggs, add the dry stuff, drop on a sheet and bake.  Boom! You've got some pretty tasty cookies!  However, I do really appreciate the language NESTLÉ® uses here.  Most experienced bakers would understand terminology like, "cream butter," but the recipe instead uses more layman's style language like, "beat [sic] until creamy."  I think this is a nice touch, and really recognizes that the author knows their audience.  Additionally, for whatever reason, I never noticed that NESTLÉ® offers two variations of the recipe on the bag with slight tweaks to make the cookies with and without nuts.  We really appreciated these options.
The Bake
The preparation and baking process proved to be as simple as expected, in fact it was easy enough for our three year old to help.  We ended up making not only versions with and without nuts from the bag (we used walnuts), but additional M&M® and Pecan Turtle variants (included in the recipe section below).  The recipe showed itself to be easily adaptable to any filling substitutions you might want to make.  
The Results
I thought the cookies were great in all the ways you would expect. They land somewhere between crispy and chewy and hit all the expected nostalgia notes; with hints of butter, nuttiness and salt bouncing off the rich chocolate. Fresh out of the oven the original no nut version was as gooey and delicious as you want a classic chocolate chip cookie to be. However, after cooling I was surprised to find myself enjoying the walnut version most, especially as growing up we were a straight chocolate chips only house. The nuts add a nice depth to the flavor of the cookie that's more prominent once cooled, with nuts adding a bit of textural variation.  Furthermore, the nut versions we made seemed to hold up better the next day maintaining a fluffier, softer quality, while the no nut versions seemed to harden up a bit.  
What did SweetPhi think?
My mother always taught me to line a cookie sheet or grease it so that cookies don't stick. I can honestly say that I have never baked a cookie on an un-greased baking sheet. When the back of the bag recipe said "drop onto un-greased baking sheets" I was skeptical, to say the least. My style of baking is to go with what I know. But Nick said we had to follow the instructions exactly, and so we did. We did not end up having to throw out any of our baking sheets, lol. Worked like a charm, and now I'm left wondering why I've been lining baking sheets. The cookies themselves were a decent chocolate chip cookie as one would expect (I happened to like the turtle variation and chocolate chip cookie with walnuts the best.) Also, I'm a firm believer that there's no such thing as a bad chocolate chip cookie, so grab yourself a bag of Nestle Tollhouse semi-sweet chocolate chips and you're a quick bake away from some cookies of your own.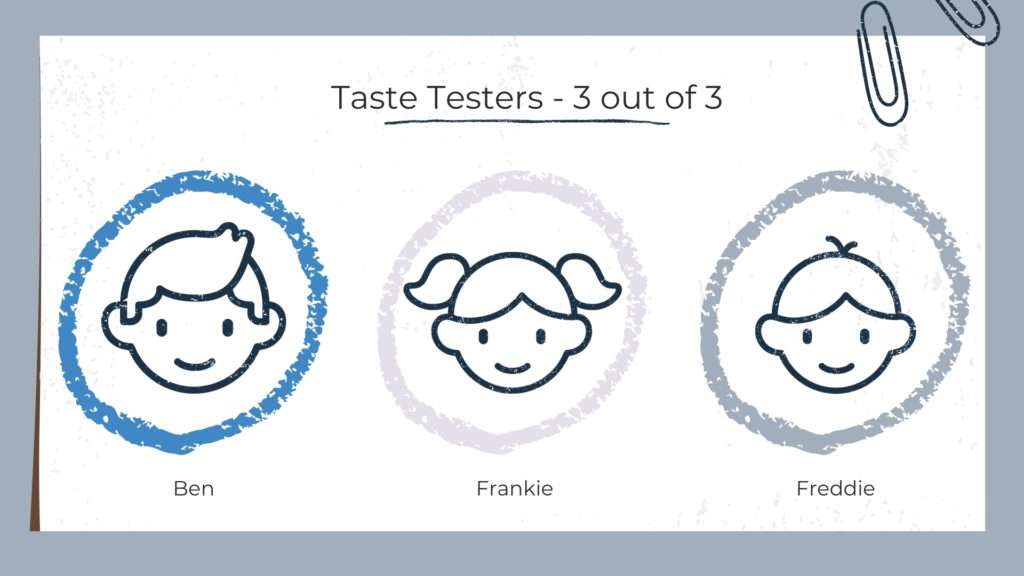 Did the kids eat it?
Unsurprisingly all three kids loved these cookies, and you'd probably be even less surprised to hear that their favorite version was the M&M® version.  We even caught Ben climbing our pantry shelves to snitch a couple more cookies after they had been put away.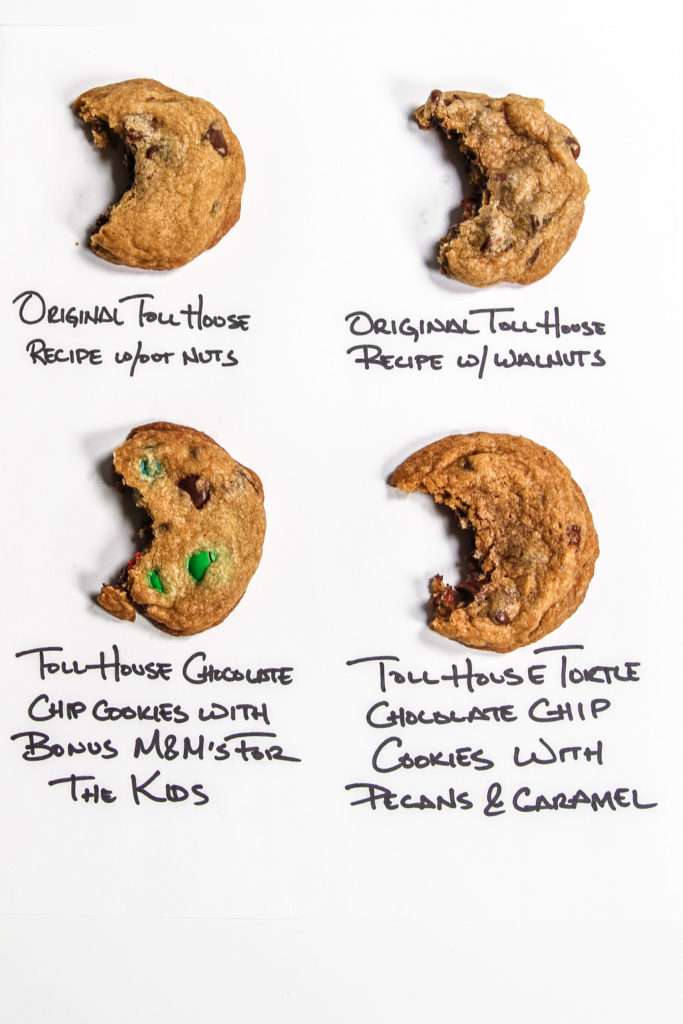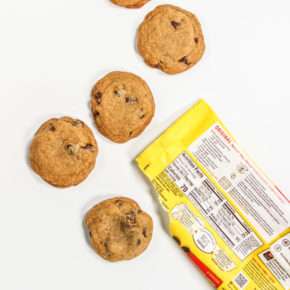 Nestle Toll House Original Chocolate Chip Cookies Recipe
Nestle Toll House original chocolate chip cookies recipe from the back of the chocolate chips bag
Print
Rate
Ingredients
Original Nestle Toll House Chocolate Chip Cookies
2 1/4

cups

all-purpose flour

1

tsp

baking soda

1

tsp

salt

1

cup

butter

softened (2 sticks)

3/4

cup

granulated sugar

3/4

cup

brown sugar

packed

1

tsp

vanilla extract

2

large

eggs

2

cups

semi-sweet chocolate morsels

(1 12-oz package)

1

cup

chopped nuts

if omitting add 1 to 2 Tbs. of all-purpose flour. OR if making variations, omit this ingredient because you'll be adding in toppings in the variation step
Variation 1: walnuts
1/4

cup

walnuts

chopped, 1/4 cup per 1/4 batch, if making full batch with walnuts, use 1 cup
Variation 2: M&Ms
1/4

cup

M&Ms

1/4 cup per 1/4 batch, if making full batch with M&Ms, use 1 cup
Variation 3: Turtle
1/4

cup

pecans

chopped, 1/4 cup per 1/4 batch, if making full batch with turtle style, use 1/2 cup pecans

1/4

cup

caramel sauce

we prefer a Dulce de leche, 1/4 cup per 1/4 batch, if making full batch turtle style, use 1/2 cup caramel
Instructions
In a small bowl, combine flour, baking soda and salt

In a large mixing bowl, beat butter, granulated sugar, brown sugar and vanilla extract until creamy

Add eggs, one at a time, beating well after each addition

Beat in flour mixture gradually

At this step, divide the dough into 4 bowls if making variations and add toppings to each bowl, OR add in 1 cup chopped nuts as in the original recipe

Drop onto ungreased baking sheets by rounded tablespoon

Bake for 9 to 11 minutes or until golden brown. Cool on baking sheet for 2 minutes; remove to wire racks to cool completely
Notes
For high altitude baking: Increase flour to 2 1/2 cups. Add 2 tsp water with flour and reduce both granulated sugar and brown sugar to 2/3 cup each. Bake for 8-10 minutes. 
For pan cookie variation, visit verybestbaking.com