Just in time for Thanksgiving, I'm adding the Karo® corn syrup pecan pie recipe to our Back of the Bag Recipe Reviews series!!
If you're new to Back of the Box Reviews, with all of the posts in this series, you will find our honest reviews of recipes that we've found on the back of a box/bag/bottle or everyday items.
This Back of the Box series is especially fun because Nick does all of the cooking and I just get to sit back and enjoy.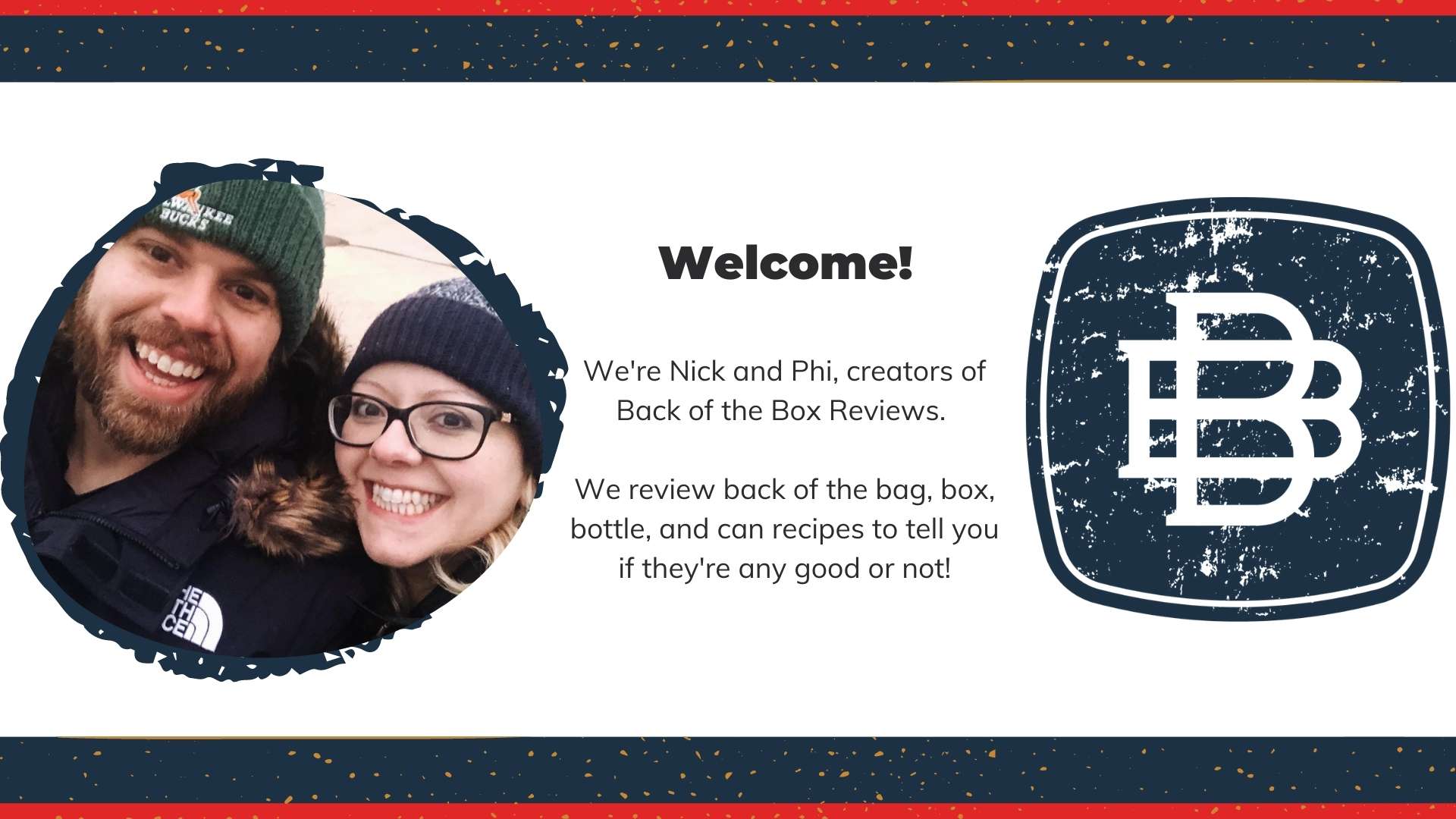 While you will see thoughts from Nick and I, the final judgement will come from our 3 kids; the taste testers.  Our eldest Ben and his younger twin brother and sister, Freddie and Frankie.
A lot of recipes we've been making at the beginning of this blog adventure have been things we've tried or seen before.  This Karo® Homemade Pecan Pie Recipe is our first, "Hey Look! There's a recipe on this bottle!" Review. I was just poking around in our pantry one day and stumbled upon this one on the back of the Karo® bottle.  I asked Phi if we had all the ingredients and we did.  Enticed by how easy it looked we decided to just go for it.
The Recipe
Karo® boasts a 5 minute prep time and it was quite quick to put this pie together.  You basically add all the ingredients to a bowl, mix, throw in your nuts then pour into a pie crust.  If your pie premade pie crust doesn't completely fall apart on you and need rescuing from your more experienced wife; then I could totally see getting this from pantry to oven in about 5 minutes. We used Karo® Light Corn Syrup (which is what we had on hand), but Karo®'s website states the Light and Dark Syrups are interchangeable. I must admit that the way the recipe is printed on the label, the oven preheat temperature is kind of tucked away in the graphic and not in the steps, which lead to me missing it at first glance.  Now obviously, I should have realized I needed to preheat the oven to bake something, but I totally spaced out and just plowed through the instructions.  Then, once I realized my mistake, I had to let my ready and waiting pie sit on the counter for a few minutes while the oven preheated.  THE HORROR!
The Bake 
This recipe was extremely simple.  In fact, Ben did 90% of the prep work, since, as mentioned above, it mostly comes down to mixing.  I would highly recommend using a spatula for mixing in place of the "spoon" as suggested by Karo®.  The mix is pretty sticky and a silicone spatula really makes getting it out of the bowl just a bit easier.  I especially liked the tips Karo® includes on the bottle. The tip to tap the pie for doneness was especially helpful as I am quite the novice pie baker and the pie came out perfectly baked.
The Results
Well, it wasn't the prettiest pie I've ever seen, but it did taste good.  We had some trouble with the crust (I didn't let it warm up out of the fridge long enough and Phi had to rescue it) and the filling puffed up more than anticipated and seeped around the edge of the crust and onto the bottom of the oven.  That said it was a good pecan pie, the pecans on top got a great candied quality to them that I loved.  The consistency of the pie filling was more less set than what I'm used to for a pecan pie.  Growing up the Grandma's Pecan Pie had an almost gelatin like quality, while this was more loose.  I don't consider this a pro or a con, just a difference I thought I would point out.
What did SweetPhi think?
I love pecan pies, and I can honestly say I've never had a pecan pie I LOVED THIS MUCH before. It didn't have a 'giggly' or 'globby' texture some pecan pies tend to have. It was almost a smooth caramel-like layer with candied pecans on top. It was SO SO SO GOOD. This is THE pecan pie recipe I'll be using from here on out, it was truly incredible. I cannot stress enough how wonderful the flavor and textures were. Smooth filling and then candied pecans on top. Perfection. I cannot wait for Thanksgiving to make this pie – but really, I'm going to make it year round.
Did the kids eat it?
3 out of 3 kids ate it!
The kids always go all in on desserts and this pie was no different.  As is standard practice with pies (…and tarts, and cakes, and ice cream, and pancakes, and and and…) Ben insisted on "puppuccino" a.k.a. whip cream, which I agree is a welcome addition.  The twins really loved this dessert, eliciting clapping from Freddie and "Mmmms!" from Frankie.
I've previously made this pumpkin pecan pie recipe, as well as these healthy pecan pie bars and all of the pecan pie recipes are great in their own way.
We hope you enjoy this series, and if you have any recipes you'd like us to try from the back of a box, bottle, can, jar or bag, just let us know!
Corn Syrup Pecan Pie
This recipe is taken from the back of the Karo® Corn Syrup bottle and used to create a delicious pecan pie.
Print
Rate
Ingredients
1

cup

Karo light corn syrup

3

eggs

1

cup

sugar

2

Tablespoons

butter

melted

1

teaspoons

vanilla extract

1 1/2

cups

pecans

6oz.

1

pie crust

unbaked. 9-ince, deep dish
Instructions
Stir the first five ingredients thoroughly using a spoon. Mix in pecans.

Bake on center rack of oven for 60-70 minutes. Cool 2 hours. Store pie in refrigerator.
Notes
The pie is done when the center reaches 200 degrees F.  Tap center of surface of pie lightly; it should spring back when done.  For easy cleanup, spray pie pan with cooking spray.  If pie crust is over-browning, cover edges with foil.
If you're in high altitude, reduce sugar to 2/3 cup and increase butter to 3 Tbsp.  Reduce oven temperature to 325 F.
Nutrition
Calories:
493
kcal
|
Carbohydrates:
71
g
|
Protein:
5
g
|
Fat:
23
g
|
Saturated Fat:
5
g
|
Polyunsaturated Fat:
5
g
|
Monounsaturated Fat:
11
g
|
Trans Fat:
1
g
|
Cholesterol:
69
mg
|
Sodium:
162
mg
|
Potassium:
122
mg
|
Fiber:
2
g
|
Sugar:
59
g
|
Vitamin A:
187
IU
|
Vitamin C:
1
mg
|
Calcium:
33
mg
|
Iron:
1
mg