Looking for the best carrot cake? Look no further! This carrot cake with cream cheese buttercream frosting recipe is a delicious and tender cake loaded with fresh carrots, warm spices and topped with candied pecans (store bought or homemade candied nuts). The secret in this amazing carrot cake is a layer of apricot buttercream in the middle which perfectly balances the sweetness of the cake. Whether you're celebrating a special occasion or just want a delicious dessert, this carrot cake is sure to impress.
I first shared this recipe in 2012 – I've been making it before and since, but it was high time I gave it a little facelift with some new photos.
The recipe remains unchanged, and I've made this same cake for over a decade now. It is a moist and tender cake with lots of wonder spice notes and is a cake to be enjoyed all year!
Since it has shredded carrots, it really stays nice and tender and doesn't dry out like some cakes do.
How to make carrot cake with frosting
Preheat oven to 350
Line 2 round cake pans with parchment paper on the bottom.
Peel carrots and mix batter
Bake for 35-45 minutes, until fork poked in the middle comes out clean.
Cool cakes on a wire rack
Make frosting, divide into two bowls
In one bowl mix apricot preserves in.
Set one cake on a cake stand or dish you'll be serving on. Flat side down.
Frost with apricot buttercream.
Place second cake layer on top, flat side up.
Use remaining frosting to frost the cake.
Refrigerate for an hour or two, then smooth the frosting again
The cream cheese buttercream frosting is so delectable. In the middle there's a layer of frosting with apricot preserves which just amps up the flavor even more!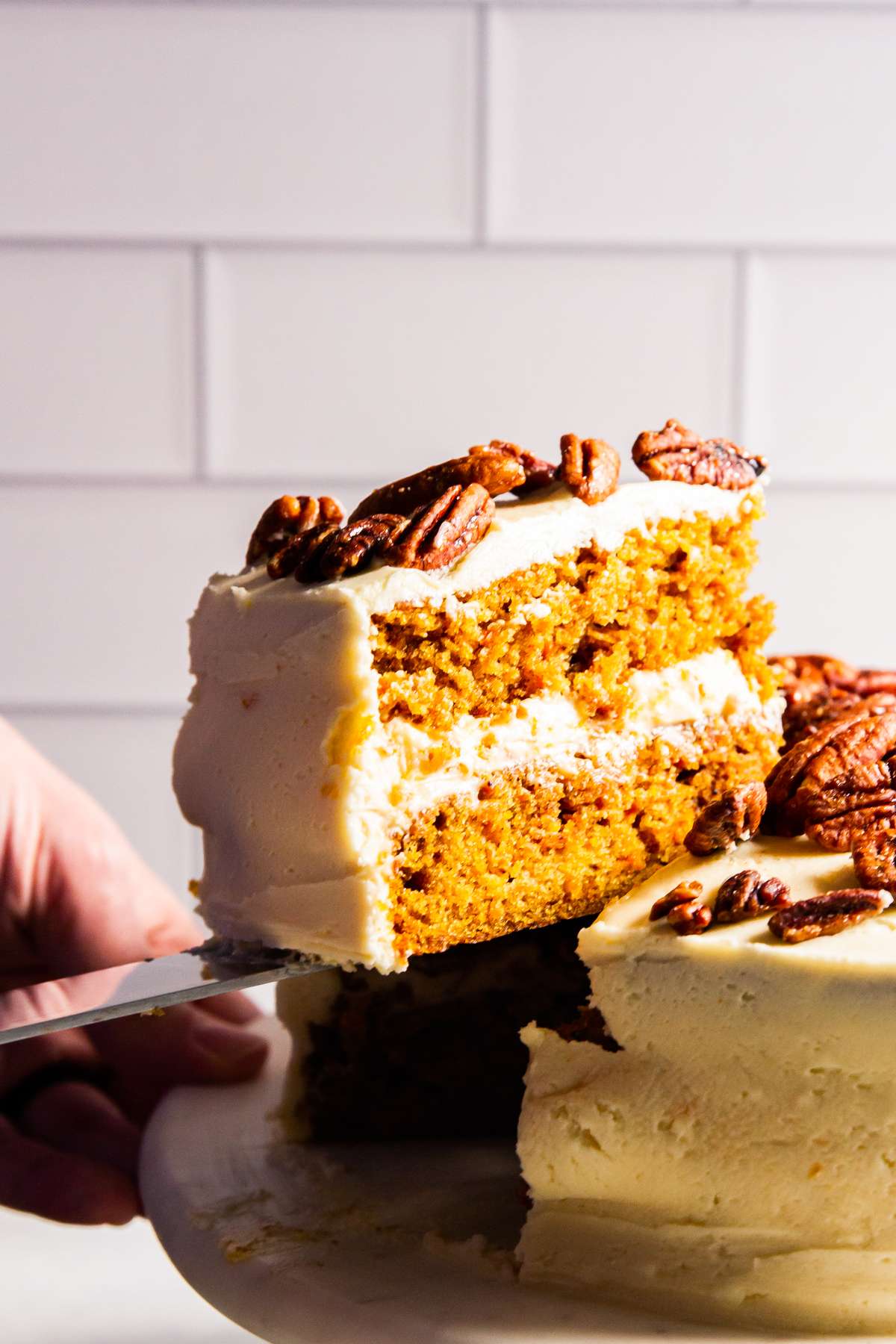 This best ever carrot cake recipe with cream cheese buttercream frosting is the perfect balance of flavorful tender cake, fresh carrots, and warm spices and topped with the most delicious frosting!
Ingredients
2 1/2

cups

unbleached all-purpose flour

12 1/2 ounces

1 1/4

teaspoons

baking powder

1

teaspoon

baking soda

1 1/2

teaspoon

ground cinnamon

1/2

teaspoon

ground black pepper

1/2

teaspoon

nutmeg

1

tablespoon

ground cardamom

1/4

teaspoon

ground cloves

1/2

teaspoon

table salt

1

pound

medium carrots

6 to 7 carrots, peeled

1 1/2

cups

granulated sugar

10 1/2 ounces

1/2

cup

packed light brown sugar

3 1/2 ounces

4

large eggs

1 1/2

cups

vegetable oil

For the Frosting:
For the frosting
16

ounces

cream cheese

softened but still cool

16

tablespoons

butter softened

(2 sticks), softened but still cool

1

teaspoon

vanilla extract

2 1/2

cups

confectioners' sugar

4

Tablespoons

Apricot Preserves

For topping

1

cup

candied pecans or nuts

Optional
Instructions
For the cake: Adjust oven rack to middle position and heat oven to 350 degrees. Spray two 9-inch round cake pans or spring form pans with nonstick cooking spray. Line bottoms of pans with parchment and spray parchment.

In a large bowl, whisk together flour, baking powder, baking soda, cinnamon, black pepper, nutmeg, cardamom, cloves, and salt in large bowl; set aside.

Clean and grate/shred carrots (you should have about 3 cups); transfer carrots to bowl and set aside.

In another bowl beat granulated and brown sugars and eggs on medium-high until thoroughly combined, about 45 seconds. With mixer running, add oil in slow, steady stream, being careful to pour oil against inside of bowl (if oil begins to splatter, reduce speed to low until oil is incorporated, then resume adding oil). Increase speed to high and mix until mixture is light in color and well emulsified, about 45 seconds to 1 minute longer. Turn off mixer and stir in carrots and dry ingredients by hand until incorporated and no streaks of flour remain. Pour into prepared pans.

Bake until toothpick or skewer inserted into center of cake comes out clean, 35 to 40 minutes, rotating pans halfway through baking time. Cool cakes to room temperature in pan on wire rack, about 2 hours.

When the cake is cool, make the cream cheese frosting. In a bowl, beat the cream cheese, butter, and vanilla at medium high speed until well combined, about 30 seconds, scraping down bowl with rubber spatula as needed. Add confectioners' sugar and mix until very fluffy, about 1 minute. Put half the frosting in a separate bowl, and add 4 heaping tablespoons apricot preserve and mix.

To assemble the cake, place one layer on desired serving dish flat side down, spread the middle layer with the apricot frosting mixture, add the second layer, flat side facing up, and then frost the cake with the remaining frosting.

Sprinkle on candied pecans and gently press down.
Video
Notes
Your comments and feedback are helpful and appreciated!! If you've tried this recipe or any other recipe on SweetPhi.com, please rate the recipe and leave a comment below! If you took some photos, we'd love to see them - you can share on Instagram or email them to phi@sweetphi.com and we'll add it to our reader recreations!