What sets these chocolate chip cookies above the rest? They're the best freezer chocolate chip cookies!! You make the dough, put it in the freezer and then when you're ready to enjoy a chocolate chip cookie (or 4) all you do is take some cookie dough balls out of the freezer, pop them in the oven, and voila, the best freezer chocolate chip cookies!
I don't throw around the term 'the best' lightly, as you may know from my best salted caramel chocolate chip cookies recipe (which has over 100 5 star reviews and over 2,000 favorites!).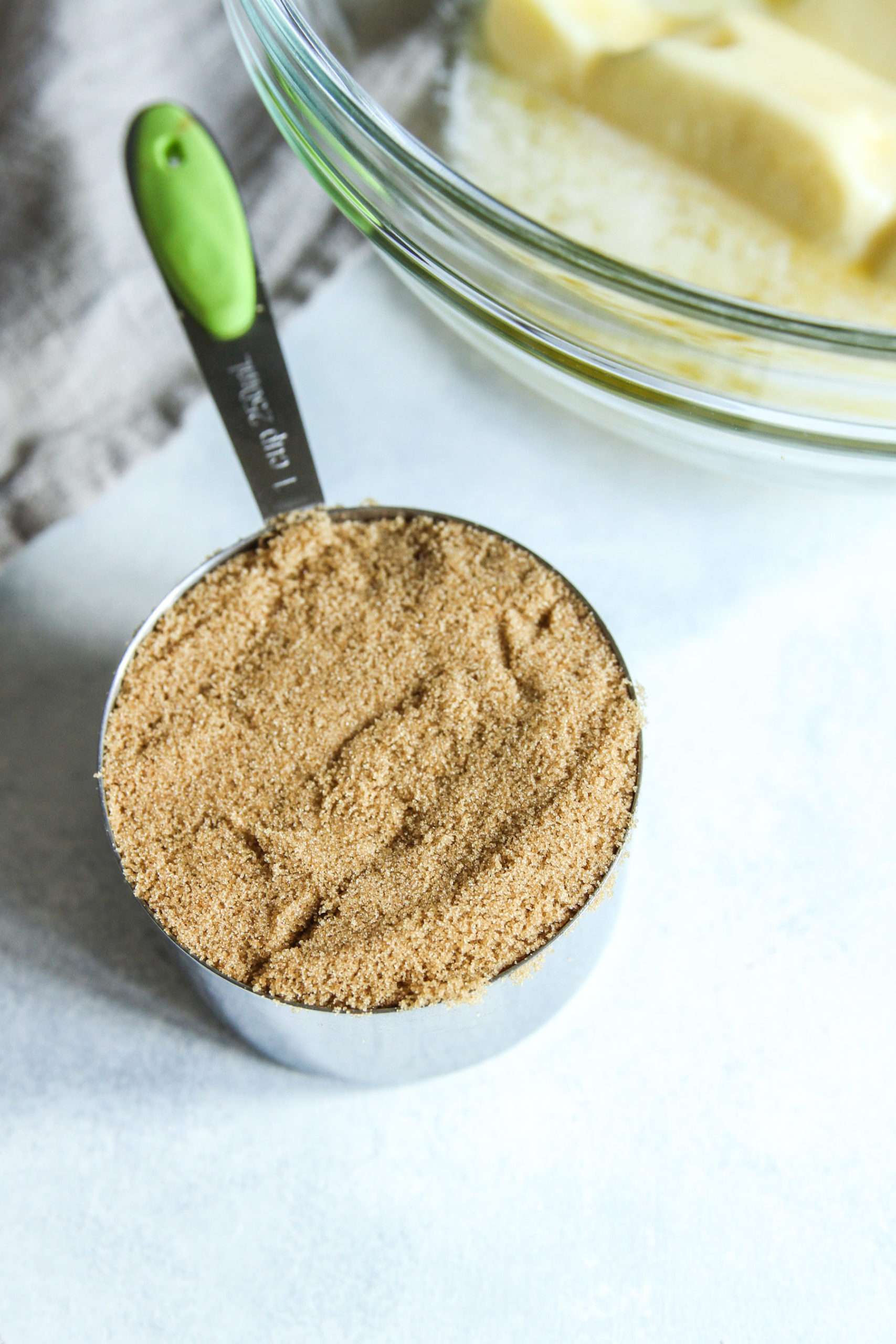 When I do say something is the best, it's because I've made it dozens of times and I haven't come across something quite as good.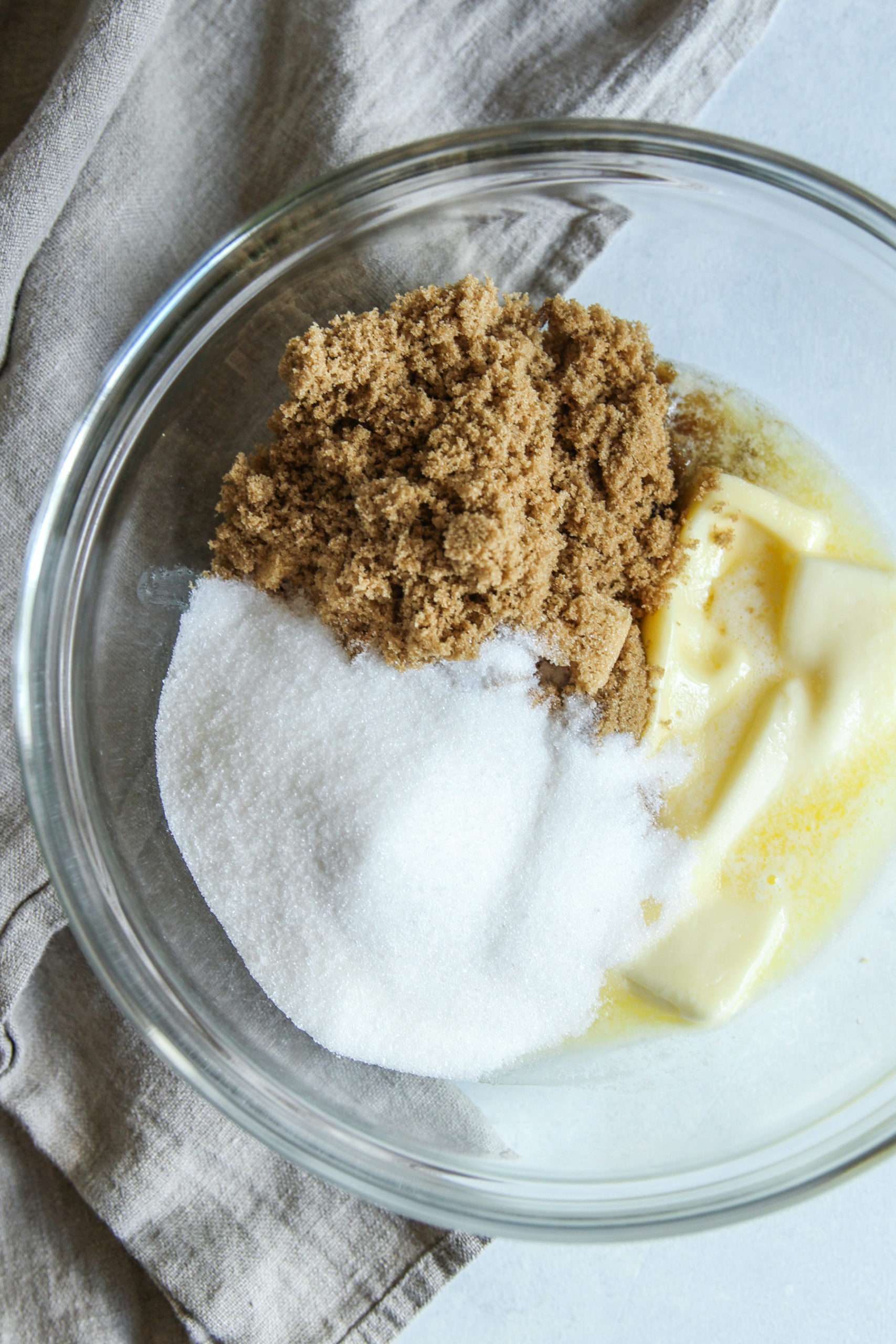 I know with chocolate chip cookies, everyone has their favorite. Some like a chewier cookie, some a crispier cookie, some ones with a slightly different brown to white sugar ratio. Some with a mixture of chocolate chips..etc., the list can go on and on.
These cookies were developed based on my best salted caramel chocolate chip cookies recipe and the famous New York Times chocolate chip cookie recipe (a recipe which taught me to put cookie dough in the refrigerator before baking it!)
Here's the thing though…all the recipes I've come across have you making dozens of cookies after making the batter. Which is great and all, but as life gets crazy and last minute things come up, I was finding I needed cookies last minute. I don't always have time to make the batter and then wait for it to rest in the refrigerator and then bake it.
There are plenty of times when a recipe like this makes sense:
When I (or the kids) want cookies, I want them pronto!
When I had family/friends stopping by last minute, I wanted to serve cookies (but not make them on the spot).
If someone had a last minute celebration, I wanted to drop off some cookies.
So I created these freezer chocolate chip cookies. You make the dough, scoop it into cookie dough balls, and then freeze the dough balls.
When you're ready for a chocolate chip cookie, you open the freezer, grab out however many cookies you want.  Then, follow these simple steps:
Put them on a parchment paper lined (or silicone baking mat lined) cookie sheet
Preheat the oven to 350
Bake them for 10 minutes.
It's as simple as that!! And if you want to bake the dough right after making it, it's still amazing. These are all-around the best chocolate chip cookies.
I remember, as a kid, getting frozen cookie dough from the store (like the kind in the tube) or nowadays, they even have it portioned out into bite size pieces.  Just think of this recipe as making your own, way better, version of pre-made cookie dough.
Plus, this is another great recipe that you can make with kids in the kitchen, which is always a bonus at my house!
I've made these cookies countless times and have learned some things along the way. Here are some tips for success:
The best tools for making chocolate chip cookies – it all starts with creaming the butter and sugars, don't skip this step! I use a hand mixer when I'm making smaller batches (this recipe can easily be halved) and a stand mixer when I'm making the full recipe. When mixing in the chocolate chips I've been told to always use a wooden spoon– this could very well be an old wives tale, but I follow it!
I use a cookie scoop (like this one) when measuring out the cookie batter – it helps make consistently sized cookies – it also happens to be one of my favorite kitchen utensils.
When freezing cookie dough – scoop cookie dough balls onto a piece of wax paper, a little space in-between, 12 per rectangle of wax paper, carefully stack wax paper with cookie dough balls on top of each other into a freezer safe storage bag. Freeze flat, when frozen, then you can store differently and just take out however many dough balls you want at a time.
Lastly let's talk about silicone baking mats….when my grandma-in-law gave me these silicone baking mats as a gift I thought nothing of it…until I used them for the first time. They are life changing! They make baking cookies a breeze, I would definitely definitely suggest getting some for your kitchen!
If you make this recipe, I'd love to hear how it stacks up against all of your other favorites!
If you want to stock up on all of the best baking products, you can shop below:

The Best Freezer Chocolate Chip Cookies Recipe
This recipe will teach you the best way to make a cookie dough and freeze it for later use.
Print
Rate
Ingredients
1

cup

butter, softened

(2 sticks)

1 1/2

cups

brown sugar

packed

3/4

cup

granulated sugar

2

large eggs

2

tsp

vanilla extract

2 3/4

cups

all purpose flour

1

tsp

baking soda

1 1/2

tsp

baking powder

1 1/2

tsp

flakey sea salt

2

cups

chocolate chips or chocolate chunks
Instructions
Start by softening the butter (I do this by microwaving it for 30 seconds to 1 minute until it has just started to melt).

"Cream" the butter and sugar. Using a hand or stand mixer, beat the butter and brown sugar and granulated sugar together until well combined and almost 'creamy' looking. Add the eggs and vanilla extract and beat to combine. 

In a separate bowl, combine the flour, baking soda, baking powder, and flakey sea salt. 

Combine wet and dry ingredients, stir well. 

Using a wooden spoon, stir in chocolate chips/chunks. 

Prepare a freezer bag or container labeled 'chocolate chip cookies' and the date. Cookies are good up to 3 months in the freezer. Lay out rectangles of wax paper (that will go into the freezer bag once dough balls are on it. 

Using a cookie scoop, scoop cookie dough balls and slightly press them down on prepared wax paper rectangle, 12 per sheet, slightly spaced out. 

Put wax paper containing dough balls into the freezer bag and lay flat in the freezer until they solidify. 

To bake, remove however many dough balls you want to bake and place on a silicone mat lined (or parchment paper lined) baking sheet. Put cookies 2 inches apart (12 per baking sheet)

Preheat oven to 350, the dough will thaw when the oven is preheating. 

Bake for 10 minutes, or until starting to slightly brown around edges. 

Remove from oven, allow to cool a few minutes before transferring on to a wire cooling rack. Enjoy! 
Notes
I like to use a mixture of chocolate chips and chocolate chunks.
The nutrition information presented on this site should be considered an estimate as the calculations will change based on the exact products you use in your own kitchen.    
Nutrition
Serving:
1
batch
|
Calories:
4872
kcal
|
Carbohydrates:
742
g
|
Protein:
49
g
|
Fat:
194
g
|
Saturated Fat:
41
g
|
Cholesterol:
327
mg
|
Sodium:
4357
mg
|
Potassium:
1023
mg
|
Fiber:
9
g
|
Sugar:
472
g
|
Vitamin A:
8595
IU
|
Calcium:
848
mg
|
Iron:
21
mg