This is the best roasted chicken and chicken seasoning (Publican chicken recipe) you've been waiting for!  A marinade of lemon, garlic, oregano, paprika and brown sugar is brushed onto chicken which is then grilled or roasted.  It's the best all-around chicken seasoning/marinade, and works on whatever kind of chicken you're making; chicken thighs, whole chicken, chicken breasts or drumsticks.
Having recently re-discovered my love of roasted chicken for a family-friendly meal, when I was reading through the Cheers to the Publican cookbook, I was intrigued when I saw the famous Publican chicken recipe.  It's for a 2-day processes (where you spatchcock/butterfly the chicken and then brine it, marinate it, and then roast or grill the chicken).
I'm from Chicago and have been to the Publican restaurant.  I've had their signature dish and have really been enjoying reading the Publican cookbook.  It's more than a cookbook; it features stories and all kinds of chef-restaurant-world insights and behind the scenes.
Yes, I got the fancy ingredients to make the recipe as written (t calls for fancy pepper piment d' Esplette) and I even made my way through spatchcocking a chicken (here's how to spatchcock a chicken) and the 2-day process.  It was a verrrrrry good chicken, but not quite the way I cook (I'm more of a fast and easy recipes with common, every-day ingredients type of home cook).  But what I took away from it was that this is definitely the best roasted chicken and chicken seasoning recipe, ever!  It is the recipe I will use from here on out any time I'm cooking chicken.
The marinade for this chicken is what makes it so special.  All you have to do is combine all ingredients in a jar (I like using these Weck jars) and shake it up!
Freshly squeezed lemon juice
EVOO
Brown sugar
Oregano
Paprika
Garlic cloves
Salt
Freshly ground black pepper
Half of a lemon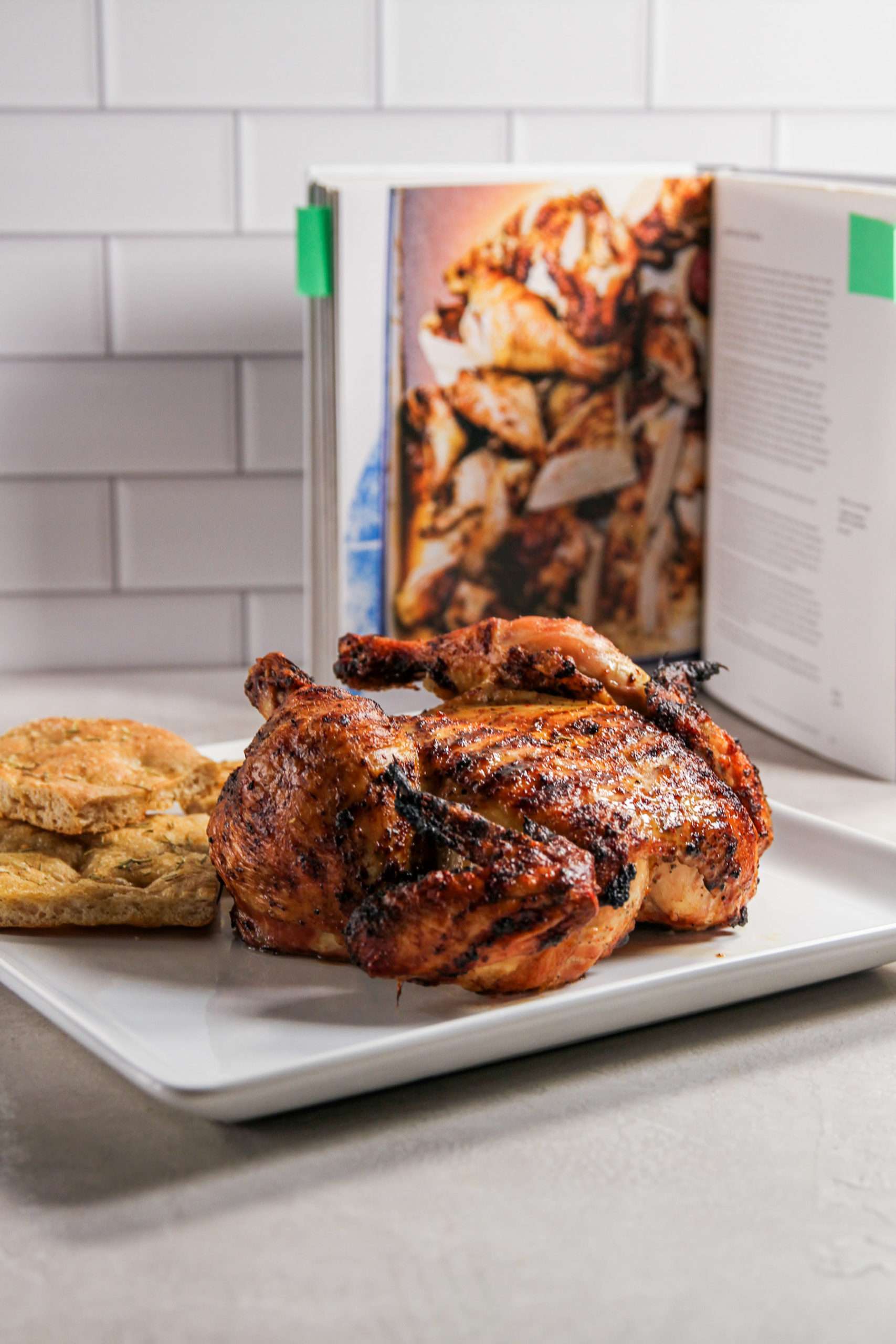 This chicken is really great with a side of roasted potatoes or grilled sweet potatoes and a side salad or simply with some focaccia (pictured).  I love it for a great weeknight dinner or dressed up a bit for a more special occasion too!
Ingredients
Marinade
2 1/2

Tbs.

freshly squeezed lemon juice

1/2

cup

extra virgin olive oil

1 1/2

Tbs.

brown sugar

1

Tbs.

oregano

2

tsp.

paprika

2

garlic cloves

pressed

1/2

tsp.

salt

1/4

tsp.

freshly ground black pepper

1

lemon

cut in half
Chicken
3-5

lb.

whole chicken

or 2 lbs. chicken breasts or thighs
Instructions
Combine all marinade ingredients in a jar.

Prep your chicken. Rinse under cold water, pat dry with a paper towel. Spatchcock chicken, or you can skip and just use a whole chicken and not butterfly it, or other cuts of chicken like chicken breasts or thighs. Prep different cuts of chicken the same way (rinse and pat dry) and put in a baking dish or large bowl.

Brush or pour marinade over the chicken. Rub it all over the chicken.

Let marinade for an hour or up to 12 hours. Put it in the fridge to marinade.
Cooking on the grill:
Remove the chicken from marinade and cook the chicken skin side down over indirect heat on a grill, cook for 10 minutes, then move the chicken over direct heat. Cook for another 5-15 minutes (depending on cut of chicken you're using you may need extra time.) Chicken is done when an instant read meat thermometer reads 160. Remove the chicken from the grill and let rest for 5 minutes. Slice and enjoy.
Oven roasting:
Preheat oven to 450 degrees. Use one-two glugs of olive oil to coat the bottom of an oven proof skillet or roasting pan. Over high heat (stovetop) let olive oil heat up, then add chicken (skin side down if using a chicken with skin). Cook over medium-high until a nice golden crust forms, about 5 minutes.

Transfer the pan to the oven without flipping the chicken over, and cook for 10 more minutes. Flip the chicken and cook for 5 more minute. If using a small cut of chicken (like chicken breast or thighs check to see if it's done.

Chicken is done when a meat thermometer reads 160 degrees. For a whole chicken you'll more than likely need to cook it for another 10-20 minutes (depending on the size of your chicken you may need a little longer.) Let chicken rest for 5 minutes in the pan. Then slice and enjoy.

Squeeze lemon juice over the chicken on the cutting board. Save all the juices and pour them over the chicken just before you serve it.
Notes
Recipe adapted slightly from Cheers to the Publican, Repast and Present: Recipes and Ramblings from an American Beer Hall.
Nutrition