Macaroni and cheese, Mac N Cheese, Mac and Cheese…whatever name you give it, it's one of those things I just can't get enough of! This is one of my favorite recipes – it's for a super delicious Blue Cheese Bechamel Macaroni and Cheese.
Not everyone is a blue cheese lover-to be honest I don't love blue cheese by itself-but in this bechamel mac and cheese it will convert the biggest non-blue-cheese lover! The bechamel sauce smooths out the blue cheese and coats the spirally pasta in a blanket of creaminess, the hints of blue cheese throughout add a delicious salty kick, and the crunchy bits of topping from baking finish off this Blue Cheese Bechamel Mac and Cheese dish making one want need to dig in for bite after bite.
Here are some lovely pictures of me making the Blue Cheese Bechamel Mac and cheese from when I visited my super talented photographer friend Charlotte in North Carolina…wish she were around to take pictures at every meal-just look at the photos-so pretty (and trust me, this mac and cheese was as delicious as it looks!!)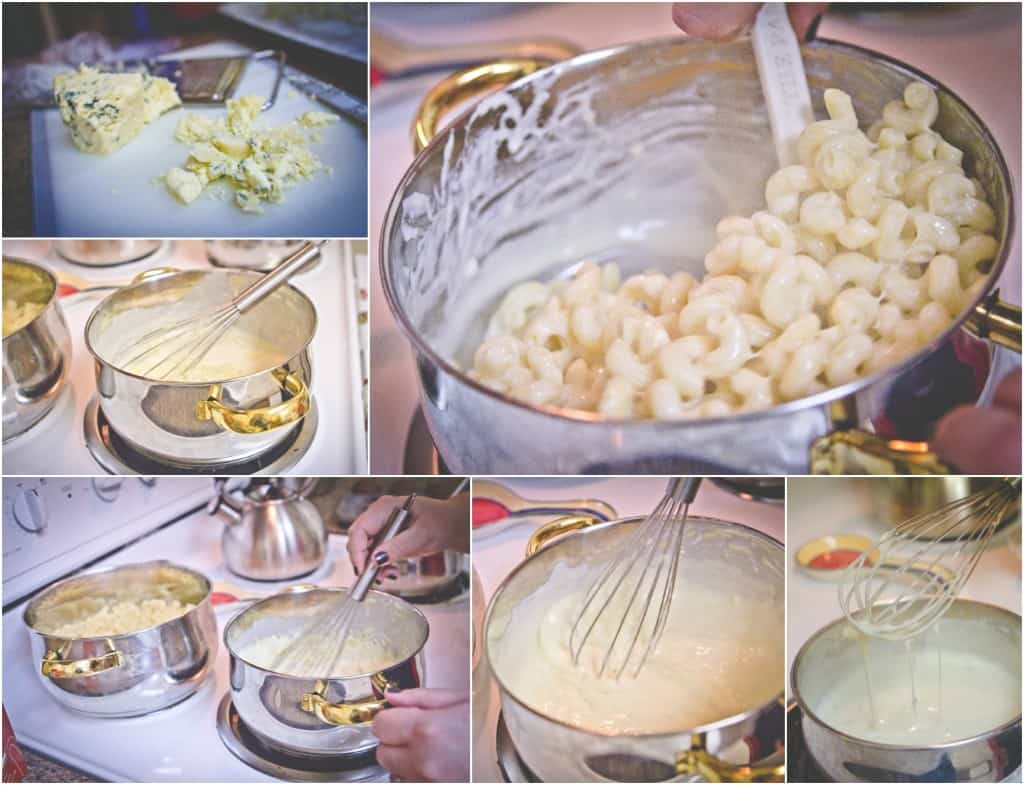 Then of course there's when the blue cheese bechamel mac and cheese is ready to eat…it's equally as visually appealing! And I of course had to throw in a little picture I'm so glad my husband snapped of me holding the food and Charlotte with her camera, I just love it!
Ok…on to the recipe for the blue cheese mac and cheese:

Ingredients
1

lb

Cavatappi pasta

1/2

lb

8oz Blue Cheese (I used a mild one called Black River Blue) , roughly chopped

4

oz

Sharp White Cheddar

shredded

1/3

Cup

Flour

2 1/2

Cups

Whole Milk

at room temperature

3

Tbs

Butter

1

Tsp

Dry mustard powder

1

Tsp

Salt

1/2

Tsp

garlic powder

1/2

Tsp

pepper

1/2

Cup

Panko Breadcrumbs
Instructions
Start by cooking pasta according to package directions but under cooking by 1 minute (because you will be baking it and you don't want the pasta to be a soggy mess, I usually cook my the pasta for 10 minutes in boiling water and then taste test, it should be al dente. Then I strain and set aside.)

To make the bechamel sauce- in a heavy large saucepan that is big enough to hold the pasta-melt the butter over medium heat and as soon as it starts to melt add in the flour and whisk constantly until the paste starts to bubble a little -about 1 minute (you don't want to let it get brown).

Next add the milk to the saucepan and whisking constantly allow the sauce to thicken - about 5 minutes of stirring. When sauce has thickened considerably (should coat the back of a spoon) turn the heat to low and stir in the salt, pepper, garlic powder, and dry mustard, stir a few times and then add in the shredded cheddar and about 1/2 of the blue cheese chunks. Stir until everything is ooey gooey and mixed (about 2 minutes.)

Preheat oven to 350. Spray baking dish with cooking spray.

Now add the pasta to the sauce and gently fold the sauce over the pasta to make sure all the pasta is covered with sauce. Stir in the remaining blue cheese chunks and then spoon into the baking dish.

Sprinkle the panko bread crumbs over the mac and cheese. Bake for 20-25 minutes until the top is golden brown. Remove from the oven and then allow to cool for 10 minutes before serving and then enjoy!
This recipe was inspired by a dish one of my favorite Milwaukee Wine Bars/Restaurants (
Balzac Wine Bar
) makes called '
Famous Balzac Sac Mac
.'