This delicious breakfast hash for two with the crispiest of crispy potatoes is perfect for a weekend breakfast or date night in.
I first enjoyed this breakfast hash on Valentine's day, prepared for me by my loving husband. But truth be told, I was a super crabby person on Valentine's day. I was doing whole30 (see here for a whole30 overview) so I couldn't have any chocolate or heart shaped crackers with cheese, and he hadn't gotten me anything to derail my diet. Major fail-yet-success. I got over the initial sadness real quick when he told me he'd been researching how to make breakfast hash with crispy potatoes. Because breakfast hash with non crispy potatoes, or potatoes that are mushy is the worst, right?
Apparently the method for getting crispy potatoes in your hash is that you microwave them whole for 2 minutes, then you flip them over and microwave for another minute, then you let them cool. Then you slice them (while they're still warm) and they should feel gummy, that's the layer of starch that then when fried turns crispy.
The best thing about the hash (besides the super crispy potatoes of course) is that it is so simple to make, and you can really customize it to what you have on hand. The ingredients used in this breakfast hash for two were three red potatoes, one green pepper and half an onion and then just topped it with some eggs and seasoned with salt and pepper. And since it's Friday that makes it perfect for five ingredient Friday! I've also had this exact same hash for brinner (breakfast for dinner) and was pleasantly surprised at how filling it was.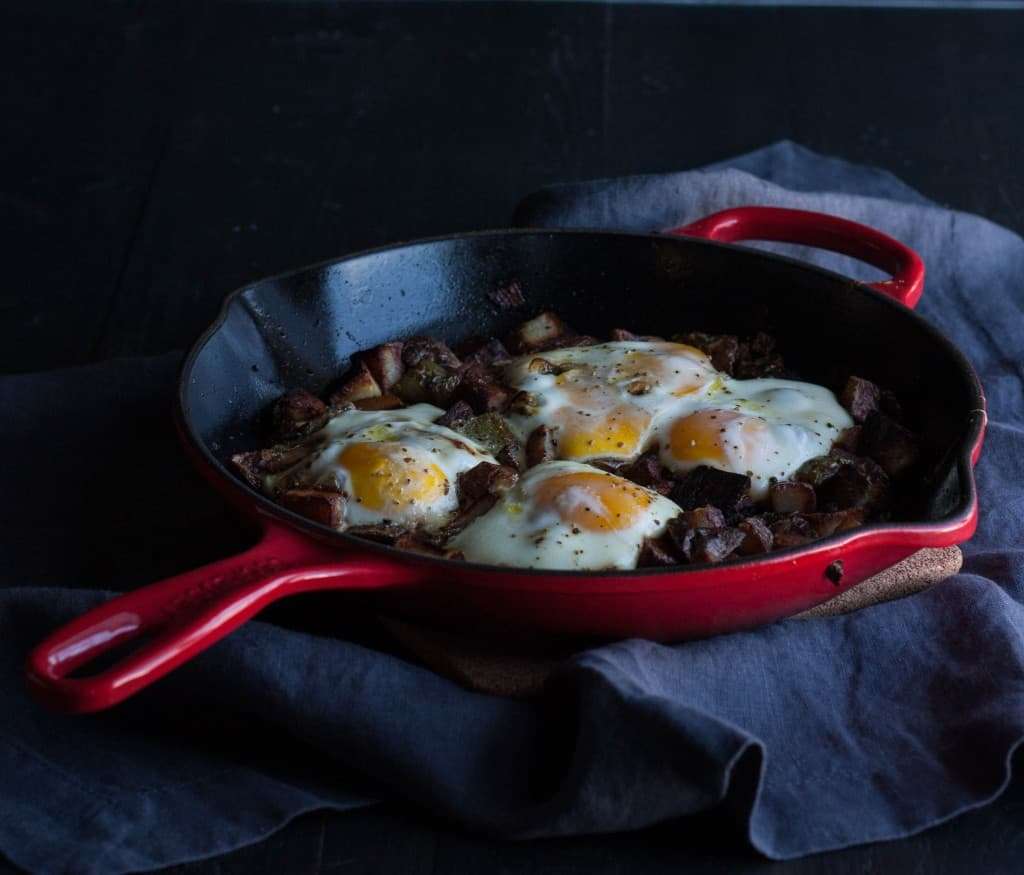 There you have it: the perfect breakfast hash for two.

Ingredients
3

medium red potatoes

1

bell pepper

diced

1/2

onion

finely chopped

2

Tbs

olive oil

4

eggs

1

tsp

salt and pepper
Instructions
Place potatoes on a plate and microwave for two minutes. Flip over and microwave for another minute.Allow potatoes to cool for 5 minutes, then cut into chunks.

Heat oil in a skillet, then add potatoes and cook for 5 minutes, stirring occasionally, then add the pepper and onion and cook for 10 minutes or until the peppers are soft and the potatoes are browned. This is where you add salt and pepper- after the veggies are done cooking. Salt and pepper to taste, you might want a little more or little less.

Preheat oven to 400. Crack 4 eggs over the hash sprinkle a little salt and pepper on top of the egg, and bake in the oven for 10-15 minutes, depending on how well you like your eggs cooked (I like my egg yolks solid so I bake them a little longer).