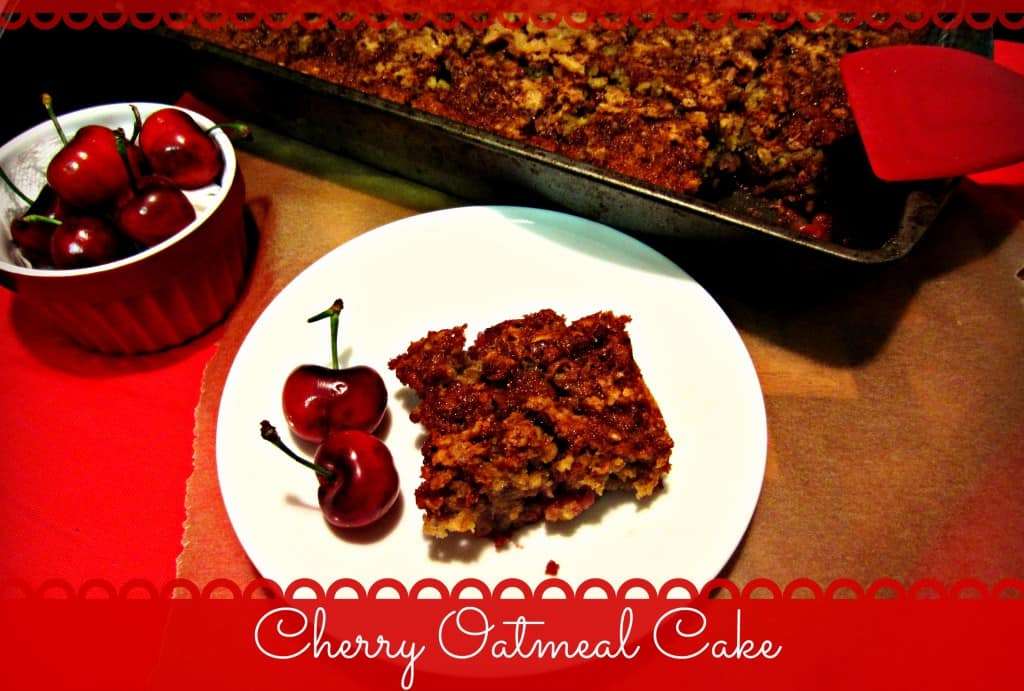 I love Martha Stewart (clearly as evidenced in some of my pie posts) and for some reason I always love to modify her dessert recipes, and they come out amazing! This recipe will be a regular throughout the summer season or whenever I can get fresh cherries! I made this Cherry Oatmeal Cake recipe based on her Oat Cake with Blueberries and Blackberries recipe. This recipe just screams summer fresh at me and looks as vibrant as well, serve warm and next time I will add a little vanilla ice cream with it.


Yield: 16
Cherry Oatmeal Cake
Prep Time 10 minutes

Cook Time 50 minutes

Total Time 1 minute
Ingredients
3/4 Stick Butter, softened
1 1/3 Cup Flour
1 3/4 Cup Quick-Cooking Oats
1 Cup Water
1/2 tsp baking soda
1/2 tsp baking powder
3/4 tsp salt
1 cup granulated sugar (plus 2 Tbs for top)
1/2 cup light brown sugar
1 egg
1 tsp vanilla extract
2 cups fresh cherries, pitted and halved
Instructions
Preheat oven to 350 degrees. Butter and flour a metal baking pan (i believe mine is 9 x 13), tapping out excess flour. Combine oats and water and let stand until oats have softened, about 5 minutes. Meanwhile, whisk together flour, baking soda, baking powder, salt, and cinnamon in a separate bowl.
Beat together butter, granulated sugar, and brown sugar in a medium bowl with a mixer on medium-high speed until light and fluffy, about 3 minutes. Reduce speed to medium and beat in egg and vanilla until just combined, scraping down sides of bowl if necessary. Add flour and oat mixtures and beat on low speed until just incorporated. Fold in about half of cherries.
Spread batter in pan and scatter remaining cherries across the top, then sprinkle with remaining 2 Tbs sugar. Bake until a toothpick inserted in center comes out with moist crumbs attached, 45 to 55 minutes. Let cool on a wire rack 30 minutes; cut into squares.



 The ingredients, those cherries were SO pretty

 Look at how oohey gooey that is!
 An up close image of the cake