This timeless dessert, chocolate cream pie, combines the rich, velvety goodness of chocolate with the smooth, creamy texture of a luscious filling, all nestled in a graham cracker pie crust. Whether you're celebrating a special occasion or simply indulging in a well-deserved treat, this chocolate cream pie recipe is sure to be a crowd-pleaser (it always finds a place on the Thanksgiving pie table at our house). This recipe comes from the book Wisconsin Field to Fork: Farm-Fresh Recipes from the Dairy State by Lori Fredrich with the recipe provided by Valeri Lucks from Honeypie Café.
Lori has written a wonderful book with Wisconsin Field to Fork. It shares stories and background of Wisconsin farms and agriculture and weaves in 70 chef-driven recipes that make the produce shine. This book is as much coffee table and reading material as it is cookbook. Homemade chocolate cream pie jumped off the page to me because it was from HoneyPie café, a local Milwaukee café we absolutely love and have frequented many times.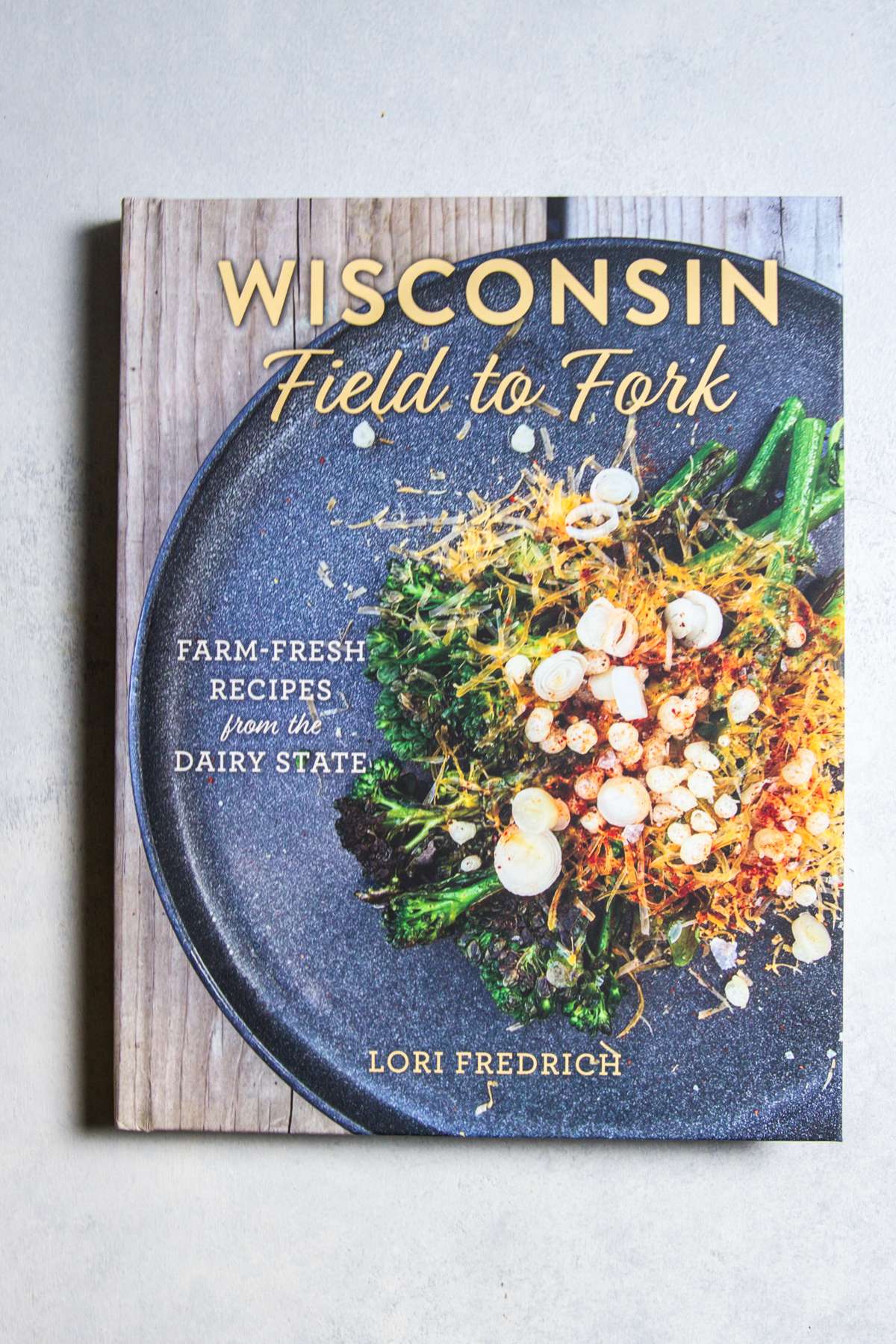 HoneyPie in Bay View, Wisconsin, is a charming eatery that captivates both locals and visitors with its warm, welcoming ambiance and a menu that pays homage to American comfort food with a modern twist. Nestled in a cozy and rustic setting, HoneyPie is known for its commitment to using high-quality, locally sourced ingredients to craft dishes that are as comforting as they are delicious, as well as it's pies! This chocolate cream pie being one of them, so it feels special that I got access to THE recipe they use in their kitchen.
To make chocolate cream pie you start by making a graham cracker crust. Once that is baked, you wait for it to cool and then prepare the filling which is a chocolate pudding-like filling. Then you fill the crust and cool it in the fridge and wait for it to set. The final touch is the whipped cream topping – topped off with chocolate shavings.
Whipping Cream Like a Pro
Most home cooks beat their whipped cream at high speed. That method definitely works. However, when you take the time to whip it at medium speed, the cream transforms into a stable matrix of fat, water, and air. There's no stability when you whip cream on high. You get too many differently sized molecules. However, at medium speed all the bubbles are the same size, giving you a far better whipped cream that will remain light and fluffy for longer.
After making whipped cream on speed medium, I can guarantee you I will only be making it that way from here on out. Day 3 after making this pie and having it in the fridge it held its shape!! In the past whipped cream has sunken on pies made, now I know why.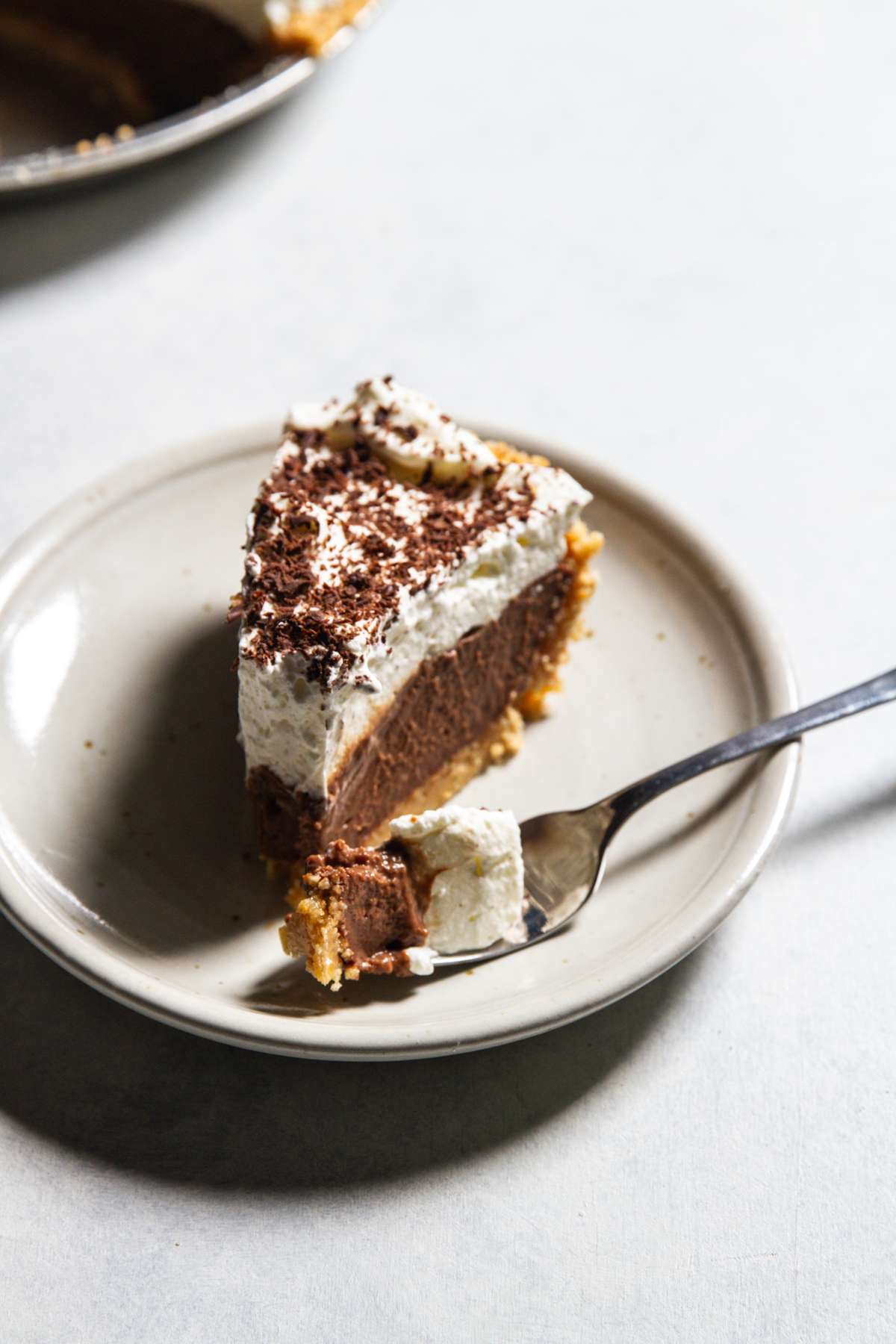 This homemade chocolate cream pie is a labor of love (that is quite easy, just a little time consuming) that rewards you with a heavenly combination of flavors and textures in every bite. This indulgent dessert is a delightful treat that's perfect for any occasion (especially for a Thanksgiving pie recipe). Give this recipe a try and prepare to be amazed by its decadent charm!
Chocolate Cream Pie
This timeless dessert, chocolate cream pie, combines the rich, velvety goodness of chocolate with the smooth, creamy texture of a luscious filling, all nestled in a graham cracker pie crust.
Print
Rate
Ingredients
For the crust
1 1/2

cups

graham cracker crumbs

finely ground

1/2

cup

sugar

1/2

teaspoon

kosher salt

8

tablespoons

butter

melted
For the filling
4

egg yolks

1/2

teaspoon

kosher salt

1/2

cup

sugar

1/4

cup

cornstarch

2 1/2

cups

whole milk

1

tablespoon

vanilla

1

cup

dark chocolate or chocolate chips (60-70 percent dark chocolate)
For the garnish
2

cups

heavy whipping cream, whipped to soft peaks

chocolate chips or shaved dark chocolate
Instructions
To prepare the crust
Preheat the oven to 350 degrees

Whisk dry ingredients together in a large bowl. Pour the melted butter over the graham mixture. Stir together until butter is incorporated (mixture should feel like wet sand). Press graham mixture into a deep 9-inch pie pan. Use the bottom of a glass or a measuring cup to press the crust together firmly in the pan. Bake for 8 minutes. Cool completely before filling.
To prepare the filling
In a large, nonreactive saucepan, whisk together the egg yolks, salt, and sugar until glossy and a pale yellow color. Slowly whisk in cornstarch until smooth and glossy. Pour in half of the milk and whisk together. Pour in the other half of the milk and whisk together. Put the pan over medium-high heat, whisk very slowly but constantly and cook until bubbles form and the mixture is thickened (about 10 minutes). Remove from heat and add the vanilla. Mix the chocolate into the hot filling. Whisk until all the chocolate has melted.

Pour the chocolate mixture over the bottom of the cooled pie crust. Cover with plastic wrap and refrigerate 4 hour until cool. Top with whipped cream and decorate pie with some shaved chocolate or chocolate chips.
Video
Notes
Your comments and feedback are helpful and appreciated!! If you've tried this recipe or any other recipe on SweetPhi.com, please rate the recipe and leave a comment below! If you took some photos, we'd love to see them - you can share on 
Instagram
 or email them to phi@sweetphi.com and we'll add it to our 
reader recreations
!