Two things I absolutely love about summertime: using fresh herbs in dishes, and having little picnics. In today's' post, I'm going to show you how to do both!
This Creamy Italian Herb Pasta Salad is made with Stonyfield plain yogurt and fresh Italian herbs and is the perfect on-the-go dish that can be brought along for a picnic. The whole dish takes 20 minutes to make (that includes chopping the herbs and veggies) and travels really well. I like to put pasta salads in jars for easy transport.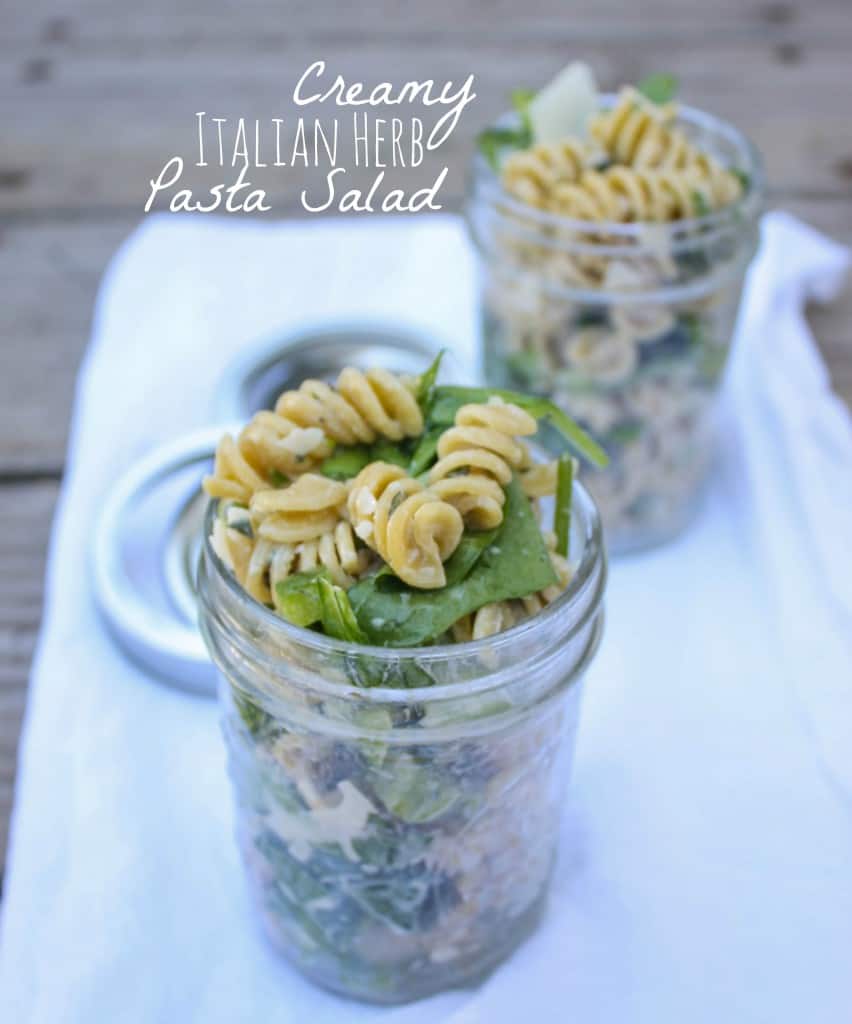 To make the pasta salad you'll start by boiling your noodles, and while your noodles are cooking, you'll chop up fresh herbs (I used Basic, Thyme, Oregano and Rosemary) and then mix that into the dressing which is made of Stonyfield Smooth and Creamy Fat Free Plan Yogurt, lemon juice and a little olive oil. Next, you'll chop all the veggies (green pepper, green onion and spinach) and then as soon as the pasta is done boiling, you'll strain it and run it under cold water, then mix everything together. To make it even healthier, I love using Veggie pasta or whole wheat pasta. All in all one delicious and healthy pasta salad!
I'm no stranger to picnics-as you can see here– where my husband surprised me with an impromptu backyard picnic-and even when I'm on vacation I always pack a little snack for the trip (case in point, these little peanut butter sandwiches we brought for hiking).
Packing a picnic is super easy, you need the following:
Something Savory – Like this Creamy Italian herb pasta salad
Something Sweet – Like Chocolate Cherry Muffins (recipe to come tomorrow – they're also made with Yogurt!)
Something with a little Crunch – Like a baguette or some pretzels
Something to drink – I fill a water bottle up with ice cubes
Utensils and napkins – I wrap a fork and piece of  paper towel together
Blanket or tablecloth
Paper or cloth bag to carry everything
Here's one more picture of everything you need for a picnic:
Ingredients
1

Box

12 oz Beggie Rotini or whole wheat pasta

1

Green Bell Pepper

finely chopped

3

Green Onions

finely chopped

2

Cups

Baby Spinach

chopped

1

Cup

Shaved Parmesan Cheese

For the dressing-

1 6

oz

container Stonyfield Smooth and Creamy Fat Free Plain Yogurt

1

Tbs

Lemon Juice

2

Tbs

fresh herbs

finely chopped (I used Basil, Oregano, Thyme and Rosemary, you could use 1 Tbs dried herbs in place of fresh herbs)

1

Tbs

Olive Oil

1

tsp

salt
Instructions
Boil pasta according to instructions. When you strain the water after the pasta is done, run under cool water to cool the pasta down.

While the pasta is cooking, make the dressing by stirring or whisking together the yogurt, lemon juice, olive oil and salt.

When pasta is done cooking and is cool, pour dressing over the pasta so that it coats all the noodles, then add the chopped veggies, and lastly sprinkle the parmesan over it and toss. Spoon into jars or Tupperware container and enjoy, take on a picnic or store in the refrigerator!
I am honored to be a member of the Stonyfield Clean Plate Club. I received product or coupons for writing this post, but all opinions are my own.