Wisconsin is all about beer, brats, and cheese. If you've ever driven by Miller Park on Brewer's Game Day, you'll see a sea of tailgaiting happening in the parking lots. If not, I'm sure you've heard stories and can trust me that it's all about beer, brats and cheese!
So when I was at the Stein and Dine festival that is hosted by the wonderful Shepherd's Express last weekend enjoying all the delicious Wisconsin Cheese, Beer and other foods, I couldn't help but think that if there were a perfect Grilled Cheese for Wisconsinites, it would have to involve beer, brats and cheese! Here are some pictures of the handsome husband and I at the Stein and Dine festival.
The whole Stein and Dine event was fantastic (I mean, look at the swag bags (yes please), and mini tasting cups) but the highlight of the event was definitely the Beer and Cheese pairing and Beer and Chocolate pairings.
While at the pairings we had an Emmentaler cheese (a yellow medium-hard cheese that has a flavor similar to Swiss cheese), and when speaking with my husband about my grilled cheese idea, he suggested trying it with Emmentaler…a great suggestion from a great man 🙂
This Grilled cheese starts by simmering brats in beer, then frying them up, then crafting and grilling the grilled cheese, and voila, you have yourself a Drunken Wisconsinite Grilled Cheese!
I was surprised at the complexities of flavors, the pumpernickel bread paired with the emmentaler cheese, brats an onions, one delicious sandwich!
See, a little peak inside…yum!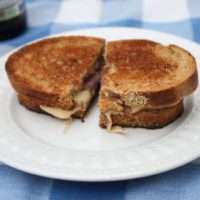 Ingredients
1

lb

Bratwursts

2

Beer Bottles- Hakenshore Oktoberfest Amer Marzen

Or any light lager beer

1

Red Onion

Sliced

2

Tbs

Butter

1 tbs for frying onions, 1 tsp for each side of bread for the sandwich

1

Tsp

Olive Oil

for frying brats

Emmentaler Cheese

about 1.5-2 oz per sandwich, sliced

Pumpernickel bread

2 slices per sandwich
Instructions
To start poke holes in the brats with a fork - so the casings don't burst when simmering. In a large frying pan add 1 tbs of the butter and the red onion slices, cook for 5 minutes until the red onions are a little translucent. Turn heat down to medium and add the beer, and brats to the pan. Add enough beer to cover the brats, if you don't have enough beer you can add water so that the brats are covered. With heat at medium bring the beer to a slow simmer (you don't want it to boil) and you want to simmer the brats until they are cooked through (30 minutes). The brats will turn a greyish white when they're done.

In another pan brown brats by heating the olive oil and then cooking the brats about 2 minutes per side. Allow to rest for a few minutes, then move from the brats onto a cutting board and cut into slices.

To make the grilled cheese, spread a thin layer of butter on the outside of two pieces of pumpernickel bread, place one thin slice of Emmentaler, brat slices - enough to cover the bread, a few red onions from the beer pan on the side of the bread that doesn't have the butter on it, and another slice of Emmentaler, cover with the second slice of bread and lay buttered bread side down in a pan. Cook on medium until you see the cheese start to melt (about 5 minutes) then flip and cook for another 2 minutes, allow to cool for a few minutes and then serve!