This easy beef brisket recipe is a family dinner favorite. This is one of those dishes that seems fancier than it actually is to make. A beef brisket is slow roasted in a tomato sauce with carrots and onions. It's the perfect meal to make for a family gathering around the dinner table on the weekends. A bonus is that leftover brisket can easily be made into sandwiches for the week ahead.
When I think of family meals, I think of gathering, comforting, delicious food everyone will love, and recipes that are approachable and easy to make. This beef brisket is one of those.
This dish is really good reheated, so even if you're a small family, I'd recommend making this and then having leftovers throughout the week.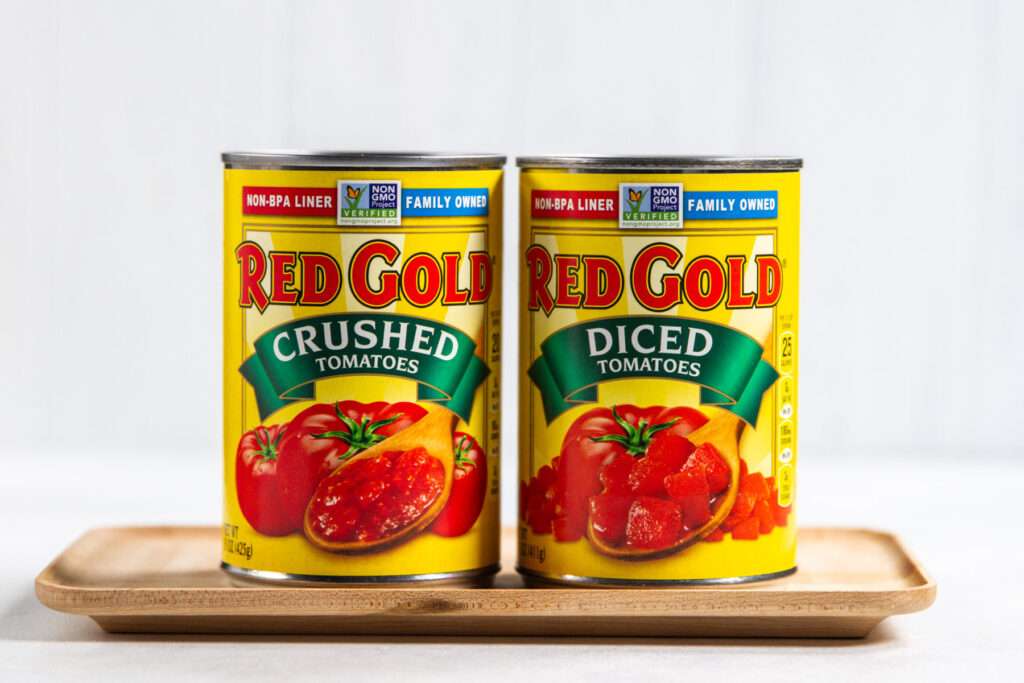 The differentiator in this recipe are the delicious tomatoes used: Red Gold Tomatoes . My family has been using Red Gold Tomatoes for years – they are the best tasting tomato products! Red Gold Tomatoes are steam packed fresh to preserve the tomato flavor, so there is no 'can' taste. Because their tomatoes are picked when they are absolutely vine-ripe-red, it eliminates the need for any added flavors, colors or preservatives, so there's nothing artificial!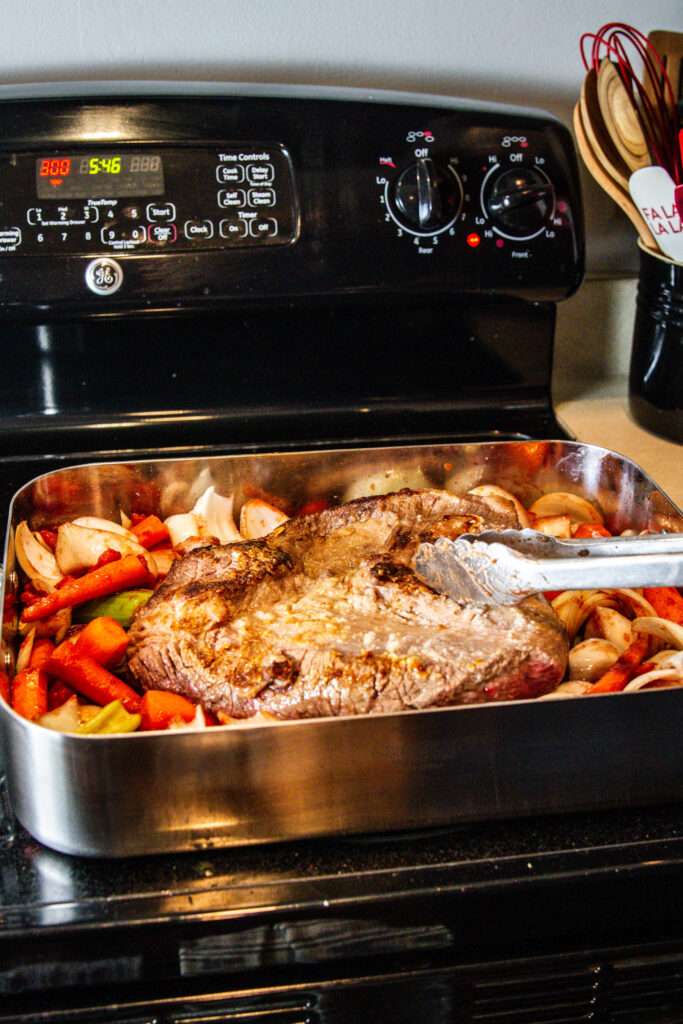 What I also love about Red Gold tomatoes is that they're not only family owned (4th generation) but they're family grown and made. Red Gold Tomatoes are sustainably grown on over 40 Midwest family farms!
I remember the bright Red and Gold packaging of the cans my mom used to get when I was growing up, and now whenever I use tomatoes for a recipe, I always choose Red Gold Tomatoes (here's a store locator to find them near you).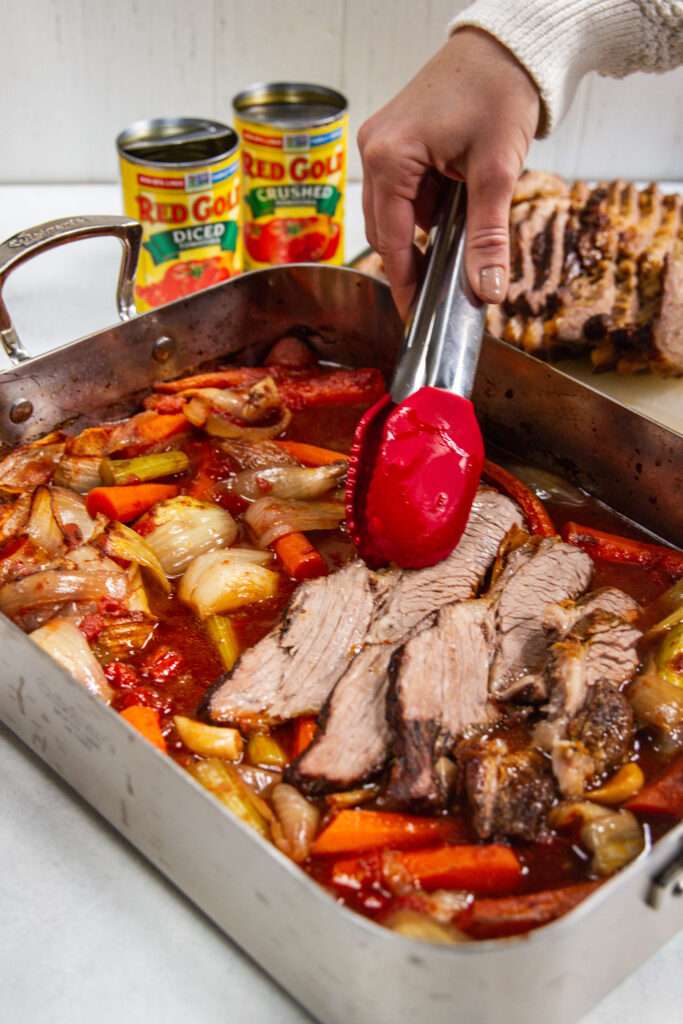 My husband was recently gifted a roasting pan, and has been all about trying different roasting recipes. When he first made a beef brisket, the house filled with wonderful roasting aromas and we invited his parents over for a weekend meal. Everyone sat around the table enjoying the dish and could not stop talking about how good it was. We are now known for this brisket recipe, and I'm totally 100% okay with that.
A few tips for making a really good brisket:
Ask for a "point" brisket at the butcher– it's the second cut with typically a little more fat. This is not necessary though, any cut will work – just leave the fat on (as the meat slow roasts, it will melt).
This is a really great make-ahead dish, so if you want to do all the steps the day ahead and then serve it the next day, rewarmed, it's just as good!
Browning the brisket before you roast it in the oven really brings out flavor (then you deglaze the pan with either red wine or beef broth.) You could skip this step and just roast everything, but I'd recommend taking the extra step.
I always like adding extra carrots. My kids love the soft carrots that have been roasted in the tomato sauce with this dish, so I add extra. Also – since this dish is cooking low and slow, you don't want the carrots to completely disintegrate, so I'd recommend cutting them in large chunks (or if they're smaller carrots, you could leave them whole.)
Serve this brisket over mashed potatoes.
Low and slow is the name of the game with this recipe. You're roasting the meat at 300 degrees.
The general rule for cooking this cut of meat is 45 minutes per pound of brisket. You want to cook it for 3-4 hours, or until fork tender. We use a meat thermometer (but it's not necessary) – when it reaches 180 it's time to remove the brisket from the oven. If you think it is cooking too fast, lower the oven temperature to 225.
To keep the meat's ultimate juiciness, you'll let the meat rest a little, then add it back into the cooking liquid. Since this takes a little time (non-active cooking time) you could either make your mashed potatoes or side dishes during this period, or let the meat cool when it's back in the sauce and then refrigerate it until the next day when you want to serve it.
Next time you're looking for a meal to make for your family, I'd highly recommend this easy beef brisket. Have you ever had brisket? Let me know in the comments below.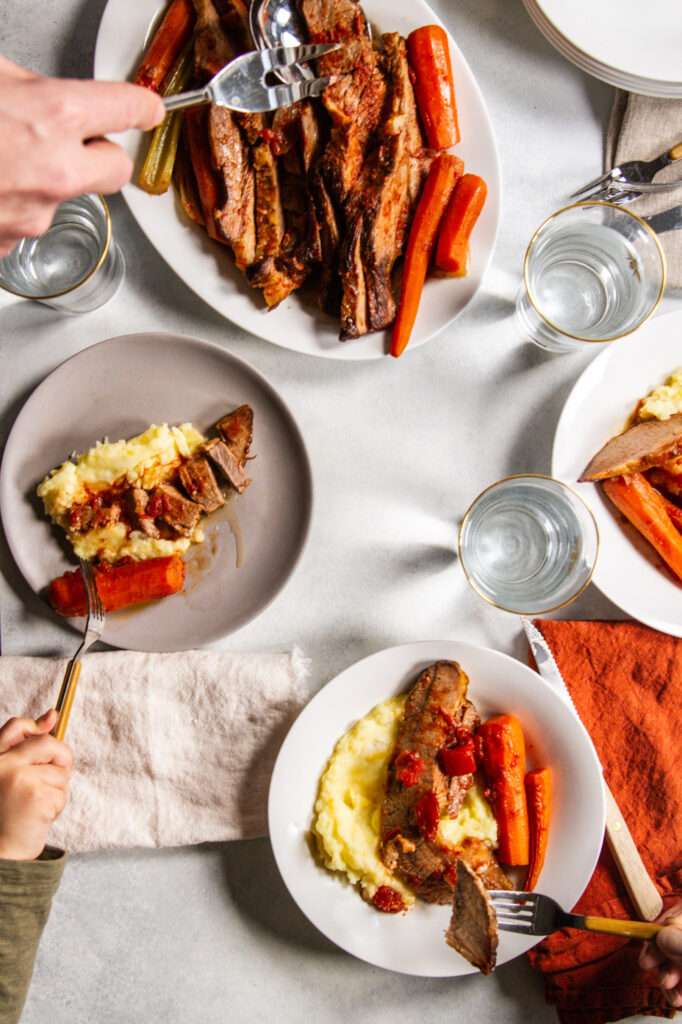 Post originally posted in 2021 and updated in 2022.
This recipe is brought to you by my partnership with Red Gold Tomatoes. All thoughts and opinions are mine alone. Thank you for supporting the brands I partner with (which I genuinely use, love, and enjoy) which makes the SweetPhi blog possible.
Easy beef brisket
This easy beef brisket recipe is a family dinner favorite that seems fancier than it actually is to make.
Print
Rate
Ingredients
2

tbs

vegetable oil 

1

beef brisket 

4-5 lb

3

tbs

Kosher salt

divided

6

cloves

garlic

peeled and cut in half

3

yellow onions

medium-large, roughly chopped

1.5-2

lbs

carrots

(about 8-10) roughly chopped

2

stalks

celery

roughly chopped

1

cup

beef broth

or red wine

1

can

Red Gold Diced Tomatoes

(14.5 oz)

1

can

Red Gold Crushed Tomatoes

(14.5 oz)
Instructions
Over two stovetop burners, put a roasting pan and turn heat to high. Pour in vegetable oil and cook until oil is hot (a few drops of water should sizzle, that's when you know the oil is hot).

Salt brisket generously on both sides (about 1 tablespoon per side). Put the brisket into the roasting pan and cook for 6 minutes on each side until a nice crust forms, then sear sides by holding it up with tongs (don't move the meat when it's searing it won't form the nice brown color if it's being moved).

Peel garlic cloves, cutonions, carrots and celery while the brisket sears. 

Preheat oven to 300. 

Transfer meat to large cutting board or plate. Add onions, carrots, celery and garlic cloves to the roasting pan and cook for 3 minutes.

Pour in red wine (or beef broth) to deglaze the plan, let it come to a simmer. 

Add in Red Diced Tomatoes,Red Gold Crushed Tomatoes and bay leaves. 

Nestle in meat, put in theoven. 

Cook for about 45 min perpound until temperature is 180 or fork tender. If you want to get it moretender, drop temperature to 225 and let sit in it the oven. You don't want tokeep cooking it at 300 if it's not fork tender.

Remove from the oven andtransfer the meat to a shallow dish/plate/board and tent with aluminum foil for30 minutes. 

Use a spoon to press downin the cooking liquid with the vegetables to remove fat (skimming fat off thetop layer).

Slice, against the grain, into thin slices.

Return slices to sauce and veggies. Remove bay leaves.

Serve and enjoy!
Notes
The nutrition information presented on this site should be considered an estimate as the calculations will change based on the exact products you use in your own kitchen.