Since I'm always running out of eggs it seems and love muffins, I made these eggless applesauce muffins with a struesel topping. These are the best eggless muffins I've ever had, and they make a great eggless breakfast, just like my eggless waffles. I love making muffins because they're such an easy grab and go breakfast, and they're a great freezer meal breakfast (you can enjoy them at a later date).
Besides running out of eggs (always), I made these muffins without eggs because one of my sons might be allergic to eggs (or have a sensitivity to eggs). Since he is under the age of one, allergen testing isn't super reliable, so we were told to keep his food egg-free.
I know he's had things containing egg before, but when we gave him a scrambled egg, he mashed it on his face and while it could have been just some egg getting rubbed in his eye, his face turned blotchy and red and it was just a little scary for us, especially during these times, so our pediatrician just recommended keeping eggs away from him for the time being (he turns one in a month – time flies too quickly – so we'll get testing soon enough).
Just to show you a picture (above) – on the left, right after eating eggs and smashing them all over his face, we then washed his face and within an hour there were no traces of anything and he was hungry again (picture on the right).
I've been using egg substitutes in baking for years. I am one of these people that always keeps flax in the fridge…do you? I use flax in energy bites or cookies or in whole wheat honey oat flax bread and have used flaxseed to make a flax "egg" many times.
My almost 3 year old insists on 'helping' make recipes whenever I'm getting ready to make and photograph something, so he's been in the kitchen a lot lately. Normally I would batch work and do all the testing during the week and then 1 weekend day my husband takes the kids out of the house so I can photograph…since no one is going anywhere and we're watching the kids solely, he is my new kitchen helper (like I showed in this chocolate milkshake for kids recipe). Also think kids everywhere and a big mess:
How to make a flax egg: you combine 1 tablespoon flaxeed and 3 tablespoons water and let it sit and it creates a gelatinous egg-like texture = 1 large egg. I've also used clear carbonated water (1/4 cup=1 large egg) or 2 tablespoons water + 2 teaspoons baking powder + 1 teaspoon vegetable oil = 1 large egg. Here is an article about the 8 best egg substitutes for baking.
With the twins starting to eat so much more solid food and Ben eating 3 meals a day plus two snacks, I wanted something all three kids (and us adults) would enjoy, and these applesauce muffins with streusel topping fit the bill.
Also quick note: you can easily make these muffins vegan by substituting margarine or a vegan butter for the butter in the streusel topping!
I've made these muffins many of times, every time I make them, I get asked for the recipe (which I've adapted over the years – one was way too 'healthy' and hearty tasting and one way too sweet with granulated sugar.)
I think I've perfected these applesauce muffins by using brown sugar. They're just the right amount of sweet but not overpowering, and they're super kid friendly and make ahead freezer friendly.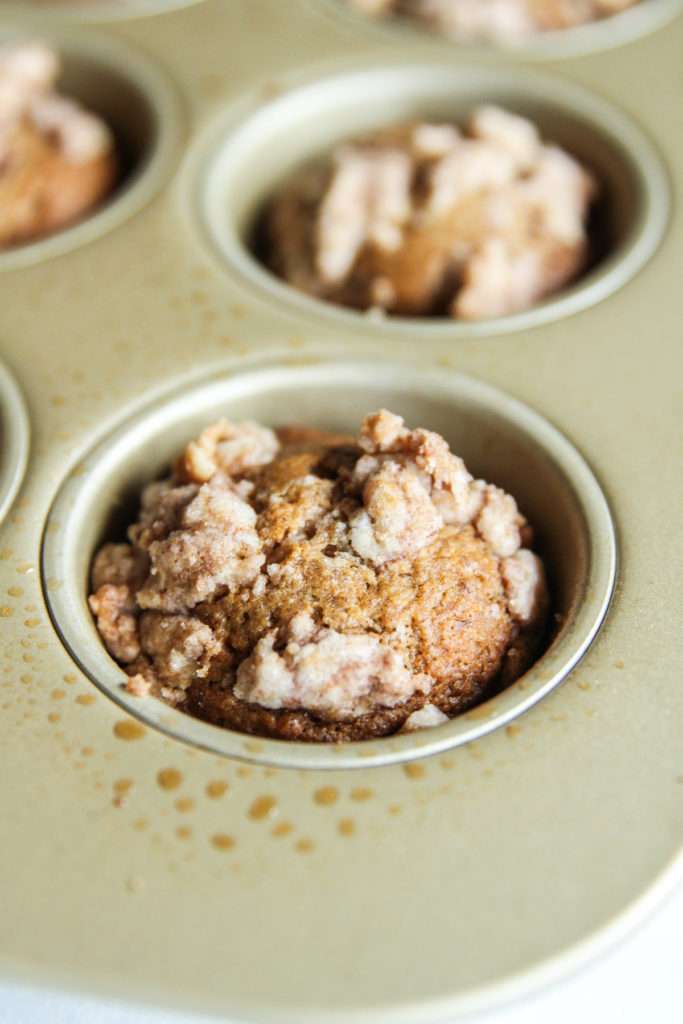 Here is a picture of all the kids enjoying the muffins:
Next time you're looking for an easy grab and go breakfast, I'd highly recommend these eggless applesauce muffins with streussel topping!
Eggless Applesauce Muffins With Struesel Topping
Eggless muffins with struesel topping are a great make ahead freezer breakfast the whole family will love.
Print
Rate
Ingredients
For the muffins
1 1/2

tablespoons

flaxseed

5

tablespoons

water

1 1/2

cups

all purpose flour

1/2

cup

brown sugar

1

teaspoon

baking powder

1/2

teaspoon

baking soda

1/2

teaspoon

salt

2

teaspoons

cinnamon

1

cup

unsweetened applesauce

1

teaspoon

vanilla extract

1/2

cup

vegetable oil
Streusel topping
1/2

cup

1 stick butter, melted (or vegan butter if making these vegan)

1/2

cup

all purpose flour

1/4

cup

brown sugar

1

teaspoon

cinnamon
Instructions
Start by making the flax egg: in a small bowl combine flaxseed and water and allow to sit for a few minutes, until thickened and a gel like texture.

Preheat oven to 375 and spray a muffin tin with cooking spray or line with muffin liners and set aside.

In a bowl combine the flour, brown sugar, baking powder, baking soda, cinnamon, and salt.

In another bowl combine vanilla extract, applesauce, vegetable and flax egg.

Add the dry ingredients into the applesauce mixture. Stir to combine gently.

Divide batter between muffin cups (they'll be 3/4 full)

Make streusel topping by melting butter in a microwave safe bowl, then add in the flour, brown sugar and cinnamon. Top each muffin with a little streusel.

Bake for 16-20 minutes, or until slightly starting to brown around edges or a toothpick comes out clean when poked into the center of a muffin.

Remove from oven and allow to cool a little.

Enjoy, or allow to cool completely before putting in a freezer bag or container and freezing. These are good in the freezer for up to 3 months.
Notes
Nutrition
Serving:
1
muffin
|
Calories:
217
kcal
|
Carbohydrates:
30
g
|
Protein:
2
g
|
Fat:
10
g
|
Saturated Fat:
1
g
|
Polyunsaturated Fat:
9
g
|
Sodium:
186
mg
|
Fiber:
1
g
|
Sugar:
13
g