This fail proof whole wheat pizza dough recipe will have you creating delicious and healthy whole wheat pizza crusts in no time at all, and is an amazing 5 ingredient recipe (perfect for this weeks Five Ingredient Friday recipe).
A new year is upon us. And just as the year is new, so is my resolve to eat a little healthier. And what better way to start eating a little healthier than enjoying a favorite food like pizza?
The problem is, sometimes pizza dough can be very tricky to make and comes out a little lack-luster. So I'm going to show you how to make the best fail proof whole wheat pizza dough.
This is a dough I've made a bunch of times but have never just talked about the dough itself and some tips and tricks to making it amazing. So today is the day I'm going to share all my secrets for making whole wheat pizza dough.

To make whole wheat pizza dough you're going to start by dissolving a packet of yeast in some warm water. You'll stir it once, and then just let it sit for 5 minute until it gets all bubbly. Meanwhile in the bowl of a stand mixer you'll mix flour and salt, and then add the yeast mixture and olive oil and mix the dough with a wooden spoon to combine all the ingredients, and then knead at a low speed for 5 minutes. The dough should be sticky to touch. Remove the dough from the mixer and form into one big ball and a one small or four smaller balls and place the dough ball(s) in a bowl. Cover with plastic wrap, and allow to rise for half an hour. The dough will double in size.
With this recipe you can choose how big you want your pizza to be. I've found that my favorite size to make is smaller-to-medium size pizzas of about 8-10 inches. With this recipe you'll get three thin rolled 8-10 inch pizzas. Or I like making 12 inch pizzas that I roll very thin (I used this whole wheat pizza crust to make this sun dried tomato clam pizza)
After the half hour of rising time take one of the dough balls and place on a well-floured surface and roll it out. I use a rolling mini dough rolling pin, and then use my hands to stretch it into a circle. Place some corn meal on a baking sheet, and place pizza dough on the baking sheet. What you'll do next is pinch the rim of the pizza so that it you form a little 'lip' or crust. The comes the step that is going to make your pizza crust extra good. You're going to bake it (without any toppings on it) of 5 minutes. Then remove it from the oven and add some pizza sauce.
And add some desired toppings (I usually just use low moisture part skim mozzarella cheese and some Italian seasoning) and then bake for 15 minutes and then you have yourself a delicious pizza with a whole wheat crust.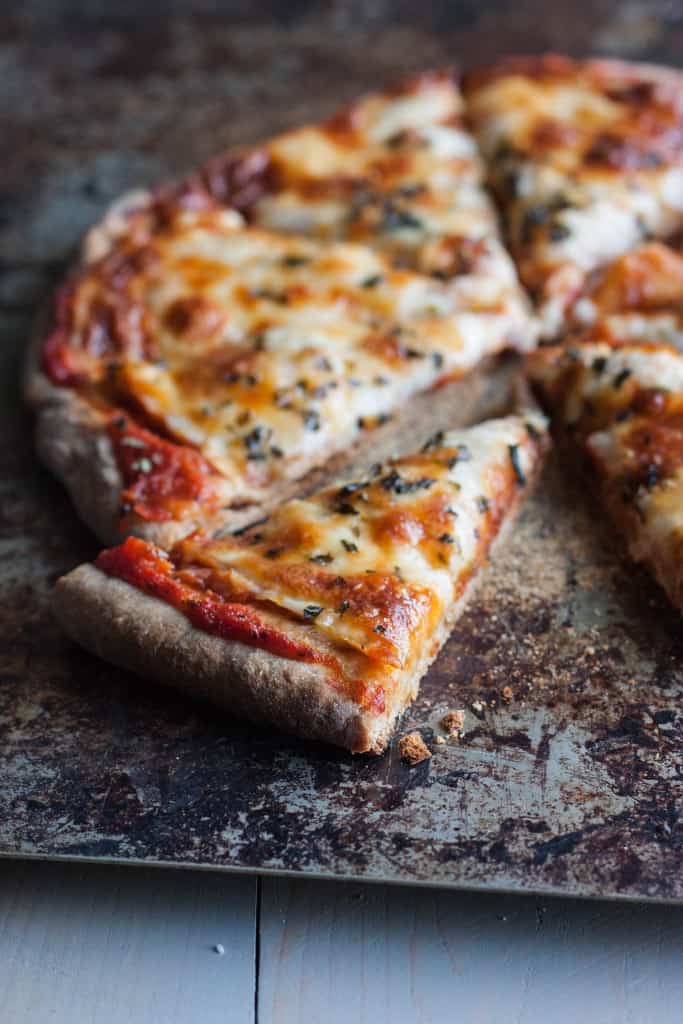 The glory of making a pizza crust that is whole wheat? Because it's pizza and pizza is an all around favorite – your family will gobble it up and get to enjoy a favorite food that is healthy!
I love using these products to make whole wheat pizza crust:
Some fun pizza topping you might enjoy on whole wheat pizza dough:
I'd love to hear for you – what is your favorite pizza topping?
Fail Proof Whole Wheat Pizza Dough
This easy recipe for fail proof whole wheat pizza dough will have you and your family enjoying a healthier version of pizza night!
Print
Rate
Servings:
2
-4 pizza crusts
Ingredients
1

packet active dry yeast

2 1/4 teaspoons

1

cup

warm water

1

tsp

salt

1

Tbs

extra virgin olive oil

2

cups

whole wheat flour plus 2 Tbs

and more for rolling out the dough

1

Tbs

cornmeal

for lining the pan
Instructions
In a small bowl pour packet of yeast and 1/4 cup warm water (I run my tap on just hot until it is really hot to touch). Stir it once, then let it rest for 5 minutes until it gets foamy at the top.

Meanwhile, in the bowl of a stand mixer add the 2 cups plus 2 Tbs whole wheat flour and 1 tsp salt.

After the 5 minutes add the yeast mixture to the bowl of the stand mixer, and add 3/4 cups warm water and 1 Tbs extra virgin olive oil, stir it until loosely combined with a wooden spoon. Then, with the dough hook attachment set it on speed 2 and let the dough 'knead' for 5 minutes (you can knead it by hand if you don't have a stand mixer.)

After 5 minutes of kneading, stop the mixer and form the dough into a ball (s) -I usually do 2-3 dough balls depending on what I'm making (2 12 inch very thin crusts or 3 8-inch crusts) and place in an oiled bowl and cover with plastic wrap for 30 minutes (it will double in size after 30 minutes).

Preheat oven to 450.

Now sprinkle a baking sheet with cornmeal and on a floured surface roll out one of the dough balls or with floured hands stretch the dough into a circle, then place on the prepared baking sheet and stretch a little more, pinch the edges of pizza dough to form a crust. Next bake pizza crust (minus toppings) for 5 minutes, remove from oven, and then add toppings (sauce/cheese/toppings).

Bake at 450 for 15 minutes or until the cheese around the edges starts getting brown. Remove from oven, slice, and enjoy!
Notes
This recipe makes 2 very thin rolled 12 inch pizza crusts or 1 slightly thicker pizza crust, or 3 small thin 8 inch pizza crusts.
Nutrition information disclaimer: the nutrition information presented on this site should be considered an estimate as the calculations will change based on the exact products you use in your own kitchen.  
Nutrition
Serving:
1
crust
|
Calories:
491
kcal
|
Carbohydrates:
90
g
|
Protein:
17
g
|
Fat:
10
g
|
Saturated Fat:
2
g
|
Sodium:
1166
mg
|
Potassium:
436
mg
|
Fiber:
13
g
|
Sugar:
1
g
|
Calcium:
41
mg
|
Iron:
4
mg