This French peasant bread recipe is "so easy it makes me want to make bread" – that's what a friend told me about this recipe and that's the biggest takeaway!  A super simple and delicious way to make bread.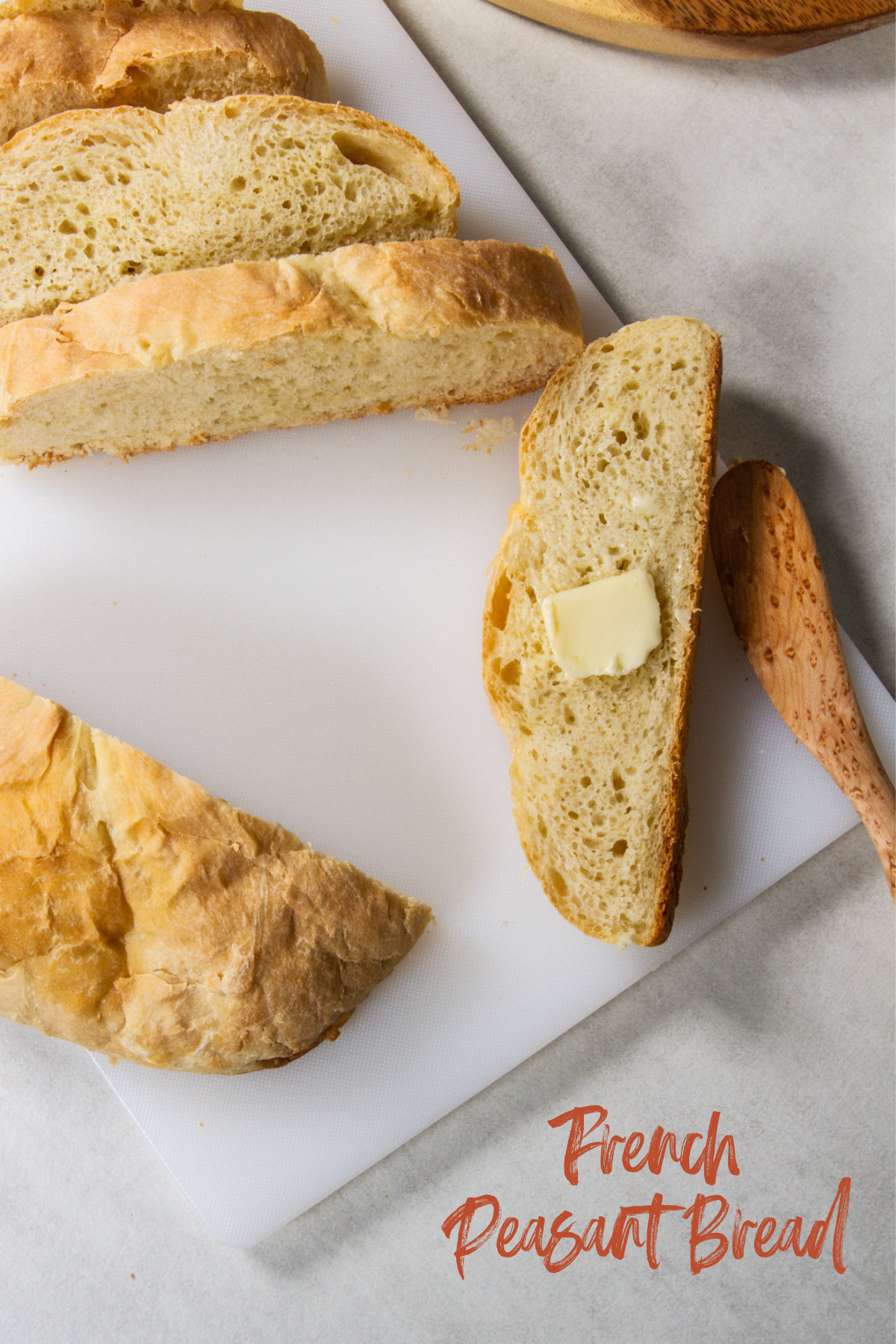 They say the key to making bread is patience…well, with this recipe, you won't need as much patience as you are used to.  With this French peasant bread, no kneading required!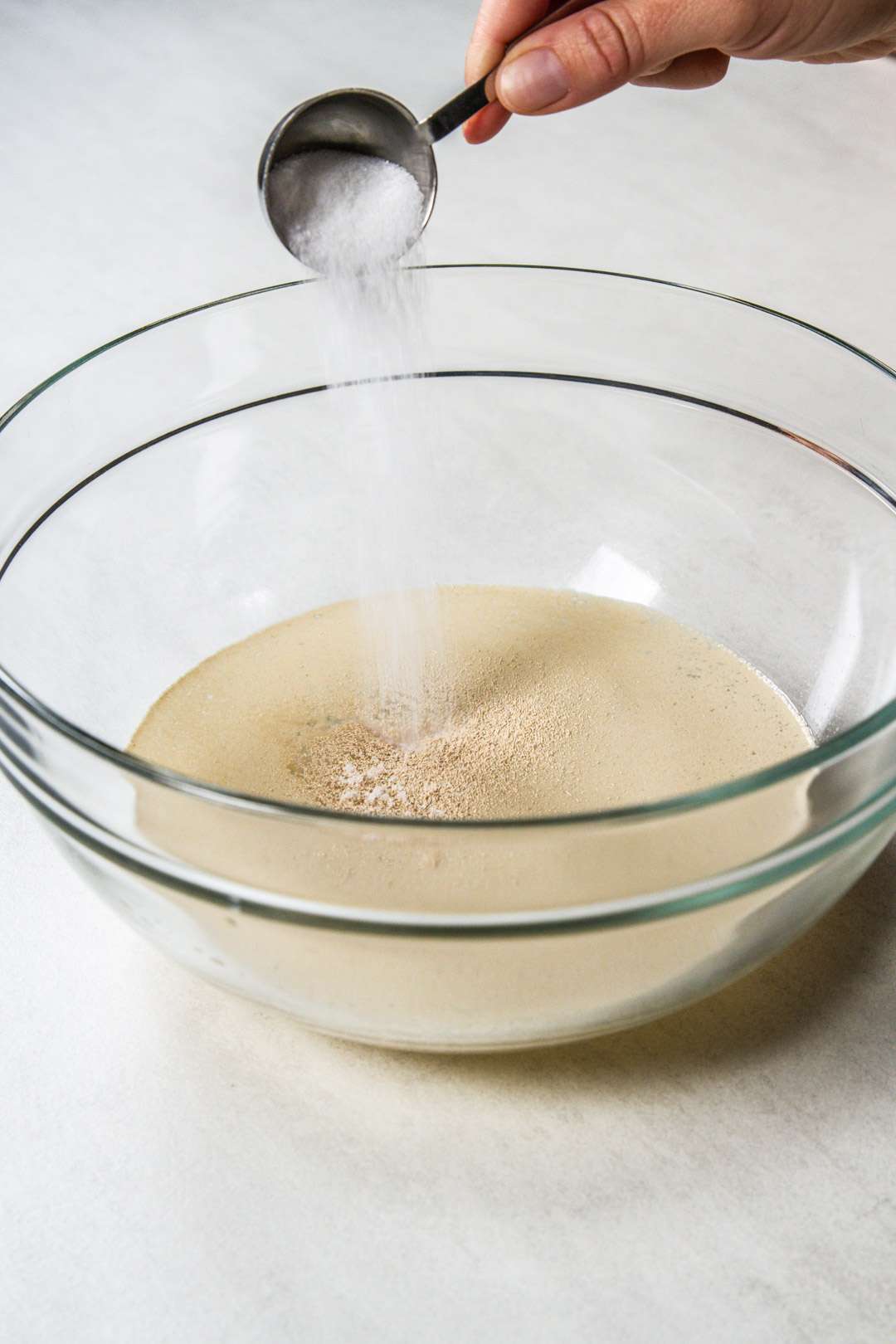 What ingredients do you need to make this easy bread?
Yeast
Sugar
Warm water
AP flour
Salt
Olive oil
Corn meal
Did you know that the reason you put sugar with yeast is that it activates it and helps it grows faster?  This recipe, in particular, is no-fuss and rising time is less than normal due to the amount of sugar in it.  More sugar = faster growing.
I talk a bit more about the process in this post if you're interested.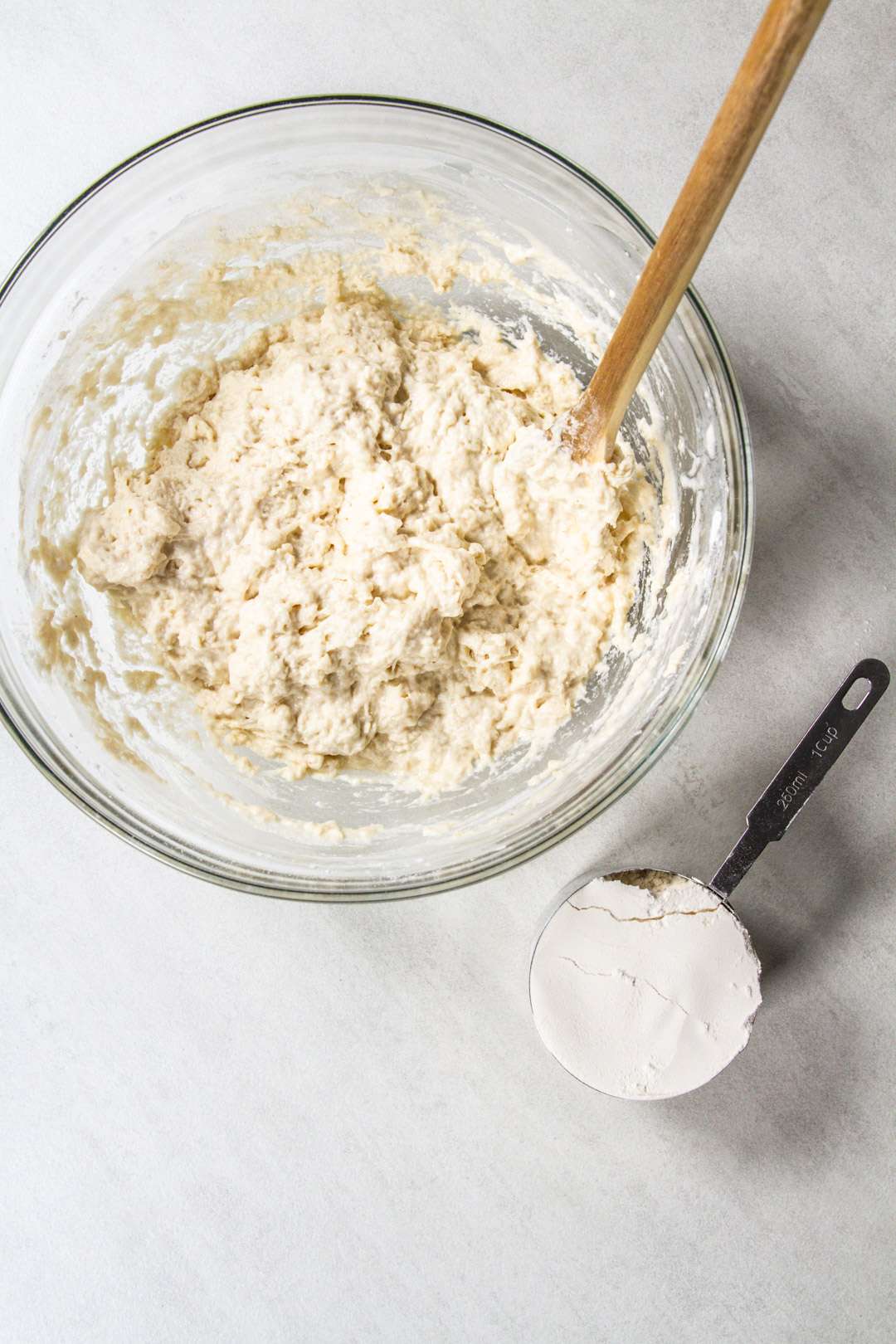 When you're adding flour to the recipe, you can add up to one more cup, based on the texture of the dough.  You don't want the dough to feel too dry, but also not too wet.  I know that's sometimes hard to tell, so use the pictures to help guide you as well!
This dough will be sticky, but you don't want to see any liquid.  When stirring, the dough will feel bouncy.
You'll know the dough is done when it comes together like a ball and doesn't stick to the bottom of the bowl.  Once the dough is mixed, put plastic wrap (or a kitchen towel) over and let it sit for another hour.
Once the dough is completely risen and ready to go, it's time to form the loaves!  Start by putting olive oil on your hands so nothing sticks and divide the dough in two.
To shape the loaves, you can pull and stretch the dough and fold it underneath itself.  It forms a small ball and will be smooth on top.
Before the bread goes in the oven, you will score the top.  This allows the bread to bake and expand.  If you're feeling up to it, you can get creative and make fun designs on the top while scoring the bread.
Once the bread is baked, it's time to enjoy!  I especially love to use this bread to dip into soups like this one! Or slice it up and make some french toast.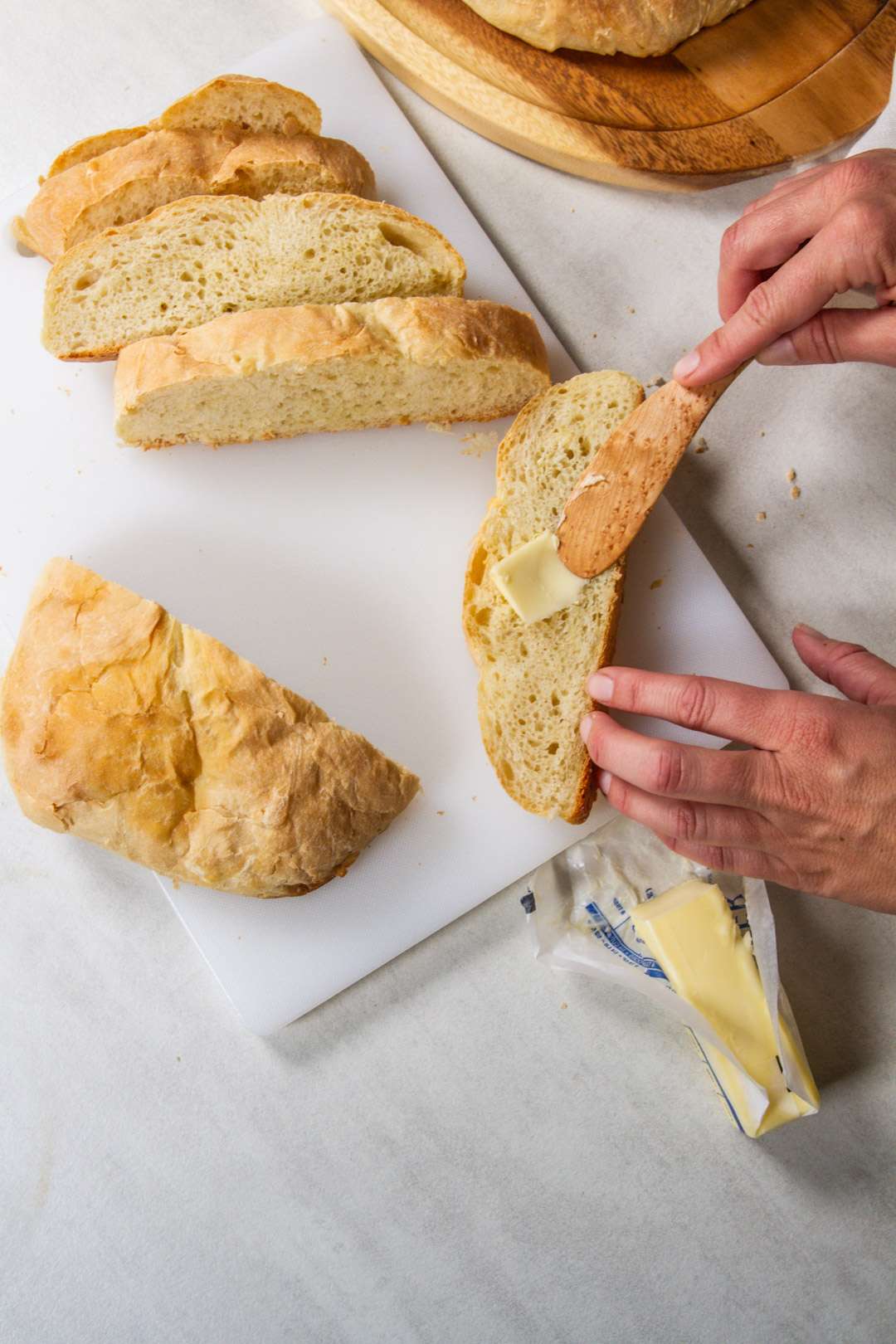 A few tips for this bread recipe:
You can cook this bread in two loaf pans if you'd prefer.
Right before you put the bread in the oven, you can shape it as "tall" or as balled up as you like.
This is a very forgiving bread recipe and is so easy!
Temperature, humidity and altitude will affect the dough when stirring.
French Peasant Bread
This no-knead bread is so easy to make and great for dipping in soup or enjoying anytime!
Print
Rate
Ingredients
2 1/4

teaspoons

yeast

1 packet

1

tablespoon

sugar

2

cups

warm water

4

cups

all purpose flour

2

teaspoons

salt

Olive oil

1

tablespoon

corn meal
Instructions
In a bowl combine yeast, sugar and warm water and proof the yeast for 15 minutes or until frothy on top.

In another bowl combine flour and salt and stir with a wooden spoon.

After the yeast has proofed pour about 3 cups of the flour and salt mixture into the warm water/yeast mixture and stir with a wooden spoon to combine and then slowly add the remaining cup of flour-Don't knead it, it will be lumpy. You want to add only 3 cups of the flour and then the remaining cup of flour because you don't want it to be to dry, so if it feels too dry don't add the full remaining cup.

Pour a little olive oil in a bowl and pat the dough with a little olive oil to keep it moist and put the dough it in the bowl. Cover the bowl with plastic wrap and allow to rise until it has doubled in size for an hour.

After an hour, pat a little olive oil on your hands and divide the dough into balls. Form two balls/loaves however you want to form them-either circular or rectangular.

Sprinkle a little corn meal onto a baking sheet, and put the two formed loaves of dough on the baking sheet. Let rise for another hour in a warm area. Using a very sharp knife, cut a line across the top to 'score' the bread'

Preheat oven to 425. After dough has risen for the second time, bake for 10 minutes, then lower the temperature to 375, then bake for an additional 15 minutes. If you would like a firmer crust, bake for an additional 5 minutes.

After baking remove from oven and let cool completely and then cut and enjoy!
Notes
The nutrition information presented on this site should be considered an estimate as the calculations will change based on the exact products you use in your own kitchen.
Nutrition
Calories:
83
kcal
|
Carbohydrates:
17
g
|
Protein:
3
g
|
Fat:
1
g
|
Saturated Fat:
1
g
|
Polyunsaturated Fat:
1
g
|
Monounsaturated Fat:
1
g
|
Sodium:
196
mg
|
Potassium:
34
mg
|
Fiber:
1
g
|
Sugar:
1
g
|
Vitamin C:
1
mg
|
Calcium:
4
mg
|
Iron:
1
mg
This recipe is slightly adapted from a recipe found on food.com for French Peasant Bread