Are you ready for the best Quiche recipe ever? This is it! It is so light and fluffy and delish!! You'll want to prepare this for dinner (which is how we had it), lunch (we had it for leftovers) and breakfast/bunch (more leftovers, and they ran out which was sad!)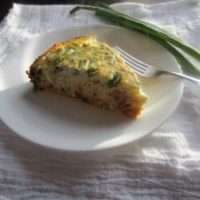 Ingredients
1

sweet potato

peeled and shredded

2

tablespoons

olive oil

1

teaspoon

salt

1/2

teaspoon

pepper

1/2

teaspoon

sweet basil

7

eggs

2

egg whites

1/2

cup

sour cream

I use reduced fat

5

oz

goat cheese

1/2

cup

skim milk

3

tablespoons

Shredded Parmesan Cheese

4

Scallions

green onions, finely chopped

cooking spray
Instructions
Preheat oven to 400.

In a pan add the olive oil, add the shredded sweet potatoes, salt, pepper, and basil and allow to cook for 10-15 minutes until the sweet potato shreds are browned. Do this by only flipping them once or twice.

In a bowl add eggs and egg whites, milk and sour cream. With a hand mixer mix for about a minute.

Next add the goat cheese and again mix for about a minute. Add in the Parmesan Cheese. Stir in the chopped up green onions. Add in a pinch of salt.

Line an 8 inch springform pan with parchment paper, and then spray liberally with cooking spray. When sweet potatoes are cooked, spoon into the bottom of the pan to form a 'crust'. Next add the liquid mixture on top of the crust. Place on a cookie sheet, and bake for 50 minutes. When the quiche is done baking remove from oven and run a butter knife around the edges and remove from outer spring form. Let cool for 5 minutes and serve warm. This dish reheats very well!
 The ingredients
 The cooked, shredded sweet potato lining the springform pan
 Before it entered the oven
 Doesn't that look good?
 All ready to be enjoyed!