Make these delicious ham and spinach stuffed sweet potato skins with your Easter or ham leftovers or as an appetizer for your next celebration. #ad
These stuffed sweet potato skins deserve a center stage on a table for any holiday, but since Easter just passed and Easter is synonymous with all things ham and there are typically lots of leftovers, I thought I'd take a little slice of ham and some leftover creamed spinach and combine them to be stuffed in sweet potato skins.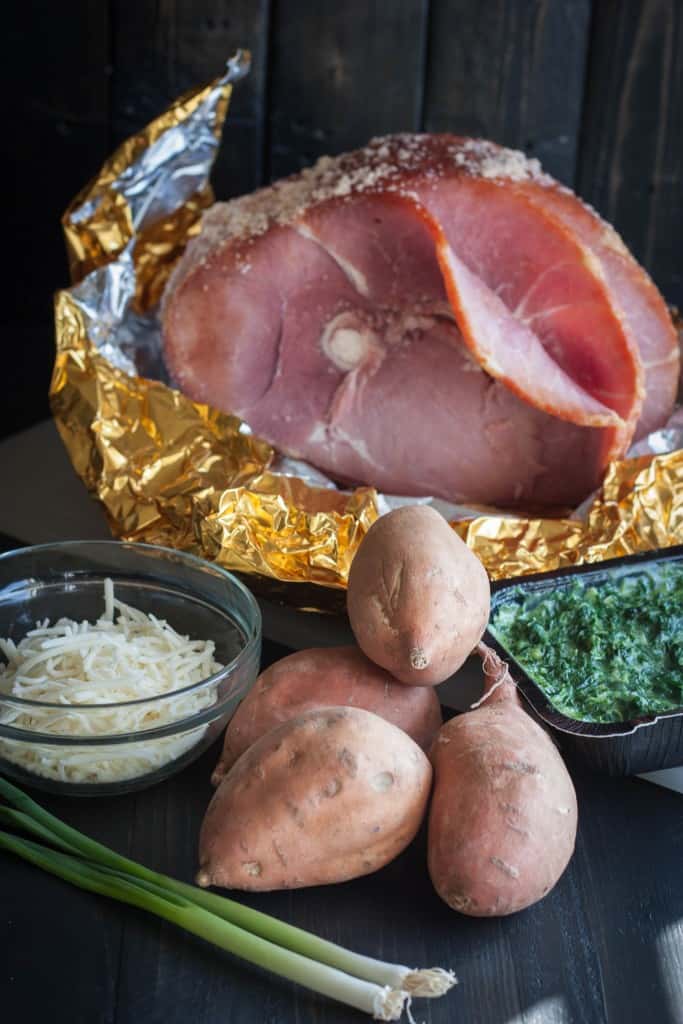 The end result was spectacular. Stuffed sweet potato skins, stuffed to the nines, perfect for the brunch or an appetizer or even as a dinner with a side salad.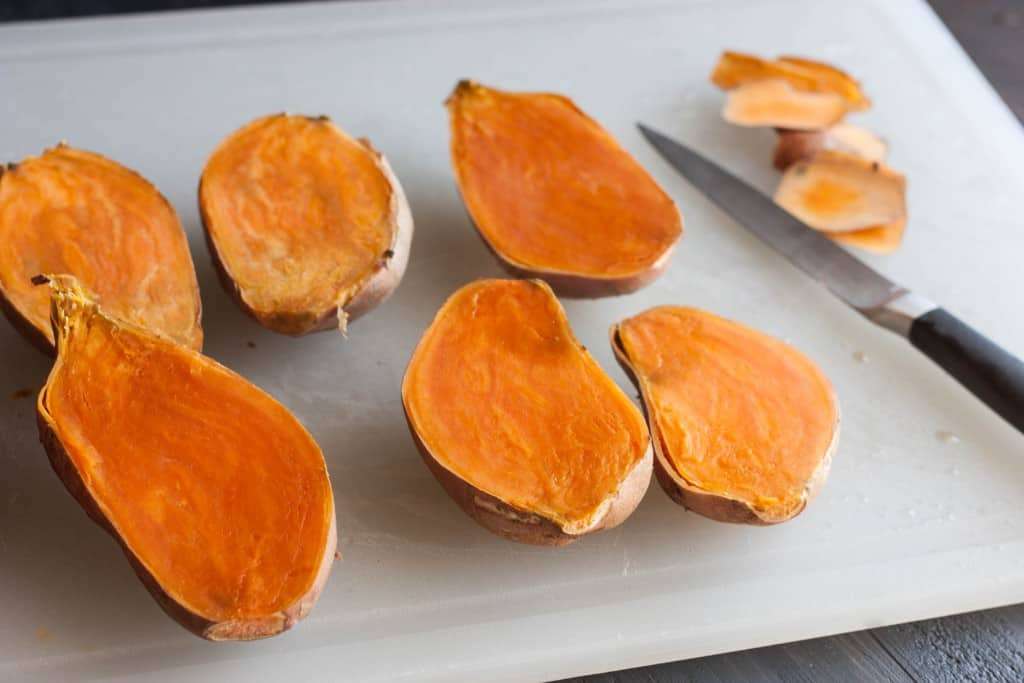 Being married, there is always the question of which side of the family holidays get spent with. Whose house are we going to on Thanksgiving? Christmas? But Easter? Easter is never really brought up. A friend described it as the 'consolation holiday' lol.
But bring these bad boys? It's no consolation; it's a holiday that everyone will want to go to.
In terms on holidays, I do have to say it is nice the way in which my husband and I get to celebrate them. I really like both sides (mine and his) and since my parents only live an hour and a half away (they live in Chicago and we live in Milwaukee) and my in-laws only live five minutes away, we get to spend holidays with both sides of the family.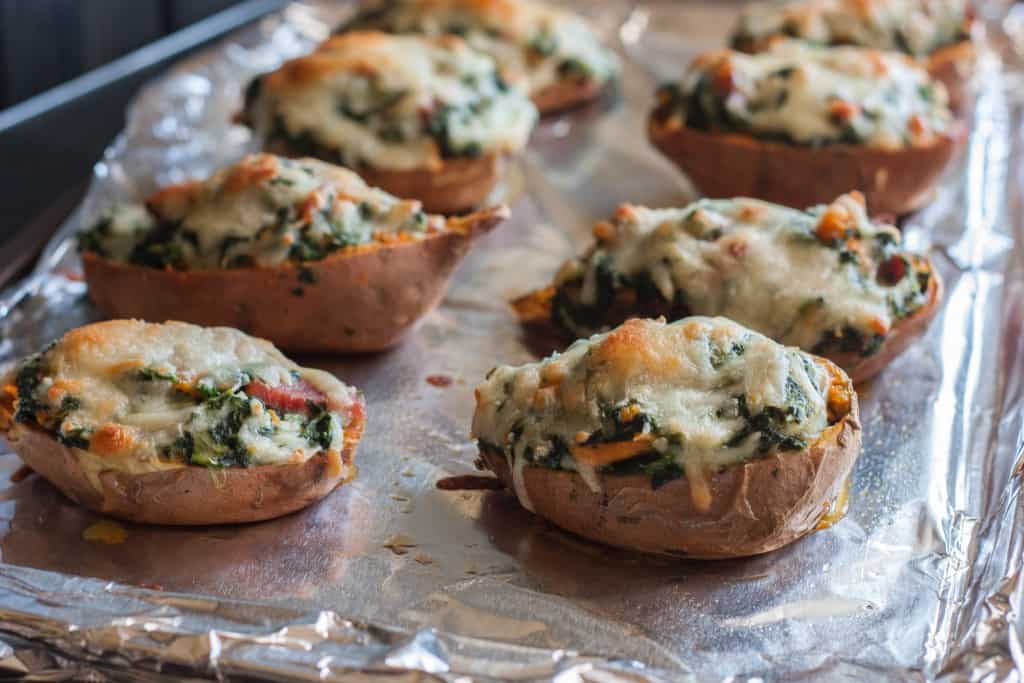 The day will start with breakfast/brunch with one side of the family, and then be followed by dinner with the other side, each respective side having their own traditions. But what do both have in common? A love of good food and cooking skills that are second to none, and of course ham. Ham is always served on Easter.
Don't get me wrong, I like ham on Easter as much as the next person, but I always like mixing it up a bit and using it in unique ways. No one will notice if you take a little piece of the ham to use for this dish. Everyone will however notice these stuffed sweet potato skins. A super unique and delicious dish that uses classic Easter ingredients in a new way is the perfect dish to bring to your next holiday. If you don't have creamed spinach, I would also make these with fresh spinach or with no spinach, and just make them with ham and more of the sweet potato innards.

Ingredients
4

sweet potatoes

2

slices

spiral cut ham

diced

1 ½

cups

creamed spinach

1

cup

mozzarella and provolone cheese

shredded

1

tsp

salt

2

green onions

finely chopped
Instructions
Start by microwaving the creamed spinach according to package instructions and set aside.

Next microwave the sweet potatoes (10 minutes for 4 sweet potatoes, or until a fork can be poked in easily.) Allow sweet potatoes to cool a little, then cut them in half and cut a little piece off the bottom of each side so that each half stands by itself. Scoop innards out of the sweet potato skins and put into a bowl.

Preheat oven to 350 and line a baking sheet with aluminum foil and set aside.

Place hollowed out sweet potato skins onto the baking sheet.

In a large bowl add the creamed spinach, diced ham, ½ cup of the shredded cheese, salt and half the sweet potato innards (reserve the rest for another recipe). Mix together well, and then scoop filling into the hollowed out sweet potatoes. Top with remaining cheese and bake for 30 minutes or until tops are golden grown. Remove from oven and top with green onions and then serve.
 This post is sponsored by Omaha Steaks, but as always, all opinions are mine alone.