Happy healthy New Years! To start off the year, I'm sharing this delicious healthy slow cooker crockpot breakfast casserole recipe that is fantastic to make anytime friends are coming over, or for meal prep breakfasts!
Something I have always struggled with is having a healthy breakfast in the mornings. It usually takes too long to cook up something and so I end up eating whatever is around – sometimes not the healthiest.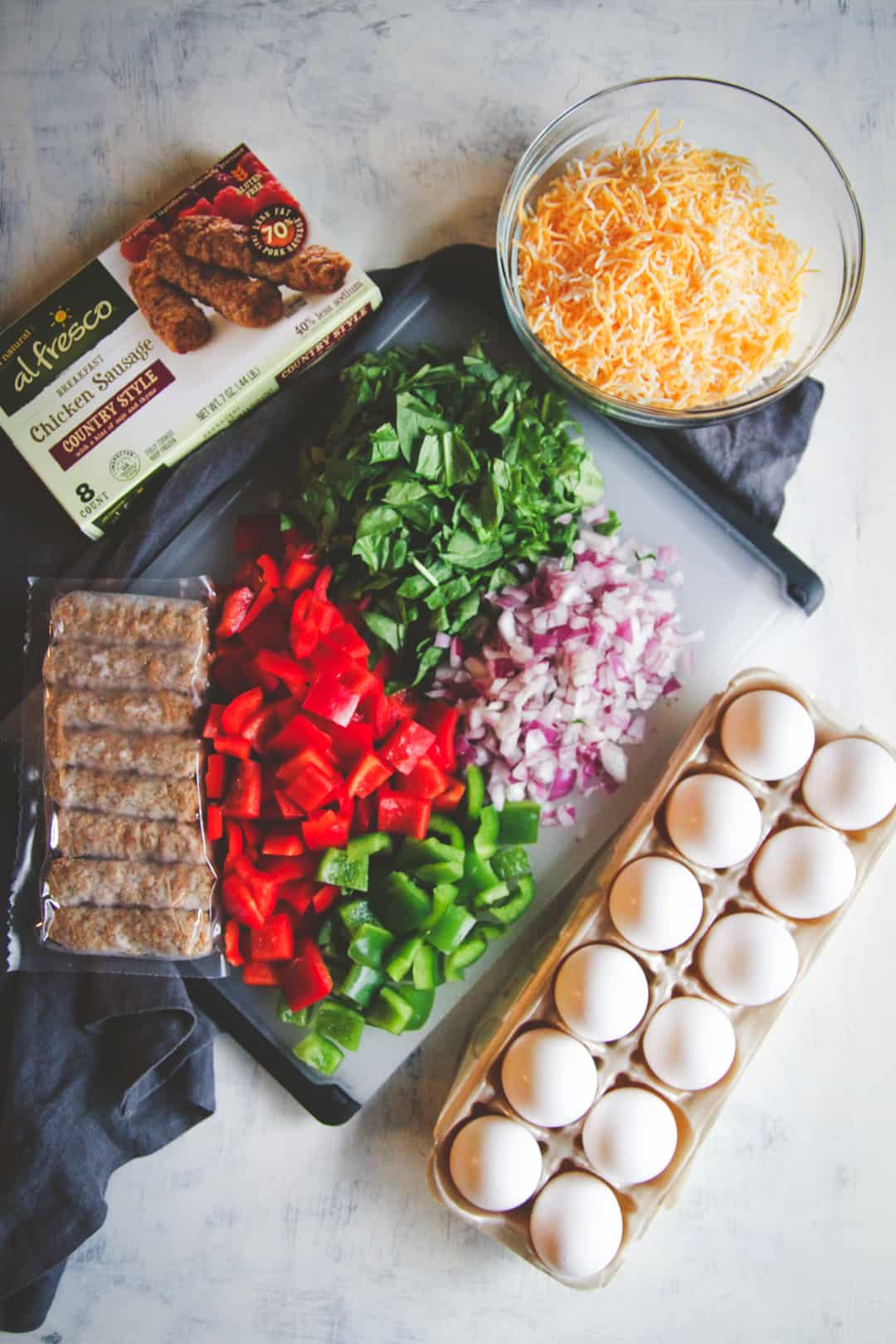 What do your mornings look like? For me, it's something bordering insanity, a race against the clock if you will. I wake up, get baby Ben fed/changed/etc., and then have to get out the door.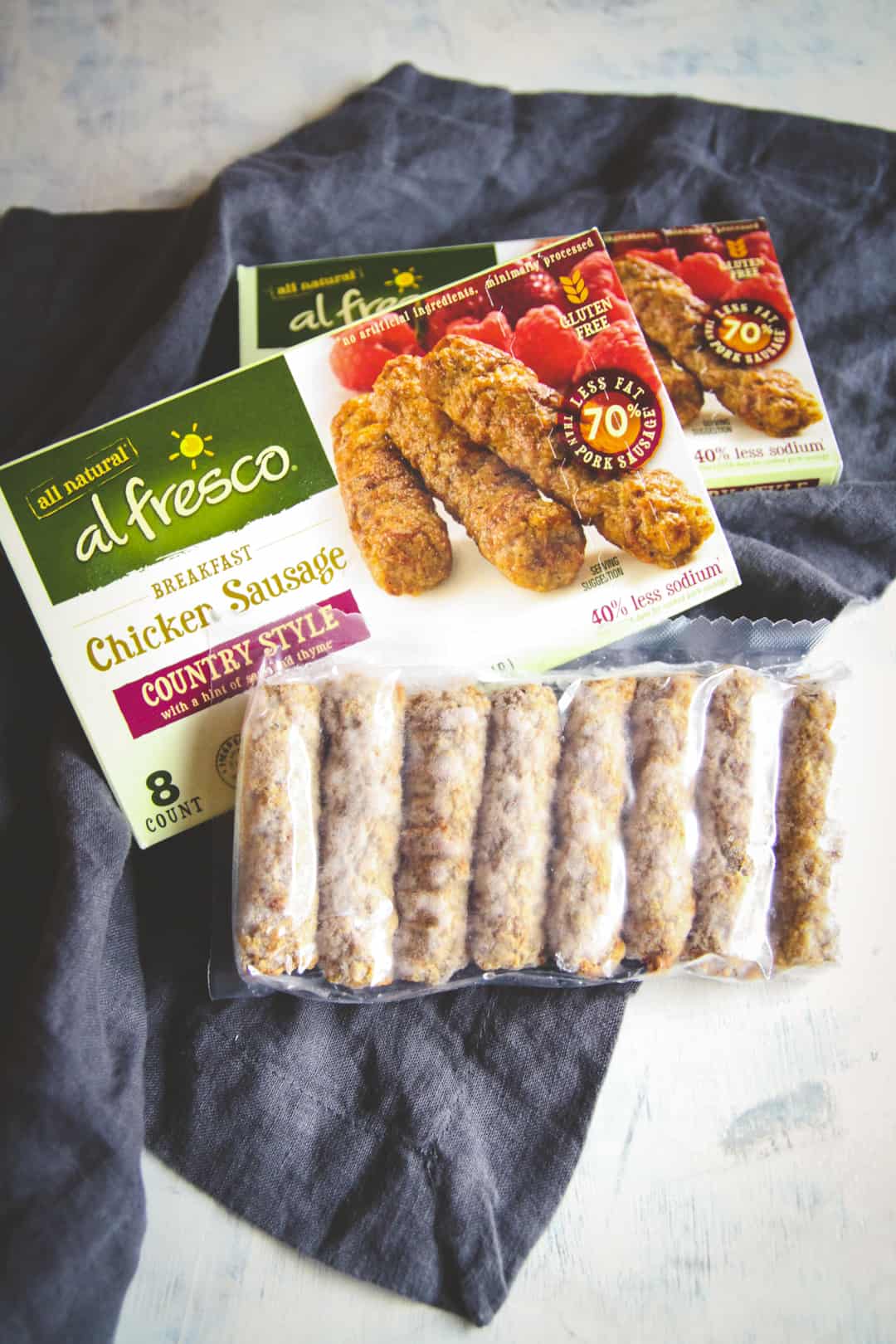 I'm trying to eat healthier, so I want to be mindful of what I'm starting my day off with.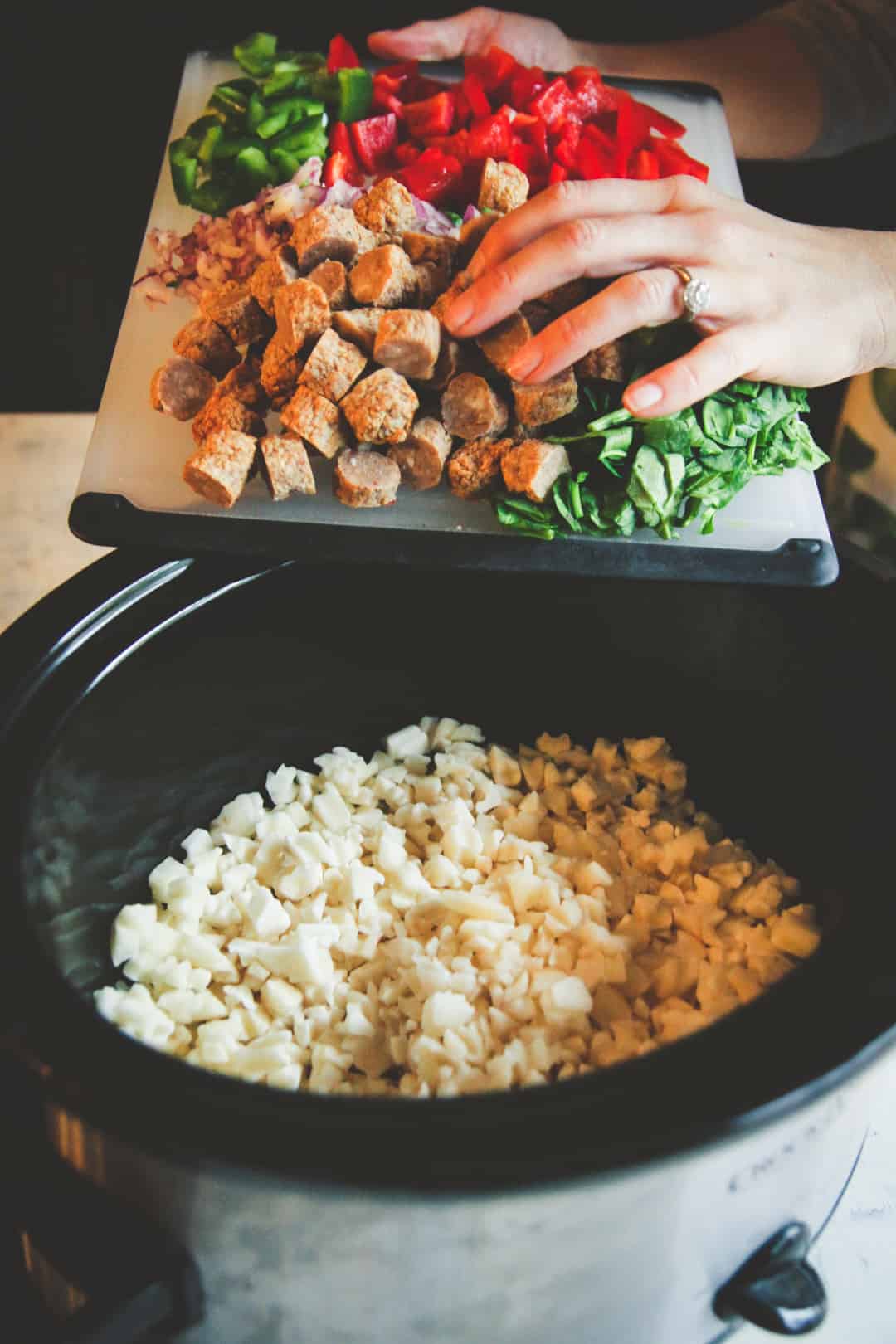 After all, they say breakfast is the most important meal of the day, right?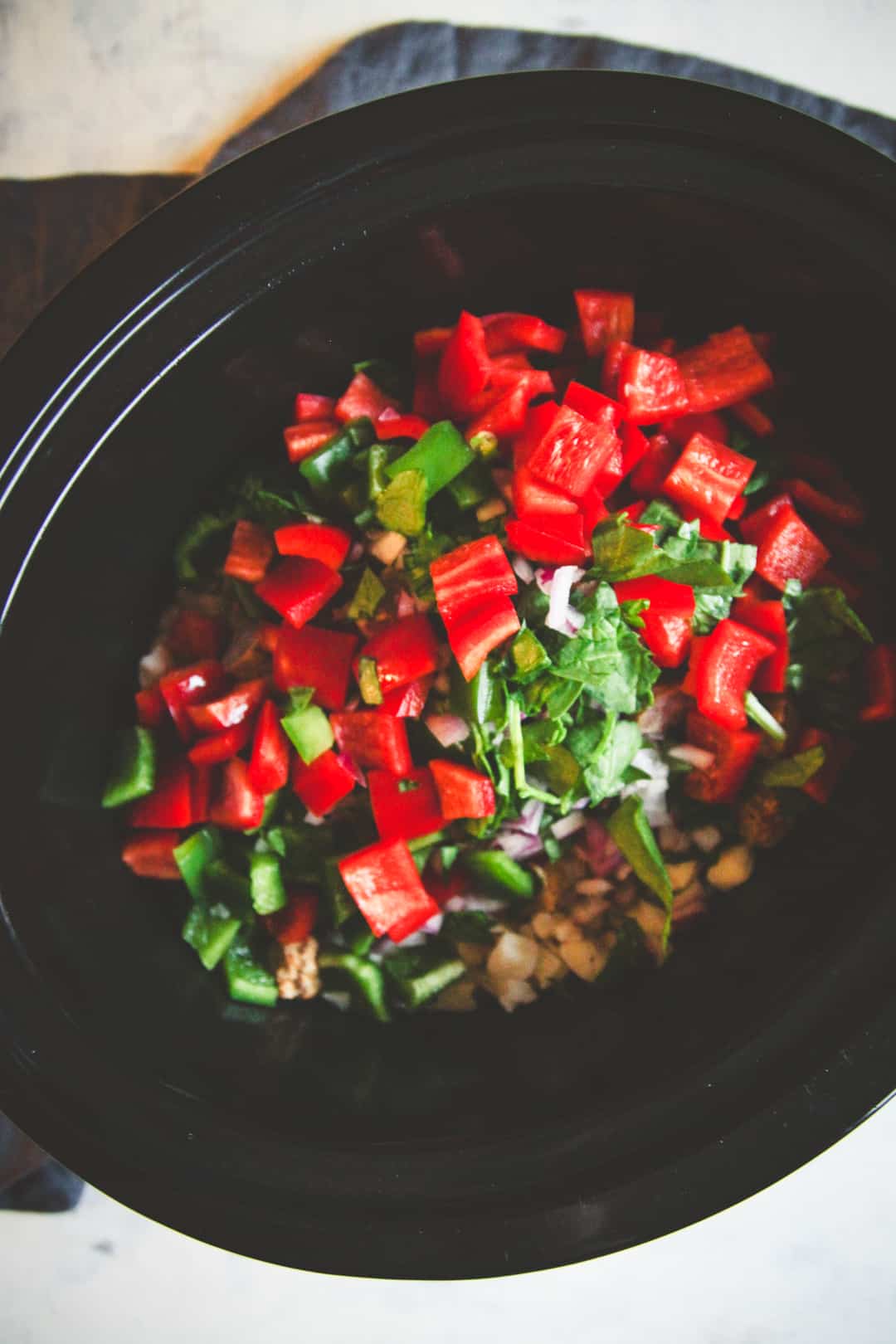 The beauty of this recipe is that it uses al fresco chicken breakfast sausage which has 70% less fat than pork sausage and is gluten free! The al fresco chicken breakfast sausage is super flavorful, and really brings all the flavors of this breakfast casserole together.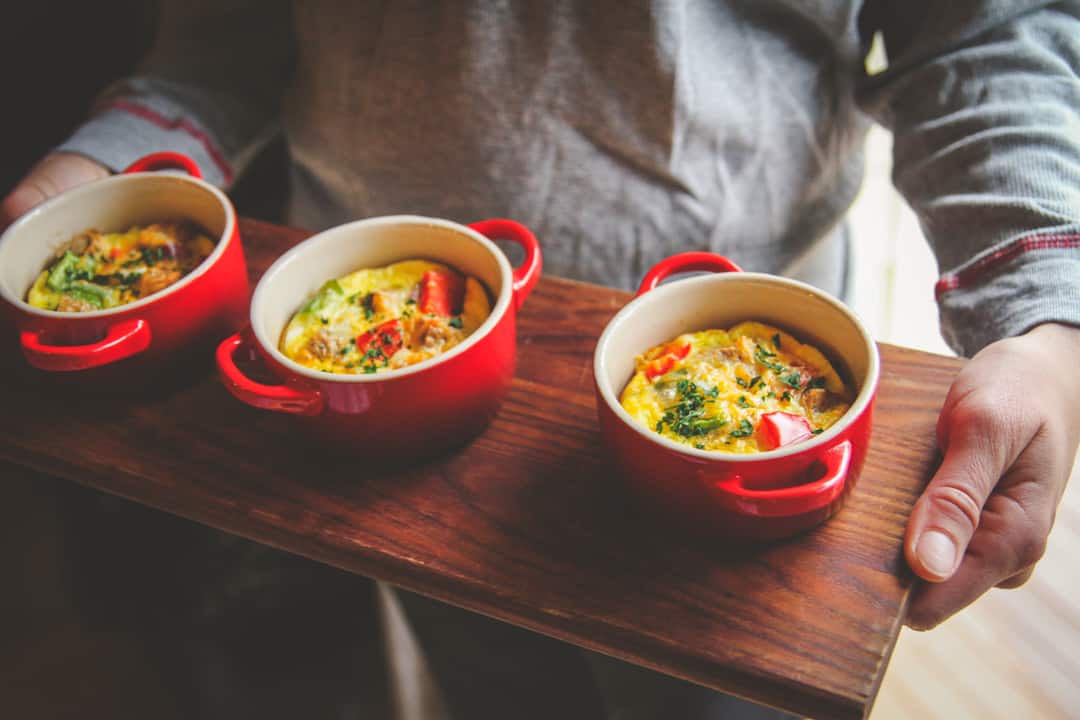 One of the things I absolutely love about this healthy breakfast casserole is that it can be made in a variety of ways.
It can be made as an overnight casserole – meaning you make it overnight and have it cook in the slow cooker while you sleep and then have it ready to enjoy in the morning
The casserole can be assembled the night before, and then baked in the morning
The casserole can be made into individual mini casseroles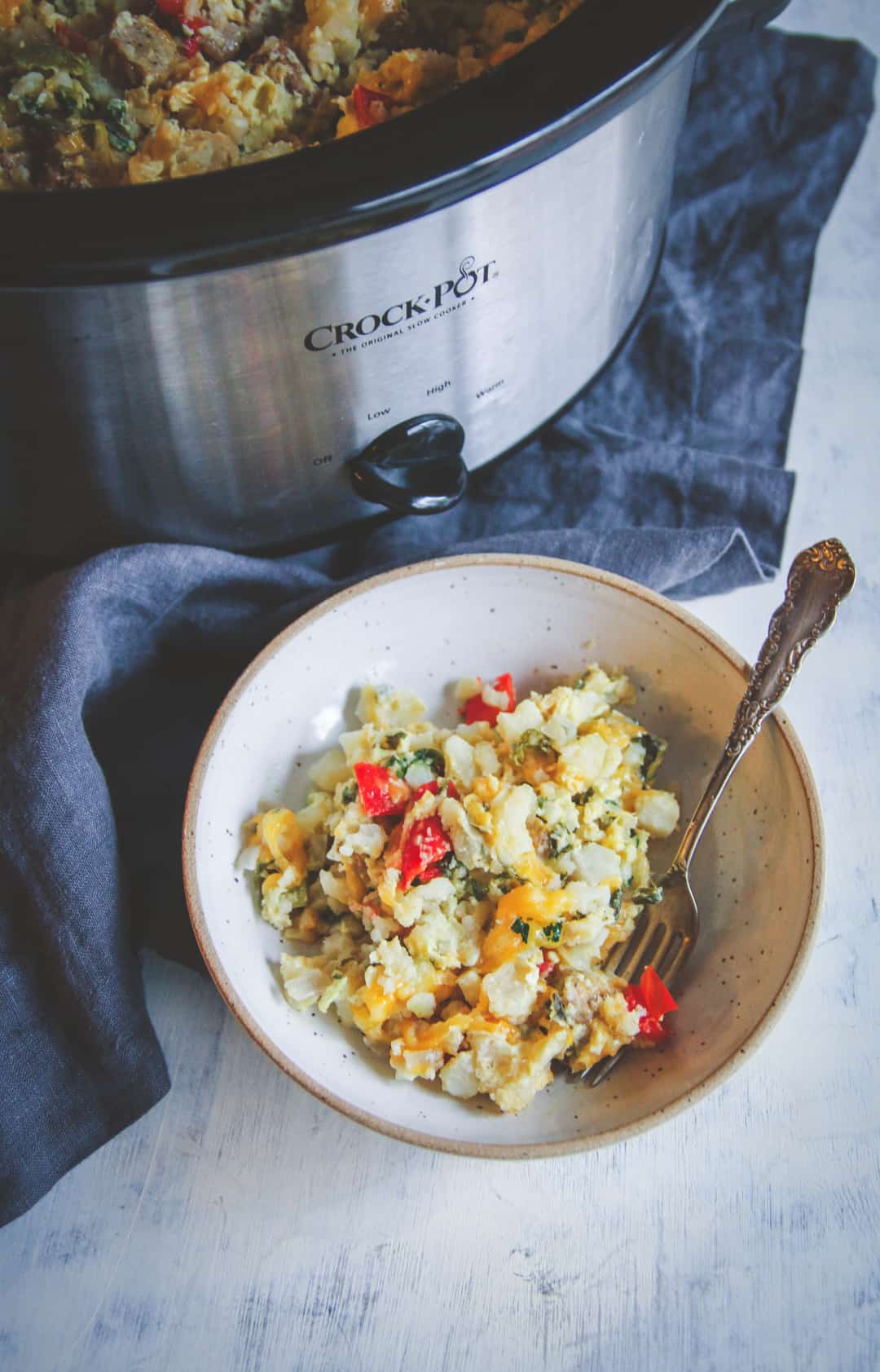 This healthy breakfast casserole is fantastic for meal prepping. You make one casserole and then enjoy it all week long. I like to make this on a Sunday when I'm prepping for the week ahead.
Whichever way you make it, this slow cooker healthy breakfast casserole is packed with veggies and deliciousness, and makes for one delicious breakfast recipe.
Yield: 8-10
Healthy Slow Cooker Breakfast Casserole Recipe
This delicious healthy breakfast casserole is made in a slow cooker and is perfect for prepping ahead, or for an overnight casserole. It's made healthier by using chicken breakfast sausage and is the perfect way to start your day.

Prep Time 10 minutes

Cook Time 8 minutes

Inactive Time 13 hours 12 minutes

Total Time 13 hours 30 minutes
Ingredients
1 dozen large eggs
1/2 cup milk (I use skim)
1/2 teaspoon garlic salt
1 teaspoon salt
1/2 package (total of 1 lb) frozen diced hash brown potatoes (you could sub with finely chopped sweet potatoes)
2 packages (8 count each) al fresco breakfast chicken sausages - country style (or fully cooked breakfast sausage)
2 red bell peppers, diced/cut into 1 inch cubes
1 green bell pepper, diced/cut into 1 inch cubes
1/2 an onion, finely diced (I used a red onion, but a yellow or white onion would work as well)
2 cups baby spinach, chopped
1 cup shredded cheddar Jack cheese (optional)
2 tablespoons parsley, finely chopped for topping (optional)
Instructions
In a large bowl whisk together the eggs, milk, salt and garlic salt.

Chop and cut all ingredients. I cut the chicken breakfast sausage from frozen - so it goes into the casserole frozen, no pre cooking required.

If making the breakfast casserole in a slow cooker/crock pot: spray the slow cooker with cooking spray, then put frozen potatoes and cut up chicken breakfast sausage at the bottom of the slow cooker/crockpot, then put diced bell peppers, onion and baby spinach on top. Pour whisked eggs on top and a few times so that everything is mixed. If using cheese, sprinkle cheese on top. Put lid on, and cook for 6-8 hours on low (until temperature reaches 160°F in center and egg mixture is set) If making this overnight I just let it cook for 8 hours. This can also be made in 2 1/2-3 hours on high. Before serving, sprinkle parsley on.

If making the breakfast casserole in individual ramekins: spray the inside of the ramekins with cooking spray and then add all ingredients except the cheese and parsley to the bowl with the eggs (add the potatoes, chicken breakfast sausage, bell peppers, onion and spinach into the bowl) and stir, then spoon into individual ramekins 3/4 of the way up, and sprinkle cheese on top. Bake at 350 for 30 minutes, then remove from oven, sprinkle parsley on and enjoy.

If making the breakfast casserole in the oven: spray a 9 x 13 casserole dish with cooking spray. Add all ingredients except the cheese and parsley to the bowl with the eggs (add the potatoes, chicken breakfast sausage, bell peppers, onion and spinach into the bowl) and stir Pour half the mixture into the prepared baking dish, sprinkle with 1/2 cup of the cheese, then pour the remaining mixture into the baking dish and top with remaining cheese, cover with aluminum foil. Bake at 350 covered for 40 minutes. Uncover; bake an additional 15 minutes, or until a knife inserted in center comes out clean. Sprinkle on parsley and let stand 5 minutes before serving.
Nutrition Information:
Yield:
10
Serving Size:
1
Amount Per Serving: Calories: 287Total Fat: 17gSaturated Fat: 6gTrans Fat: 0gUnsaturated Fat: 9gCholesterol: 262mgSodium: 720mgCarbohydrates: 15gFiber: 1gSugar: 4gProtein: 19g

This post is brought to you by my partnership with al fresco all natural. As always, all thoughts and opinions are mine alone. Thank you for supporting the brands that make the SweetPhi blog possible.