Stay warm with this healthy slow cooker lentil and vegetable soup recipe. It's one of those amazing set-it-and-forget-it recipes and is great for making for healthy meals to take for lunch throughout the week!
I took a much needed break over the holidays, after posting the reader favorite recipes of 2017 ( click here for reader favorite recipes from 2016), I shut down my computer and only checked email via phone, occasionally.
It was really great and relaxing…until I got a head cold for 5 days. And of course, being preggo I couldn't take any medications. So I relied on soups, including this lentil soup (and I swear it cured me!)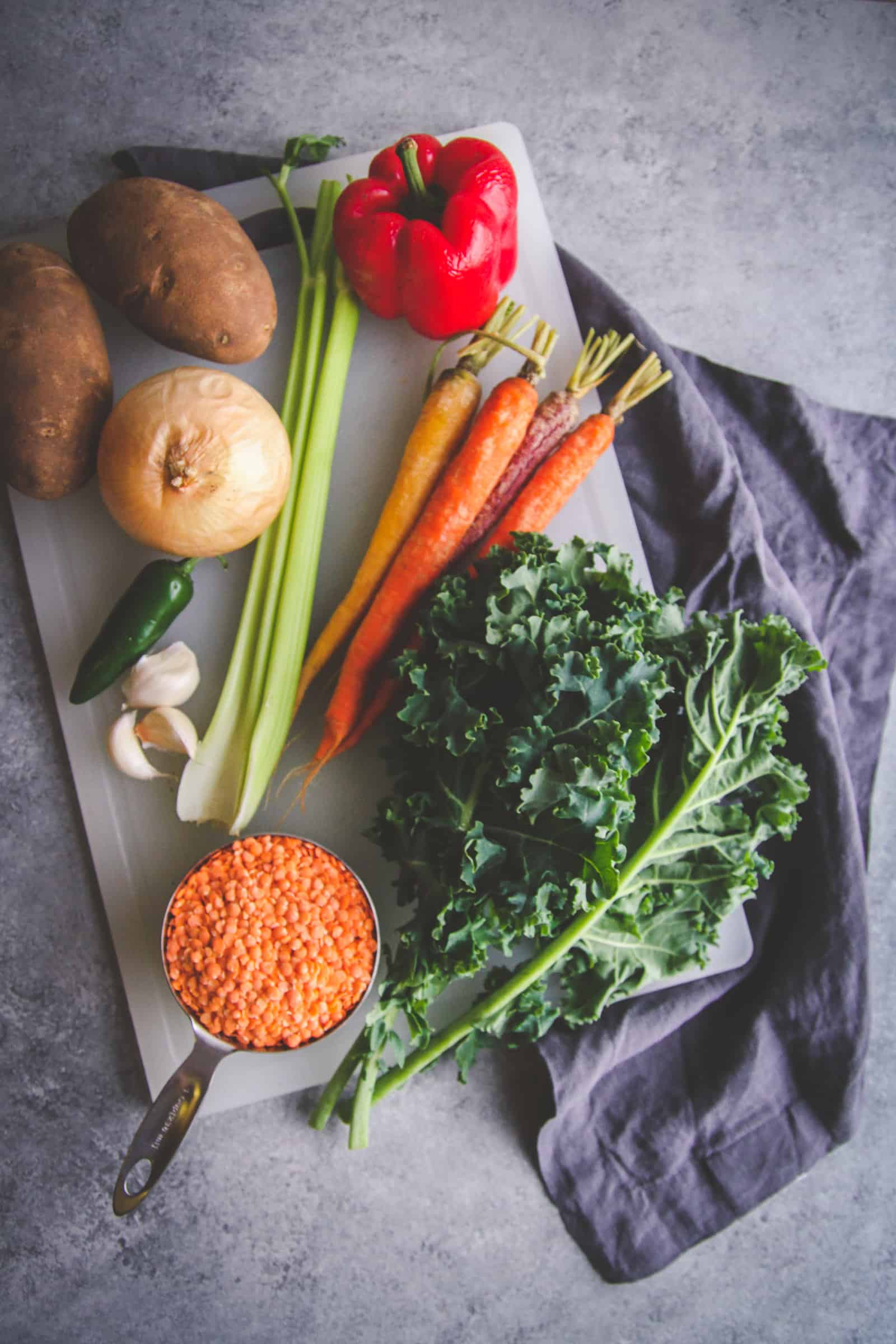 This lentil and vegetable soup is packed full of veggies. It's so comforting! And whenever I'm talking about comforting meals and dishes, I always think of the South.
Last year I got to tour behind the scenes at Southern Living Magazine, an event that was cosponsored by Delta Faucet. It just so happened to be a coincidence that the faucet in my kitchen was leaky. As I toured the Southern Living studios I was in awe of all their amazing faucets- they were all Delta Faucet and the ones that one just touches and the water comes on/off. When I got my very own Touch2O Technology faucet from Delta, I was beyond happy and grateful.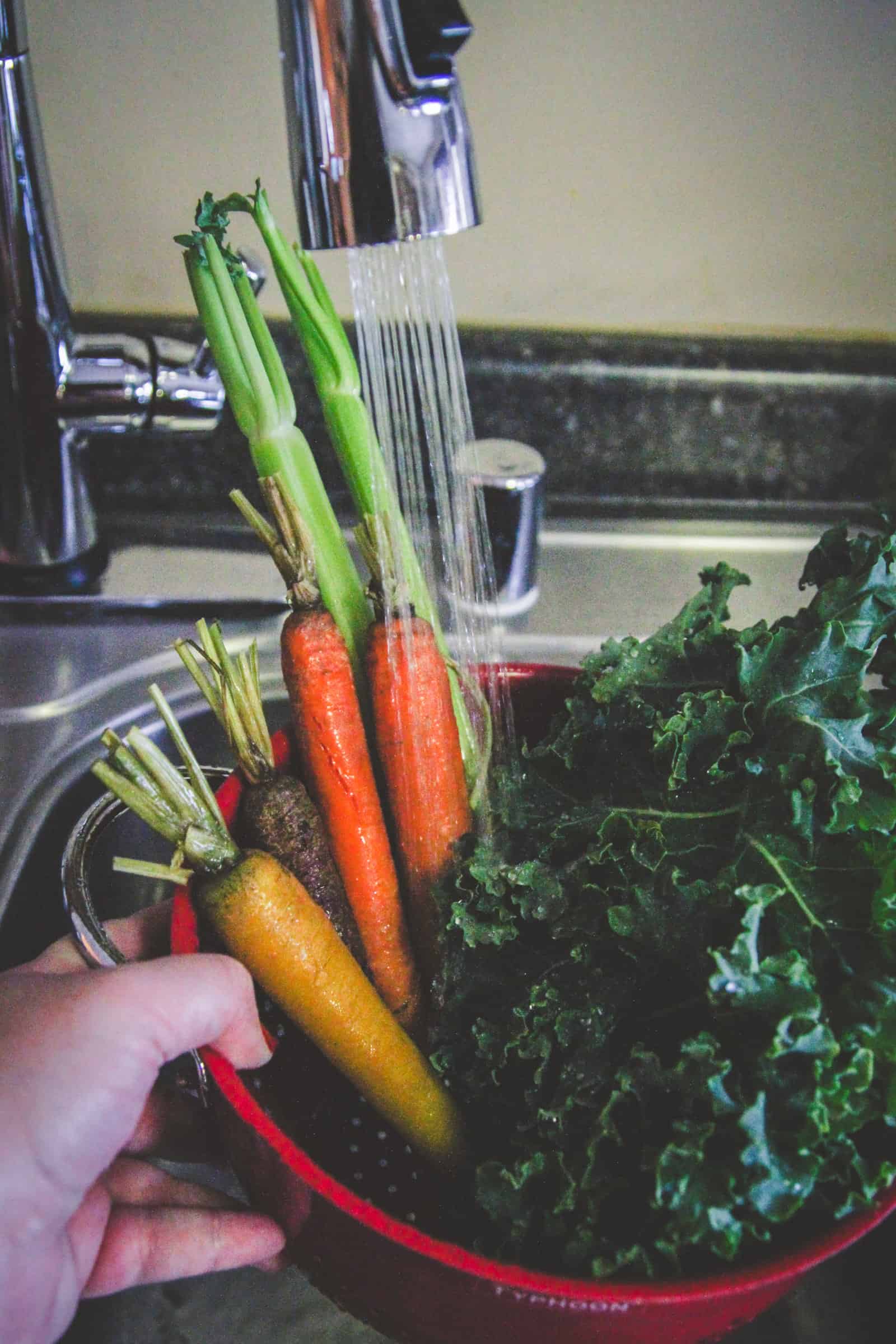 The faucet makes washing everything so easy! When I was cleaning and prepping the veggies for this soup, it took me a fraction of the time because I was able to use the pull down handle, and turn it on/off with my arm. It's the little things, right?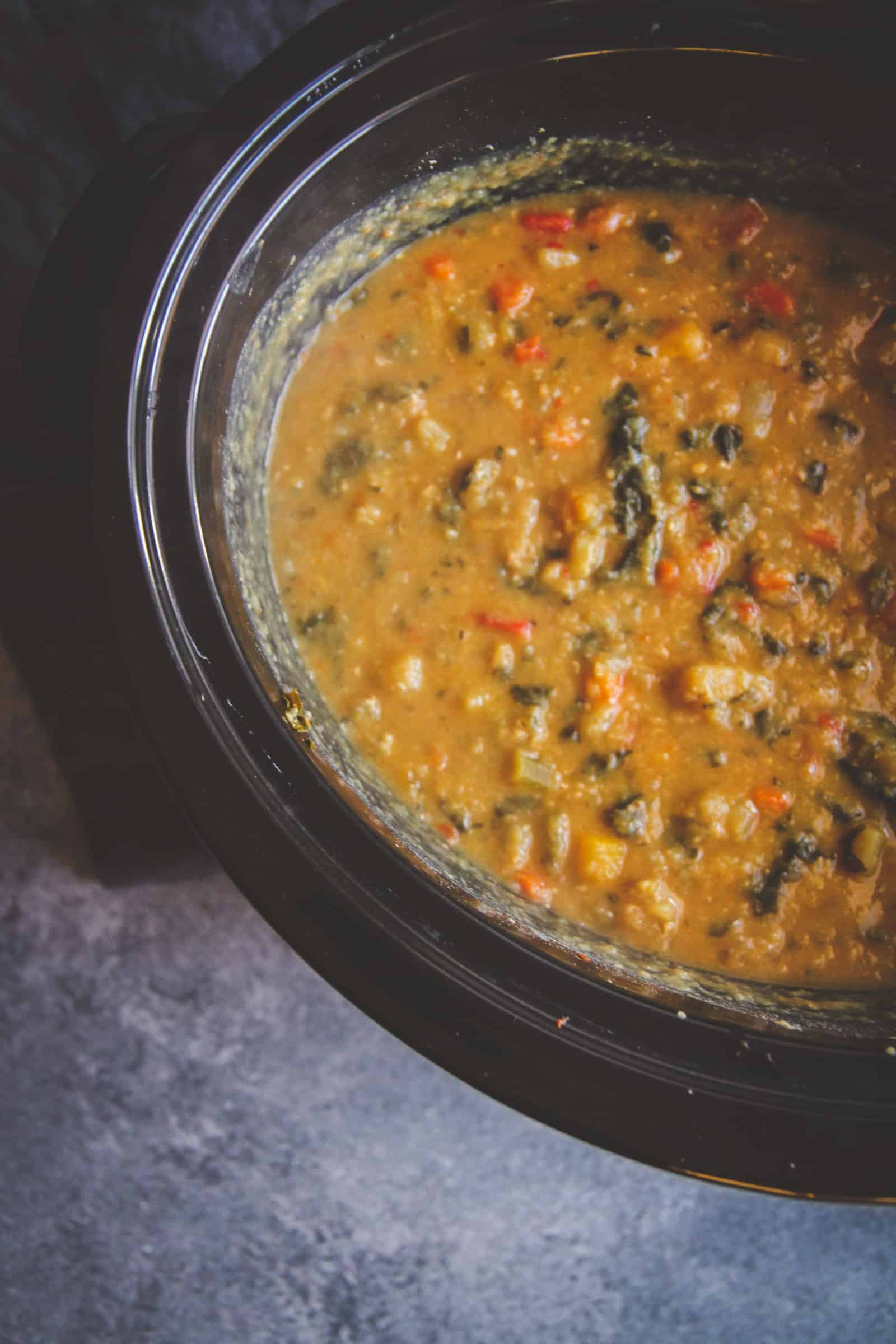 With the start of the new year, there's always a desire for healthier recipes, and healthy slow cooker recipes are some of my faves.
When it comes to soups, I have to admit that I'm not much of a brothy soup type of person. I like a more heartier soup (like this slow cooker beef and sweet potato stew) – a soup where you can just put ingredients into a slow cooker and it comes out great. This lentil and vegetable soup does just that. It goes into the slow cooker, does it's cooking, and voila, a delicious soup is the end result.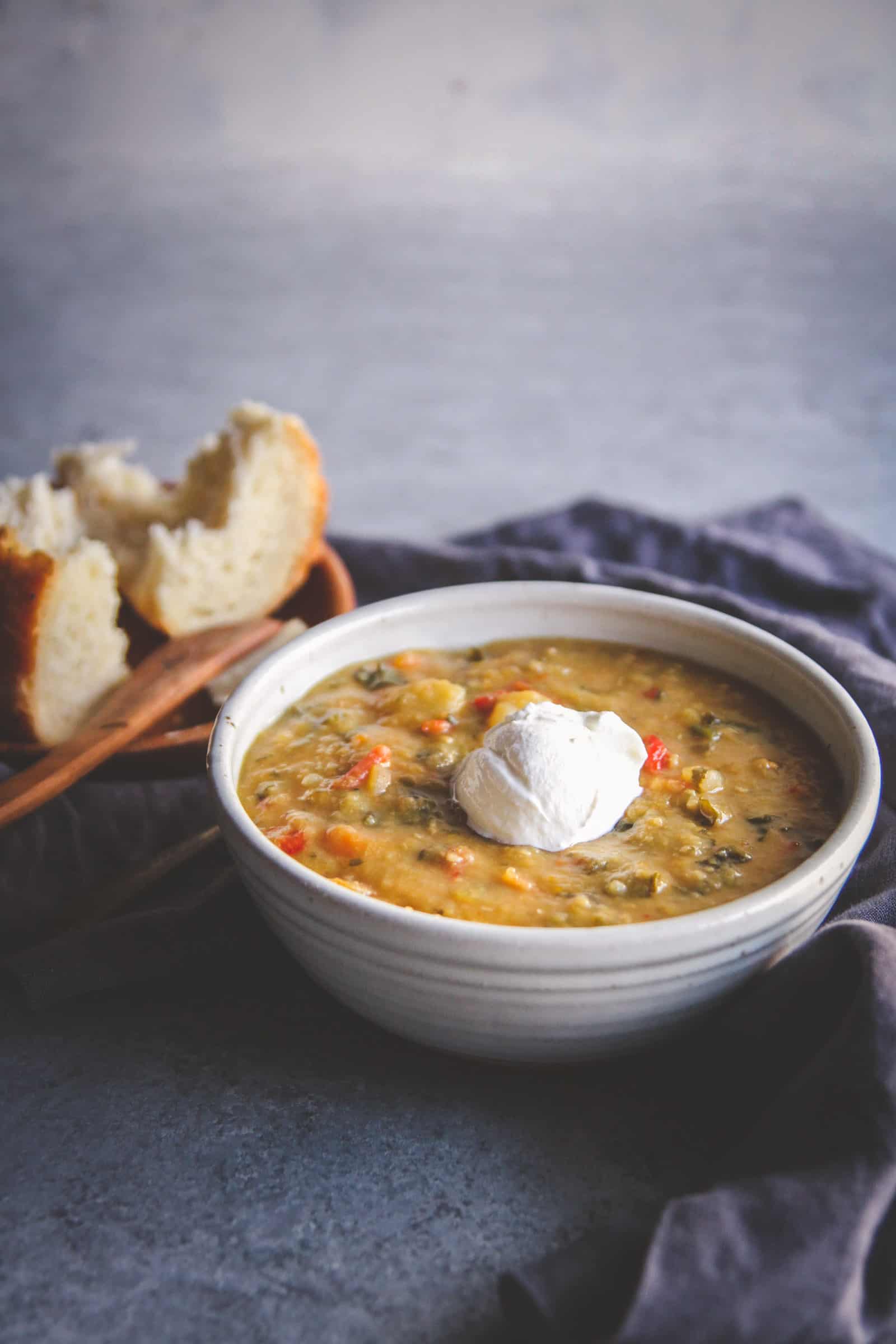 Because this soup uses red lentils, the texture is nice and thick at the end, almost creamy. Sometimes to get a thicker soup, recipes call for putting the soup in a blender. Not with this soup! The red lentils cook and become soft and stir in beautifully with the other veggies for a delicious soup! You can definitely use other lentils, but they might not cook down like red ones do, still delicious, just not as thick in texture.
If you love this recipe, another recipe you might enjoy is this red lentil chili!
Next time you're looking for a comforting healthy meal, make this slow cooker lentil and vegetable soup recipe.
Yield: 6-8 servings
Healthy Slow Cooker Lentil and Vegetable Soup
Stay warm with this healthy slow cooker lentil and vegetable soup recipe. It's one of those amazing set-it-and-forget-it recipes and is great for making for healthy meals to take for lunch throughout the week!

Prep Time 10 minutes

Cook Time 8 hours

Inactive Time 8 hours 15 minutes

Total Time 16 hours 25 minutes
Ingredients
4 large carrots, peeled and chopped
1 red bell pepper, chopped
2 celery stalks chopped
1/2 a bunch of kale (about 4 leaves) stems removed and chopped
2 russet potatoes, peeled and chopped
1 jalapeno, chopped (optional)
2 garlic cloves, pressed
1/2 an onion, chopped
1 teaspoon salt
1 teaspoon parsley
1/2 teaspoon paprika
1/2 teaspoon oregano
1/2 teaspoon garlic salt
1/4 teaspoon cayenne pepper
6 1/2 cups vegetable stock
Instructions
Place all ingredients in a slow cooker and pour in vegetable stock.

Cook on high for 5 hours, or low for 8 hours (low is preferred). Stir a few times throughout the cooking. If you like a more brothy soup, add in 1-2 cups additional stock.

Serve with a dollop of sour cream and crusty bread on the side (optional)
Nutrition Information:
Yield:
8
Serving Size:
1

Amount Per Serving:

Calories: 72Total Fat: 0gSaturated Fat: 0gTrans Fat: 0gUnsaturated Fat: 0gCholesterol: 0mgSodium: 934mgCarbohydrates: 16gFiber: 2gSugar: 4gProtein: 2g

Nutrition information isn't always accurate.

Other recipes you might enjoy:
This post is brought to you in partnership with Delta Faucet & Southern Living Magazine. As always, all thoughts and opinions are mine alone. Thank you for reading about the brands and partnerships that make the SweetPhi blog possible.