When you're in need of a little pick-me-up and but don't want to go to a cafe, I highly recommend making this homemade iced salted honey latte recipe. AND, this homemade latte doesn't require a fancy espresso machine! All you need is a jar (or container with a lid) and a microwave!
You're going to fall in love with this recipe so much!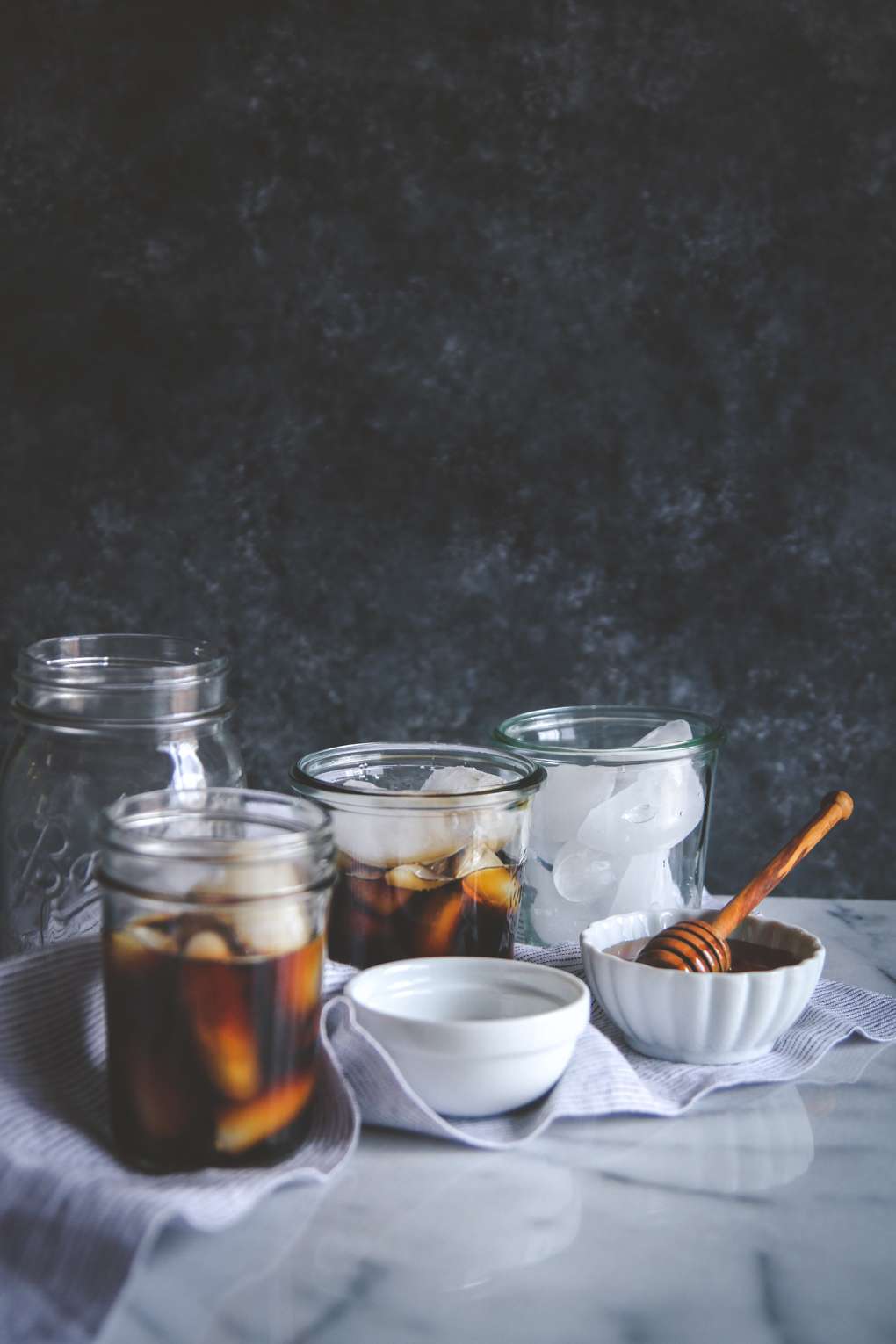 After making a latte at home without an espresso machine, I honestly asked myself why I hadn't done it sooner!
While you may be used to hearing 'salted caramel' as a flavor combination – which, I admit is a awesome (I mean, I have shared a recipe for the best salted caramel chocolate chip cookies) – have you ever tried salted honey?
Years ago I had an iced salted honey latte at a cafe, and I could not stop thinking about it.
Every time I went back, I would ask for the drink, but they changed their specials and were never able to replicate it.
As I've been bombarded with so much work lately, I've felt like a busy bee, and as I was dreaming up sitting in a cafe relaxing, I knew it was a salted honey latte I'd want to be drinking.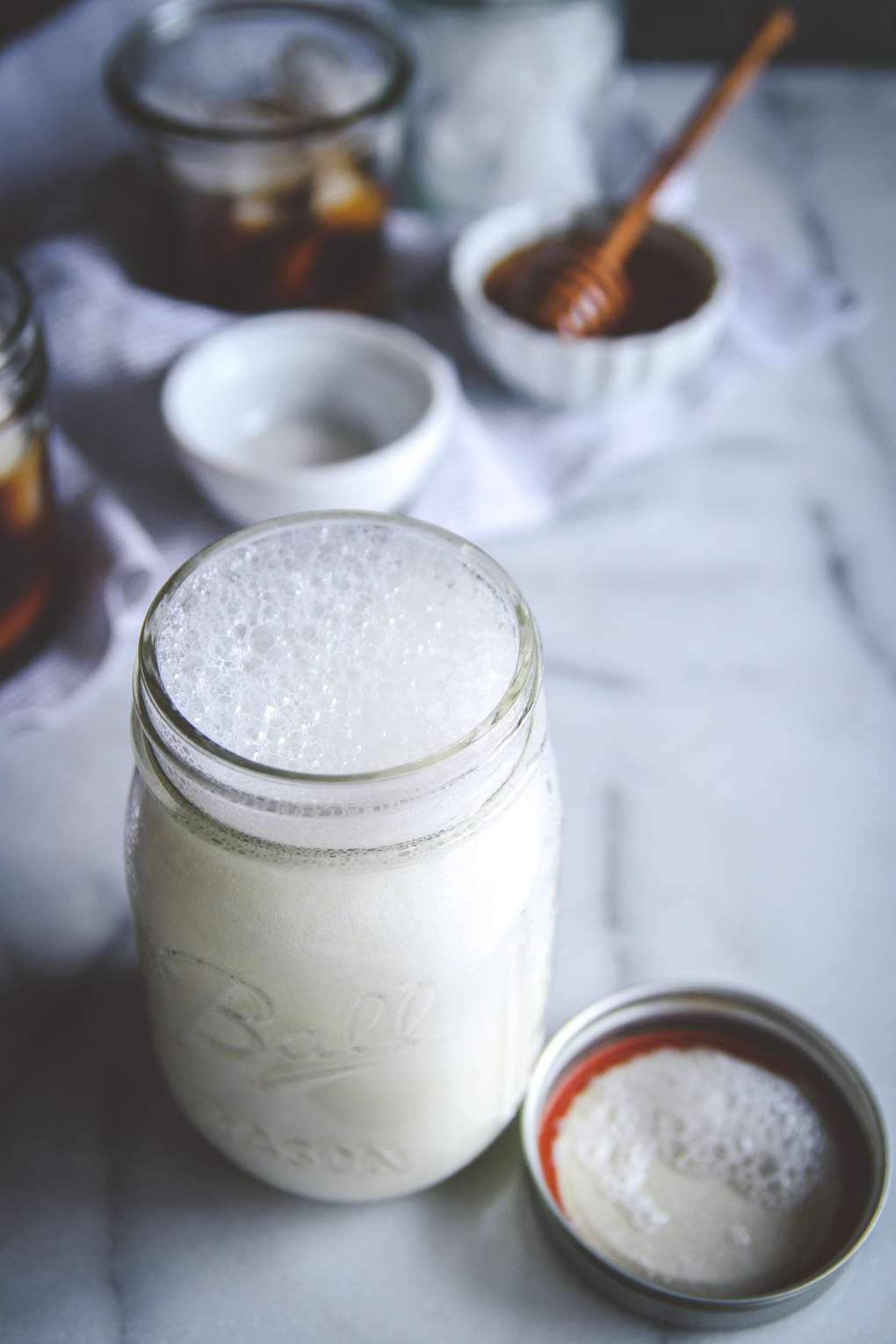 Do you prefer iced or hot drinks? For me, it's iced all the way! Even in the dead of winter, I love a nice iced beverage!
Ok, now lets talk about how this is made at home. All you do is put milk in a jar with a secure lid, shake it vigorously, then remove the cap and microwave it, and voila, you have milk foam for your drink! I had come across this article on how to make a latte at home by The Kitchn and was curious if it worked. Sure enough, worked like a charm!
It's true — you don't need a fancy foamer to make frothy milk at home! It's actually really easy to make it in the microwave. All you do is shake nonfat or 2% milk in a jam jar until it's foamy, take off the lid, and microwave it for a few seconds. You get spoonfuls of foam, plus warm milk to pour in your latte.
I like to buy premade iced coffee (cold brew or espresso work great), but you could brew coffee for this recipe too.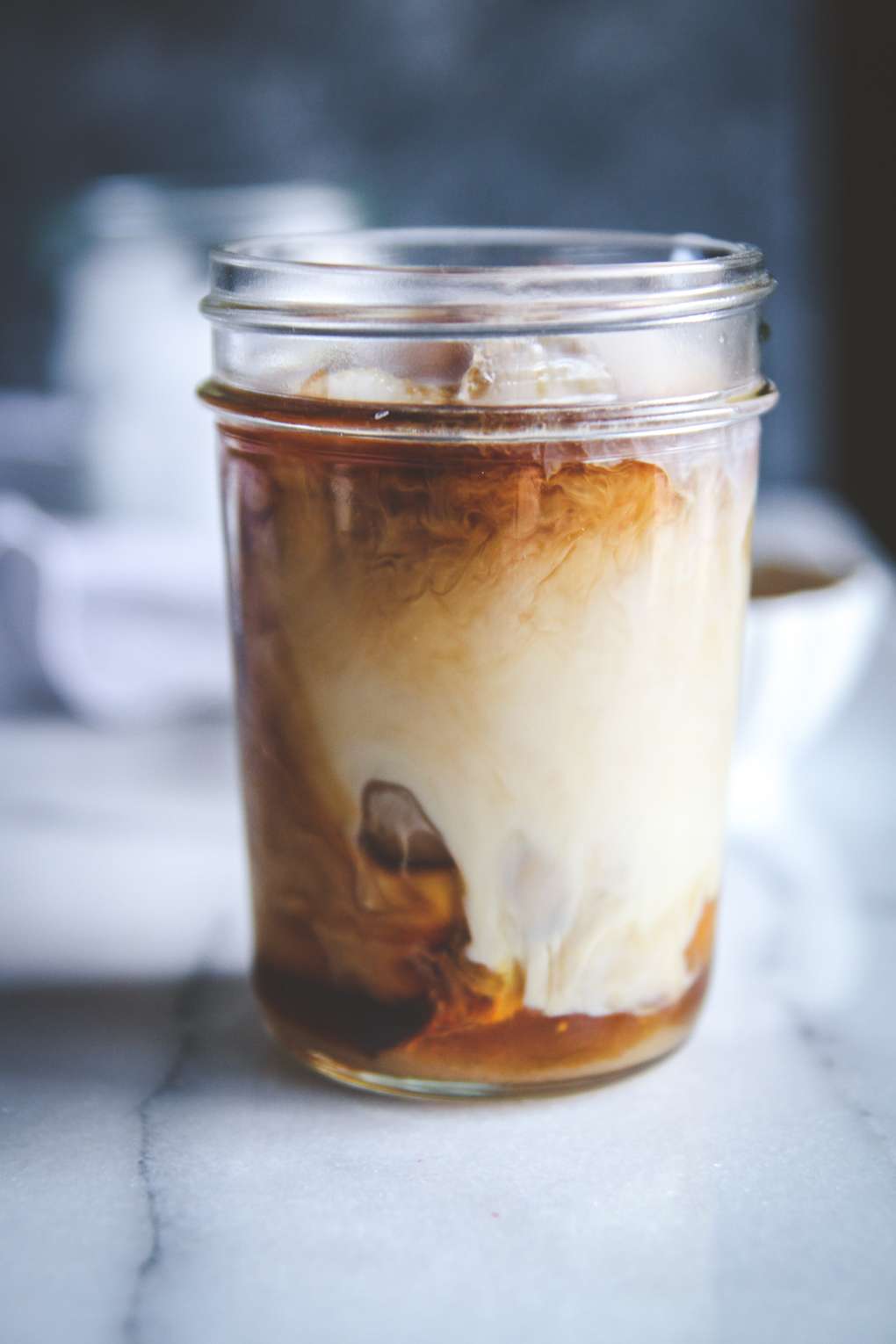 Next time you need a little pick-me-up, I'd highly recommend these homemade iced salted caramel lattes, they're the perfect combination of salty and subtle sweetness!



Yield: 2 lattes
Homemade Iced Salted Honey Latte Recipe
Prep Time 5 minutes

Total Time 5 minutes
Ingredients
1 cup milk
1 cup coffee (or espresso), at room temperate (if you want a warm latte, you can leave your coffee warm and omit the ice)
1/2 teaspoon sugar (this just gives it a hint of sweetness, add more or less depending on preference)
1 tablespoon honey
Instructions
In a jar with a lid, pour milk (nonfat or 2%) and shake vigorously back and forth for a minute, until foamy. Take off the lid, and microwave it for 15 seconds.
Fill two large glasses (or mason jars) with ice. Pour coffee evenly between the glasses. Sprinkle a little sugar in each glass.
Using a spoon, hold back the foam and pour a little milk into each glass. Then take spoonfuls of the foam to add on top of the latte. Drizzle honey over each latte and top with flaked sea salt (this one is my favorite). Stir to combine and enjoy!