Do you have trouble with kids and mealtime?  I bet this isn't a challenge I'm alone on, right?  I talk to a lot of my mom friends and we almost always end up discussing our kids and how they are eating (or what they're not eating), what is working or not working in terms of feeding them etc.  Personally, one of my goals is to not have to make separate meals for Nick and I and the kids.  So, today, I'm sharing my tips and tricks on how to get your kids to eat what you're eating.
These are just some things that have been working for us and some of my friends and I hope these ideas work for you! Please note, even though my 3 year old son Ben is now much better about eating what we're eating, he did go through an 'only mac 'n cheese' phase (see my healthy kids mac 'n cheese) and I was ending up making him a separate meal almost every night. I couldn't keep that up, and I read somewhere that your 2 year old is not getting in the car and driving himself to the store to buy chicken nuggets. You are. That just clicked for me, and so more and more I've been working on family dinner time and only cooking one meal for the whole family.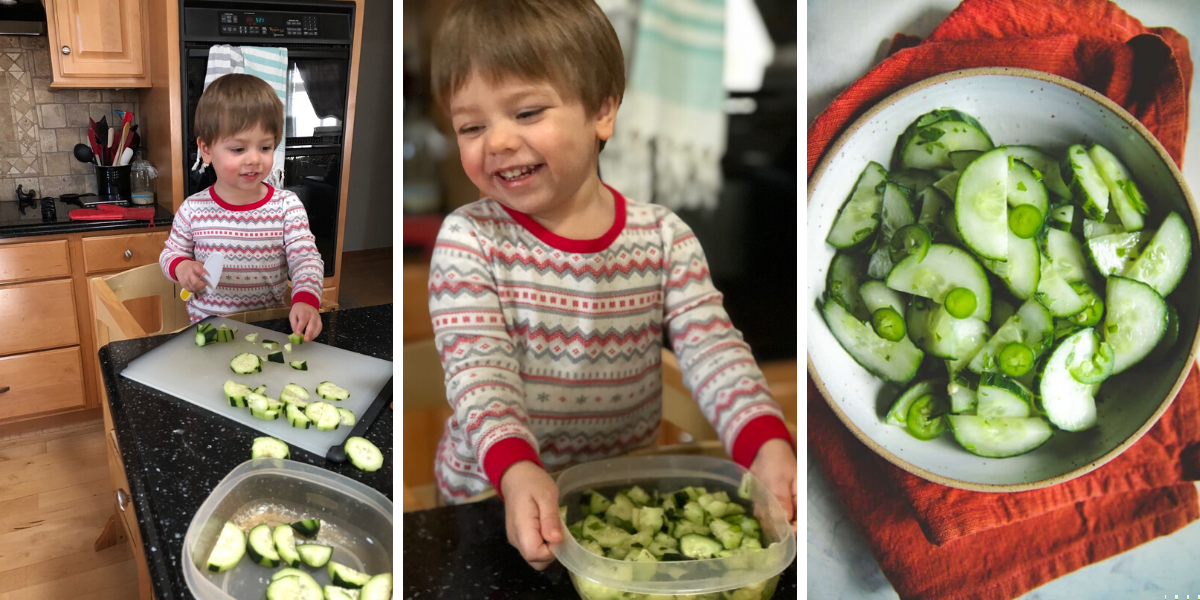 Biggest tip and thing that has helped for us: serve meals family style. Put the food and toppings or whatever you're having for dinner on the table so kids can see it all. If we would bring Ben an already made plate of food, he wouldn't touch it. But as soon as he saw it and us serving it, he'd eat it!
Talk through the meal as you're serving it and let kids decide what they do and don't want. An example is easy chicken tacos with pineapple salsa, we put everything on the table and then say "does dad want a tortilla? some chicken? some pineapple salsa? OK, now it's Ben's turn…does Ben want a tortilla?…etc." And hey, if he wants a tortilla and pineapple salsa, who am I to say no? But 90% of the time he wants to eat everything we're eating.
Make things with lots of toppings/options. For example one our favorite things to make are tacos or "bowls" (like these Asian ground turkey and rice bowls or these sesame salmon bowls) where it's like an assembly line and there's options for kids to choose from.
Add sauces or flavorings as a 'dip'. Ben doesn't necessarily love flavored chicken (like something super spicy or something with a sriracha mayo) so what we do is make plainer chicken and then add the sauce we would have cooked the chicken in as a dipping sauce on the side, and then I usually have a little bowl of yogurt on the side he likes to dip things in!
Another idea is to get the kids involved in the cooking. A great thing we love to make for breakfast is a fruit bowl, like this one.  I let Ben help cut the fruits and then he gets invested in the meal and ends up eating it without a problem! I also wrote a whole post on best recipes to make with kids in the kitchen.
Invest in a few kid safe kitchen tools. Ben loves to chop and mix.  He has a special kitchen stool and kitchen knives (you can also buy them with a cutting board!) and helps all of the time in the kitchen.
Make familiar favorites like homemade pizzas with the kids.  I use my fail proof whole wheat pizza dough and then let Ben add whatever toppings he would like.  Then Nick and I make the ones we would like and viola, dinnertime fun!
Let kids choose the recipes. One of our favorite things to do is go through cookbooks and Ben chooses the recipe, and then we make it. It's too cute, and he takes a sense ownership and pride and then says "I made that" or "I chose that" – another example is if we get a meal kit delivery, I show him the recipe cards and he gets to pick.
Pick easy recipes. We use my 5 ingredient cookbook ALL the time! He makes cookies for his friends birthday parties or he makes oatmeal (picture below) and measures and stirs himself!
Lastly, a fun one that another one of my friends told me about!  She used to do this as a kid and I am definitely going to try it with my family!  On nights when her Mom didn't have time to cook or didn't have groceries in the house, they would have "buffet night."  She and her sisters LOVED buffet night.  But all it really was was a night that her Mom would take whatever they have out of the refrigerator and let the kids put their own plate together, like a buffet. So they would eat things like simple sandwiches with deli ham, cheese or PB&Js, with pickles on the side etc. I just love that!
I'd love to hear from you, what have you tried to get your kids to eat what you're eating? Let me know in the comments below!