When I traveled to Vermont last year I had this fruit bowl for breakfast that was so pretty I couldn't help but take a picture of it. I could not stop thinking about how Instagram-worthy it was, so today I'm going to show you how to make an Instagram-worthy fruit bowl (that happens to be super delicious too).
We eat with our eyes, right? So if you ever want to make something visually appealing, you're going to want to get lots of color and variety!
Here are some tips on making an Instagram-worthy fruit bowl:
Get lots of variety – you want lots of different kinds of fruit
Get fruits of varying colors – the more varying colors the better!
Slice things nicely – no big sloppy chunks, take your time and slice things evenly
Arrange fruit in rainbow colors – makes it very visually appealing
Have a "star" or something super unique – in my case, I used a starfruit (they're super sweet and found in most major grocery stores). When I was in Vermont, the fruit bowl I had there had a Cape Gooseberry with these beautiful leaves on it
I love fancy fruit bowls, and after having one that was so beautiful at a restaurant I have a whole new appreciation for them. At first I felt a little ridiculous ordering a fruit bowl at a restaurant, I mean, how 'good' could it really be? But I was blown away. It was such a refreshing way to start the day, and it make me feel so happy just looking at the beauty of it.
Now I always love including a fruit bowl, or fruit salad for parties I'm having. It adds a really nice, refreshing, healthy option. If it's summer, I love making this summer melon salad, but if it's a breakfast/brunch or more casual gathering, I like making a pretty fruit-only salad, like this Instagram-worthy fruit bowl (I'll just double/triple/etc. the recipe depending on how many people I'm serving).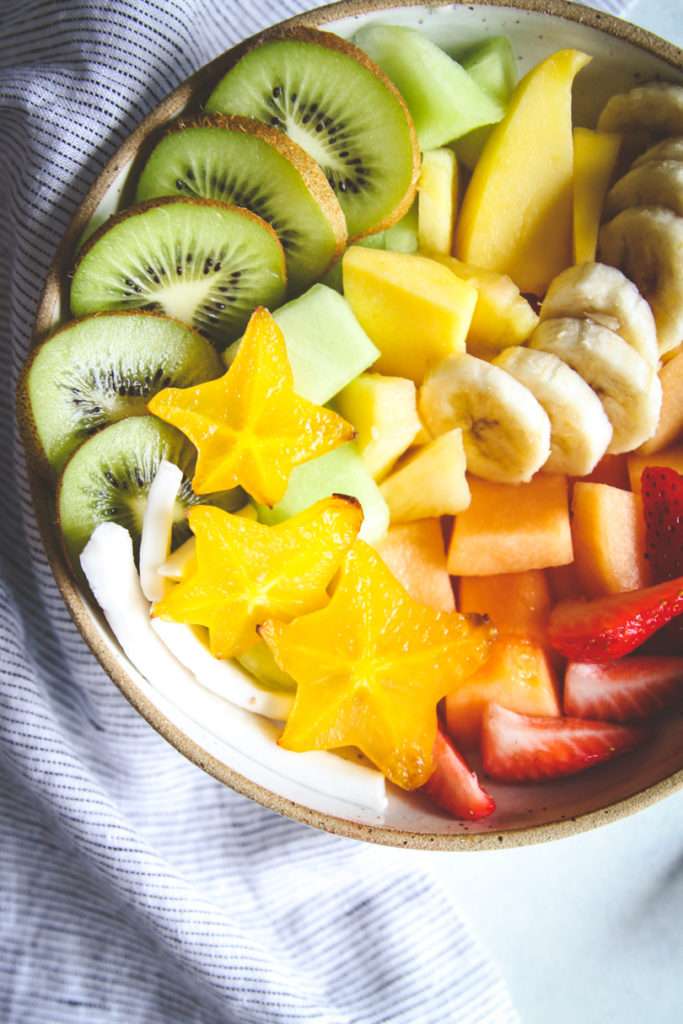 Do you enjoy fruit salads and bowls? I'd love to hear from you in the comments below!
Yield: 1 bowl
How to Make an Instagram-Worthy Fruit Bowl
This delicious fruit bowl (fruit salad) is so beautiful to look at it's Instagram worthy!

Prep Time 5 minutes

Total Time 5 minutes
Ingredients
1/2 kiwi fruit, sliced
1/2 mango, sliced
1/4 cup honeydew melon, diced
1/4-1/2 cup cantaloupe melon, diced
1/4 cup pineapple, diced
1/2 banana, diced
1/4 starfruit, sliced
1/4 cup strawberries, cored and quartered
Instructions
Slice all fruit and arrange in a bowl, enjoy
Nutrition Information:
Yield:
1
Serving Size:
1
Amount Per Serving: Calories: 202Total Fat: 1.2gSaturated Fat: .2gCarbohydrates: 51gFiber: 7.3gSugar: 36.4gProtein: 2.6g