Not every party has to require hours upon hours of cooking in the kitchen. In fact, a simple sandwich bar is perfect for a no-fuss-no-cooking-required party spread which is why today I'm going to show you how to make a DIY sandwich bar.
It has been a super busy few weeks – the month of January is always crazy busy at work. It kind of leaves me feeling drained by the time the weekend comes. But what happens when you have guests coming over – perhaps even for the Superbowl next weekend? I was sharing my conundrum with my mother-in-law and she said "why don't you make a sandwich bar?" Ummmm what? Why hadn't I ever thought of that? Totally genius (thanks Sonja!)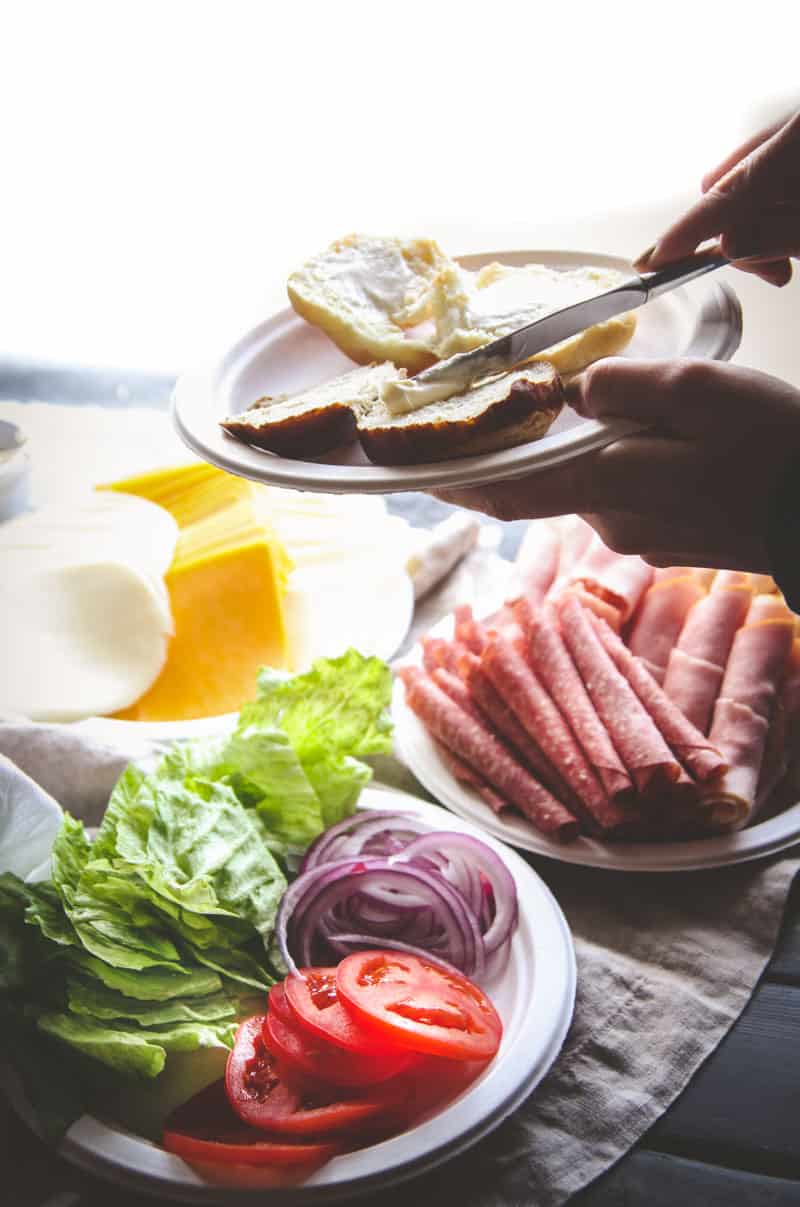 Sandwiches are super underrated, aren't they? They're so simple to put together, and universally loved. A little back story for you – when I was getting ready with my bridesmaids on my wedding day (almost 5 years ago now) I had planned sandwiches – Jimmy John's – for lunch for the bridesmaids. It was perfect, it wasn't too heavy a meal and everyone could order what they wanted. I'd like to think I started a trend, because since then I've known of at least 5 friends/family who've had Jimmy John's on their wedding day for lunch. Basically what I'm trying to say here is that sandwiches rock, and this would be the perfect food for when you're getting ready for a wedding or for a simple party.
So after a quick trip to the grocery store and about 10 minutes of prep (if you're being super fancy and rolling the meat) and you're all set.
With the right combination of toppings there's something for everyone!
What you'll need:
Buns – I like to opt for four kinds: white, wheat, and then something fun (like pretzel or sesame topped)
Meat – there a bazillion and one deli meats to choose from, and people have likes and dislikes, but the three choices everyone seems to love are: turkey, ham, and salami. I got 1/2 a lb of each, and there were 6 people.
Cheese – the three that are always staples for sandwiches: cheddar, swiss, provolone
Veggie toppings – there's something to be said for keeping it simple: lettuce, tomato, and red onion
Condiments – the three that are always huge hits: mayo, mustard, and sandwich oil (or a vinegar/oil dressing)
For 6 people I got 1/2 a pound of each of the meats and cheeses and two buns per person – it was plenty!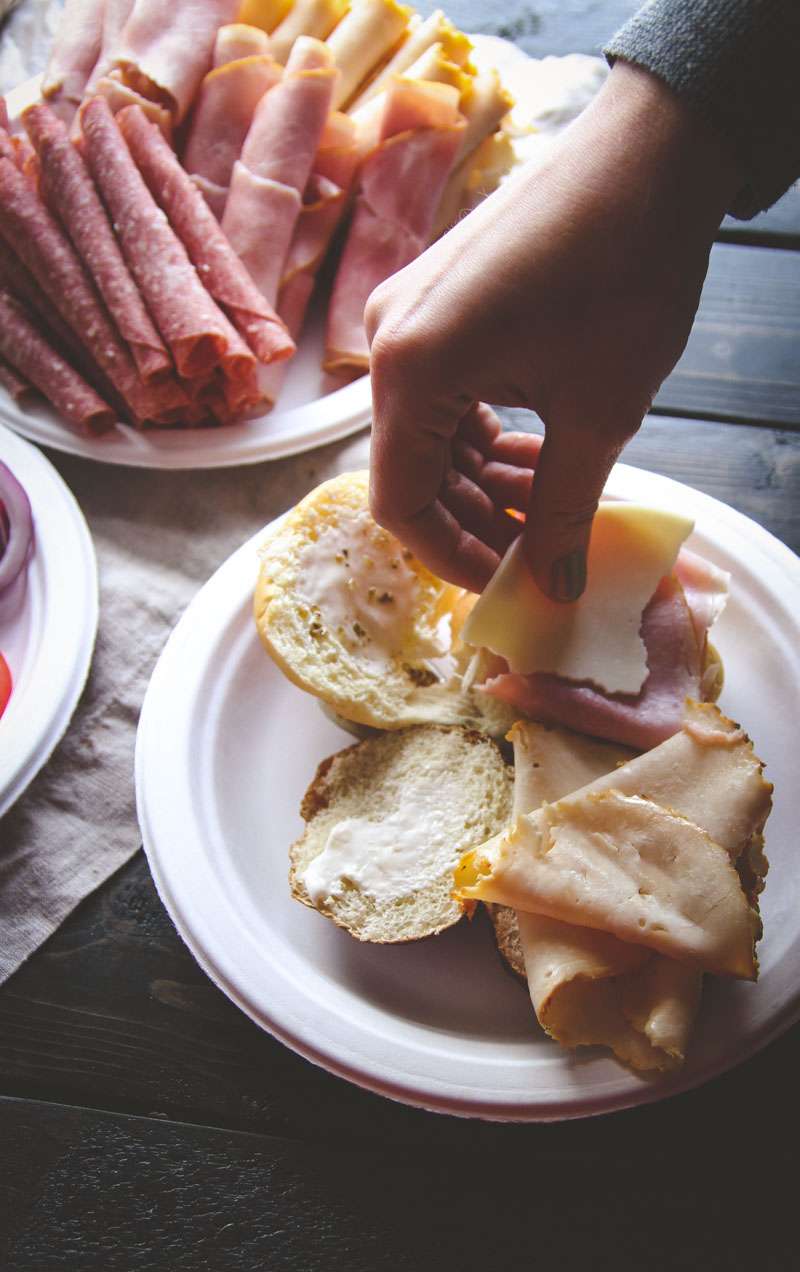 Everyone loved the DIY sandwich bar, and it was super fun seeing different sandwich combinations. Here are some of the combinations people made:
Italian: sesame bun, mayo, sandwich oil, salami, provolone
Ham & Swiss: bread, mayo, ham, swiss, onions
Turkey & Cheddar: bread, mayo, lettuce, turkey, cheddar
When I was looking at different combinations, I realized that most people had made 5 ingredient sandwiches, which is why I'm totally including this in the Five-Ingredient recipe series!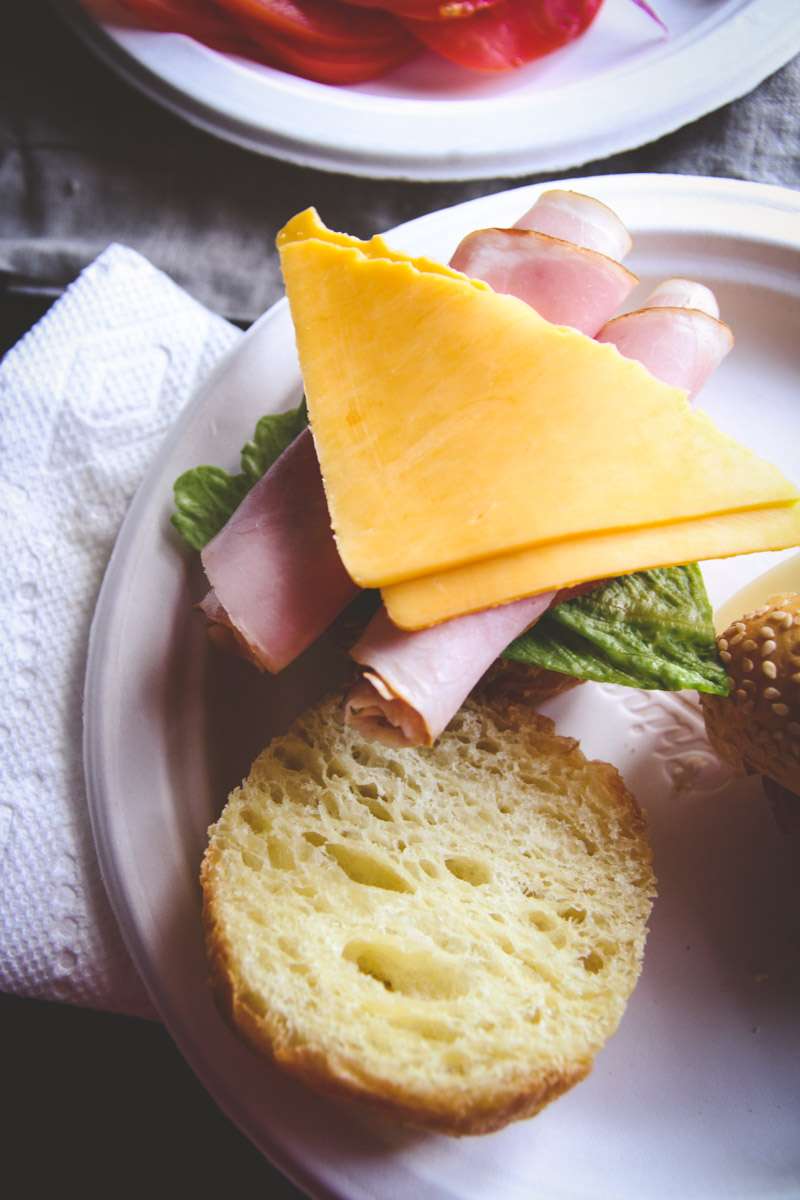 Next time you have guests coming over and are in need of a no cooking required party spread – make a DIY sandwich bar!!
I'd love to know – what are your favorite sandwich toppings? Tag me on Instagram, @philiakelnhofer!
Other recipes you might enjoy: