Let's talk about bubbly and juice and how to make a mimosa bar.  This is perfect for your next brunch, party or girls night in (and is also perfect for any occasion!)
I don't know about you, but I looooove a good mimosa. There's just something that excites me about bubbly champagne mixed with juice and topped with some fresh fruit.  It's just a delicious and genius combination, so hats off to whomever created it, ha!
As soon as I wrote 'hats off to whomever created it' my mind started conjuring up an image of a fancy woman (wearing a fur collared jacket and a string of pearls around her neck and lots of diamonds) telling the bartender to add a little juice to her champagne because it was the morning and it's not acceptable for a lady to be drinking before noon. I had to google it, just had to!
Come to find out the mimosa is thought to have been created in 1925 by Frank Meier at the Hôtel Ritz Paris (so we'll still pretend good 'ole Frank created it for a fancy Parisian woman, k?)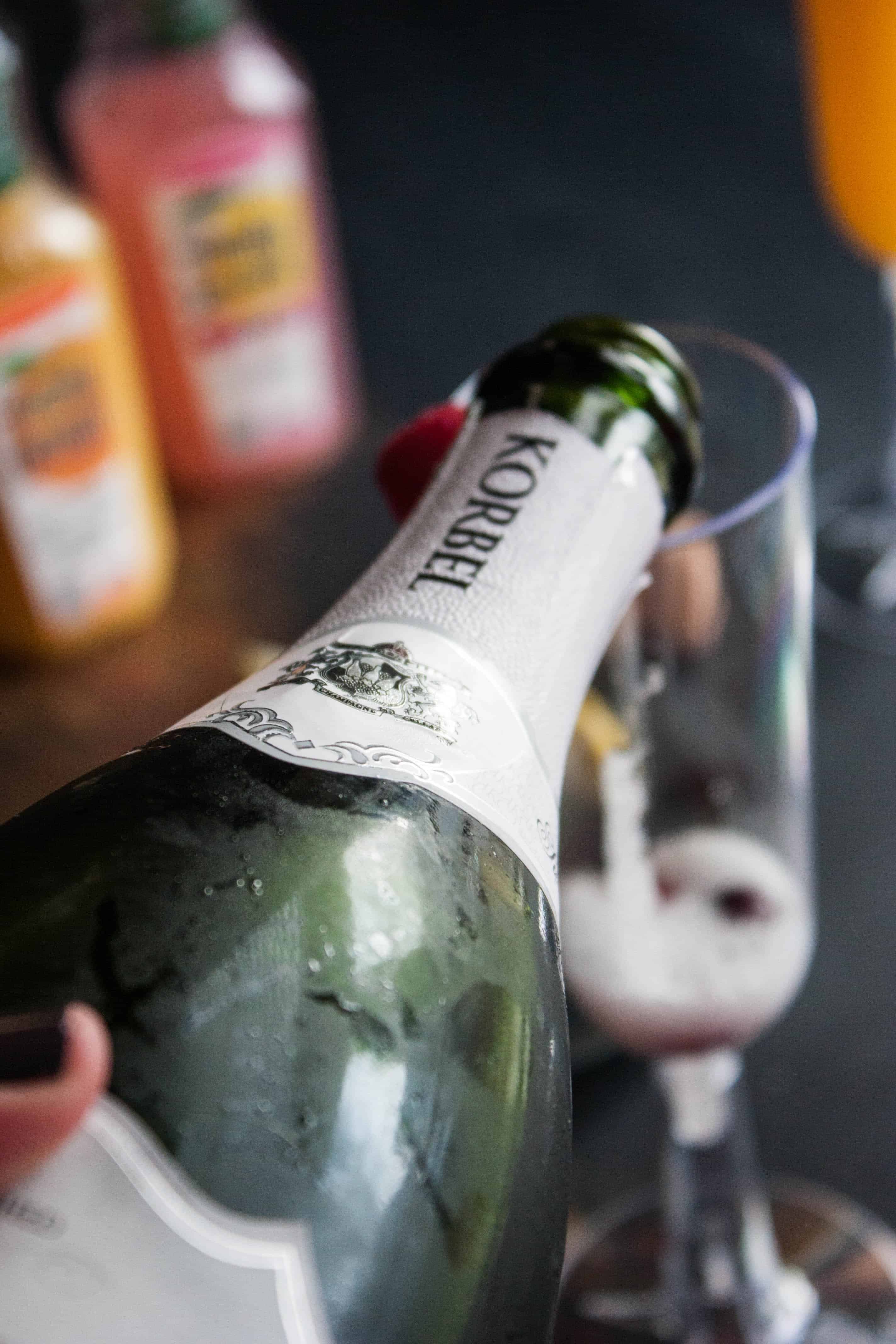 I always feel fancy drinking them, no matter what the occasion. I've of course had mimosas at brunch, and at bridal showers, and of course when getting ready for my wedding, and also for New Years Eve! It's just an all around great cocktail. Mimosa's are made by combining equal parts champagne and juice (typically a citrus juice) and then are topped with fresh fruit – I've heard some people like to use two parts champagne to one part juice, so it just depends on your preference (I like the fruity flavors mixed, so I keep the proportions equal). And since I like variety I always like trying different combinations.
So when I saw small juice containers at the grocery store, I just knew I had to do a post on how to make a mimosa bar. The small juice containers make a perfect way to try different flavor combinations!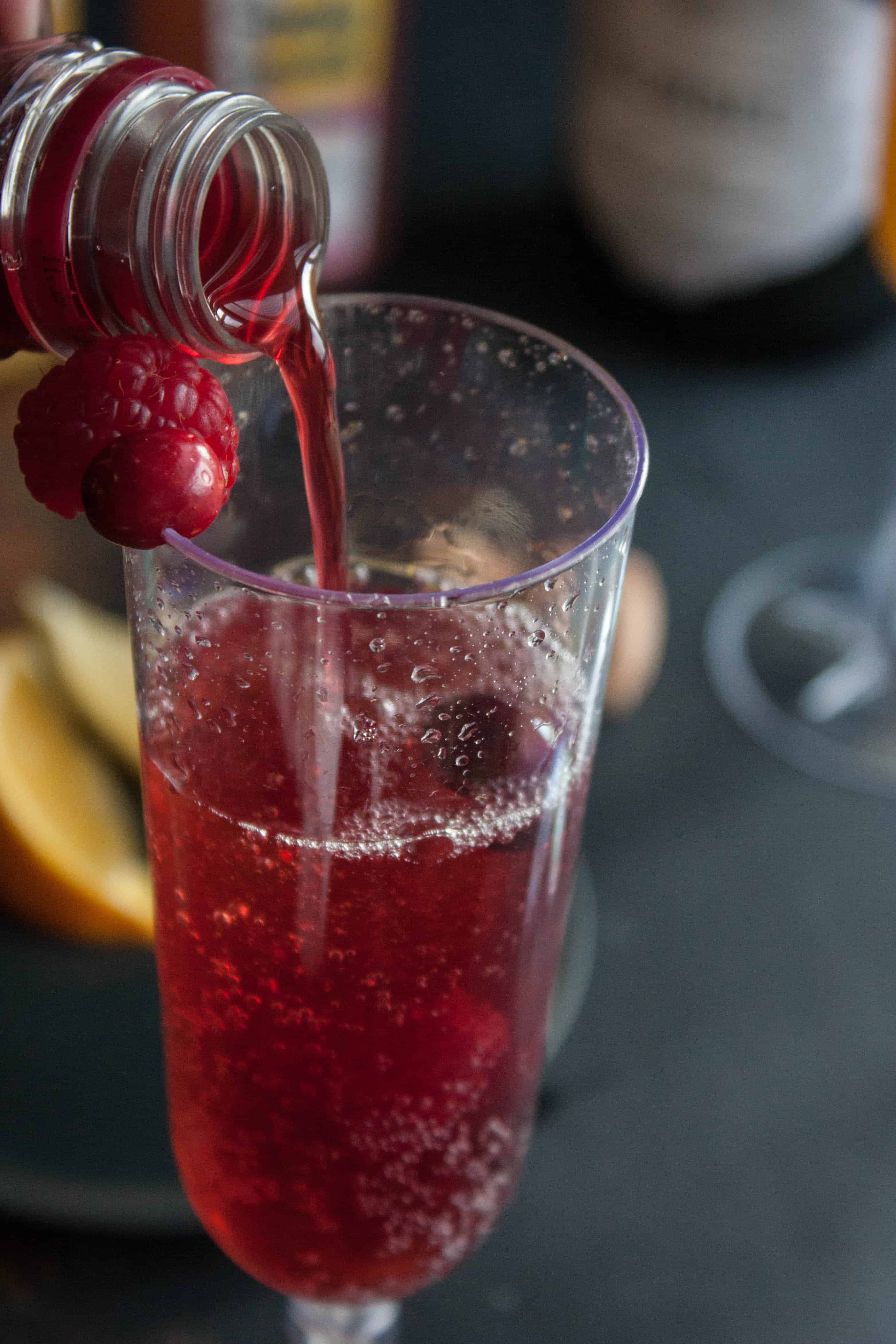 Step 1: you want to start by finding different juices. I decided to go with 4 different varieties: orange juice, limeade, raspberry lemonade, and pomegranate juice.  These pitchers are a great option if you're having a larger group and want more juice.  Plus they look nice on a table setup.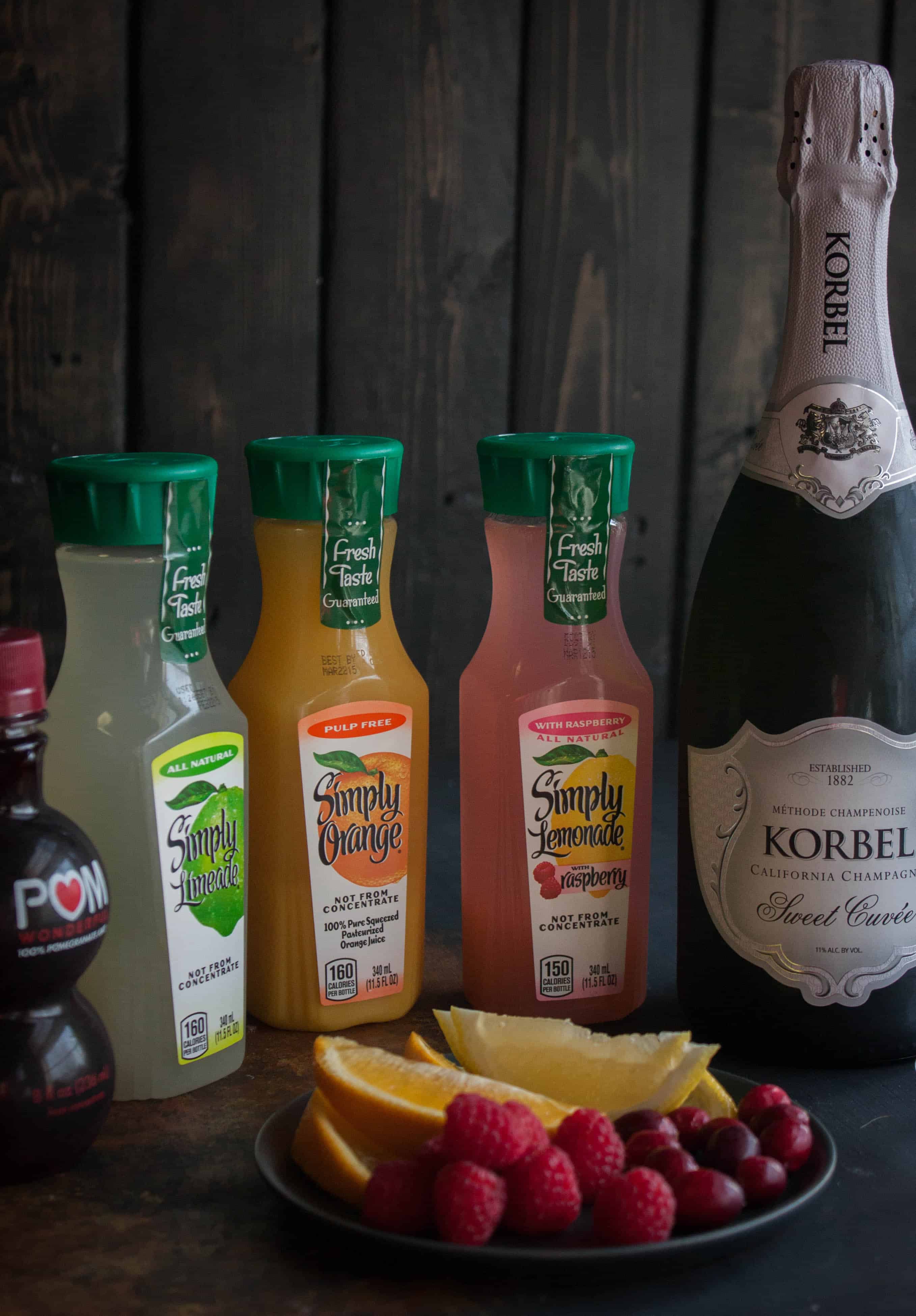 Step 2: Champagne! (1 bottle per 8-10 mimosas)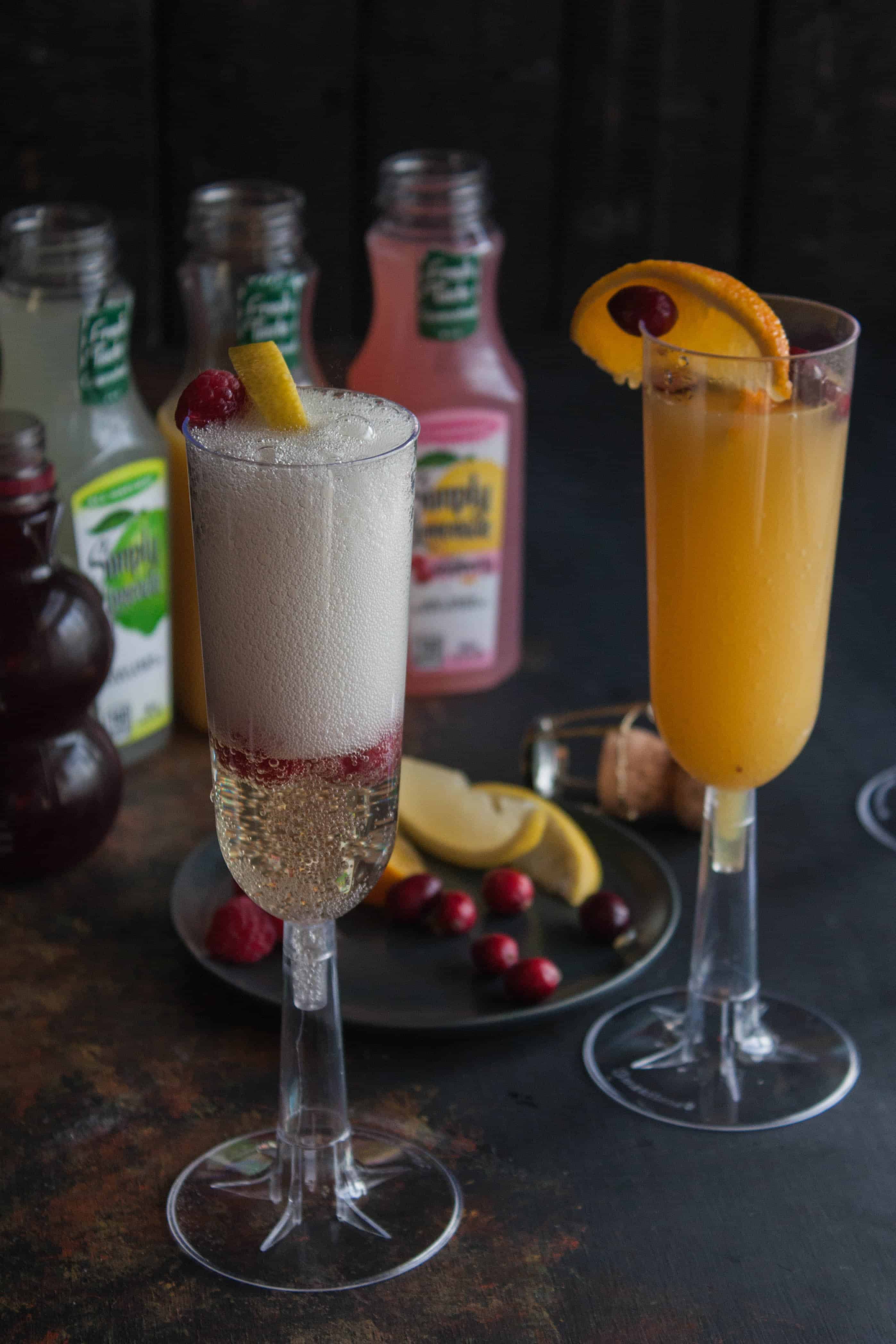 Step 3: A variety of fresh fruit. I had orange slices, lemon slices, raspberries, and cranberries (strawberries and apples would be two other fruits I would recommend.)
I also found disposable mimosa glasses (like these ones), these are perfect if you're having a bridal shower or party and don't have 20 champagne flutes laying around.
After all your items are placed on a table, guests can choose what combination to make!
Take a glass and add some fresh fruit
Pour half the flute full of champagne
Fill the remaining half of the glass with juice of their choice, and viola, everyone has a unique mimosa! (note: you can add fruit before or after you add the champagne and juice.)
Here are four different ones for some ideas: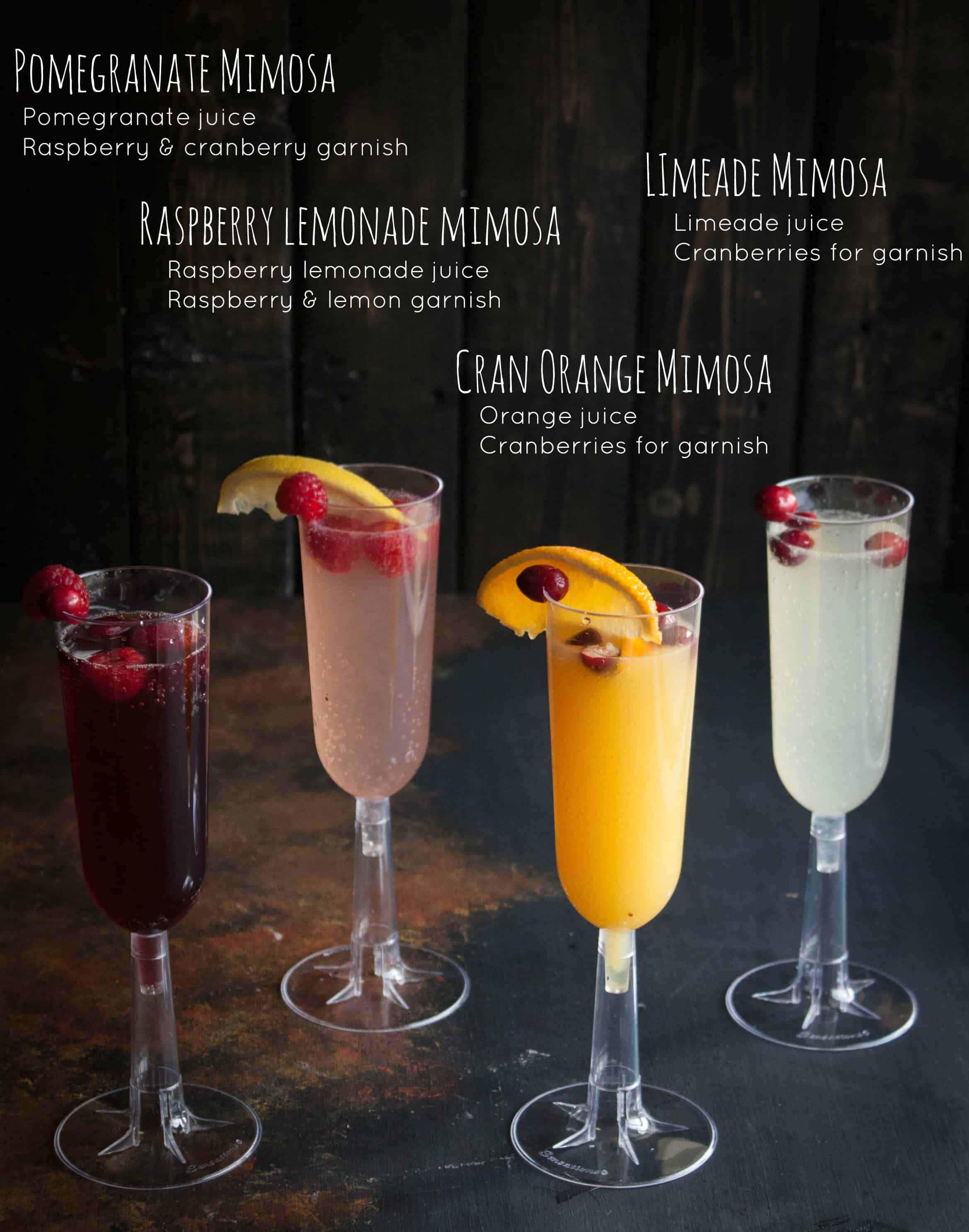 Cheers to making a mimosa bar!
Other drink recipes you might like: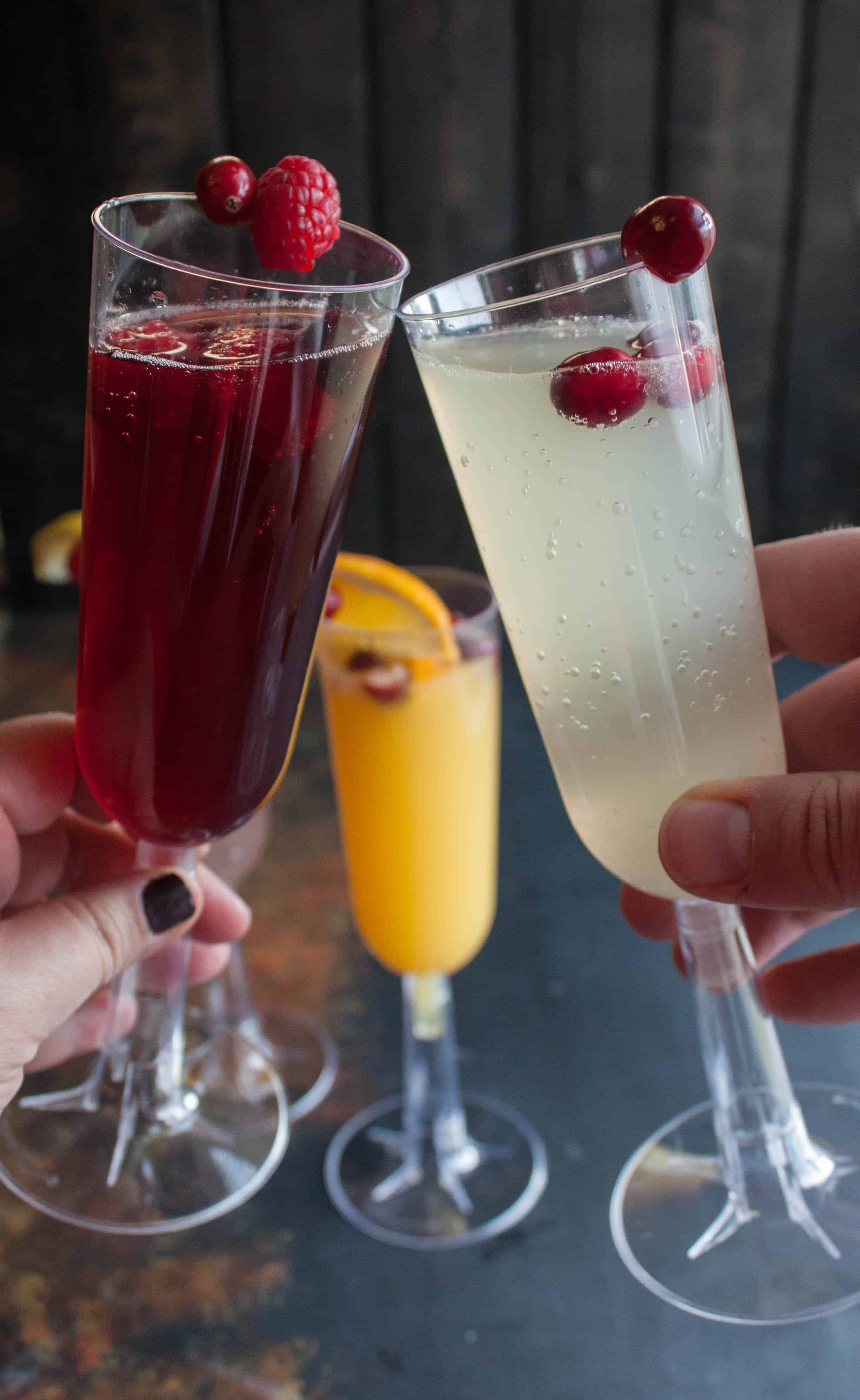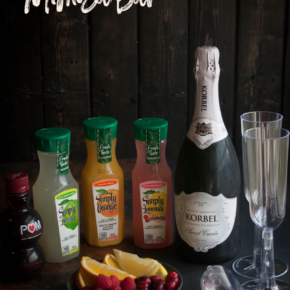 How to Make a Mimosa Bar
This step-by-step on how to make a mimosa bar will help you set up a drink bar where everyone can make a mimosa that they will love!
Print
Rate
Ingredients
Champagne

(1 bottle per 8 mimosas)

Different juices

I had small bottles of orange juice, raspberry lemonade, limeade, and pomegranate juice

Fresh fruit

I had raspberries, cranberries, lemon wedges, and orange slices

Champagne flutes

I used disposable ones
Instructions
Arrange fresh fruit on a plate

Open Champagne bottle

Open fruit juices

Set up on a table and instruct guests to pour half the glass full of champagne, the remaining half glass full of fruit juice, and then to top with desired fruit. Enjoy!