I am sharing five reasons why meal delivery services are the best gift for new moms (and are great gifts in general)! Do you know how much I love meal delivery services? I tried 6 different meal delivery services and did a comparison (it's more like I tried 12 services at this point lol)- they are seriously lifesavers because you don't always have time to figure out what to make for dinner, and meal delivery services give you a kit with all the ingredients.  Even better, meal delivery kit services make great gifts.
5 reasons why meal kit delivery services are the best gifts for new moms:
Meal planning
Prep time
Flexibility
Less dishes
No grocery shopping
1. MEAL PLANNING
Meal planning is a great gift for any new Mom, but even better for a second (or third or fourth) time Mom.  I remember when I had my first child, and he was still an infant, there would be nights that I might just have popcorn for dinner or whatever I could find in the snack cabinet and call it a night.  But, as he gets older, I like to be sure to have a great meal on the table for us, so planning meals with meal kit delivery services helps keep me on track.
I sit down with my planner on Sunday and see what the menu looks like and then select meals (I usually do 3 meals from a meal delivery service a week) and then write them in my planner and order.
One of my favorite services is Home Chef (use code 40SWEETPHI for $40 off your first 2 orders, $30 off your first order and $10 off your second order).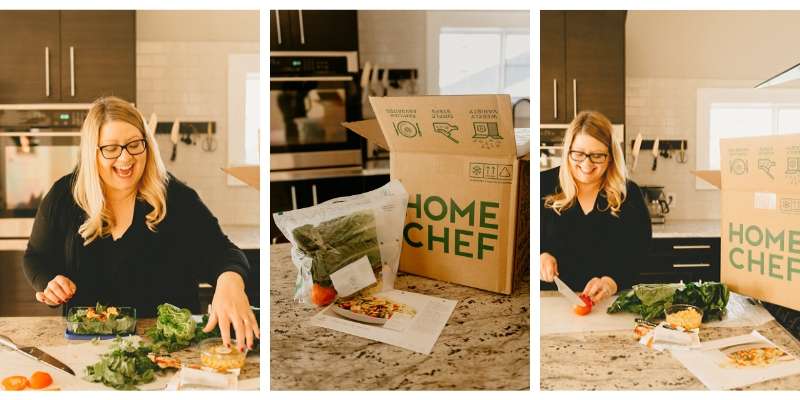 2. PREP TIME
What new mom has a ton of extra time to slice and dice veggies?  Slave over the stove for hours?  Meal delivery services make getting a complete meal on the table so much easier.  If you could give the gift of time, preparing a meal for a new Mom is as close as you'll get.  But, the best news is meal delivery services like Home Chef now even offers slow cooker meals, Oven Ready meals (where they even send the pan to bake it in – my favorite, these 'oven ready' meals are just putting ingredients into a pan and baking, I love them and get 1 a week) or they offer Fresh Express meals with 15 minutes or less of prep and no cooking salads where you just put things together) making it that much easier to have a warm meal on the table for your family.
You could order a box of meals for yourself and make one for a new mom, or you could gift her a salad meal kit which is super low prep time (putting things in a bowl lol).
If you're looking for a low prep meal to make for a new mom, this 5 ingredient baked chicken parmesan recipe is one I have on my site which was inspired by a meal delivery meal I got once!
Or, if you want to give a mom an already cooked meal delivery meal, I'd recommend Fresh n' Lean (healthy, already cooked meals). Use code PHI10 and receive an additional 10% off your order (on top of any promotions they're running – currently they're running a $10 off offer!!)
3. FLEXIBILITY
When you're a new Mom, sometimes your brain is just mush…I'd guess mostly due to a lack of sleep.  So, to take time and creatively think of meals is sometimes the last thing on the list.  Meal delivery services offer so much flexibility in what you'd like to eat; offering everything from vegetarian to Keto-friendly to desserts, snacks and everything in between!
If you're looking for an all-organic meal delivery service or one that is healthy and very diet-restriction centered (and they have SNACKS), I'd recommend Sun Basket.
4. LESS DISHES
As a new Mom, I remember thinking that all I ever do is feed babies and wash bottles.  So many dishes!  The last thing I want to do after enjoying a meal is to spend the next 30 minutes doing dishes.  With three little ones now, there is certainly no time for that!
As I mentioned, I have tried a lot of different services, some had insane prep times or created more dishes. I love where Home Chef is going by creating great meals that require little/no extra dishes.
5. NO GROCERY SHOPPING
Loading kids up – whether you have multiple or one – is always a challenge.  Do you have diapers? What if they get hungry? How can I fit my baby(s) AND groceries into the cart?  When the meals are delivered to your door, it's like the best gift ever!
And an even better gift is if you treat yourself to a meal delivery service (purchase two).  Make one for yourself and make a completed one for someone!! I hope you've enjoyed reading about 5 reasons why meal delivery services are the best gift for new moms! I'd love to know in the comments below, have you ever tried a meal delivery service?
Other posts you might enjoy:
Disclaimer: this is not a sponsored post (none of the brands mentioned are paying me to write this content), these are brands I personally use and love. Some of the above links are affiliate links meaning I will earn a small commission if you purchase through my links at no cost to you. As always, all opinions are my own. Thank you for supporting the companies and products I use and love which make the SweetPhi blog possible.