These delicious little Mini Quiches made with Kraft Fresh Takes are perfect for the upcoming Easter holiday and are part of a shop compensated by the social shopper amplification company Collective Bias® and its advertiser because I am a member of the Social Fabric® Community. #CollectiveBias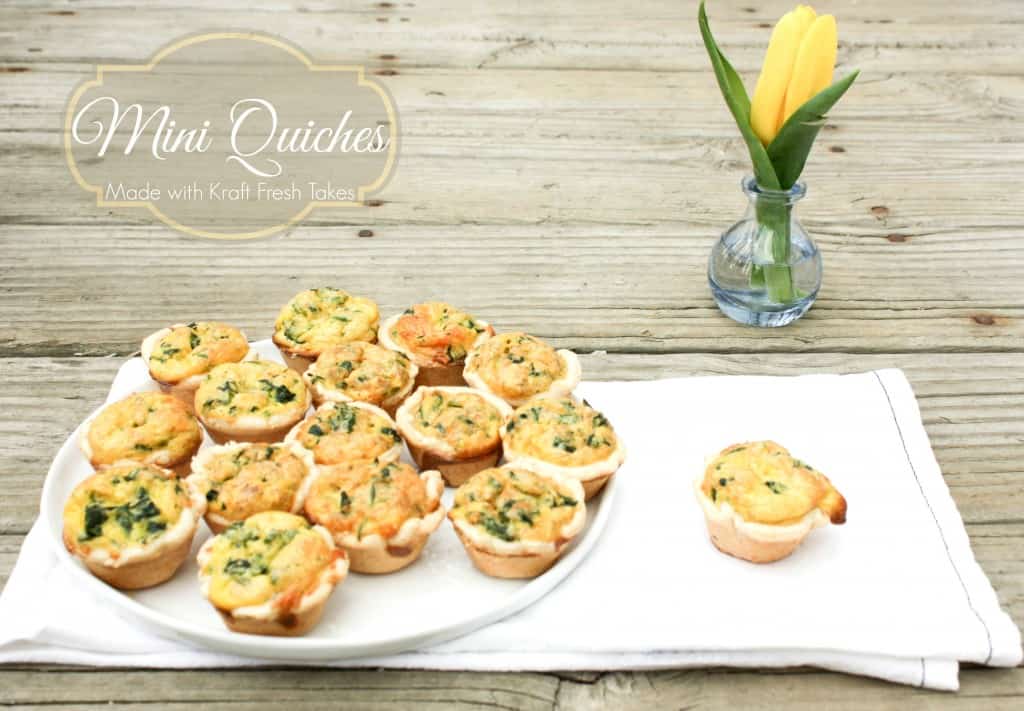 Easter prep and recipe testing is in full swing (or should I say Spring) over in the SweetPhi Kitchen, and today I wanted to share one of the best little creations I came up with that you and your family will love: Mini Quiches made with Kraft Fresh Takes (#FreshTake). Every year our Easter celebration involves a delicious meal that starts with appetizers as everyone gathers and catches up, and while everyone loves Mini Quiches, they can be time consuming to make which leads to frozen ones being purchased. Well, no more of that after having created this recipe that takes only a few minutes to prep so that one can join the celebration and not get stuck in the kitchen!
It all started when I was shopping at Walmart for some Spring and Easter decorations and after perusing decorations I also did some grocery shopping and came across Kraft Fresh Takes in the shredded cheese isle. They looked intriguing and since I just so happened to have a '$1 Off Fresh Chicken when you buy Fresh Take' coupon (available for printing from the Walmart landing page here or by clicking the image below) I decided to try them out.
The two flavors I purchased were the Italian Parmesan and Cheddar Jack w/ Bacon. When I got home (all in the Spring cooking mood) I decided I'd try and make something creative with the Fresh Takes, and made these mini quiches using Fresh Takes as the filling…they turned out SO GOOD!
Making these mini quiches is super easy. All you need is an egg-custard base, pie crust, and fillings (I used both the Italian Parmesan and Cheddar Jack w/ Bacon Fresh Takes as fillings and then added a little chopped spinach which went with both the flavors I was making). Another thing that is great about these mini quiches is that they can be made ahead of time and then re-heated!
After the mini quiche were done baking, my husband (taste tester extraordinaire who I'm sure absolutely loves when I snap pictures of him sneaking a bite) and I agreed that while both were really delicious, the Cheddar Jack w/ Bacon ones really were outstanding and will be made for our Easter celebration.
Because I was recipe testing and didn't use the entire bag of the Fresh Take, I did follow the package instructions and made chicken tenders out of the remaining filling. WOW! They came out perfectly breaded and golden on the outside and juicy on the insides. These Fresh Takes are definitely very versatile meal helpers that I will be cooking with again, asap!
And now…here is the recipe for Mini Quiche, hope you enjoy!

Ingredients
1/2

a Package Fresh Take - Cheddar Jack and Bacon

6

Eggs

1/2

Cup

- 1/2 and 1/2

1

Cup

Chopped Spinach

I used frozen kind and let it thaw

2

Pie Crusts

1

tsp

salt
Instructions
Preheat oven to 350. Coat a mini muffin pan with cooking spray and set aside.

Start making the mini quiches by beating 6 eggs and cream together. Add a teaspoon of salt and set aside.

Open the Cheddar Jack and Bacon Fresh take, shake it to combine bread crumb and cheese mixture, pour half of it into a bowl (you only need half, otherwise you'll end up with very dense quiche), add chopped spinach, and then slowly pour egg mixture over the filling (bread-crumb-spinach) and stir until everything is combined.

Next, unroll one refrigerated pie dough at a time and cut 12 circles. I did this by using a small glass (about 3 inches in diameter). Form a little bowl-like structure out of the circle cut out and press into the mini muffin pan. 1 Pie crust made about 12 cut outs for me. Repeat with the second pie dough until you have 24 mini quiche crusts.

Spoon 1 tablespoon of the liquid into each of the dough cups. When all the mini quiches have been assembled, bake for 30 minutes. Removed from oven, transfer to a wire rack for 5 minutes, then serve and enjoy!
Notes
This recipe makes 24 mini quiches, I've found that guests like to eat between 2-4 each.