This delicious Mustard Lemon Chicken with Spinach and Potatoes is a great dinner that has tons of flavor and hints of subtle yet zippy lemon and is perfect for a weeknight dinner that the whole family will enjoy.
Today I'm sharing with you how to make this mustard lemon chicken and potatoes dinner. What I love about this meal is that it comes together very quickly and has tons of flavors that meld together perfectly. A little tip that I've learned in my quest to becoming healthier is that you can cut chicken breasts in half as a great way to practice portion control. You still get a glorious meal; you just have an easier time eating the right size portions.
I am SO excited to be a guest posting for the beautiful and super talented Liz of The Lemon Bowl. I'm all about making dinner time a little easier and sharing simple recipes, so when Liz asked me to guest post, I of course had to come up with a recipe that included lemon…I mean…it's a no brainer, right? The Lemon Bowl? Liz loves lemons, I love lemons…if there's ever a time when there's not a lemon in the house, I'm pretty sure one should just declare a state of emergency.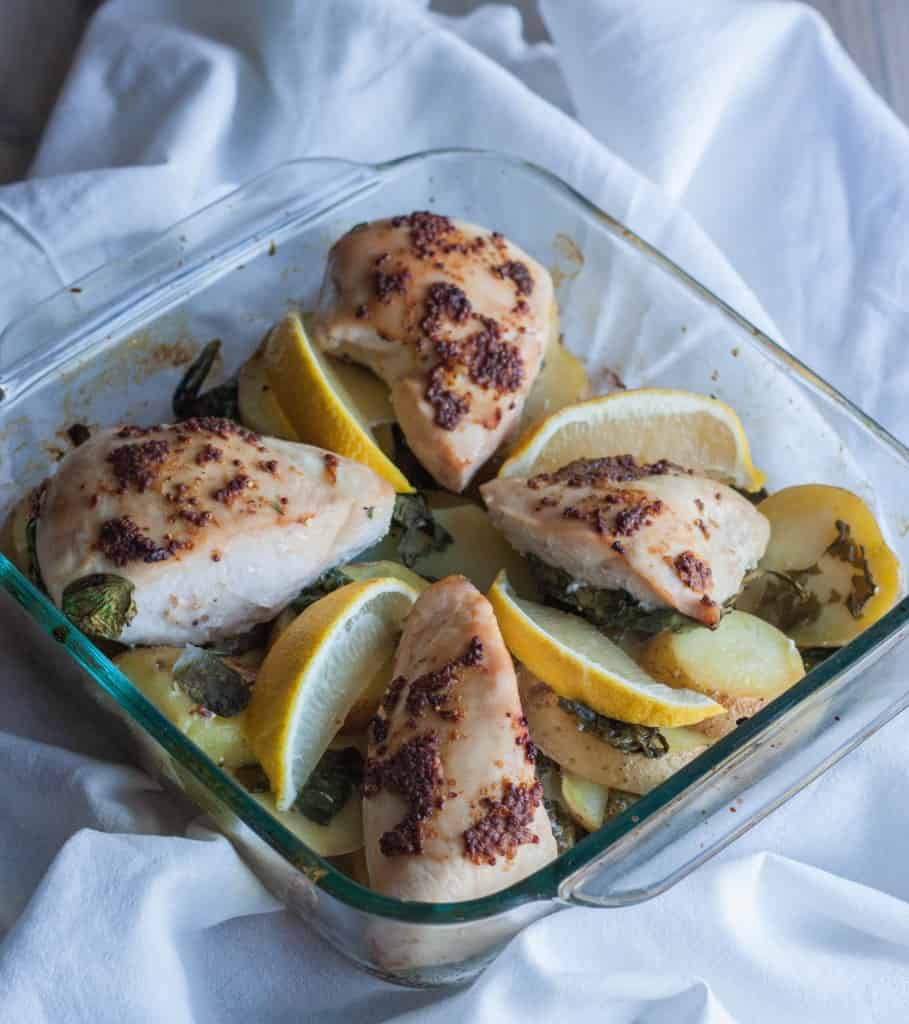 I have been a long time follower of The Lemon Bowl and love all of Liz's healthy living inspiration and amazing recipes (they actually turn out and are so yummy, I make her Sesame Crusted Baked Chicken Fingers all the time, and am pretty sure I'm going to have to invent a party and have people over just so I can make these 3 Ingredient Bacon Stuffed Mushrooms…because I've been seriously needing them in my life ever since she posted them!)
Last year I was fortunate enough to get to see Liz not once, but twice! Both at food blogging conferences: the first time I met Liz (picture on the left) was BlogHer Food in Miami, and the second time was at ChoppedCon in Kansas City (picture on the right). Two things I'd like to note 1-isn't Liz just so gorgeous? And 2-aparently I'm a dork that wears name tags all the time lol!
After spending just a short few minutes speaking with Liz I felt so inspired and energized about life, that needless to say, I was inspired to guest post for her!
Best of all, this recipe is Whole30 if you can find a stone ground mustard without sugar (I found a brand named Koops and they had organic stone ground mustard with no added sugar!)

Ingredients
4

medium yellow potatoes

sliced (skin on is ok)

1

Tbs

Extra Virgin Olive Oil

2

cups

baby spinach

2

chicken breasts

halved

2

Tbs

stone ground mustard

½

lemon

juiced

1

tsp

salt

1

tsp

pepper
Instructions
Preheat oven to 375

Slice potatoes and put in a baking dish. Drizzle olive oil over the potatoes, and sprinkle salt and pepper on top.

Place spinach on top of potatoes, and then put chicken halves on top of the spinach.

Sprinkle the chicken with a little salt, and then squeeze half the lemon over the chicken breasts. Spread the stone ground mustard on the chicken and then bake for 25 minutes, remove from oven and stir the potatoes around a bit, and then bake for another 20 minutes. Remove from oven, allow to cool for a few minutes and enjoy!