These naturally sweet no bake coconut date energy bites are sweet little bites of absolute deliciousness, and just so happen to be gluten free, vegan and whole30 compliant!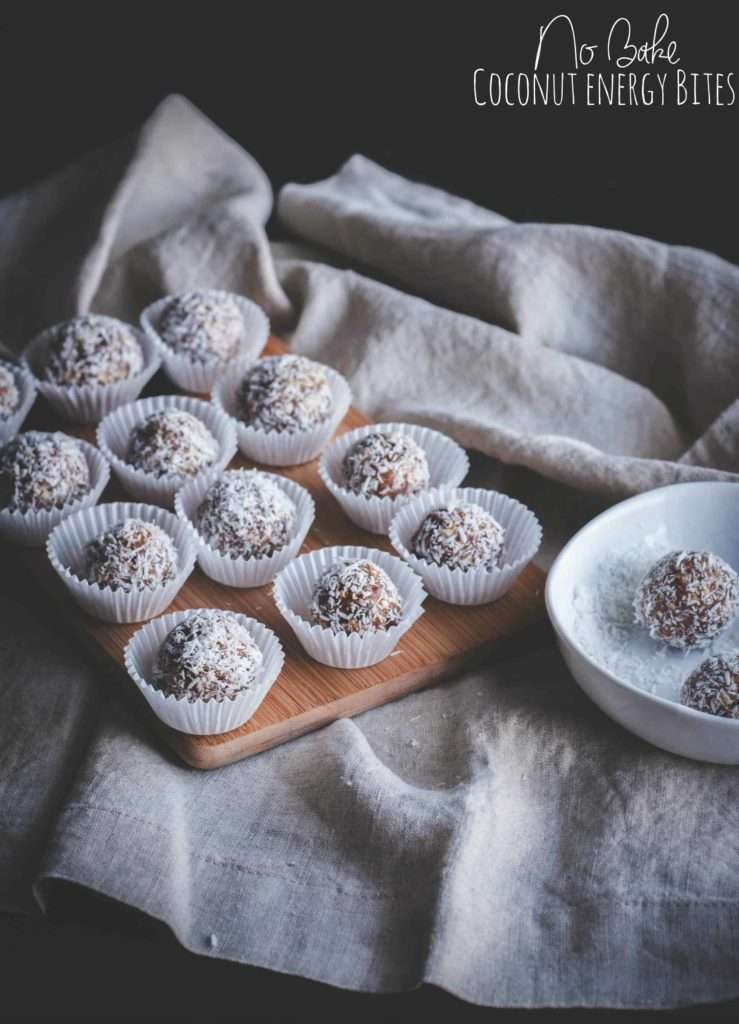 I am sharing these no bake energy bites for this week's Five Ingredient Friday (the series wherein I share a 5 ingredient recipe on Fridays.)
I think I'm really getting the hang of making energy bites. I made oatmeal cookie energy bites and loved them so much, that I wanted to keep making different kinds of energy bites!
These energy bites are naturally sweetened by the dates and contain no sugar – and to be honest, after making these delicious energy bites, I'm putting it out there that I don't even miss a version of energy bites that include sugar, because these are rock stars all by themselves!!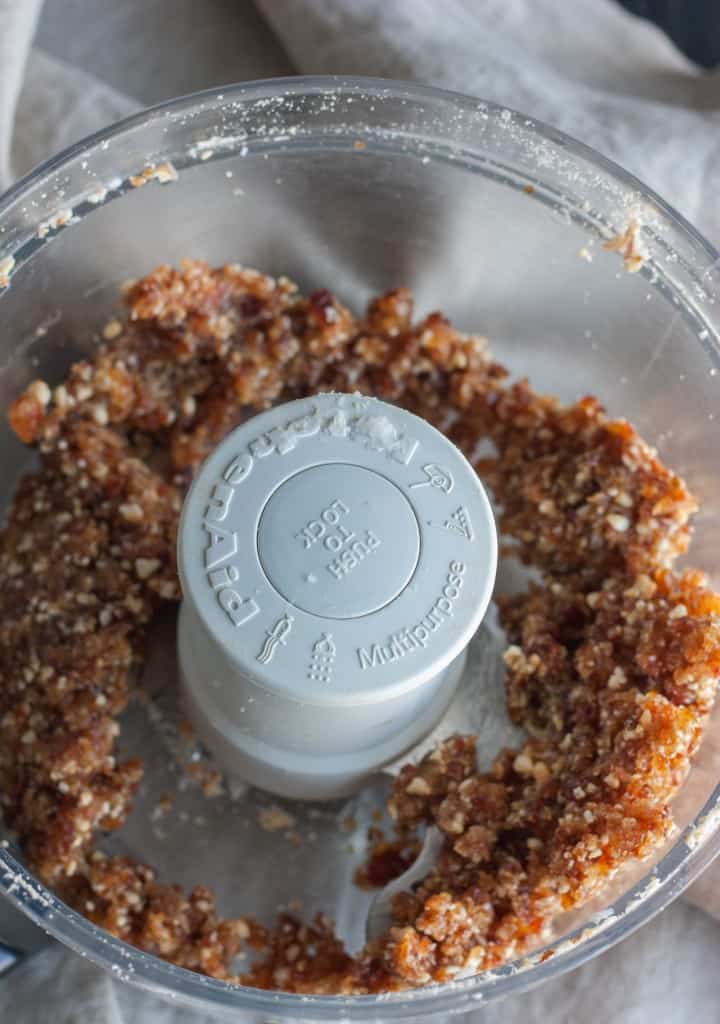 Here are some tips to making the best ever no bake energy bites:
Use a good food processor. I use this food processor, it really makes a difference texturally
Process the nuts first, then add in the dates and other ingredients
Use a cookie scoop to make even size balls, then roll with hands
Fun little cupcake liners make the energy bites super enjoyable (we eat with our eyes too, right? And how cute are these?)
Let your energy balls refrigerate for an hour or over night (and store in the fridge) this will allow them to come together

While making and enjoying these coconut energy bites I have been listening to books through audible.com (audio books through Amazon, currently just finished listening to Home Fire which was incredible – one of the best books I've listened to).
I love reading but have been reading books at a slower pace then I'd ideally like so listening to books on my way to and from work (which is a good 30 min plus each way) and while I cook has been so amazing. I'm always looking for recommendations – what are some of your favorite books?
Need a naturally sweet snack that gives you natural energy? Look no further! These energy bites are perfect for meal prepping – I make them over and over again, because they're super delicious (and husband approved): below they're pictured and I made 5 ingredient Hawaiian chicken and rice bowls, the best ground turkey tacos and the whole bowl with tali sauce – a favorite vegetarian dish)
Other recipes you might enjoy:
Yield: 12-13 energy bites
No Bake Coconut Date Energy Bites
These naturally sweet no bake coconut date energy bites are sweet little bites of absolute deliciousness, and just so happen to be gluten free, vegan and whole30 compliant!

Prep Time 5 minutes

Total Time 5 minutes
Ingredients
1/3 cup cashews
1/2 cup coconut, shredded, divided
1 Tbs water
Instructions
Put cashews in a food processor and pulsate for 10 seconds.

Add pitted dates, 1/4 cup coconut flakes, 1 tbs coconut oil and water. Process for a minute or until the mixture comes together and no big nuts or dates remain.

With a tablespoon scoop or a spoon scoop out 1 tablespoon of the mixture and roll in between hands to form a ball.

Put remaining shredded coconut in a bowl, and then roll the ball in the coconut. Place ball in a mini muffin liner and refrigerate for an hour and then serve.Store in refrigerator.
Nutrition Information:
Yield:
12
Serving Size:
1
Amount Per Serving: Calories: 40Total Fat: 3gSaturated Fat: 1gTrans Fat: 0gUnsaturated Fat: 1gCholesterol: 0mgSodium: 36mgCarbohydrates: 3gFiber: 1gSugar: 2gProtein: 1g

Nutrition information isn't always accurate.

Disclaimer: some of the above links are affiliate links, if you purchase amazon products through my links, I will earn a few pennies. As always, thank you for supporting the brands and products I love that make the Sweetphi blog possible.

Note: This recipe was made by a reader and featured on my Reader Recreation page. If you ever make a SweetPhi blog recipe that you'd like to share, just include the hashtag #Sweetphiblog on social media and please send me an email with the picture to sweetphiblog@gmail.com, I love seeing your recreations!