This pink mimosa recipe is so easy to make – it's perfect for any girls night or festive occasion.  Upgrade your mimosa game with this simple recipe.
A mimosa is simply a cocktail made up of some sort of juice – typically orange juice – and champagne.  Since most people are familiar with a traditional mimosa, I wanted to have some fun and make pink mimosas!
What ingredients do I need for a pink mimosa?
Juice – I used Tropicana Strawberry Kiwi Sunrise or you can use Simply Lemonade with Strawberry 
Champagne – typically a brut or extra dry works best.  You don't want to start with a champagne that is too sweet because the juice adds sweetness to the recipe.
How do I make a pink mimosa?
They are SO EASY to make!
Pour about 4 ounces of champagne into a champagne flute.
Top with about 2 ounces of juice and enjoy!
You can adjust the ratios to your liking, but I prefer just a touch more champagne with a topping of juice.  Feel free to prepare these pink mimosas with a 1:1 champagne to juice ratio too if you'd like.
If there is ever an opportunity to add a festive touch to any occasion, I will!  Think about making these pink mimosas for Valentine's Day, Easter or Mother's Day.  Or hey, how about any brunch outing with your gal pals?!
And don't you worry, these pink mimosas are not only for the ladies!  When we were recipe testing, my husband loved them too.  So don't be afraid to share with the men in you life!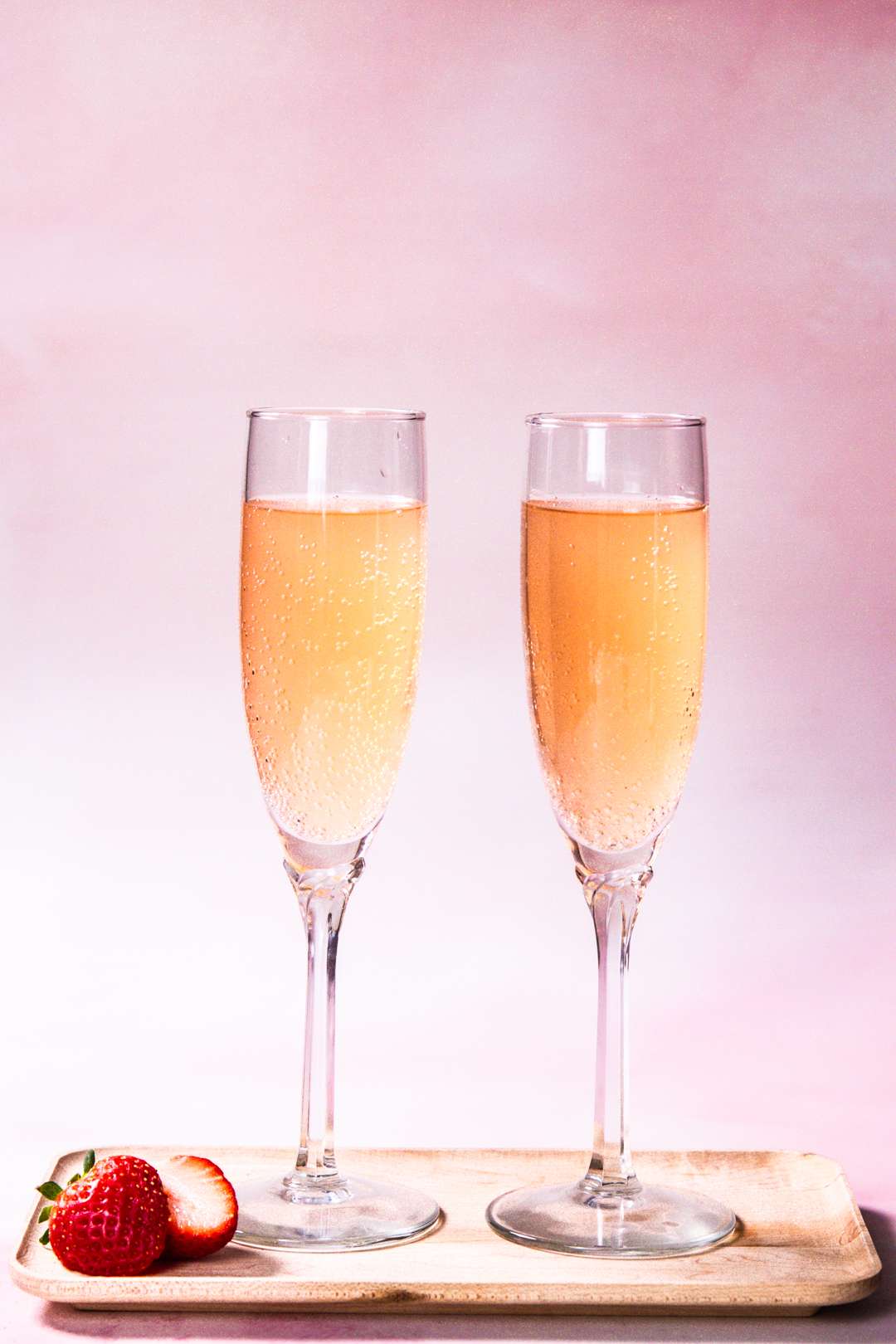 These Pink Mimosa recipe makes a fruity, delicious, easy cocktail – the perfect option for your next girls night!
If you're looking for more mimosa inspiration, check out my post for tips on how to make a mimosa bar.
Ingredients
1

bottle

Tropicana Strawberry Kiwi juice

You could also use strawberry lemonade

1

bottle

Champagne

chilled
Instructions
In a champagne flute, pour 4 oz. of chilled champagne. Add 2 oz. of juice.
Notes
I like to put a touch  more champagne than juice, but you can certainly make them even ratios as well!  Ounces used may vary depending on the size glass you use.
The nutrition information presented on this site should be considered an estimate as the calculations will change based on the exact products you use in your own kitchen.