Prime rib roast and Yorkshire puddings is such a treat and I just love it.  We usually only enjoy prime rib roast once around the holidays (Christmas Eve dinner or New Year's Eve dinner) or for a special treat out at a restaurant somewhere fancy.
I had never made prime rib roast at home until recently when I was working on a photoshoot for a client, and I just fell in love with how decadent and amazing it was, so I just had to make this amazing prime rib roast and Yorkshire puddings recipe to share with you!!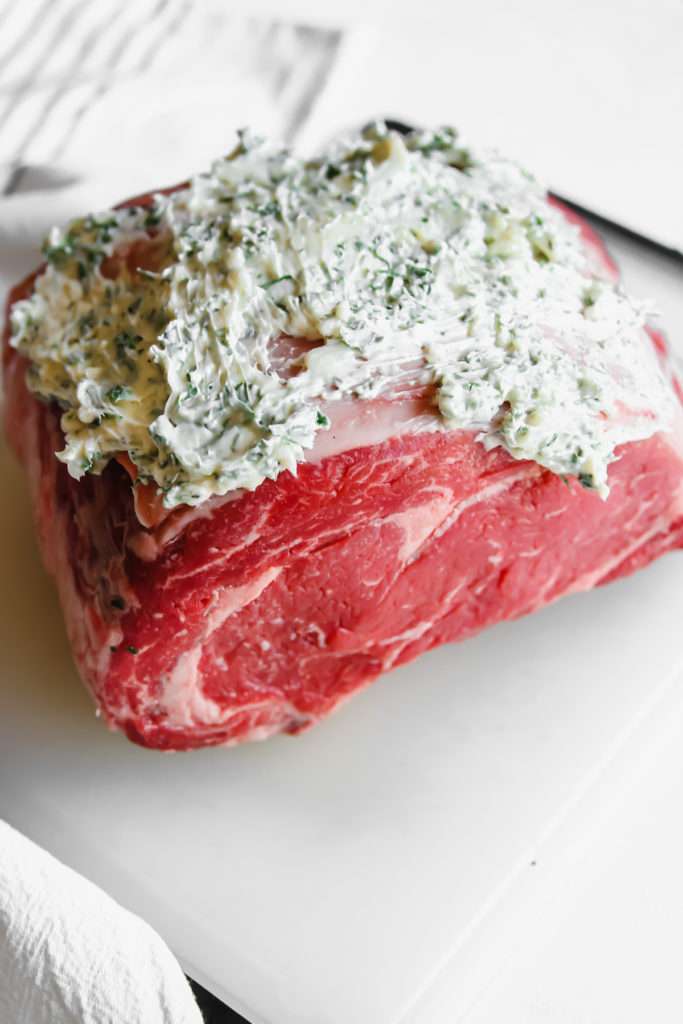 It's actually pretty easy to make a rib roast and Yorkshire puddings at home!
Why Yorkshire puddings with prime rib roast? Well, when Nick and I went on a trip years ago to London, we had rib roast with Yorkshire puddings, so ever since then, I always associate a rib roast with Yorkshire puddings!
With a prime rib, it's all about the proper temperature.  Rib roasts can tend to be expensive (how expensive is a rib roast you might ask? They're usually about $13-18 per pound, so a 6-10 lb prime rib roast usually runs you about $100) so, be sure to have your meat thermometer on hand to get the temperature just right.  I like to cook mine to medium rare so it's tender and juicy and oh-so-delicious.
The trick to prime rib is taking it out of the oven about 10 degrees lower than your ideal doneness, and then letting it rest and rise to the temperature you desire. For a medium-rare prime rib, you ideally want to take your prime rib roast out of the oven when it is at 110-115 degrees, and then let it come up to 125-130 degrees for a medium rare cook!
What is better than a perfect cut of meat?  Garlic and butter of course.  I made an easy garlic butter to smear all over this roast.  With those flavors, you can't go wrong. I prepared this rib roast just like I did with my easy Thanksgiving turkey recipe!
Can you think of anything better to go alongside a prime rib roast than Yorkshire puddings?  I know this all sounds very English, but Yorkshire puddings are so very easy to make that I had to share!
You're simply mixing ingredients, and baking them in fat from the meat!
Have you ever traveled to London?  While I was there, I learned that they do something called a Sunday Roast at restaurants. The restaurants will change their menus on Sundays and only serve roasts and yorkshire puddings.  It is so glorious – I loved the idea, and have been making the roast and yorkshire pudding combination ever since then!
If you're looking for a decadent and fancy  meal that's super tasty, look no further than this rib roast and Yorkshire pudding recipe! I, for one will definitely be making this for Christmas eve dinner!
Other recipes you might enjoy:
Prime Rib Roast and Yorkshire Puddings
This recipe is for a decadent and delicious perfectly cooked prime rib roast and yorkshire puddings
Print
Rate
Ingredients
For the prime rib roast:
1

bone-in prime rib roast

4-6 pounds

1/2

cup

butter

1 stick butter, at room temperature

3

garlic cloves

crushed

1

tablespoon

dried thyme

2 tablespoons fresh herbs, total (thyme, rosemary, parsley)

1

tablespoon

rosemary

1

tablespoon

parsley

1

tablespoon

salt and pepper
For the Yorkshire puddings
3

eggs

large

3/4

cup

milk

3/4

cup

all purpose flour

1

teaspoon

salt
Instructions
Let prime rib roast sit on the counter for 30 minutes so that it comes to room temperature before cooking.

Preheat oven to 450 degrees.

Place prime rib roast, bone side down in a roasting pan.

In a mixing bowl combine butter, garlic, and herbs.

Sprinkle salt liberally on the roast.

Spread butter on top of roast.

Bake for 15 minutes, then reduce temperature down to 325.

Bake until internal temperature reaches 110-115 degree using a meat thermometer stuck about 2 inches into the center of the roast. (About 15 minutes per pound at 325).

Remove from oven, and tent with aluminum foil.

Let rest for at least 20 minutes, temperature will rise to 130 for medium rare.

When you take the rib roast out of the oven, reserve 12 teaspoons cooking grease in the bottom of the roast pan to use for the Yorkshire puddings. Spoon 1 teaspoon grease into the cups of a muffin tin.

Make the Yorkshire puddings batter by whisking eggs and milk together until smooth, then add in flour and salt. Let sit for 5 minutes.

Put the muffin pan with the grease into a cold oven, then turn the temperature to 425 and let the muffin tin warm up with the oven for 10 minutes.

Remove muffin tin from oven and spoon batter (carefully) into the greased muffin cups.

Bake for 25-30 minutes, or until golden brown and puffed up.

Serve sliced beef with yorkshire puddings
Notes
Nutrition
Serving:
1
g
|
Calories:
186
kcal
|
Carbohydrates:
11
g
|
Protein:
4
g
|
Fat:
14
g
|
Saturated Fat:
8
g
|
Polyunsaturated Fat:
1
g
|
Monounsaturated Fat:
4
g
|
Trans Fat:
1
g
|
Cholesterol:
94
mg
|
Sodium:
1298
mg
|
Potassium:
83
mg
|
Fiber:
1
g
|
Sugar:
1
g
|
Vitamin A:
550
IU
|
Vitamin C:
1
mg
|
Calcium:
56
mg
|
Iron:
2
mg