There's nothing more satisfying than making quick pickled Asian vegetables…unless it's opening the refrigerator and enjoying some of the pickled vegetables! They're so delicious and easy to make, you'll be making them over and over!
Last week when I was thinking of what to make for dinner, I knew I wanted to include something with Asian flavors. The recipes I was looking at all included kimchi (which is salted and fermented vegetables) which my hubby is not that big a fan of. I thought back to when I made Korean beef bbq tacos with quick pickled cucumbers and how easy it was to make the cucumbers.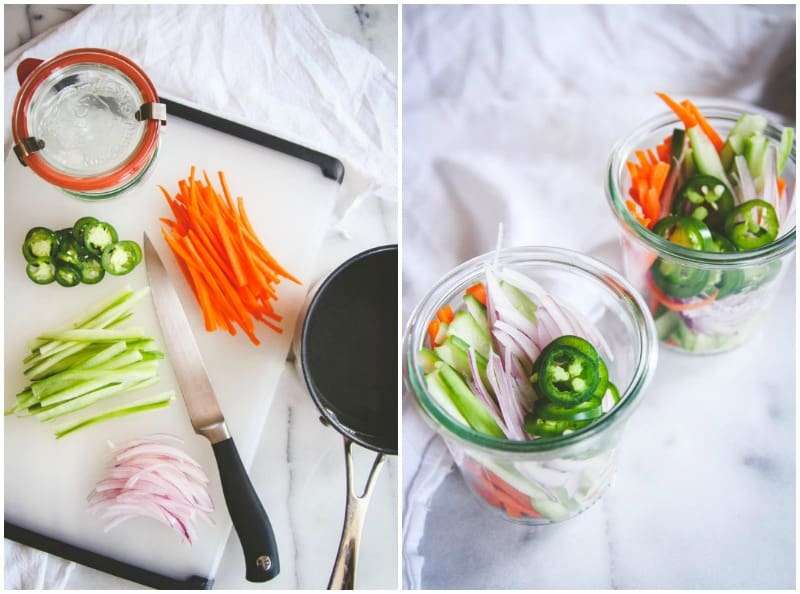 So I decided to try my hand at making some quick pickled Asian vegetables. The end result was seriously nothing short of amazing!
The next day when I was making dinner (a Korean inspired ground turkey and rice bowl that I'll be sharing soon) I posted a picture of the pickled veggies to my Instagram/Snapchat – username: Sweetphi – stories and asked if anyone wanted to see the recipe. I was so surprised by how many people responded right away with YES, they wanted the recipe, so no question I had to make them again and share the recipe here.
These quick pickled Asian vegetables are truly awesome, all you do is make the liquid, chop up vegetables – I used carrots, cucumbers, red onion and jalapeno, but you could definitely add in some daikon or other radishes – and then put the vegetables in a jar (my favorite is using these weck jars (like these – I use them ALL the time), but a mason jar would work great too) and 24 hours later, vioa, you have yourself some quick pickles!! In the picture above, the two left jars are the new ones I made, and the jar on the right is a jar that had been in the fridge for 4 days.
Yield: 2 jars
Quick Pickled Asian Vegetables
Prep Time 10 minutes

Cook Time 5 minutes

Total Time 15 minutes
Ingredients
1/2 cup water
1/2 cup rice wine vinegar
1/4 cup sugar
2 teaspoons salt
1-2 large carrots, peeled and cut into matchsticks
1/2 seedless cucumber, peeled and cut into matchsticks
1/4 large red onion, finely sliced
1 jalapeno, finely sliced
Instructions
In a small saucepan combine water, rice wine vinegar, sugar and salt. Heat over medium -high heat for about 3-5 minutes, stirring occasionally until the sugar and salt dissolve. Remove from heat.

Peel and cut the carrots, cucumber, red onion and jalapeno.

Place 1/2 of the vegetables into a .5 liter weck jar and the other 1/2 of the vegetables into another jar. You can add as many vegetables as you'd like to pack the jar full of vegetables - I only loosely packed them.

Pour the liquid over the vegetables in each jar. Cover and secure the lid, and refrigerate for 24 hours (or for a few days) then enjoy!
Nutrition Information:
Yield:
2
Serving Size:
1
Amount Per Serving: Calories: 151Total Fat: 0gSaturated Fat: 0gTrans Fat: 0gUnsaturated Fat: 0gCholesterol: 0mgSodium: 2148mgCarbohydrates: 35gFiber: 3gSugar: 30gProtein: 1g