Quick pickled eggs are a great high protein snack that are so easy to make!  I use a quick pickling method that starts with hard boiled eggs and a Weck jar.  Once you combine all of the ingredients and let it marinate for a day or two, you'll have a new favorite snack!
I had never even heard of pickled eggs until I had a beet pickled egg at a local Wisconsin restaurant. It was pink and so so good I immediately ordered another one.  After we left the restaurant, I could not stop thinking about them.
But canning, the traditional way, isn't something I'm really interested in.  It just seems like a lot of equipment and way too many steps.  And, honestly, the thought of an egg sitting on a shelf and not in the refrigerator weirds me out a little.
Quick pickling and refrigerator pickling, is something I love!  Not sure how to do that?  Well, be sure to save this recipe so you can become an expert at quick pickling too.
I like a really tart pickle, and didn't want to cook a pickling liquid, so this recipe is so quick and easy.  Basically, all you're doing is making hard boiled eggs, peeling them, and then putting all the ingredients in a jar.
This recipe is very vinegar forward – that's how the eggs get the extra bite that I love.  And I usually marinate them for 1-2 days in the refrigerator before eating them, but you could eat these quick pickled eggs an hour after putting them in the refrigerator and they'd still be good!
I like using red onions, because after a day or so, the eggs take on a beautiful light pink color, but you could use white onions or yellow onions if you want a more clear liquid.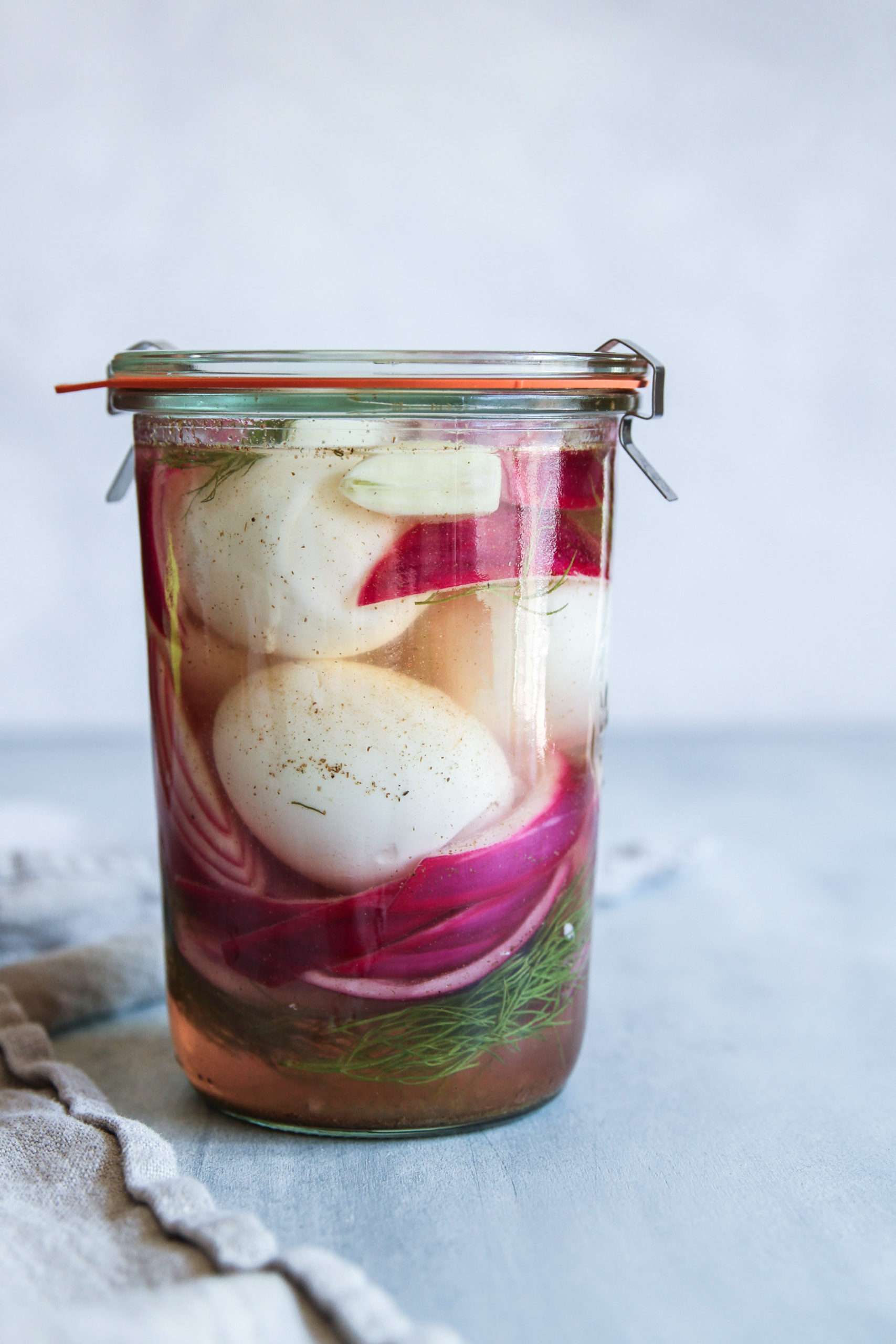 These quick pickled eggs are so so good and make a great snack.  They are also perfect on salads or on sandwiches (I like doing avocado toast and then putting some lettuce and a sliced up quick pickled egg on top!)
A friend of mine suggested these eggs on top of a bowl Ramen noodles – that's how she has enjoyed it before and raved about the dish she had!
Are you a fan of pickled eggs?  What do you like to eat them on?  Let me know in the comments below!
Quick Pickled Eggs
This recipe for quick pickled eggs is a high protein snack that is quick and easy to make!
Print
Rate
Ingredients
6

hard boiled eggs

peeled

1/2

red onion

peeled and sliced

2-3

sprigs

fresh dill

(or 1 tsp dried dill)

2

garlic cloves

peeled and halved

1 3/4

cups

distilled white vinegar

1/2

cup

water

1

tsp

salt

1/2

tsp

fresh ground pepper

1/2

tsp

celery salt

optional
Instructions
Add hard boiled eggs into an airtight jar or container. Add in onion, dill, garlic and pour in vinegar and water. Add in salt, pepper and celery salt. Gently stir.

Put lid on and secure. Gently swirl/shake so all ingredients incorporate.

Refrigerate and let sit for 24 hours before you enjoy. I usually like to let them sit for 3 days before having one.

These last for up to 4 weeks in the refrigerator. They probably last longer (it's just eggs in a vinegar solution, but I've never had them last very long in our house).
Notes
To hard boil eggs, I cook mine for 9 minutes in boiling water and then shock them.
I like the spices floating around, but you could always use pickling spices if you prefer.
I like very sour/tangy pickles and eggs - you could add 1 tablespoon sugar to make them less tangy.
If you like a spicy bite to your pickle, add in 1 jalapeno, sliced.
Red onions leave a light pink tint to your eggs.
The nutrition information presented on this site should be considered an estimate as the calculations will change based on the exact products you use in your own kitchen.    
Nutrition
Serving:
1
egg
|
Calories:
96
kcal
|
Carbohydrates:
2
g
|
Protein:
6
g
|
Fat:
5
g
|
Saturated Fat:
2
g
|
Cholesterol:
187
mg
|
Sodium:
646
mg
|
Potassium:
76
mg
|
Fiber:
1
g
|
Sugar:
1
g
|
Vitamin A:
260
IU
|
Vitamin C:
1
mg
|
Calcium:
33
mg
|
Iron:
1
mg