Summertime means veggies galore! Sometimes we may find ourselves with a few extra straggling veggies that need using, so I'm going to show you how to make quick pickled vegetables-it's the perfect way to use all those veggies!

Canning just scares me. I know it shouldn't, I know there are tons of great resources, but I'm sorry, it just scares me.
I've opened too many homemade canned jams or other items to find mold on them-yup-they went into the trash.
But I love pickled vegetables, the tart flavor of a good vinegar marinated vegetable, it's just so good!
And with all the amazing vegetables I get from ordering groceries from Instacart every week, I definitely had a lot of fantastic ingredients to work with. I decided to just as an experiment make some quick pickled vegetables, kind of like my bread and butter refrigerator pickles.
The end result. Holy vegetable – they were outstanding.
I thought 6 jars would be a lot, but after giving a few away, I found myself making another batch very shortly after the first!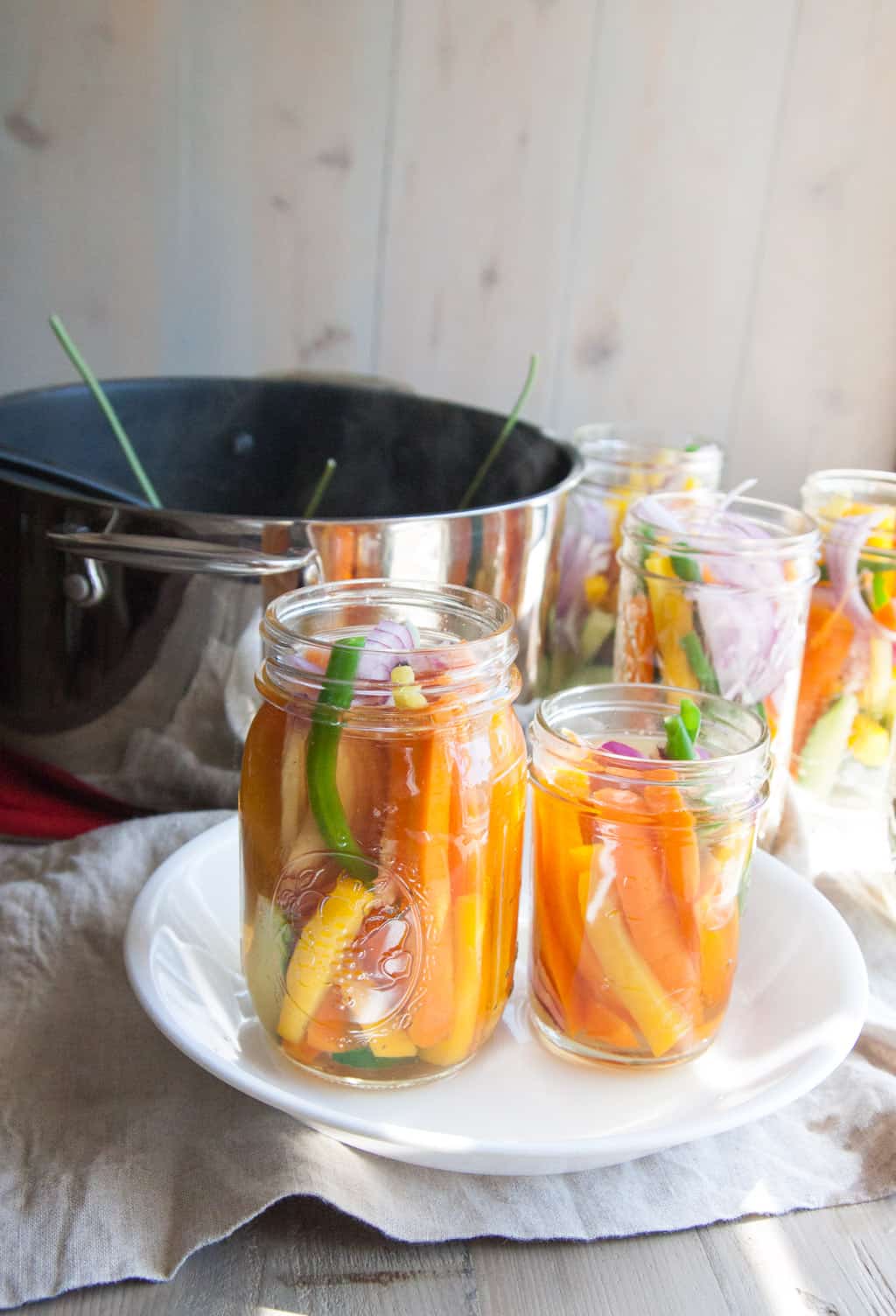 They're great by themselves, and they're also extremely delicious on a Vietnamese noodle salad I made using them (recipe coming soon!)
Because I use Misfits Market for my produce delivery (they're literally the best, and their service is amazing) there's never a shortage of fresh vegetables in my fridge. I love how even when I'm running around during a crazy busy work week I come home on to find groceries waiting for me. Sounds pretty convenient, right? It is! The best part is they offer more than just produce. I can order anything from lcoal grocery stores as if I actually went to the store! One stop shopping (like I mentioned when I made these peanut butter banana granola bars). I literally once a week decide all the things I need and just go online shopping once – it saves so much time!

So grab some mason jars, your favorite summertime vegetables (I used a cucumber, yellow and orange carrots, green beans and a red onion) and let's make quick pickled vegetables that will be ready in 24 hours and will last in your refrigerator for up to two months (but I'm sure they'll be gone way before then 😉 )

Other recipes you might enjoy:
Ingredients
5

large carrots

cut into large matchsticks

1

lb

green beans

ends removed

2

cucumbers

cut into large matchsticks

1/2

red onion

sliced

4

cups

water

2

cups

white vinegar

1

cup

apple cider vinegar

2

tablespoons

peppercorns

1

tablespoon

mustard seeds

1

tablespoon

coriander

2

tablespoons

sugar

about 10 fresh dill sprigs

with 2 flowers - optional or 1 1/2 tablespoons dried dill
Instructions
Start by blanching the carrots and green beans.

Bring a pot of water to boil, add in cut carrots and green beans and cook for 3 minutes, then immediately run them under cold water and put ice cubes on top of them (you want them to stop cooking and be crunchy, not mushy).

Arrange 6 clean mason jar on top of some paper towels and then tightly pack with the carrots, green beans, and onions.

In a large pot bring water, vinegar, apple cider vinegar, peppercorns, mustard seeds, coriander, sugar and fresh dill to a boil. Remove from heat and let cool for 5 minutes, then ladle liquid evenly into the mason jars - fill the jars almost to the top, making sure to cover the vegetables with liquid.

Put lids on and refrigerate for 24 hours and then enjoy!

These quick pickled vegetables last in the refrigerator for 2 months (and probably longer, they've just never lasted that long in our house!)