A year and a half ago (wow! that seems like forever ago!) I posted a recipe for Red Vinegar Chicken with Sweet Potatoes and Cauliflower and since I love this recipe and have made it quite a few times since, I decided to re-vamp it a little by snapping a picture of it the last time I made it, so here is the repost recipe :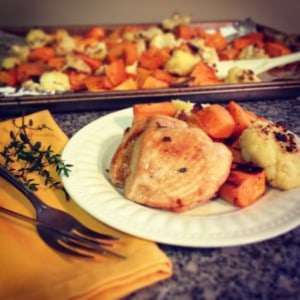 Ingredients
1

lb

Chicken Breasts

cut in half (usually 2-3 chicken breasts)

3

Sweet Potatoes

1

head Cauliflower

2.5

Tbs

Olive Oil

1/4-1/2

cup

Chicken Broth

low sodium

1

Tbs

butter

1

Tbs

red wine vinegar

2-4

Sprigs fresh thyme or 1 tsp dried thyme

1

tsp

salt and pepper

more to taste
Instructions
Preheat oven to 400. Peel sweet potatoes and cut into chunks. Clean the cauliflower and cut into pieces. Put the sweet potatoes and the cauliflower in a big bowl and add 1.5 tbs olive oil, leaves off of 1 thyme sprig, salt and a few sprinkles pepper and combine.

Line a baking sheet with aluminum foil, place the sweet potatoes and cauliflower evenly on the baking sheet and put in the oven for 30-40 min, flipping when about halfway done so they brown evenly.

While the veggies are in the oven, cut the chicken breasts in halves, add remaining olive oil to a pan and then add the chicken, next add the butter so that it melts in with the olive oil while the chicken is cooking and cook over medium-high heat. Season the chicken with a little bit of salt and pepper. When the chicken has browned on one side, flip it, and add 1/4 to 1/2 cup of chicken broth, the red vinegar and the remaining thyme leaves. Cook until the liquid has cooked down and reduced in half and the chicken is done cooking. To serve spoon a little of the sauce over the veggies and chicken on the plate.