This past weekend I took a road trip from Milwaukee to Minneapolis, a short 5 hour road trip to a new city I really felt at home in, and where I had one of the best meals I've ever had at the Borough restaurant.
I love traveling and seeing new cities, and while I normally do road trips with my hubby (like when we drove along the Oregon coast last year or the many day trips we took on our honeymoon to Alaska) this past weekend I was attending a photography workshop in Minneapolis and decided to go by myself, because really, I didn't want him to be bored all day waiting around for me!
I'm no stranger to driving long distances by myself. In college, I would drive the 6 hours to-from college (Southern Illinois University, in Carbondale) to visit my family in Chicago, and in grad school (Cornell, in Ithaca) I would drive 11.5 hours (sometimes up to 13 hours because of traffic) for just a weekend! Like I said, I'm no stranger to road trips. In fact, I really enjoy them. I love the freedom of being able to stop whenever and be on ones' own schedule. Nowadays my limit is probably somewhere around 7-8 hours, I'm getting old, what can I say lol.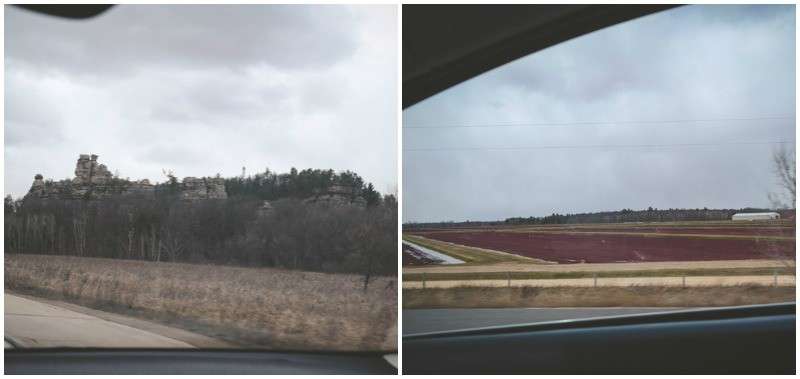 So 5 hours? Totally doable. It was a beautiful drive from Milwaukee, WI to Minneapolis, MN. Along the road I saw gorgeous rock formations and state parks, and even a cranberry bog – that was a first, I totally want to go back and check it out one day! The drive really flew by and next thing I knew I was pulling into the hotel: Renaissance Minneapolis Hotel, The Depot.
The hotel had gorgeous architecture on the outside and undergoing a little renovation, but there were cute signs everywhere saying to "please excuse us as the dust settles while our renovation is underway." "Once the hub of activity in the late 1800s, today The Depot Renaissance serves as a premier Minneapolis hotel with 225 deluxe guest rooms, 23 historic suites and more than 60,000 square feet of meeting space. The Depot Renaissance is located in the booming Riverfront district of downtown Minneapolis." There was cool train station maps and signage throughout the hotel.
The rooms at The Depot Renaissance were simple, yet very comfortable. The bed- omg, it was so incredibly comfortable. I hope with whatever renovation they're doing they keep those same beds! I had brought a bunch of work with me, but I ended up not doing anything at all, and it was glorious to just nap and watch TV in the comfy bed…did I mention it was comfy? lol
Other things to note about the hotel that I loved were their shower products: Aveda! Very much loved that (I always love when hotels go the extra mile in their travel-sized shower products.) There was this mirror in the room that was absolutely beautiful – I wanted to take it with me if you get what I mean…
The next thing I absolutely loved was that they had a blackout shade on top of the blinds. Don't you hate when that little crack of light gets in? I do too – so I pulled the black shade down and loved the pitch blackness for sleeping. My husband jokes that I'm like a bird – I need complete darkness to sleep but once it's dark, I fall right asleep <- truth! So the blackout shade was very much appreciated. Also, I liked that the hotel had a restaurant (Charley's Grill) and bar area (Stone Arch Bar), it was great for grabbing a quick appetizer (I had the Poutine which was hand cut fries, duck confit, cheese curds and pepper gravy.)
The rooms were so nice and relaxing that I stayed in and painted my nails one night – I went to the Target in downtown Minneapolis (you guys, the Target is two stories high and huge!!!) and got all sorts of stuff to give myself a mani/pedi. It was really fun to just relax – and the beds, really, it was like I was being on a cloud!
The hotel was in super close proximity to a wonderful coffee shop – Dunn Brothers.
Whenever I'm in a new city, I always love checking out coffee shops, and Dunn Brothers was definitely fantastic. In fact, I went not only to the location by my hotel (The Depot) but also went to their North Loop location. Each coffee shop had lots of character and had a nice laid-back vibe. They had this one latte I tried called the 'chocolate nirvana latte' which was chocolate/coffee/hazelnut. OMG so good!!
The North Loop area was very cool – think industrial turned trendy. Lots of cute shops and dining options (which I'll talk about in a second). The workshop I attended was also in the North Loop area. It was in a super cool space which had tons of light (totally jealous of all the gorgeous windows it had!). Lunch was from Cafe Zupas – their fresh herb chicken sandwich – soooo good! And we had cupcakes from The Cooper Hen, absolutely delish!! During the workshop I found out that some of the photography backgrounds they were using were from a salvage store. I didn't even know those existed! After the first afternoon of the workshop I stopped by a salvage store and ended up finding a super cool piece of something (cement? rock? Who knows what it actually is lol) that I purchased, my little souvenir that was really heavy (you'll see the background being used in my Five Ingredient Friday post this week).
Want to know what else is in the North Loop area? Borough Restaurant. I HIGHLY recommend eating there. I don't say this lightly, but it was honestly one of the best meals I've ever eaten, EVER!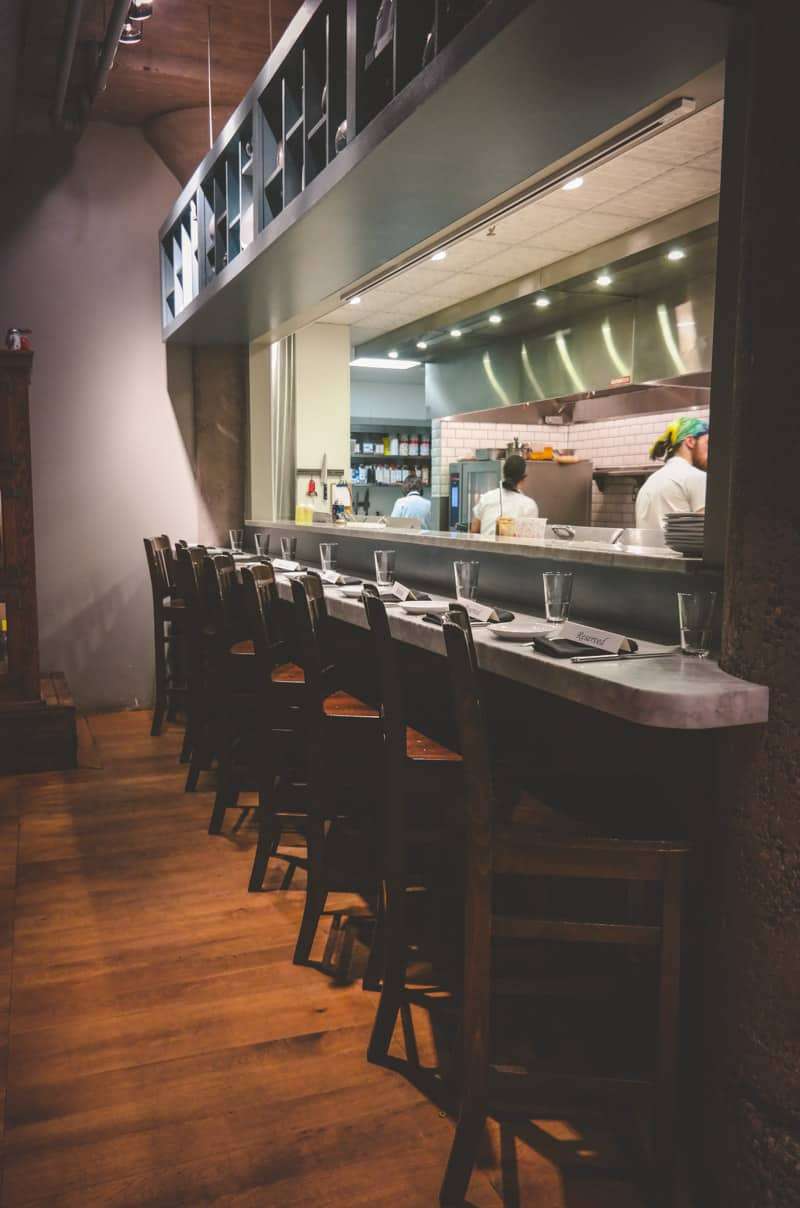 We can all agree it's a little awkward to eat alone sometimes, right? You're usually sitting alone looking at your phone and hoping the meal goes by fast (at least that's me). But my experience at the Borough was incredible, even by myself! They have this little seating area/counter that looks into the open kitchen where you can see the chefs preparing food. I was so busy staring and talking with the kitchen staff that I hardly even had time to Instagram this photo!
You can feel the heat from the kitchen and see the action – it's so fast paced in there! It was thrilling to watch. And everyone was so nice!! And the food, you guys, omg, I honestly will never forget the meal.
For starters I had a cocktail – a delicious bourbon, grapefruit, Yerba Mate infused honey concoction called Brown Derby – notes of honey and citrus was perfection in a glass. Then the bread basket came out – oh yeah, all their bread is made in house and there were seasonal homemade crackers – AND the butter was salted. I almost ate the whole bread basket, I literally had to move it so I wouldn't eat it all.
As an appetizer I ordered the grilled octopus. It's not something one sees on menus every day, but after having this octopus I wish it were served more. The octopus was so tender, and came topped with beautiful chilis, peanuts, cilantro and lime and a yam sauce/puree that brought it all together. And seriously, just look at the plating – how pretty is that?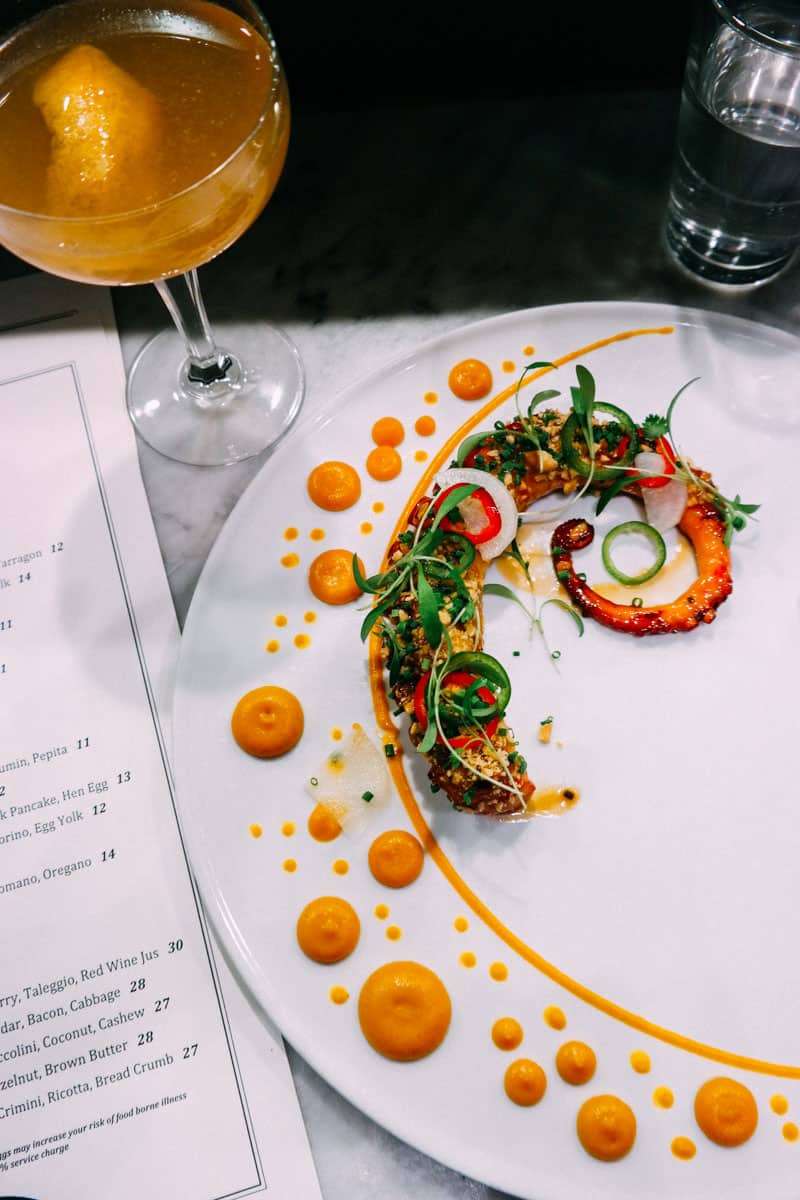 Then I got a menu item they had just added that day – a pea salad. So fresh and delicate and perfect. There was rhubarb and a salad coated in a wonderful vinaigrette and sprinkled with cheese, and in the middle of the salad was a piece of (homemade) toast on top of which was a pea puree. It was incredible! This dish alone solidified the fact that I'm taking a trip back to Minneapolis this summer with my hubby so that he too can eat at this insanely awesome establishment.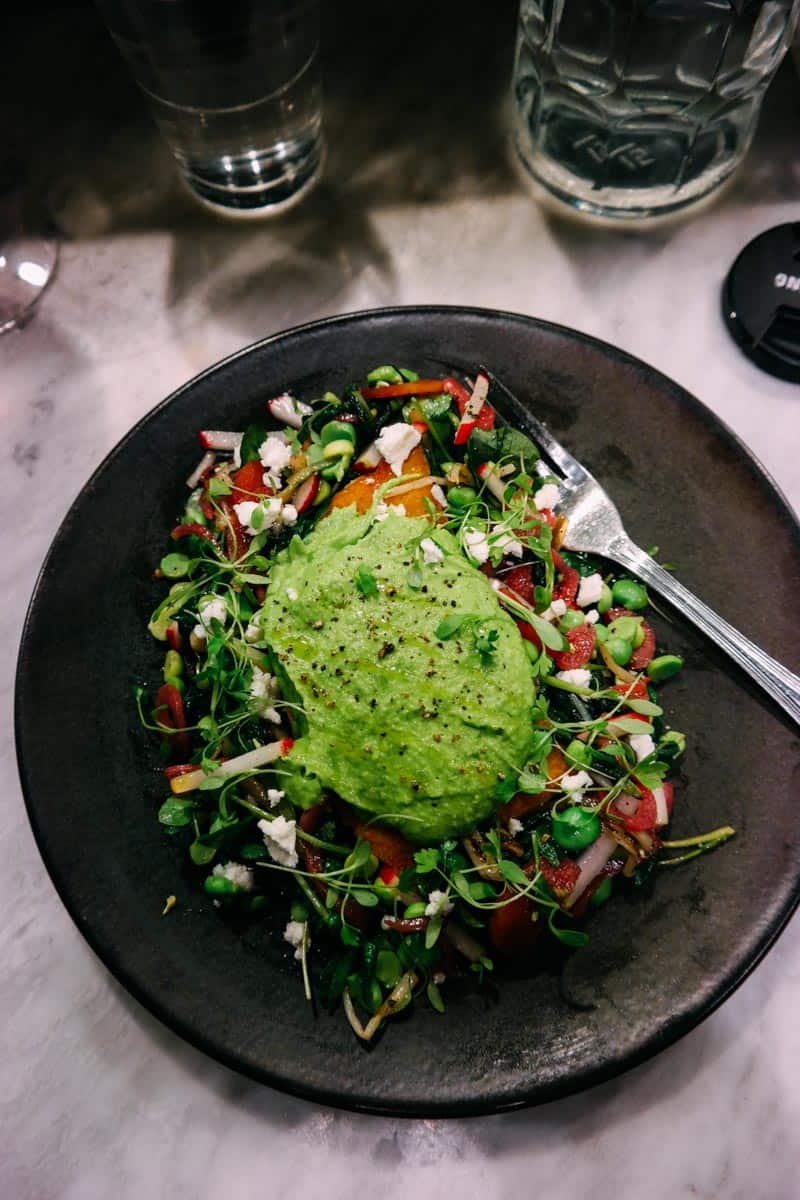 The main course was a perfectly seared salmon with black rice, pineapple, curry and cashews and a coconut broth poured over the dish table side. Coconut broth? So incredible
Then the dessert – wowz, it was so pretty, almost too pretty to eat! It was a yogurt panna cotta, with celery, mint, and coconut, and an apple fennel sorbet. Then, as if that weren't already enough, there was a kiwi sauce poured over it. YUM!
The service was impeccable, everyone took such care, and not in an overly attentive way, but in the perfect balance of keeping the meal and food moving along and letting one have enough time to enjoy the meal – the food, staff, location, everything was top notch at the Borough Restaurant! Can you tell that I liked the food at the Borough? I sure hope so, because I cannot stop thinking about it – it was so good!
Have you ever been to Minneapolis? If not, I would highly recommend a trip, and even if you have been, I'd recommend a repeat trip, I know I'm going back this summer!
Other posts you might enjoy:
Thank you to Meet Minneapolis for coordinating my trip, to The Depot for hosting my lodging and to the Borough for an outstanding meal and experience. As always, all thoughts and opinions are mine alone. Thank you for reading and supporting the brands I partner with, which make the SweetPhi blog possible.